Stephen O'Brien: In a world of seven billion people
Stephen O'Brien's speech on World Population Day to the All Party Parliamentary Group on Population, Development and Reproductive Health and International Planned Parenthood Federation, 11 July 2011.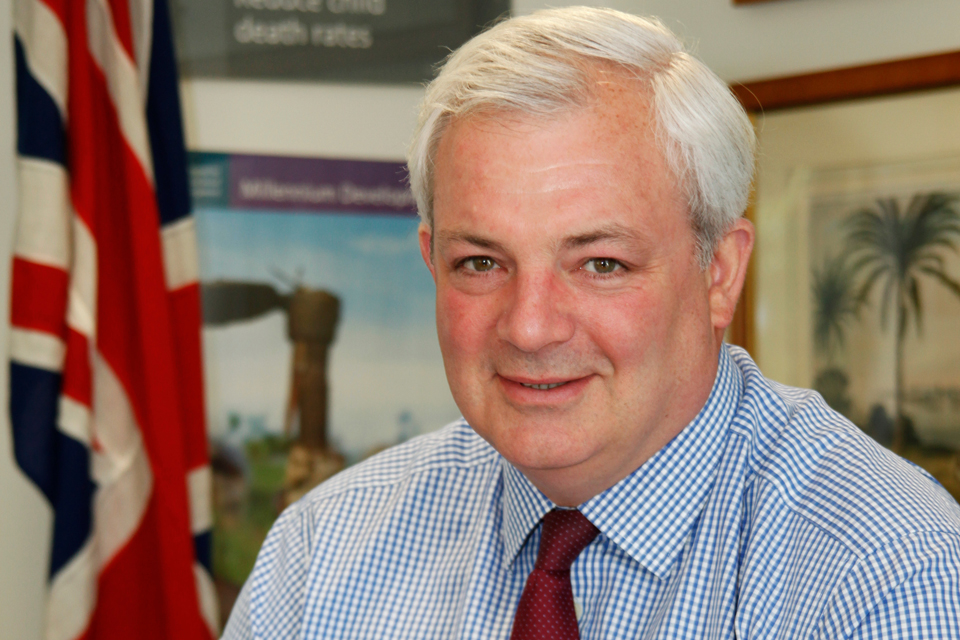 I am delighted to be here with you again today to mark World Population Day. If I recall, this event last year was one of my first engagements as a DFID Minister.
Thanks to the APPG and its Chair, Baroness Tonge, as well as its Vice-Chairs who are here this evening, Geoffrey Clifton-Browne and Richard Ottaway. And thanks too to IPPF and Gill Greer, and all the other organisations here tonight working to improve sexual and reproductive health for such a warm welcome. Special thanks are in order for Gill, as she steps down later this year as Director General of IPPF.
The theme this year is "7 billion reasons" which is a strong reminder to us about how we cannot ignore the importance of population growth when talking about development.
We all know that the United Nations estimate that the world population will pass 7 billion this October, and continue rising - more than likely - to more than 9 billion by 2050. Almost all - 99% - of this growth will occur in the high fertility developing countries. Which means that most of the countries of sub-Saharan Africa will see continuing and rapid population growth for the next several decades.
Some people say that population is too difficult or too sensitive a subject to tackle or even to talk about. The fact is that many development agencies shy away from discussing population, in case they are accused of removing free choice or forcing individuals to have fewer children.
Let me make two things absolutely clear:
First - the Coalition Government does not support programmes that coerce individuals and couples to have fewer children. Population control, in the sense of government edicts and targets on fertility levels, has no ethical place in contemporary rights based development policy making.
And secondly, we will not shy away from talking about population - about global population growth and its impacts.
We are proud to be giving more women the choices they crave. To choose whether, when and how many children they have. We know that 215 million couples who want to delay or avoid a pregnancy do not have access to effective methods of contraception. We believe it is high time their needs were met. We are proud to be playing a leading role in meeting the unmet need for family planning.
As the largest generation of adolescents in human history enters their reproductive years, the demand for basic services like water and sanitation, education and health will steadily rise. Kenya will have seen a 60% rise in the number of school children aged between 5 and 14 by 2050.
But it is not just basic services that will feel the strain of rapid population growth. Natural resources like water and fuel wood, and land for growing food, will all come under increasing pressure. The poor, those most reliant on the natural environment for their basic survival, will feel the greatest impact.
Working for gender equality and the empowerment and education of women and girls will help. We know that the more time spent in school correlates with later marriage and lower fertility. Better water and sanitation, and better health and education services will increase peoples' confidence that their children will survive into adulthood - and thus also help lower desired family size.
That's just one of the reasons why this government has pledged to vaccinate over 80 million children over the next few years.
We are also working with the NIKE foundation to help 200,000 girls in Northern Ethiopia to delay marriage and stay in school.
We are training an additional 3,700 health workers in Liberia to provide essential health care services for women and children.
We all agree - women need better access to sexual and reproductive health services, including family planning. Both, short-term, reversible methods for those who want to delay or space a pregnancy, and safe longer acting or permanent methods for those who have decided not to have any more children.
Meeting the unmet need is crucial. The figure of 215 million couples is really incredibly important. The UN's medium population projection to 2050 of 9.3 billion is firmly based on the assumption that the unmet need - the family planning gap - is closed, by giving people the services they're demanding.
If we do not work harder and put renewed emphasis on reproductive health, especially family planning - if we don't invest in better and more accessible family planning services - then some people argue that the higher UN projection of around 11 billion people by 2050 begins to look like the more realistic number. What will that mean for basic services?
The Coalition Government is working on plans for improving reproductive, maternal and newborn health in developing countries. We will start to close the gap for family planning because it is what women say they need; because it saves women's and children's lives; because it can help us reach the Millennium Development Goals and because it offers incredible value for money.
As many of you know, we are committed to doubling our efforts for women's health to save the lives of 50,000 women, enable 10 million more women to use modern methods of family planning and prevent more than 5 million unintended pregnancies.
One element of this involves working with the private sector to increase access to contraceptives.
And here I do want to recognise the efforts of the team at DFID, and particularly Julia Bunting, for their work with colleagues at the Reproductive Health Supplies Coalition and Merck.
In Addis Ababa last month, I am delighted that Merck were able to announce their commitment to reduce the price of their long-lasting implant, IMPLANON. This will make a massive difference to the lives of 14.5 million of the poorest women between now and 2015.
The UK Government remains committed to playing a full part in championing reproductive and maternal health, in championing women's rights and empowerment, and in championing the benefits of family planning.
But we will also be championing the importance of global population growth and ensuring it is recognised in discussions on development in an open, honest and constructive way. Rapid population growth will only slow and begin to fall when women are educated and empowered to take control of their sexual and reproductive lives - In short by being enabled to take control of their lives, they give us the best chance that the world does not lose control of all our lives.
Published 12 July 2011