Speech
Speech to BIPA by Theresa Villiers, Secretary of State for Northern Ireland
Secretary of State's speech to the British-Irish Parliamentary Assembly on plans for the Northern Irish economy and stability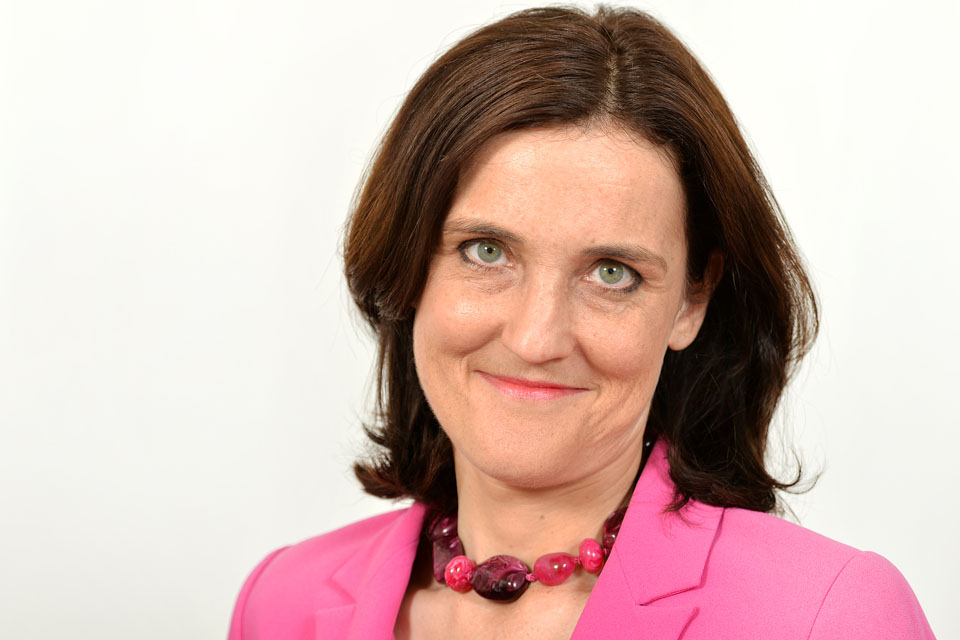 Thank you for that warm welcome. I am delighted to be able to attend this Assembly for the first time. I know how much this institution has done to foster closer relations between the UK and Ireland. I'm also conscious of the important role so many of you played in delivering the political stability Northern Ireland enjoys today. It's thanks to the work of members of this institution, and others like it, that I'm able to talk to you this morning about a Northern Ireland that is looking towards a confident future
And I was glad to see the BIPA model is now being emulated … with the inaugural meeting last week of the North/South Inter-Parliamentary Association, which some here took part in.
Over the past weeks since David Cameron did me the great honour of appointing me as Secretary of State, I have really enjoyed getting out and about in Northern Ireland meeting people and listening to their concerns. The introductory meetings I have had across the political spectrum have given me invaluable insight into the challenges we face.
I look forward to building on these initial discussions, and working closely with the Executive in pursuit of our shared goals - on political stability, on security and on the economy.
The economy
I will start with the economy. From the outset I've emphasised that helping to revive the Northern Ireland economy is an overriding priority for me as Secretary of State. And I have also been emphasising that Northern Ireland has a huge amount going for it. It is a great place to do business in. It has a highly skilled workforce, 2 world class universities in Queen's and the University of Ulster, excellent transport connections, including a direct flight to the US which the UK Government helped save by devolving long-haul APD and excellent telecoms connectivity.
Northern Ireland is the first region in Europe to have 100% broadband access. Belfast is due to become one of the UK's first 10 super-connected cities and Project Kelvin is delivering a 40 gig per second transatlantic link between North America, Northern Ireland and Western Europe.
So it is not surprising that there has been real success when it comes to attracting inward investment from companies like Citi Group and the New York Stock Exchange. Indeed the FT described Belfast as the top destination globally for investment in financial services technology. I pay tribute to Invest NI, UKTI and the NI Executive for the work they've done on delivering these welcome boosts for jobs and investment.
As Secretary of State, I want to work closely with the Executive to see what more we can do together on inward investment.
For example very few countries in the world have such an extensive global network of diplomatic representation as the UK does. What's more the Prime Minister and the Foreign Secretary have emphasised strongly that promoting UK business abroad should be a top priority for all our embassies.
UKTI and our network of embassies around the world are a hugely valuable asset and it's important that Northern Ireland capitalises on that and maximises the opportunities and support on offer from the UK's diplomatic representation.
Everyone here appreciates the distinctive challenges facing the Northern Ireland economy. We are over-dependent on the public sector, and unemployment and economic inactivity need to come down, especially amongst young people. There are some truly world-beating businesses in Northern Ireland. But we need more of those success stories if we're going to expand the private sector, bring down unemployment and create jobs for the future. That's why it's crucial to create an environment in which businesses can grow.
The Coalition Government is playing its part. Reducing the record deficit we inherited is vital if we are to keep interest rates low and maintain the confidence of global markets. And we have brought the deficit down by a quarter since coming to office. We have cut income tax for over 600,000 people in Northern Ireland, taking 25,000 out of tax altogether. We have used the strength of our balance sheet to set up the Funding for Lending scheme and a new business bank will also be set up.
And we know that reducing business taxes is crucial if the UK is to compete in the global marketplace. So we have brought down the main rate of corporation tax from 28 to 24 per cent and by the end of this Parliament it will be 22 per cent. That will give us the lowest corporation tax of any major developed economy.
But I know that there are calls within Northern Ireland to do more and for many people that means devolving corporation tax. I have been struck by the strength of argument that has been made on this issue and I have been taking that case to colleagues in the Government. I am ensuring they are in no doubt about the strength of feeling on this issue in Northern Ireland.
A great deal of work has been done on this by the Treasury and the Executive in the Working Group chaired by David Gauke which concluded its work on Thursday. Some real progress has been made. We now know the broad shape of what a devolved corporation tax regime for Northern Ireland might look like and how it might be delivered without imposing excessive administrative costs on business. However there are still important alternatives to consider and issues to be resolved before the Government can decide in principle whether or not to proceed. So we will take stock, write up our findings and report them to the Prime Minister in the next few weeks.
Relations with the Republic of Ireland
But of course I know that the focus of this Assembly goes beyond Northern Ireland so I would like to say a little about relations between the UK and the Republic of Ireland. It seems to me that the relationship and spirit of co-operation between our two countries has never been stronger. Last year saw Her Majesty the Queen's historic first visit to the Republic. This year we saw the Olympic flame's unprecedented journey to Dublin.
And as the Taosieach and Prime Minister made clear in their joint statement in March London and Dublin are working closely together as we start a decade of centenaries marking a series of events that had a profound impact on the political destinies of both our countries. I know that an important task I face as Secretary of State is to help ensure these significant anniversaries are approached with a spirit of mutual respect and inclusiveness. I welcome the commitment of the Irish government to cooperating with us to ensure that this shared goal is achieved. These events are visible emblems of the unique and deep ties that bind our two countries. But those ties are much more than merely symbolic.
I greatly value the partnership with the Irish Government. I am enthusiastically committed to working with them on a range of issues of mutual interest. So I visited Dublin as soon as I could after being appointed and it was a great honour to have a chance to meet the Taoiseach and a number of his ministers.
And as everyone here will be well aware the economies of the United Kingdom and the Republic of Ireland are inextricably linked.
That's one of the reasons why a Government which is fiercely resistant to participating in Eurozone bail-outs acted swiftly and without hesitation in providing substantial bilateral assistance to the Republic of Ireland when the severity of the banking crisis became apparent in the Autumn of 2010. We all here understand how important it is that we work together in tackling the immense challenges we face in recovering from the devastating deficit crisis. Right across Ireland - North and South - there is a very painful hangover from negative equity and debt.
So I am keen to contribute to efforts made to strengthen economic ties with the Republic of Ireland not just north and south but between east and west as well.
Moving politics forward
I'm fortunate to have taken over as Secretary of State at a time when the politics of Northern Ireland are so much more stable and successful than the situation which greeted most of my predecessors. That stability provides the opportunity to move beyond the politics of the peace process and focus relentlessly on the politics of delivery. Nowhere is that more important than on the economy, but the economy is not my only priority.
We must also continue with efforts to tackle sectarianism and overcome the divisions that still persist within Northern Ireland so that we can build a genuinely shared society. As the Prime Minister said in his speech to the Assembly last year:
'Northern Ireland needs a shared future, not a shared out future.'
So I welcome the work done by the Executive on shared education and I look forward to the publication of their strategy on Cohesion, Sharing and Integration. When the Executive takes the difficult decisions needed to make further progress, we will back them.
Of course we will not always agree on everything. As the Prime Minister said when he was last in Northern Ireland 'there will be times when the Executive challenges the UK Government, there will be times when the UK Government challenges the Executive and there will be other times when we make common cause'.
Recognising that, is to me, the hallmark of a mature and grown up relationship between our two institutions.
Government consultation
And let me be clear. The Government remains fully and enthusiastically committed to the principles of power sharing and inclusiveness enshrined in the Belfast Agreement.
Yet at the same time nobody can plausibly argue that our current institutions must be set in their current form for all time.
That is why the consultation paper we published in the summer contained a chapter seeking people's views on the possibility of moving towards a more normal system that allows for a government and opposition and, if so, how that might be achieved.
There is nothing prescriptive about this - there is no pre-determined outcome. We are not proposing a Westminster style 'winner takes all' system for Northern Ireland.
And we are not seeking to impose a solution from London.
My Party made clear before, during and since the General Election that any changes can only come about with the agreement across the parties and across the community.
They must also be consistent with the power-sharing principles of the political settlement which was so hard won. As a Government, we have been very careful to respect the arrangements we inherited. That applies to the institutions.
It also includes sticking to due process and the letter of the law when dealing with prisoners who are released on licence.
And it means fully upholding the Parades Commission as the lawfully constituted authority to determine parades in Northern Ireland. We are not in the business of making unilateral changes to any of these and certainly not with political considerations in mind. We all want the current stability in Northern Ireland to continue. And this Government will not push forward anything which might threaten that.
Security
The third and last issue I would like to cover this morning is security. Securing peace, economic and political stability in Northern Ireland is the best means we have of defeating those who still seek to achieve their objectives through violence and criminality. They act in defiance of the will of the people of Ireland North and South who voted in such overwhelming numbers to secure their future through democracy and consent.
While these disparate residual groupings - however small their number - still exist, we must continue to be vigilant in our efforts to defeat them. Make no mistake the security situation in Northern Ireland has been transformed over the past two decades. People go about their daily lives in a way that many would have been inconceivable in the 70s and 80s.
Yet for all the progress that has been made it would be wrong to assume that the threat no longer exists. We saw last year with the tragic murder of PC Ronan Kerr that the threat remains live and the attempts to carry out attacks very real. Of course we are determined not to let them succeed in dragging Northern Ireland back to the past or in undermining the political institutions.
As both the UK and Irish Governments have stated for a very long time - the future of Northern Ireland will only ever be decided by democracy and consent.
Yet we in no way under-estimate the risk that residual terrorist activity poses in Northern Ireland. That is why, in response to a specific request by the Chief Constable last year, the government secured an exceptional additional £200 million over four years to help him bear down hard on terrorism.
We remain determined to keep the people of Northern Ireland safe and secure and unprecedented levels of co-operation now exist between police forces on both sides of the border aimed at achieving that. The strength of this relationship bears tangible results. It has saved lives and it continues to frustrate the efforts of those who would do us harm.
And I was grateful to have the opportunity when I met Commissioner Callinan in Dublin, of thanking some of those responsible for building and maintaining that crucial relationship.
Conclusion
Ladies and gentlemen, the statement in March by the Taosieach and the Prime Minister demonstrated with clarity that relations between the UK and Ireland have never been better.
And I would like to close by repeating my thanks to this Assembly for all it does to promote mutual understanding between the nations of these islands as we go forward in delivering the many goals we share right across the spectrum of political and economic challenges we face in an uncertain world.
Thank you.
Published 22 October 2012