Speech
Speech on expert witnesses to the Bond Solon Expert Witness Conference 2013
Speech given by The Rt Hon Lord McNally on Friday 8 November 2013 at the Bond Solon Expert Witness Conference 2013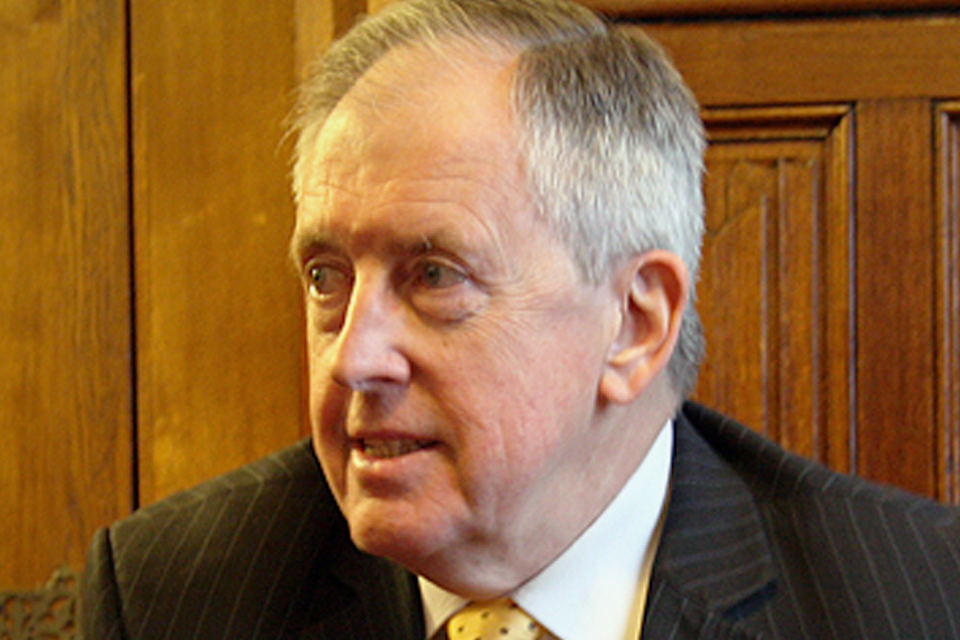 I am especially pleased to speak to you on the day that we publish the joint Ministry of Justice and Family Justice Council response to the consultation on standards for experts in family proceedings.
Because of my responsibilities I tend towards the family area. But I do intend to use some of this time to share with you my thoughts on the role of experts in all court proceedings and Government reforms which will impact on many of you.
Firstly, speaking to you today gives me the opportunity to acknowledge the importance of the work done by expert witnesses across civil, criminal and family proceedings. I know that experts in all legal disciplines are facing challenging times. Public budgets are lower and there are changes in legal aid. There have been changes in some of the Procedure Rules with further changes to come in primary legislation.
Many of you are concerned by these changes but I think that there are many reasons to be optimistic about the future of expert witnesses and the lawyers who instruct them. The independence and expertise of expert witnesses in England and Wales is a great asset. Our legal system and those that work in it have an international reputation for fairness and excellence. We are a hub for international law and lawyers, and for the settling of commercial disputes.
Expert witnesses have a vital role to play in many of these sorts of cases making complex issues understandable to lawyers, judges and juries. You play an important part in the administration of justice.
I'm told the history of expert witnesses is a long and distinguished one. In fact the first person to give evidence as an expert witness in legal proceedings in an English court was Charles Smeaton, a civil engineer, who gave evidence in 1782 about the silting up of Wells harbour in Norfolk.
Today the number and types of experts has increased and you have become an integral part of the court process. In criminal proceedings we see experts used in accident investigations, in facial mapping and, of course, in the increased use of DNA evidence. In Civil and Family we need a variety of expertise, for example on health and financial issues. The value of a good expert witness used appropriately cannot be overstated.
That value in very great part stems from the independence of the evidence. The Criminal, Civil and Family Procedure Rules are all clear - the duty to the Court overrides the duty to the person that instructs you. That must be right. The outcome of any judicial process should be the doing of justice. Expert evidence allows the court or the jury to reach decisions about things outside their area of expertise. It is right that the expert's duty is first and foremost to the court.
But I do recognise that in this time of change it is how and when expert evidence is obtained and presented have taken place in family, criminal and civil proceedings. The movement is towards reaching agreement as far as possible so that the issues for the judge or the jury to decide are narrowed. There are likely to be cost savings in all of this but it is also in the interests of justice – which must be everyone's consideration.
It serves nobody's interests if litigation gets delayed by irrelevant issues. It is certainly not in the interest of the parents in the family court wondering whether they will get their child back; to applications in a personal injury claim wondering whether they will get compensation; to the victims in criminal trials wondering if their attacker will be convicted, or the innocent defendant wondering if he will be convicted.
In family proceedings, the Family Justice Review found that experts were sometimes unnecessarily and inappropriately instructed leading to increased complications and delay. I am working very closely with Sir James Munby, the President of the Family Division, on the issues identified by David Norgrove and the review panel. We are determined to make more appropriate use of experts and to raise the quality and standards of expert reports.
This work is an important part of our focus on the need to reduce delay, ensures that decisions are child-focused and reduce duplication in the system. To achieve this there have been changes to the Family Procedure Rules which came into force in January 2013. These are a precursor to some of the provisions of the Children and Families Bill currently going through Parliament.
These measures ensure that expert evidence should be commissioned only where necessary to resolve the case justly. The court should seek material from an expert witness only when that information is not available, and cannot properly be made available, from those already involved.
Change is often difficult but these changes are fair. The test to adduce expert evidence appropriately and secure the need, in the circumstances of each case, to balance the interests of the parents and those of the child and meets the requirements of article 6 of the ECHR (the right to a fair trial). It will continue to be for the judge to decide whether to give permission for expert evidence to be put before the court in line with the test and it will continue to be for the judge to give permission.
The Family Justice Review also recommended that agreed quality standards should be developed for expert witnesses in the family courts. My officials have been working with the Family Justice Council, experts groups and other interested parties to develop those quality standards. These standards were recently subject to consultation. I am please to say that, today, we are launching the joint Ministry of Justice and Family Justice Council response to the consultation.
Those of you that are attending this afternoon's session on experts in family proceedings will hear more about this work. But in summary, the responses we received showed that there is clear and overwhelming support for the introduction of new minimum standards for expert witnesses in family proceedings relating to children.
The standards will help to ensure that experts providing evidence to the family courts in proceedings relating to children have a recognised level of qualifications, skills and experience consistent with the provision of good quality advice to the court. They will sit alongside – and not conflict with – other profession-specific standards and regulatory arrangements.
We intend to implement the new standards in April next year alongside many of our other family justice reforms. In the meantime we will need to undertake some further work with the Family Procedure Rules Committee and the Legal Aid Agency. I encourage all of you who provide expertise in this area to start preparing as soon as possible by ensuring that you comply with the new standards.
We could not have got to this position without the expertise and support of the Family Justice Council. I am very grateful to the President of the Family Division, Sir James Munby, for his leadership – not just in this area – but across all of the family justice reforms. I am also grateful to members of the Council for leading much of this work on the standards.
In civil justice , many changes have been made as a result of Lord Justice Jackson's report into civil litigation costs. The response to that report by the government has sought to ensure that justice continues to be done but that claims are proportionate and that the costs are not out of proportion to the issues involved.
Whilst the report was specifically looking at the costs of litigation, as Sir Rupert pointed out in his report one of the principal complaints about expert witnesses was that many expert reports were too long and often addressed irrelevant issues.
The Civil Procedure Rules restrict expert evidence to that which is reasonably required to resolve the proceedings and expert evidence can be restricted by the Court. Again these are subject to judicial oversight and in the interests of justice.
You are aware of course that change is not only confined to processes and procedure. Public funds are being reduced in the justice system in the same way as they have had to be in other areas of government; the costs of proceedings more generally are under ever greater scrutiny. This is unavoidable. The challenge is to see how justice can continue to be done in this changing environment.
Expert witnesses cannot be immune from this process and I appreciate that the changes to legal aid payments will have an impact on many of you in this room today. As you know, a new set of fixed fees and hourly rates were introduced in late 2011 that codified for the first time the rates that could be paid to individual expert witness types. With some limited exceptions, these rates are set to be reduced by a further 20% before the end of the year. This follows the most recent consultation on legal aid reform and ensures that the rates represent value for money and reflect more closely the rates paid elsewhere for such services.
I can assure you that these are not changes have been taken lightly. Ultimately we have had to make some very difficult decisions. With continuing fiscal challenges, the Government must continue to ensure that every aspect of fee remuneration represents value for money. This includes the fees currently paid to experts. Changes happen and more is to come but as I hope I have made clear the changes are also in the interests of justice.
No-one should be in any doubt that high quality expert evidence will continue to play an important role in all court proceedings. There will always be a need for expert opinion about questions that are outside the knowledge, skill and experience of the court.
In this vein the MoJ has recently commissioned Coventry University to lead some research on experts in family law. This work is focussed on identifying good practices and practical suggestions on the nature and content of an effective and efficient expert witness process.
I encourage as many of you as possible to participate in this work and I look forward to working with you all.
Published 8 November 2013