Speech
Speech by the Chief Secretary to the Treasury, Rt Hon Danny Alexander MP; SCDI London: "Influencers Dinner"
Speech by the Chief Secretary to the Treasury.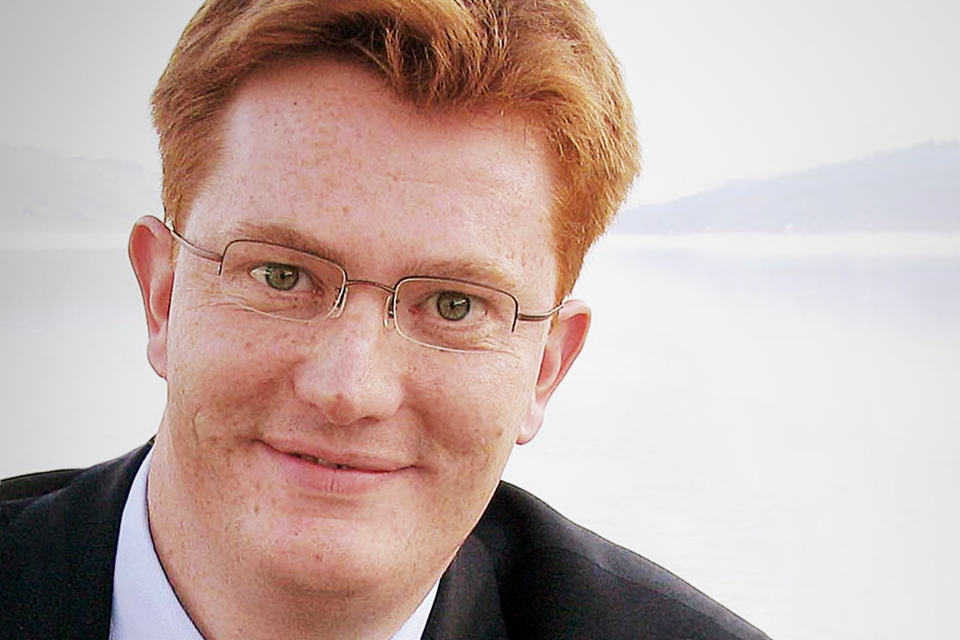 Good evening and thank you for inviting me to speak here tonight.
And it's a pleasure to speak, here in London, to so many important Scottish based businesses and organisations.
Particularly on such a momentous day. Earlier this afternoon the Scottish Parliament endorsed the Scotland Bill which the UK Government is delivering.
Five years on from the start of the Calman process the next stage in devolution of power to Scotland - and the biggest transfer of fiscal powers from London to Edinburgh - is almost complete.
But that does not mean that the discussion of Scotland's future is over… far from it.
Over the last year I've made quite a number of speeches in Scotland, making the case for Scotland's strength as part of a United Kingdom, but it is equally vital to do so here in London. 
Particularly because it is also true that the rest of the UK would be weaker without Scotland.
It is likely that the constitutional and economic debate over Scotland will dominate conversations over the coming months, and I encourage you all to engage in it. 
In the mean time we should not lose sight of how the Government's commitment to safeguarding stability and restoring prosperity across the UK is benefitting people and businesses in Scotland.
First and foremost, our priority remains tackling the UK's massive deficit. This is the founding purpose of the Coalition Government.
It's a long and hard slog, and I know that tackling the deficit and clearing up the mess has become something of a mantra.
But I don't apologise for that because the bottom line is that it's absolutely essential to secure our economic stability, and provide the foundation for sustainable growth.
It's because we took tough decisions as soon as we came into Government that the UK continues to be seen as a relative safe haven in financial markets.
Let's not forget it's coming up to two years since the first Greek bailout, the trigger for a crisis that rumbles on today.
And four years since the financial crisis where the UK Government had to rescue two Scottish banks
Fiscal consolidation is not ideological…it's a vital precondition of growth.
It's because we got ahead of the curve and set out plans to cut the deficit, that we have shielded the UK from the worst of that storm.
And securing record low market interest rates to the benefit of businesses and households.
The Budget builds on those strong foundations. Reaffirming our commitment to create a stable economy…
To construct a fair, efficient and simple tax system…
And to support economic growth through radical reform.
Growth through private sector enterprise, investment and innovation. Not through debt fuelled consumption and public spending.
Growth across all sectors of the economy.
Growth across the whole of the UK.
And that means creating a competitive environment for businesses to invest, grow and create jobs through the recovery.
That's why in the Budget we have gone even further to create the most competitive tax environment in the G20.
We had already planned to cut corporation tax to 23% by 2014, but at the Budget we announced we were going even further.
Cutting corporation tax to 22% by 2014.
A headline rate that is dramatically lower than our competitors… the lowest in the G7, the fourth lowest in the G20.
And as well as a competitive business rate, we are also reducing what was ineffective top rate of tax from 50p to 45p.
We want the world's most innovative wealth creators and companies to choose the UK as a home for their ambition.
In particular, we want those companies to commercialise their ideas and create high value jobs here in the UK which is why we are introducing a patent box to provide a 10 per cent corporate tax rate for profits from patents.
And it's directly because of those tax incentives that GlaxoSmithKline confirmed its plans to invest more than £500m in the UK creating 1000 new jobs. 
That's investment that includes £100m in Scotland, with up to 100 new jobs across Irvine and Montrose.
That's a Westminster Government working directly for the Scottish people.
But I know that these are tough times for people across the UK, and we are committed to helping households through these difficult times.
I firmly believe that the best way we can help families and those on low incomes, is by helping them keep more of what they earn.
That's why we are committed to raising the personal allowance to £10,000, and this year's Budget made another huge step in that direction.
The personal allowance is already rising to just over £8100, but in the Budget we announced the largest ever increase in the amount that people can earn tax free,
An increase from next April of £1,100 to £9,205.
A tax cut of £3.5bn for working families.
A tax cut of £170 in real terms for over 23 million people, around 1.8 million of whom live in Scotland, £350 when you take into account the previous increases.
And it's a change that lifts a further 73,000 people in Scotland out of tax altogether. 
Together with the previous increases, that's a total of 162,000 low income people in Scotland taken out of tax by this Government.
At Budget we also made a series of tax announcements with the express aim of stimulating growth across Scotland.
The Budget announced that we have agreed to make 100 per cent capital allowances for plant or machinery investments available to the Enterprise Zones in Irvine, Nigg and Dundee.
Allowances that could save hundreds of millions of pounds for businesses in those zones, which according to the Scottish Government could help generate more than 4,000 new jobs.
We also announced a new package of oil and gas measures to ensure that we extract the greatest possible amount from our reserves in the North Sea. 
The product of extensive engagement between industry and Government, this package is expected to stimulate billions of pounds of additional investment and significantly increase production. 
Ending the uncertainty over decommissioning tax relief by entering into contracts with companies, providing a clear guarantee…
And introducing new allowances including a £3bn new field allowance for large and deep fields to open up West of Shetland, the last area of the basin left to be developed.
Together these are a huge boost for investment in the North Sea.
But if those measures are about getting the most out of a very well established energy sector, then new, green energy is a huge future opportunity for Scotland.
We want to help ensure that investment in renewable…wave, tidal, wind, CCS…will be a key driver of the Scottish economy in the future.
That's why we have implemented the £100m fossil fuel levy
Established the world's first Green Investment Bank with Headquarters in Scotland, and £3bn of initial capitalisation..
Set aside £1bn for the Carbon Capture and Storage competition.
Providing certainty on ROCs whilst continuing with Electricity Market Reform.
This Government is totally committed to meeting our renewable targets and supporting investment across the UK.
Helping to strengthen Scotland's economic future within the UK.
But as well as supporting the big businesses in Scotland, we are supporting the small businesses and entrepreneurs that have the potential to become tomorrow's giants.
Through the Video Games corporation tax relief we are providing vital support to the UK video games industry, and in particular the development hubs Edinburgh and Dundee.
With respect to the latter, the University of Abertay in particular has developed a reputation as a hot house for young people determined to make their mark in the digital world.
We all know that computers and the online world are the new growth frontier.
It seems that almost every month there is a new tech start up stealing the headlines, acquired for ever greater sums of money.
Despite the fact that the first computer was built in the UK, and the world-wide-web the brainchild of a British scientist, we've clearly lagged behind the likes of Silicon Valley.
But we're fixing that fact.
Tech-city in Old Street has already emerged as Europe's technology hub. There were 20 companies therein 2007. Now there are 700.
But there's no logic why it should be limited to London.
Across the UK we have the skills, the ideas and the innovation that can lead our tech revolution.
That's why we have already selected Edinburgh as one of ten 'super connected cities' in the UK benefiting from ultra-fast broadband benefiting 180,000 residents and 8,000 businesses.
And we also announced £50m to fund a second wave of ten super-connected cities, with those in Scotland eligible to apply.
But just as we are investing in our digital infrastructure, this Government has already laid out ambitious plans to invest in our physical infrastructure.
Through our National Infrastructure Plan we have set the stage for £250bn of investment over the course of the parliament.
We are investing more in transport in real terms these four years compared to the last four.
Investment to improve the rail network, reduce congestion on our roads, and target pinch points on key motorways and trunk roads.
And whilst infrastructure investment remains the responsibility of the Scottish Government, we are committed to improving Scottish infrastructure.
We have worked with the Scottish Government to help secure get early work underway on the Forth Bridge Replacement Crossing with a cash advance of £100m over the next two years.
In the Autumn Statement we announced that we would make £50m available to help replace the Caledonian Sleeper fleet and help safeguard the future of this important cross-border service.
And we've gone even further in this year's Budget, announcing that we will use our Mobile Infrastructure Project to invest £150m to improve coverage to 60,000 households and along a number of A-roads, including the A82 between Inverness and Glasgow.
In total, because of the spending decisions taken by the UK Government since the Spending Review, Scotland will benefit from an additional £1bn in additional funding. 
Money that the Scottish Government has to use to promote private sector growth and enterprise.
Exactly as we are doing from Westminster for Scotland and the whole of the UK.
I firmly believe that facing the economic challenges that we do, the UK is much stronger pulling together than pulling apart.
We are working tirelessly to pull the UK out of the black hole that the previous Government dug.
Laying firmer foundations for growth across the UK, and for Scotland.
We have here in the UK, one of the most successful, complete and stable financial, social and political Unions in history.
We cannot afford to recklessly discard those bonds.
Two thirds of all Scottish exports are sold to the rest of the UK.
Firms registered in Scotland but owned by the rest of the UK employ 20% of all Scottish workers, and contribute around 25% to total turnover.
But it is right that that we adapt in the modern age to ensure that we have a system that delivers for all its citizens, both north and south of the border.
It was right that the UK devolved powers in 1997. And it's right that we devolve further powers through the current Scotland Bill without jeopardising the success and stability of the United Kingdom.
The bill, which I mentioned earlier, is a historic change to the financing of public services in Scotland, delivering real financial accountability to Scotland.
As a result of the bill, around a third of spending in Scotland will be funded by taxes determined and raised in Scotland.
Giving the Scottish Parliament a real stake in Scotland's economic performance.
Giving the Scottish people greater financial accountability over the Scottish Government.
Despite these profound reforms, we all still face a period or prolonged uncertainty caused by the Scottish Government's campaign for independence.
The Scottish Government wants us to wait until the Autumn of 2014 for a referendum.
As a government we believe, and the Secretary of State for Scotland Michael Moore has made it clear, that there is no need for the delay.
On the Scottish Government's timetable it would be almost three years till we have this referendum, creating huge uncertainty for businesses weighing up investment in Scotland.
For example, the Scottish Energy giant SSE, a company that employs around 5000 people in Scotland, has also said that the referendum poll created "additional risk" over the future of the Scottish gas and electricity industry.
Businesses and investors need a speedy resolution to the independence question.
Engineering giants Scottish Engineering and the Weir Group…
The construction and property firm Miller Group…
And as recently as Sunday, the technology consultancy Think Tank Maths… have all stated that they wanted to see a referendum sooner rather than later to end the prolonged uncertainty.
Furthermore, through the recent consultation we also know that the vast majority of those who responded agreed that the referendum should be sooner rather than later.
And they supported a single, clear question too.
The referendum will be the most important decision that Scotland will ever make.
It's vital that it delivers a clear and decisive response which can be achieved with a clear and decisive single question.
But now, it's up to the Scottish Government to use the powers it already has, in addition to those in the Scotland Bill, to capitalise on our mutual strength and boost a private sector recovery and ensure sustainable growth across Scotland.
Exactly as we are doing from Westminster. Working to secure a prosperous future for the whole of the UK, Scotland included.
Facing the challenges that we do, it's vital that we work together, Governments and businesses, to restore growth across the UK.
Of course we have a long way to go, and an equally long path to tread to the referendum on Scottish independence.
On both fronts however, it won't be Westminster alone that provides the answers.
When it comes to questions of Scottish independence or Scottish growth, your voice carries weight both sides of the border. In Holyrood and in Westminster.
The businesses, the universities, the organisations present here tonight can do a huge amount to inject reason and rationale to debates that are too often lost to political expediency and opportunism.
And I encourage you all to engage in those debates.
On all fronts I am eager to learn what more it is that the Government can do - or stop doing - to support you through the recovery.
And I look forward to working with you in the weeks and years to come.
Thank you
Published 20 April 2012