Speech
Speech by the Chancellor of the Exchequer, Rt Hon George Osborne MP, to the Federation of Small Businesses annual dinner
Speech by the Chancellor of the Exchequer.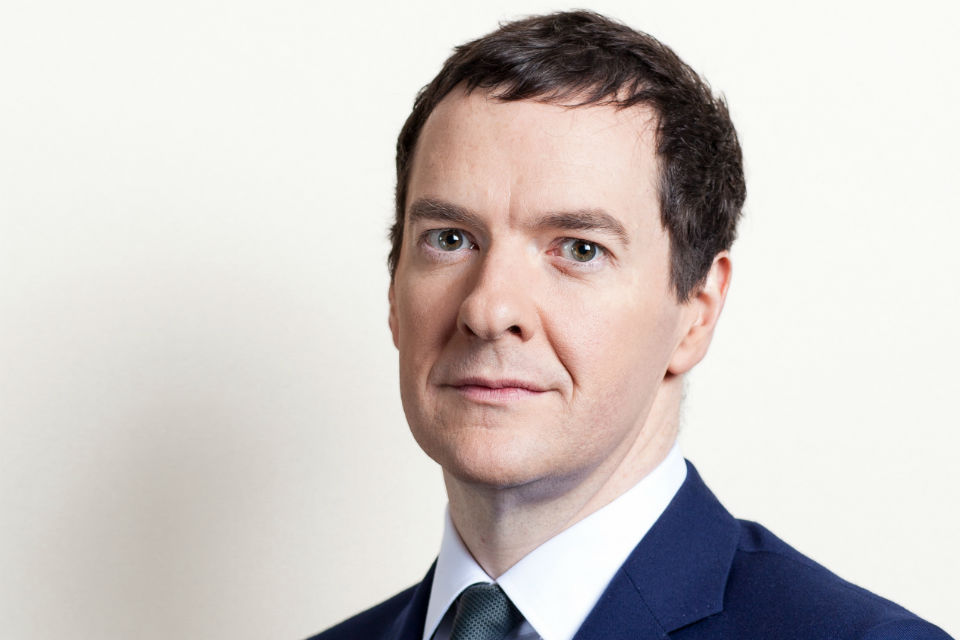 Ladies and gentlemen, good evening.
I am very grateful to the Federation of Small Businesses for inviting me to speak tonight.
I want to congratulate John Walker and everyone at the FSB for your tireless work in speaking up for small businesses.
When my officials and I talk to the FSB we have real confidence that you are the voice of your members.
Your campaigns on issues such as rate relief and employment law have had a major influence on the Government's reforms in these areas, which are helping hundreds of thousands of small businesses every day.
I know that there are unique pressures and strains in running a small business - but also a unique sense of freedom and opportunity too.
I saw that in my own upbringing.
My father set up his small business in 1968, manufacturing and selling home furnishings.
Growing up, the rhythms of the business's life and the rhythms of our family life were one and the same.
I remember the ups and downs.
The excitement when new orders were won, or new products launched.
The anxiety when the economy is weak.
I know the pressure that you are under to compete, to stay ahead and to make a profit.
And above all I know that it isn't easy for businesses right now.
The recovery has not been as strong as anyone hoped.
The weight of the debts built up in the boom is being felt across the economy.
The euro zone crisis is affecting confidence.
Access to finance is under strain - and its small businesses that bear the brunt of this.
And even though inflation is coming down, rising costs - particularly fuel - continue to put pressure on your profit margins.
But despite this, my message to you tonight is one of optimism: together, we can ride out the storm to create a more prosperous economy for everyone.
Let me explain why. 
First, unlike so many countries, Britain is tackling its problems head on - dealing with our debts and securing the long-term stability and low interest rates you need to get on with creating prosperity.
Second, we are steadily restoring Britain's competitiveness, as tax rates come down and the regulatory burden is pushed back.
This year, we re-entered the top ten list of the best places in the world to do business.
And third, we have the ambition to broaden our horizons, and take advantage of the opportunities that the new fast growing markets around the globe present - and I want small businesses to lead the way in this. 
Let me begin with long-term stability.
Without it, no small business can thrive and many cannot survive.
There is no doubt that resolution of the euro zone crisis would provide the biggest single boost to the British economy in the short-term and we are working day in, day out to bring that about.
But we all know that to put our economy back on track, we need to tackle our domestic problems head on.
And those problems don't get bigger than our debt problem. 
Over the last decade, Britain experienced the biggest increase in debt of any major economy.
The total of household, corporate, financial and public sector debt in the UK reached five times the size of our national economy.
When the Government came into office, Britain was set to have the largest budget deficit of any major economy in the world.
Our market interest rates were higher than Italy's.
But by taking the difficult decisions to get our deficit under control, we won credibility where once it was being lost.
Of course, this is painful, but there is no starker reminder of why it's necessary than the fate of our neighbours.
This week, Spain's interest rates were around 5%, Italy's around 6%, and Portugal's 14 %.
In the UK, they were just over 2%.
A rise in UK interest rates caused by a lack of international confidence would hit everyone hard: but it would hit small businesses hardest of all.
For every one per cent rise in our market interest rates, a business taking out a £100, 000 overdraft would pay an additional £1000 a year.
Or if you wanted to expand your factory and needed an £1 million pound loan, you would pay an extra £10,000 a year for every 1% increase in market interest rates.
These are not numbers on the pages of the Financial Times.
They are real costs that would hurt your businesses - it is low interest rates that are keeping the economy afloat at the moment.
We need to make sure these interest rates are being passed on to small businesses.
That is why we are launching the Government's National Loan Guarantee Scheme.
It will work on the simple principle that we use the hard-won low interest rates that the Government can borrow at, to reduce the interest rates that small businesses can borrow at.
New loans to businesses with a turnover of less than £50 million will be eligible for the scheme - so it stays focused on smaller and medium sized companies.
We expect loans under the scheme will benefit from a reduction of up to 1 percentage point in the rate of interest charged to companies like yours.
So a business facing a 7% interest rate to get a £1 million loan could instead see their rate reduced to 6% and their interest costs fall by up to £10,000. 
Initially, we are going to make £20 billion of these guarantees will be available over the next two years.
Our objective is to get the National Loan Guarantee Scheme operating as soon as we have state aid clearance.
Dealing with our debts and keeping our interest rates low is a necessary requirement to get our economy back on its feet.
But it's not enough - we also need to remove the obstacles that stand in the way of you growing your businesses. 
We will be as ambitious in tackling the forces of stagnation that stifle enterprise as we have been in tackling the deficit.
I've already acted to help.
Rather than going ahead with the increase in the small companies' tax rate to 22 per cent that the previous government left me with; I have cut the rate to 20 per cent.
To support SMEs during this difficult period, I've extended the small business rate relief holiday to the end March 2013.
We're introducing one of the most generous tax regimes for people who want to invest in your businesses, through reforms to the Enterprise Investment Scheme, and a new Seed Enterprise Investment Scheme which provides income tax relief of 50 per cent for individuals investing in start ups and for this year, gives them 100% relief on capital gains tax on the investment they put in.
It is a great offer to get Britain investing.
We're also helping you to grow your business, by increasing the generosity of research and development tax credits for SMEs to 200 per cent last year and to 225 per cent from April, as well as increasing the gains eligible for Entrepreneurs' Relief from £5 million to £10 million.
To help small businesses recruit and train new staff, we will provide financial incentives to 40,000 small businesses who take on a first young apprentice.
Of course even more damaging to your businesses than high taxes are the burdens from regulation.
This has been a major focus of FSB's campaigning.
Since entering Government, I've seen firsthand the relentless pressure to regulate.
It would be so easy to give into the constant stream of vested interests demanding that you regulate a problem away - every time you are interviewed on the Today programme, or meet with the single issue lobby groups or face the trade union campaigns.
Everything in politics encourages more red tape; everyone insists government must step in; "something must be done" is always the cry. 
We have to resist these pressures.
I don't want to over claim.
We've not got everything right. 
But under this Government, we have made progress.
Let me give you some examples.
We've challenged the culture if Whitehall with a "one in one out" rule on all new business regulation.
In other words, for every new piece of regulation at least one old one has to be scrapped.
For businesses with fewer than ten employees, we've introduced a moratorium on new domestic regulation for three years.
It's not perfect - but it would be a lot worse without it.
And we're also rolling back the most damaging regulatory burdens you face.
With your help, we've been prepared to do what no Government in modern times has done - and increased the rights of employers.
We're doubling the period before employees can claim unfair dismissal to two years and introducing fees to deter vexatious tribunal claims.
Of course, employees have rights and they should be protected.
But what about your right to start a business and not be sued out of existence?
And the Government will begin a call for evidence on compensated no-fault dismissal to two years for micro-businesses with fewer than 10 employees and a simpler, quicker and clearer dismissal process.
And we'll come forward with planning rules that shift the balance in favour of growth and jobs.
So instead of delay and objection every time you want to expand, the default will be "yes".
And we will need to go further to remove the lengthy delays and high costs of the current system, with new time limits on applications and new responsibilities for statutory consultees.
Many of these changes are controversial.
Some are just as politically difficult as are the tough decisions we are taking on the deficit.
There are no end of people prepared to go on the TV and radio to attack them - but they've never run a small business, or sat up late worrying about a vexations claim to an employment tribunal.
So with your help, I will continue to push forward on all these fronts and many more - because it's our job to stand up for small businesses.
And let me say something about the row over bonuses and pay.
Of course we need to reform our banking system - and nobody has done more than this Government to address the too big to fail problem that so offends every taxpayer.
Of course rewards for failure are unacceptable - and those who believe in the free market are the first to say so.
But a strong, free market economy must be built on rewards for success.
There are those who are trying to create an anti-business culture in Britain - and we have to stop them.
At stake are not pay packages for a few but jobs and prosperity for the many.
These are all important steps to restoring prosperity to Britain, but as a country we need to broaden our horizons and take advantage of the opportunities that the emerging markets present to grow and create jobs.
I remember the excitement when my father's business made its first sales in America.
Now, Asia is the new trade frontier.
In a generation, China's middle class is forecast to be more than three times the size of that of the whole of Western Europe.
And as they become richer, they'll want to buy the kind of things you make and sell.
When I was in Asia earlier this month I was hugely encouraged by the enthusiasm I found for Britain.
We are in the European single market without being part of the euro.
We are a liberal Anglo-Saxon economy and even more open to trade and investment than the US.
And we produce high value goods and services, in every sector in every part of this country that are in demand around the world.
But here's a home truth: not enough of Britain's small and medium sized businesses export, and those who do are too focused on EU markets, many of which aren't growing.
This is a huge missed opportunity.
In the UK, around 1 in 5 UK SMEs export.
Across Europe, the average is 1 in 4.
If the UK got the number of small and medium sized exporters up to 1 in 4 - in line with the European average, this would add approximately £40bn to total UK exports and a massive boost to our economy.
We should make that our ambition.
It would be good for Britain, and good for the small businesses involved.
That's why the work that Stephen Green, our trade minister is doing to help small businesses enter new markets is so exciting.
His organization, the UKTI is seeking to double the number of companies it supports to around 50,000 over the next three years.
Our embassies around the world are geared up to support new exporters.
And UK Export Finance, formerly known as the ECGD, has launched new products that allow firms of your size to get insurance against the risk of non-payment on export orders and help to secure the working capital needed to fulfill large orders from overseas.
We are already seeing results.
Our goods exports to China in the first half of this year were up by almost 20% - making China our third largest export market after the US and EU.
And goods exports to India increased by 45% between January and October 2011 compared to the year before.
I want many more small businesses to benefit from these opportunities. 
So yes times are difficult - and you know that better than anyone.
But here in Britain we are:
Dealing with our debts.
Making ourselves more competitive.
Broadening our horizons and exporting to new markets.
We have made good progress, but we need to go further if we are to build a more prosperous future for Britain.
Every day, we need to take on the forces of stagnation, who agree we need to reduce the deficit but defend every individual line item of spending.
Every day, we need to take on those who say they want enterprise and growth, but oppose every regulation we cut.
And we need to broaden our horizons, to get out there, to create a Britain open for business and to the world.
I know that with the energy, creativity, innovation and courage of Britain's small businesses we can take on the forces of stagnation and win.
Let's do it together.
Published 7 February 2012