Speech
Speech by the Chancellor of the Exchequer, Rt Hon George Osborne MP, at the National Business Awards
Speech by the Chancellor of the Exchequer.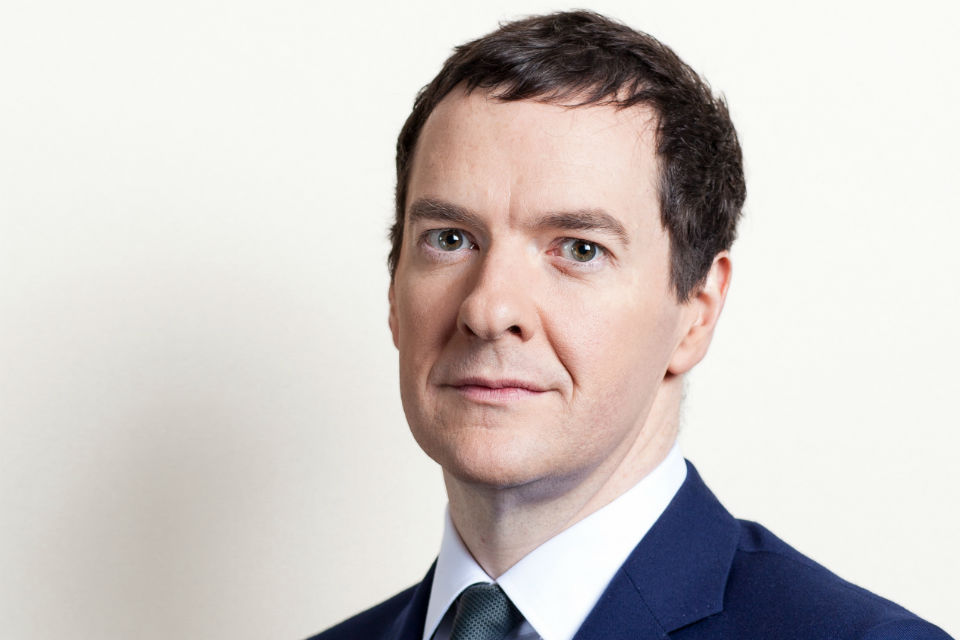 Ladies and gentlemen, good evening.
Thank you Carolyne for the kind words of introduction.
It's an honour to be invited to speak at the National Business Awards and to celebrate everything that is so exciting about the business community in our country.
You may represent very different businesses in very different parts of the country - there are firms here tonight from Glasgow to Bournemouth and from Ipswich to Belfast.
But you all have one thing in common - you embody the spirit of enterprise that must be at the heart of Britain's economic future.
Tonight we celebrate your success stories.
I know how difficult things are for many thousands of businesses right now.
The last few months have seen a steady flow of difficult economic news across the world.
Rising energy prices. Eurozone debt markets in turmoil. An international crisis of confidence.
There is no doubt that the entrepreneurial spirit represented in this room can build a bright future for our economy.
But that hopeful prospect will be pushed even further into the future if your efforts and the efforts of thousands like you are blown off course by these global headwinds.
The biggest threat to the British economy right now is uncertainty itself.
People have confidence in Britain's long term future.
They see a Government taking difficult decisions to deal with its debts - unlike so many governments around the world.
They see a workforce becoming more flexible and more skilled.
And they see an economy recovering its competitive edge step by step, as tax rates come down and the regulatory burden is pushed back.
After years of slipping back, they see Britain re-enter the top ten in the league table of the best places in the world to do business.
They urge us not to take our foot off the pedal on any these fronts. And we won't. Indeed there is more we can and we will do.
But overlaid on all of this is the "chilling effect" of the uncertainty hanging over Europe's immediate economic prospects.
Will the Eurozone come up with a convincing answer to its structural problems?
Will Greece deliver on a plan to deal with its debts and make its economy more competitive inside the Eurozone?
Will Italy regain credibility in the bond markets?
In the face of all these unanswered questions, the answer for many businesses risks being "wait and see".
Sit tight, rebuild your balance sheet, and make sure you're ready to take advantage of opportunities when they arise.
That may be the decision of any one individual business, but collectively it can do real damage to our economy.
We need to see cash come out of corporate balance sheets into real investment projects, creating jobs and prosperity.
That is the challenge we face - restoring confidence, removing uncertainty, and doing what we can to change the default answer from "wait and see" to "let's go for it".
That's why my most important job as Chancellor is to help you do your job - and grow your business.
To provide you with stability and leadership in an uncertain world economy so that you can get on with creating the prosperity we all depend on.
So that, together, we can ride out this storm and emerge from it stronger and more competitive than ever before.
The first thing we need to do is reduce the uncertainty currently gripping the world economy.
I have just got back from yet another meeting of European Finance Ministers in Brussels.
Just a few hours ago I was sitting around a table with my counterparts in the Eurozone.
It's clear what needs to be done.
The Eurozone collectively has to stand behind their currency.
They have to turn the agreement reached two weeks ago into a concrete plan of action.
We need to see the money that will increase the firepower of the Eurozone bail-out fund.
We need to see that actual recapitalisation of the European banking sector.
We need to resolve Greece's unsustainable debts with what looks like being a new government in Athens.
And over time we have to allow the Eurozone to follow the remorseless logic that leads from monetary union to greater fiscal integration, while Britain's interests are protected.
At the same time the whole European Union, including Britain, needs to make itself more competitive and stop pricing itself out of the world economy.
As Europe does this, there are responsibilities for the rest of the world as well.
The IMF must continue to play its systemic role supporting the international monetary system to the benefit of its whole membership.
Because, at the end of the day, the whole world economy depends on more stable financial markets, a more prosperous trading environment and a stable euro.
A lasting solution to the euro crisis would provide the single greatest boost available to the British economy this autumn.
But we can't rely on international events alone.
The Government has a duty to provide economic stability at home.
That's the second thing we're doing.
When this coalition Government came to office, Britain was forecast to have a larger budget deficit than Italy, Greece or Spain.
Britain needed a government that was going to get a grip - and we did.
We held an Emergency Budget last summer on our own terms - not this summer on the market's terms like so many of our neighbours.
Yesterday my French counterpart announced France's second emergency budget in three months.
Even though their deficit is smaller than ours, France has been forced to announce faster fiscal consolidation over the next two years, just in order to protect their AAA credit rating. 
Our AAA rating was on negative outlook 18 months ago from the same credit rating agency that downgraded the United States, but after the Spending Review a year ago they put it back on a stable outlook.
And our deficit plan has delivered record low interest rates.
Today our market interest rates were below 2.5% - in Italy tonight they were 6.8%.
You know better than anyone what damage a rise in market interest rates would do to our recovery.
Fiscal responsibility by the Government allows interest rates to stay lower for longer.
It allows for greater monetary activism and space for our independent Bank of England to undertake quantitative easing.
This has helped counteract the powerful forces of deleveraging unleashed by the contracting balance sheets of our banks.
The Merlin agreement that requires the banks to lend more to small and medium sized firms has helped too.
Tomorrow the last bank will report its figures - what we've seen so far has been promising.
But negotiated deals cannot be a permanent solution in a market economy.
We want to reduce the risk of another credit crunch and improve access to finance for mid-sized and small businesses - something I know many of you think is holding the recovery back.
So the credit easing programme that I will announce at the Autumn Statement later this month will help to channel money directly to where it is needed most.
This action will sit alongside the third part of our approach - removing the obstacles that stand in the way of your growing businesses.
I understand that governments can't create successful businesses - that is something the people in this room can do.
What we can do is create an environment in which your business endeavour is supported rather than stifled.
Take for example our tax reforms.
We are cutting taxes on patents and research and development.
We've doubled and doubled again the amount of relief for entrepreneurs.
Multinational are now moving to Britain instead of moving away.
We are engaged in a huge simplification of the tax system.
And even in these straitened times, when money is short, we are lowering the main rate of corporation tax from 28% to 23% - the lowest rate in the G7, and on our way to the most competitive corporate tax system in the G20.
Take regulation.
This autumn we've announced that for the first time there will be a fee for taking a case to an employment tribunal - a fee if you only get back if you win.
That ends the one-way bet against business.
We're also changing the rules to double the probation period before a new employee can make an unfair dismissal claim from one year to two years.
So that means it's not such a risk hiring new people.
We are putting a presumption in favour of sustainable development into our planning system.
All these changes have vociferous opponents - but we're taking them on to help you grow.
We are also helping British businesses export.
Stephen Green, our new trade minister and one of Britain's global business leaders, is helping companies enter new markets - especially small businesses.
Our goods exports to China in the first half of this year were up by almost 20% - making China our third largest export market after the US and EU.
And we are putting money into Britain's critical economic infrastructure too.
Not just in our road, rail and telecoms networks - which we are.
The largest infrastructure investment anywhere in the Western world - Crossrail - is happening right here, under London, as we speak.
So let's not hear defeatist talk that we can't manage this project.
But today's economic infrastructure is more than just physical.
Our far reaching and often contested reforms to welfare, schools and universities are making the British workforce more educated and better skilled.
In everything we do, we are being unashamedly pro-business and pro-growth.
Later this month in the Autumn Statement, I will be announcing new measures to support you and support a private sector recovery.
Many of these changes we are undertaking are controversial.
Some are just as politically difficult as are the tough decisions we are taking on the deficit.
And you can bet that for every regulation reduced, every infrastructure project approved or public service reformed there will be special interests lining up to attack us and unions to oppose us.
Let's make sure that the voices of British business - the people who actually create the wealth that everyone depends on - are heard just as loudly in the months ahead.
Let's hear from the job creators.
Let's weather the storm.
And let's create the conditions in which thousands more businesses can enjoy the success that you are celebrating tonight.
Thank you.
Published 8 November 2011