Speech
Secretary of State's speech to the Oxford Farming Conference
I spoke at the Oxford Farming Conference for the first time last year when I shared with you the new Coalition Government's priority to support British food and farming.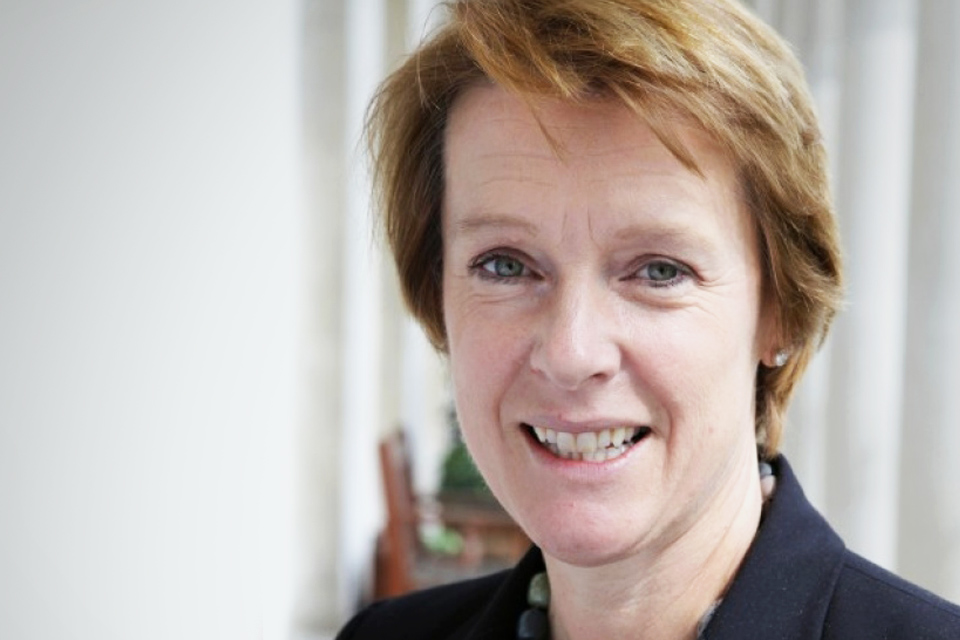 I spoke at the Oxford Farming Conference for the first time last year when I shared with you the new Coalition Government's priority to support British food and farming. But in those early days it was probably too soon for to really feel the difference. A year on, and we have delivered:
A Natural Environment White Paper, which puts agriculture at the heart of managing our natural resources.
A Water White Paper, which protects one of the natural resources agriculture most depends upon.
Published nearly 200 recommendations on how to reform red tape which holds the industry back.
And, making the very difficult decision on how to tackle bovine TB which has been crippling the industry for years.
Today, I will set out more on how government wants to increase the power and potential of agriculture, subject to today's excellent report which shows we may be a small island but we punch above our weight. However, we can't afford to be passive in a fast changing world, we have to be distinctive, wield more influence and engage, building alliances with key countries, government to government, government to business, and all of this is only possible with your help. That's against a background of planet that will need to feed and support an extra billion people in only 13 years' time.We are all familiar with the scenario. We'll need to grow a lot more food, using a lot less land, water and fossil fuel.
The Foresight report showed that treating any of the major global issues in isolation is fruitless. Food security, climate change, economic growth and the eradication of poverty are all inextricably linked. The reduction of poverty will open up new markets for food producers. In Asia this is already happening, as the new middle classes develop new appetites. But depleting our natural resources will compromise our ability to produce food, leading to shortages and more poverty in the long term. Instead, a resource-efficient, climate-smart, sustainable food sector will help economic growth, sparking innovation, providing jobs and creating investment opportunities.
These issues are linked, and these links must be seen. And nations must work together to understand these links, and take action. No one nation, or group of nations, can tackle these challenges alone. Only together will we develop a global food system capable of providing food security for nine billion people.
Yesterday Jim talked about our Green Food Project. It's an ambitious project, which will grasp the big and thorny issues: cutting waste; combining energy production and food production; influencing consumer behaviour. I am determined to see this project succeed. I am also determined to make use of our high degree of influence - and the report gives us a five out of five for this - to keep championing a more integrated approach to agriculture internationally. And to keep building and strengthening relations, with our EU partners, with our traditional allies, and with emerging powers such as China, India and Brazil.
Last summer I worked with my G20 colleagues to push for a more predictable world for food producers and consumers, in both developed and developing countries. The result was a new Global Action Plan for Agriculture, to provide greater transparency on harvests and stocks, helping tackle price volatility.
My work with French agriculture minister Bruno le Maire was particularly productive. We agreed that the key is to improve information about stocks, to avoid protectionism, and to increase production in a sustainable way. France and the UK showed here that we are reliable and constructive partners, helping to drive forward global solutions.
Within the EU, we've been building alliances, for example with those who oppose capping, like Romania, Slovakia, the Czech Republic, as well as traditional alliances like those with Scandavia and the Netherlands. And we're making sure that the Commission understands what UK farmers need. There's a long way to go in the negotiations. We need to persevere. Richard Benyon showed the importance of engagement and persuasion in the deal he got on fisheries in December. Jim Paice and I will be taking the same positive approach on CAP.
We are also very engaged in what's happening at United Nations level; and in creating new and flourishing alliances with emerging powers. In November I was in Durban for the climate change summit. I worked with South Africa's farming minister on the need for agriculture to be considered under the climate change convention.
When we think of carbon emissions, we tend to think of heavy industry. In fact, agriculture and forestry together account for around a third of the world's carbon emissions. Food security and climate change are inextricably linked. It's vital that we help farmers adapt to the climate change which is unavoidable. We cannot feed a growing population without adapting to the changes that are already happening. It is also vital that agriculture plays its part in lowering all its greenhouse gas emissions - in ways that make sense for the industry, and for food production.
We made some very good progress at Durban. There is much more to do. I will keep pressing for the importance of climate smart agriculture to be recognised at international level. In particular I'll be working with my South African colleague to get this issue in the spotlight at the UN sustainable development conference in Rio in June. We are also working closely with Brazil, the host of the big summit. We already have a strong alliance with Brazil, cemented through our joint work last year on the UN Convention on Biological Diversity. The UK is now backing a £10 million project in the Cerrado in Brazil to help reduce rates of deforestation and provide technical assistance for farmers. Our alliance with Brazil will help find ways through to the ambitious and tangible outcomes we need at Rio.
These alliances with key emerging powers will ensure we remain a powerful force on the global stage; that we build on the strengths the Power in Agriculture report describes.
The UK is a small island. We have a relatively small amount of land, and a small and finite amount of natural resources. We face risks to water availability, to our energy security, and also potassium and phosphorous supplies. We are also the first nation in the world to have made a thorough scientific assessment of our natural resources, in the form of our National Ecosystems Assessment. And we are home to the cutting edge science and technology that will enable us to make efficient use of that land and those resources.
This science base is something the report misses. But it is a huge strength, earning us respect and the chance of leadership, as well as increased productivity and competitiveness for our own farmers. We have persuaded BIS of the importance of the agrifood industry in advanced manufacturing. That's why the UK government spends £400 million a year on agricultural science.
Jim Paice talked yesterday about the UK's export opportunities. There's been a recent jump of over ten percent in our food exports, and we want this trend to continue. The Made in Britain brand is strong, and we can build on our reputation for quality and standards. So Government is backing UK farmers to produce more food - and to export it. Our Exports Action Plan, which will be published later this month, will help companies to export successfully by simplifying the paper work, and promoting the best of British food and drink overseas.
I want to focus on our science; on why we are spending that £400 million each year. I want to focus on our opportunity to become climate-smart, energy-smart and water-smart; to both grow more food; and export our intellectual property: our expertise and our technologies. Rising to this challenge will help our farming sector to become more resilient; and more competitive. And will help create the green global economy we so urgently need. So we are funding research into crop and livestock genetics, and into water and nutrient use.
There is a wealth of examples of exciting breakthroughs emerging from this research. There's the well-known East Malling Research project that has been growing strawberries with 70 percent less water. These results are now being transferred to potatoes - another crop with high water demand. In 2010 a team of UK researchers publicly released the first sequence coverage of the wheat genome. A similar project is now under way for barley.
This investment in knowledge is a significant contribution to tackling global food security - and to increasing the competitiveness of UK farming. In October last year a new variety of broccoli went on sale in UK shops. Beneforte broccoli provides increased protection against heart disease and cancer. It was developed at our world-leading Institute of Food Research and the John Innes Centre. It's a highly commercial food product that will give a real boost to agriculture, health and the economy.
Science is the key to combating the worldwide threat of animal disease. The UK maintains the science capability to respond to those threats. We have world-leading expertise on avian flu and on foot and mouth disease. In the Autumn Statement, the Chancellor announced that we will invest over £200m in a new, state-of-the-art animal virology laboratory at Pirbright. We also lead STAR-IDAZ, a global initiative that promises to revolutionise the way researchers work together on major animal diseases.
The UK is a key contributor to the Global Research Alliance on Agricultural Greenhouse Gases. We are spending over £12 million to refine how agriculture measures its greenhouse gas emissions, so that effects of mitigation can be properly measured.
We are funding research to assess the impacts of climate change on agriculture, to raise awareness and identify adaptation measures. Many UK farmers are reducing their carbon footprint. We want to help this become more widespread. So we are giving our full support to the industry-led Greenhouse Gas Action Plan, which promotes resource-efficient farming and land management, and makes good business sense.
Climate change could mean reduced water availability for the UK. It could also mean soil moisture deficits, heat stress on animals, floods, droughts and the loss of some of the best agricultural land. It could also bring longer growing seasons, reduced frost damage, and the opportunity to introduce new crops and livestock species. It's good to see industry already investing in potential opportunities from climate change. Another East Malling Research project - this one a collaboration with fruit and vegetable wholesaler Mack Multiples - is growing melons in Kent. A harvest of up to 10,000 fruits is expected. We want farmers to both manage the threats and seize the opportunities in climate change adaptation.
Water is a particular concern. Who would have believed, a few years ago, that a drought would be announced in December? Our Water White Paper, published a month ago, encourages on-farm reservoirs, as well as techniques for reducing water use.
A Climate Change Risk Assessment will report on agriculture among other sectors. And, as Jim announced yesterday, we are launching a Farm Advisory Service that will provide advice to farmers on climate adaptation.__
The SAC report predicts a decline in EU export capabilities, relative to emerging powers. But I read this as a call to the EU farming industry to become more competitive - and grasp the many opportunities of globalisation and the need for sustainability.
This round of CAP reform is crucial if we are to meet the challenges of  food security and climate change. Pillar two already includes measures to support innovation, and the Commission's proposal includes new measures, such as a European Innovation Partnership. A more flexible design of the rural development regulation, coupled with stronger links across other EU funds, could also stimulate innovation.
Let me give you an example of how a little CAP investment through Pillar two can go a long way. Only a few years ago the idea of an English wine sector seemed far-fetched. But a few dedicated pioneers started planting vines. Then CAP money was used to introduce 'Wineskills', a sector-wide training and sustainability programme: with great results. It's still a small sector, but English vineyards are now expanding rapidly - by about ten percent a year. And our wines are now winning international acclaim.
But now let me say that, with more flexibility, Pillar two money could go a lot further. The money for Wineskills came from a measure for supporting co-operation in the development of new products, processes and technologies. The Commission is arguing for this measure to be widened to support not just new products; and also a much broader range of cooperative projects. Cooperation involving both small and big operators, all along the supply chain. Cooperation to develop local markets and food chains. Cooperation on environmental projects and practices. This is the kind of flexibility we are arguing for. Flexibility that will support entrepreneurship and competition in UK farm businesses, so that they can grow and thrive. And that will ensure the healthy, vibrant rural economies and communities this government is so committed to supporting.
As Jim made clear yesterday,** **this government wants to do all it can to stimulate innovation and entrepreneurship in our farming industry. Our work on CAP reform is part of this. We are also collaborating with industry through the Technology Strategy Board's Sustainable Agri-Food Innovation Platform; which is providing up to £90m of funding over five years. And we are supporting the Agri-Skills Forum in its work to promote skills development. I've been I've been asked over and over about how to bring young people into farming. It's a heartfelt subject.
UCAS figures do show an encouraging rise in veterinary science and agriculture undergraduates: nearly 40 percent since 2006. But we need to make sure that these students have the right opportunities once their studies are complete. And we need to look further than the traditional routes of entry into farming. To stop thinking just in terms of farm businesses passing down the generations. And to get the message across that agri food is the industry for the future. That's it's a sector that offers opportunities to scientists, researchers and engineers. To people with creativity, drive and ambition. To entrepreneurs who want to help solve the global food problem, and to help Britain take its share of the market.
We must also understand that there's a place for different types of agricultural businesses. We need to create efficiencies of scale, but also ensure that conditions are right for smaller, specialist companies or new entrants. In March 2012 we'll be holding an Innovation Summit in London, to raise awareness of the resources available to food and farming businesses to help them innovate.
We are a small island. One that's home to some of the world's most successful and most influential agri-food corporations. I'm thinking of Unilever, Tesco, Associated British Foods. The UK Government understands the power of these organisations; and how vital they are in building a sustainable food system and a green and growing global economy. How we need to both influence them and draw on their expertise. So we are working closely with them to develop ideas and strategies. A most recent example being our support of the Food and Drink Federation's 20/20 vision - a shared vision for sustainable growth of 20 percent by 2020. We know engagement of these organisations in international discussions and decisions is crucial; and we are urging them to get involved in the Rio+ 20 summit.
The Power in Agriculture report explores the risks of this growing corporate power. We understand our role in ensuring that corporations use their power positively, and we're taking steps, including the introduction of a Groceries Code Adjudicator to safeguard it. We also know that these corporations provide the bridgehead to emerging economies for our farming industry. Associated British Foods has 50 different companies operating across the food supply chain in China; and employing over 10,000 people.
I was in China to see the UK win a top award at Expo 2010, when the Premier Wen Jiabao, shared his concern with me about food safety in China, and acknowledged UK expertise in this area. I've since found out that one of ABI's companies, AB Agri, is selling this expertise to help Chinese farmers, processors and retailers to improve food safety. It is also helping build the reputation of British agricultural products and expertise. And paving the way for other, smaller UK businesses.
Last month UKTI, the Food and Drink Federation, and the Food and Drink Exporters Association teamed up to do a trade show in China, showcasing the products of around 20 companies, ranging from meat and dairy to processed products. The event generated over 200 serious business leads for UK companies, illustrating the demand for UK food. It's also a good example of government and industry working together to promote the British food brand and the way DEFRA has influenced UKTI to widen the UK's exports.
Waitrose has recently broken into the Middle East market, selling UK-sourced products in its own shops in Dubai and Bahrain. It also exports its own-label goods to Kuwait, Qatar and Saudi Arabia; to India; and to many Caribbean countries.
Let me finish with an example of micro-multinational company a breakfast cereals maker. Dorset Cereals' international sales have doubled in the last five years, to £5m; and represented a fifth of the company's turnover in 2011. This company's award-winning products are a great example of a small company with overseas ambitions, and my challenge to you is that we need more of them.
The picture I've painted, is of a small but powerful island, poised to embrace the opportunities presented by this fast-changing world. A picture to galvanise this industry in 2012; to embrace its challenges with commitment and vigour. This industry is key to the realisation of our ambitions for a green and growing economy to meet the world's demand for good, sustainably produced food.
The world is changing at speed. We need to build on our strengths and our success. But there is absolutely no room for complacency.
We need to extend our influence, create new partnerships across Government, across industries, and across the world with partners like Brazil, India, Russia, China and South Africa.
We need more public-private partnerships. All actors working together for more power to agriculture's elbow.
Published 5 January 2012