Speech
Secretary of State's speech to the National Farmers Union conference
Secretary of State's speech to the National Farmers Union conference.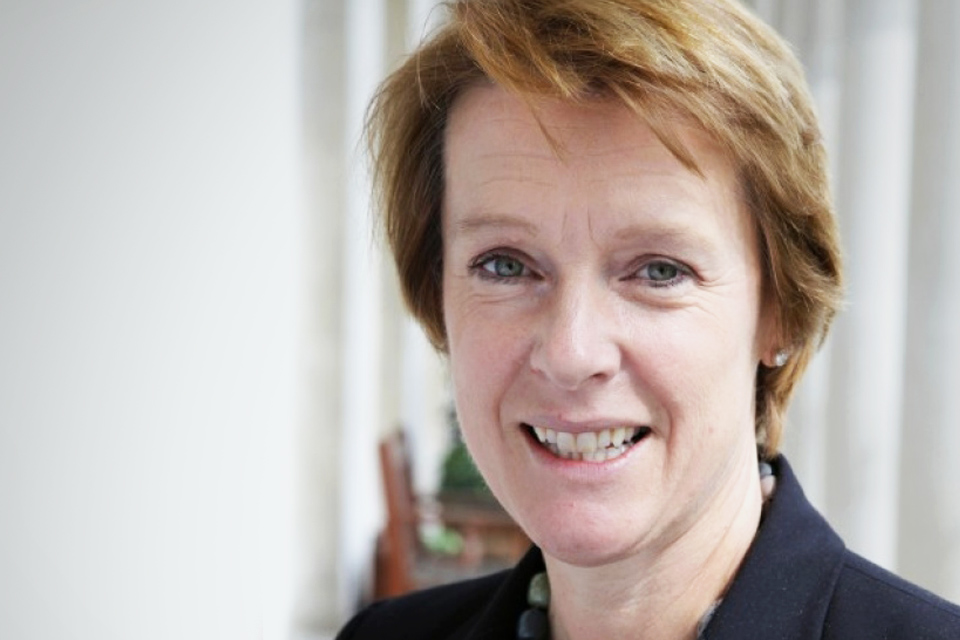 Ladies and Gentlemen.
Let me start by congratulating you.
Not just on organising another successful conference.
Not just on the innovation, investment and ingenuity you bring to your industry.
But vitally, let me congratulate you on the sheer respect you have built up for your profession.
At a time when other industries - banking, media and certainly politics - have felt the ill wind of public disapproval…
…To be a farmer in Britain commands respect.
Respect for your role in the stewardship of our countryside.
Respect for the quality of food you produce.
And respect for the highest levels of animal welfare and environmental protection.
To paraphrase my own Party leader at Conference in 2007:
"You did that, not me, and you should be proud."
Be under no illusion about how much respect this Government has for the work you do.
We know farming isn't about filling in form after form, or merely making the countryside look pretty for visitors.  
It's about the hard graft of putting food on our tables; and underpinning a countryside that lives, works and thrives.
Government can't deliver that with a flick of the pen from Whitehall.
And what's more it shouldn't pretend it can.
I believe that right now we have one of the most farming-focused Ministerial teams ever seen.
But not even we should claim to know what works best for your farms, your villages and your rural communities.
That's why we are determined to forge a new partnership between Government and farming.
A partnership where Government is "on your side" not "on your back". 
I understand the challenges you face.
I also know that the industry has huge potential.
I know that government and agriculture need to work in partnership.
I know just how important it is that we get the partnership right.
There is a lot hanging on it.
Environmental protection.
The rural economy.
And the role of farming in growing and rebalancing our national economy.
But what I will not forget is that we are talking about a network of family businesses.
Businesses shaped and carried by your family, friends and local community.
So we respect, and we value that. 
We are listening to you.
We are supporting you.
We trust your expertise.
And if Government is getting in your way when we don't need to be - I want to know about.
So today I will set out some of the progress we have made already.
And then I will look out how we are going to meet the challenges ahead.
Specifically the de-regulation agenda under McDonald.
The reforms we need to see out of the CAP negotiations.
And the targets we need to set in train at Rio+20 later this year.
But first - your President quite rightly calls on us to deliver.
So let me tell you what we've delivered so far.
For too long politicians have sat on their hands on the issue of Bovine TB.
Looking the other way, while cattle are slaughtered and livelihoods lost.
Two months ago I took a very tough decision on this issue.
Showing just how determined I am that this devastating disease is tackled properly. **
It is a complex and highly sensitive issue.
I've made the decision.
Together, we must keep explaining why this action must be taken.
And together, we must follow through.
The pilot areas have now been announced, from a shortlist proposed by the industry.
We expect the pilots to go ahead in the autumn.
Last year, Peter, you asked for a Food Plan.
This year, I am here with an answer to that request.
The Green Food Project represents a genuine partnership between government and industry…
To answer the question, "How do you produce more food, at less cost to nature?"
To identify actions that are realistic as well as ambitious.
We will report back this summer.
And banish the myth that increased food production and environmental protection are incompatible.
We want to help British farmers to grow more food, more sustainably.
We also want to help them to export more.
To boost their own businesses.
To help boost economic recovery.
To take their share of the emerging markets across the world.
So last month we launched the Food Exports Action Plan.
Again, a government and industry partnership project:
We are working together to drive up food and drink exports;
To be a vital part of an export-led recovery.
Our Made in Britain brand has such cachet.
That's why we've been working hard for country of origin labeling. That's why we are encouraging more protected food names.
Promote this brand. Capitalize on it.
Government will back you all the way.
And Jim Paice has just got back from Dubai, where he promoted the UK at the Gulf Foods International Food Expo.
We want to support British farmers to sell to the world.
We also want to support them in their role as the backbone of the rural economy.
We understand the particular challenges rural businesses face.
Which is why, in the Growth Review we pledged a £165 million boost for rural economic development.
We also pledged action to cut red tape on the use of farm buildings, to address the shortage of rural business premises.**
But, for this industry to grow and thrive, it needs new skills and new, young talent.
It's something you yourselves tell me, over and over again.
I hear you, and I agree with your urgency.
So we are backing your own industry-developed Skills Action Plan.
It's beginning to happen. We've seen a big rise in veterinary science and agriculture undergraduates.
And** **from 2010 to 2011, there were over 7000 new farming apprenticeships.
That's an increase of over 20 percent. 
I want to see more still.
We are funding apprenticeships, especially in small and medium sized businesses typical of food and farming.
We've set up the new Animal Health and Welfare Board to give the livestock industry its rightful voice in animal health and welfare policy.
I'm glad to see the NFU is getting involved in this work. It won't succeed without your involvement.
But Ladies and Gentlemen, there's some things Government can control and some things it can't…not least the weather.
Yesterday, in London, I held a drought summit.
It's very clear agriculture will be affected again this year.
We all need to understand the risks - and the opportunities - of changing weather patterns.
But farmers, more than anyone, need to be climate smart.
Our food supplies depend on it.
Which is why I've been working so hard internationally to get the need for climate-smart agriculture recognised.
At a national level, our Water White Paper set out** **the need to ensure farmers have enough water to grow food.
And the need for an abstraction regime fit for the 21st century.
We also published the Climate Change Risk Assessment…
Which will help agriculture and other sectors manage the threats, and also the opportunities, of the climate change that is now inevitable.
I now need your input as we develop the National Adaptation Programme.
So, it's been a busy year, and progress has been made.**
But none of us are complacent.
There is much, much more work to do.
Let's face it, you can't turn round a decade of neglect in a matter of months. 
So let me turn to today's big highlight…
..the publication of our response to last year's Farming Regulation Task Force report.
First I must commend both Richard Macdonald and Jim Paice for their unflagging commitment to this important work.
This initiative is not just about tweaking a few rules.  
Instead it marks a genuine shift in the way we work with you.
A shift that presents a legacy of freedom to Britain's farmers. 
Freedom to innovate - and thrive.
The keys to this freedom are partnership, trust - and simplification.
In a new culture of trust, we will be reducing inspections for farmers who consistently achieve high standards.
Letting them get on with running their farms to high standards.
Cutting out duplicate visits.
We also need to maintain the trust of consumers, here and abroad. 
In partnership, we must keep our Made in Britain brand intact…
Ensuring our food maintains its high quality…
As well as being safe, ethical and green.
We will step up our focus to help farmer who underperform.
This new approach is risk-based, common sense and win-win.
But let me be clear:
This is not going to compromise the standards that are needed.
We will come down hard on those who don't play by the rules.
But, we want this country's farmers to be farmers, not form-fillers:
Free to produce food…
Rewarded for protecting nature…
And for growing our green economy.
We want to make life easier, stop asking for repeat information, and help farmers to access information online.
In partnership we are working with you in Europe.
Influencing proposals on animal health law, for example, advocating the way things work here, and shaping legislation to reflect this.  
In partnership we will be developing simple and clear guidance on cross-compliance.
Guidance that is written by farmers, for farmers.
Over the years EU environment legislation has become a huge burden.
We want to cut through this bureaucracy and be clear about what farmers actually need to do, and why. 
For example, nutrient management and soil protection are both essential.   
Why make it complicated?
It is good business sense to do it, so let's make it simpler to achieve. 
What's clear is that environmental standards must be maintained and enhanced.   
But the regulations need to be simplified.
We are tackling this in Europe.
Commissioner Ciolos is here to listen and consider our suggestions.
Commissioner, you yourself champion simplification.
As your letter to EU ministers on simplifying our Common Agricultural Policy showed.
We have the opportunity to make the reforms that will create simplicity and more freedom for farmers.
I urge you to be bold, and to act quickly.
And I can assure you of our unflagging support.
But in the meantime, in this country, we will be making it easier for farmers to comply with the regulations…
By setting out, in plain English, the 'what' and the 'why'.  
Simpler messages, and an easier way of getting them to you.
So we want to know how best to get them across, so everyone gets the right guidance at the right time.
Achieving simplification is not always that simple, of course.
But it starts with partnership.
With a bedrock of trust, value and respect.
This is what enables processes to be streamlined, rules to be simplified
Freeing farmers to produce more high-quality food - and become more truly competitive.
And of course I believe that this needs to happen in Europe, too.
Europe is blessed with 30 percent of the world's biomass.
And that comes with responsibility.
To feed a hungry world, its farmers must be free to innovate and develop their commercial acumen.
They need a Common Agricultural Policy that gives them that freedom, as well as support.
I'm realistic. Most European ministers know that the CAP budget will have to be smaller.
Just look across Europe - at the economic challenges we face.
The CAP must be simplified, and it must be flexible.
Above all it must be looking forward, not backward…
And it must reward farmers who are doing the same.
Competitive farming needs open markets. 
It's not subsidies, regulations and trade barriers will feed an extra one billion mouths in less than 13 years' time.
It's you, the farmers.
Greater market orientation, with fair support for the provision of public goods, is the right direction for the new CAP. 
So how do the Commission's proposals stack up?
Commissioner, you've identified the right issues.**
Food security, climate change, and greening.
Many of us here feel these are so urgent, your proposals should be more ambitious.
They must recognise the regional differences of farming systems..
Everything from the uplands of Scotland to the arable acres of East Anglia.
And be flexible enough to accommodate these variations.
That way you will free farms and farmers to meet your greening ambitions.
I would argue, for example, that the UK is ahead of the curve with its agri-environment schemes…
…in that they are designed to involve all farms, not just specialists…
..with more stretching options - and greater rewards - for those who want them.
This model works.
UK farmers are - and should be - proud of what they achieve through stewardship.
We want the CAP to recognise these achievements - and to benefit from them, too.
UK farmers must not be penalised for pioneering these schemes.
Nor must they be prevented from going further, or faster.
Greening needs to deliver meaningful environmental benefits.
It must also be compatible with the need to grow more food.
It must be for everyone.
And it must be as simple as possible.
It must enable farmers to continue producing.
It must be additional to measures for cross-compliance with other European legislation…
And acknowledge our existing agri-environment schemes.
And it must be able to recognise where contributions, although different from each other, are of equivalent value. 
I don't want to underestimate the challenge of designing a greener, simpler CAP.
But it's a challenge that must be met.
And the UK will do all it can to help you ensure that it does.
On competitiveness.
The proposed measures under the Rural Development regulation are a big step forward.
In the UK we already use rural development funds to support farm business development: -
For investment in physical assets, such high flow storage reservoirs.
For training, knowledge transfer and innovation - though our Farmers for the Future programme, among others.
And for co-operation amongst groups of producers.
An example would be our excellent Monitor Farms.
A concept borrowed from New Zealand, monitor farms demonstrate best practice to other farmers.
The proposed measures for the new programme offer more flexibility, and more options, which we welcome.
This is exactly the sort of support that will help farmers to develop the skills to compete abroad. 
But on the one hand Pillar 2 measures improve competitiveness, while Pillar 1 measures hold it back. 
We wholeheartedly agree with you that we need to invest in agricultural research.
So I particularly welcome the proposed European Innovation Partnership for sustainable agriculture…
… which will help channel the fruits of research straight into tools and technologies. 
For us it's vital Pillar 2 funds are allocated objectively criteria, rather than based on historic spend. 
According to the Commission's own data, the UK's allocation of Pillar 2 funding per hectare in 2013 is the lowest of any Member States. 
This must be addressed in the new CAP.
The UK needs the right support to help meet the Commissioner's ambitions.
We must have early clarity on both Pillar 1 and Pillar 2 allocation, before we decide on the regulation - or indeed the CAP package.
Thirdly - and to return to my theme - we need more simplification.
There are some improvements…
But they are marred by the proposals which bring complexity, bureaucracy and headaches. 
We must keep weeding away until we get to a truly simple structure…
To support clear and focused rural development programmes.
New rules must be as simple as possible - and proportionate to the benefits.
On this all EU governments agree.
This test must be applied, and it must be met.
Active Farmers, for example.
The principle is a good one.
Of course no one wants to see taxpayers' money going to people who don't actually farm, produce food or deliver any public goods.
But looking at people's tax returns is not the answer.
If we think about it here, it would mean marrying the Rural Payments Agency database to the Revenue and Customs database.
A nightmare scenario if ever there was.
There are better ways to identify active farmers.
Individual Member States will know best how to make these decisions - so please trust us to do so.
Just like here in the UK, we are showing our farmers we trust them to deliver - and to do the right thing.
On Small Farmers**, **we say yes to simplification…
And no to exempting them from cross-compliance and greening. 
Commissioner, you will not achieve your laudable ambitions by divesting small farmers of their responsibility for protecting nature.
At the same time, it won't encourage productivity and competitiveness - and it will stifle innovation.
And it isn't acceptable to farmers, like the UK's, who have already acted to preserve our environment.
The CAP is a common policy after all.
Last summer I attended the G20 agriculture ministers' meeting in Paris. 
What was striking about that meeting was that, on the need to increase production, sustainably, we were all agreed. 
At the Rio sustainable development summit this June, agriculture is up there - at the top of the agenda.
Because it is at the heart of the green, sustainable economy.
That's why I've been calling for global defined actions to improve agricultural productivity and sustainability.
The threat of increasing hunger is bringing the world's eyes onto farming. 
We cannot meet that threat by standing still.
The UK needs to demonstrate - to showcase - our own progress.
It has a golden opportunity to show the world just how sustainable, and just how competitive, this industry can be.
I will work with my European colleagues, and with you, Commissioner, to make that a reality.
I began by stating my respect for this industry.
And by emphasising its importance, nationally and globally - to the economy, to the environment, and to our future well-being.
I repeated the Government's pledge to work in partnership with you…
Working to meet the challenges - and seize the opportunities - that are yours.
Our response to the Macdonald report takes this partnership to a new level.
So let's keep going. Let's keep working together.
Because together, we can maximise the UK's share in the world market, for the goods and services you provide.
Because together, and with our European colleagues, we can ensure our Common Agricultural Policy is fit for purpose.
And because the rest of the world depends on us to do that.
Published 21 February 2012