Speech
IEA launch of "Redrawing the Energy-Climate Map" report
Speech by Minister of State for Climate Change, Gregory Barker.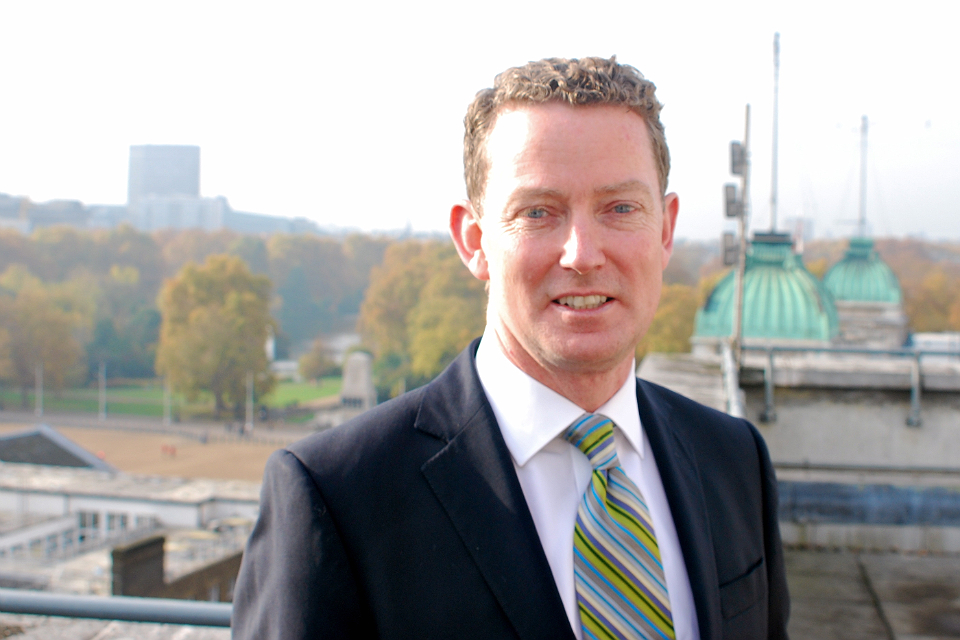 I'm very pleased to be able to join you today – and to support the great work that the IEA is doing….
Particularly in front of such as distinguished audience including rather scarcely my old boss with whom I remain a huge admirer.
Redrawing the Energy-Climate Map is a serious report that must command not just our attention but a wider audience as well and it is a very welcome injection of scientific backed and up-to-date data, an injection into a debate that is becoming increasingly unscientific and marked by opinion rather than firm data. So this is a very very timely as well as important contribution.
This coalition has famously pledged to be the greenest government ever and I want to underline that that pledge remains as true today, after three years or more in government with all the challenges that means, as it was in the early dawn of the coalition in 2010.
But now, we have an increasing record of green delivery to actually point to. But for all of those things that we can tick the box and pleased to deliver over the past three years, at the heart of our policy programme of low carbon delivery and innovation remains a fundamental conviction that climate change is the greatest long term threat that mankind faces in the 21st century.
But in addition to that, this government believes that acting on climate change is not only the right thing to do for our planet, but if we approach it in the right way, it is the right thing to do for our economy too.
More than that, whatever way you look at it; we believe that increasingly the world is coming to that conclusion as well.
That to be greener, more resource efficient and more energy efficient in an age of climate volatility, population growth and an expanding global middle class, all competing for finite resources, that this is the sensible, pragmatic and long-term thing to do.
I hope that the UK will play an increasingly leading role in forging this more sustainable world and more sustainable global economy.
Let me be clear why that is:
The climate science, despite the debate in the media, remains robust and to ignore it or pay less attention to it would simply be reckless.

But in the current financial environment, we have to be realistic and we have to recognise that we need climate policies that help the planet and under pin our own national competitiveness and growth– helping us in the UK stay ahead in the global race.

And in that a global race for economic success and prosperity, the world's most successful economies that are competing are already taking up to the enormous opportunities that low carbon growth can bring
Now, to my first point – the facts underpinning our understanding of the science remain strong. But we have to be honest and open and face up to the debate and the challenge that there is in the media.
Much has been made of the fact in the climate sceptic columns of the press that there has been a pause in the global temperature rise over the last 15 years. That means some are actively suggesting that climate change is not as bad as the scientist say, or some, even more extreme, that it is not even manmade or it is simply not a problem that we need to worry or care about.
We shouldn't duck this challenge or duck the evidence that they produce to support this claim. We shouldn't be afraid to confront uncomfortable facts simply because they don't suit our arguments or we don't concur with the conclusions of the people that make them.
Because, yes, it is the case that average global temperature hasn't increased significantly since around 2000, and there are some uncomfortable facts, but I am not a scientist, but I also know that there is a whole overwhelming body of evidence that also has to be taken into account that we cannot just selectively take facts to suit your argument.
The fact is temperature plateaus are actually common as natural climate variations and heat taken up by the ocean can temporarily mask surface temperature trends. But in the long term, taking all the evidence together, it is clear that the world continues to warm and that there are other clear indicators that need to be taken into account that tell us in no uncertain terms that the climate is changing and potentially heat is being absorbed by other parts of the planet and we can see this as sea levels continue to rise, most glaciers around the world are retreating, we see the increase risk of extreme weather events, rainfall, floods, droughts, tornados increasing.
Of course it is important that the scientific community continues to explore the relationship between greenhouse gases and temperature – so-called climate sensitivity – to continue to iron out and explore and ultimately reduce uncertainties.
But as I said, this is a very complex subject, we should be afraid to try and explain this to a sometimes bewildered or sceptical public. The fact remains that the best estimates we have suggest that if we continue to emit greenhouse gases at current levels or increasing levels, then according to the IEA report we are looking at temperature rises of between 3.6 degrees and 5.3 degrees and that is a truly scary prospect.
Now, the Prime Minster understands the urgency to act but also the opportunities that stem from taking early action.
Indeed, at the launch of the Department of Energy and Climate Change's energy efficiency mission earlier this year he said:
"to those who say that we just can't afford to prioritise green energy right now, I say we can't afford not to."
And thanks to the extraordinary work of Lord Stern in this area over a number of years we are infinitely better able to understand the scale of costs of inaction.
Which brings me on to my second point.
That making our energy sources greener…
…our energy consumption more efficient…
….and our economy more resilient to international energy price shocks must be a 'win-win', a win for both the environment and for our economy.
It's a vital part of the very practical, pressing and immediate point of delivering cheaper bills for hard-pressed consumers…
As well as generating cleaner energy to protect our planet… And again, this is all part of a consistent strain of thought and policy to help the UK to compete in the global race.
And compete in the global race to get a bigger share of that global low carbon sector set to be worth $4 trillion by 2015…
… it is the countries that prioritise green energy now that will secure the biggest share of jobs and growth.
Already, the UK ranks among the best places for green energy, green investment and green jobs globally.
The City of London is the world's No1 financial centre for low carbon industries to raise investment from and we continue to innovate with new financial products to help drive the growth of this sector.
…A third of all global asset finance investment in new energy deals 2007-2012 received legal or financial assistance from the UK.
Our Green Investment Bank – a world first – and one which I am glad to say Nick Stern was involved in the very early days when it was just a glimmer of an idea, Nick played a crucial part in helping frame that idea and ultimately help create that is now a key part of the architecture of the city of London with a capital base of £3 billion available to support green projects. It is a new institution, no longer just a glimmer, that is up, running and investing, not just its own £3 billion, but crowding in significantly amount of funds from the private sector. Offering a genuine leadership role, not just here in the UK economy but also a signal to the wider green economy too. The Green Investment Bank has so far catalysed a additional £1.9 billion of private investment. Not bad, considering it has really only been going, for not even a full year yet. Pretty good going.
Our pioneering Green Deal programme is a whole new market approach to rolling out energy efficiency will mean thousands of families can afford to insulate their homes for less. Ultimately millions of homes will benefit from this.
We have the world's first payments to business for generating renewable heat, now up and running. Creating a new renewable heat market – a much more difficult market to get going, than simply generating renewable electricity, but we are doing it and delivering it.
We are creating the largest offshore wind market in the world. In a couple of weeks' time, the Prime Minister will inaugurate the London Array, the world's largest offshore wind farm. But that is just the beginning of a massive engineering programme.
I don't know if you know, the sizes of the turbines, in which there will be hundreds in the North Sea, are huge. From tip to toe, they are taller than the Gherkin in the City of London. In span, bigger than the London Eye.
These are huge engineering projects, and not projects that are going to stand in the middle of London, these are engineering projects that will be in the hostile conditions of the North Sea, far from land. This is a huge opportunity, not just to re-engineer our energy sector, but to actually regain leadership in the engineering and manufacturing and help rebalance our economy away from over dependence on the financial sector. This is really exciting engineering boost, the like of which we have not seen in the UK since the 19th century.
That's why the CBI has estimated that green growth contributed to at least a third of all growth in the British economy in the last two years.
In the last year for when we have figures (2011), green jobs across the UK were estimated to be one million.
That's on a par with the number of jobs in financial services…
We are sixth in the global league table of green goods and services with a market share of over £120 billion.
So often, people say the green economy is all about subsidised renewable energy at home. Actually these figures show, it's increasingly about exports and exports not just to the traditional markets, but the very exciting markets in the developing world, markets which we need to break into, in order to guarantee our long-term prosperity.
So far from being a drag on our economy – it is an essential part of growth and job creation…
…And we need only look at the work of organisations like the IEA and its report today….
…which show us measures to meet the challenge of climate change can drive economic growth.
Finally, let me tell you that where the UK is leading others are following.
The world's economic power houses are already taking up to the enormous opportunities.
China is now ranked 3rd place among countries most prepared for a low carbon economy of the future…
…in the Climate Institute/GE Low Carbon Index Report that was published in March 2013. It predicted that China will install 100GW of renewable energy by 2015…
…the majority of world's solar cells are now manufactured there…
…and it is the largest destination for UK Low Carbon Environmental Goods and Services.
In the USA, over half of all States now have renewable energy standards.
In Brazil, legislation was enacted in 2009 to reduce emissions by nearly 40% by 2020 based on the 2005 base line…
…and 80% of Brazil's power is expected to come from renewables by 2030.
These countries are also working together to reach agreements.
China and the United States announced just this week a climate deal to work with other countries…
…to reduce the fastest growing source of emissions, but one that is not talked about so much…
…HFCs used in air conditioners and refrigerators…
…which can be 2,000 times more damaging than carbon dioxide.
Just last week, I welcomed, here in London, the Consumer Goods Forum's resolution to begin phasing out HFCs here in the UK as of 2015.
At the European level…
…the UK is taking a leadership position, the government is going to be at the forefront of an ambitious EU-wide target of 50% greenhouse gas emissions reductions by 2030 as part of a global deal…
…But with the flexibility to reach that goal in the most cost, effective and appropriate ways for each member state…
So, don't let anyone tell you that we are just taking unilateral action that has no impact elsewhere, while the world carries on with business as usual, the world is changing and we believe a greener world will be safer and more prosperous as well as more resilient.
Our industries will produce fewer emissions.
Cars will be cleaner and more efficient.
People's energy consumption will be cleaner and more efficient.
And the crucial point is that our climate and growth-friendly policies are helping us, the UK, to compete in this low carbon global race.
In a challenging, globalising world, we aren't just competing, we are beginning to emerge as a winner. We are building the deep foundations of a more sustainable and enduring economy for generations to come.
Thank you
Published 13 June 2013