Speech
Queen's Birthday Party in Ashgabat
Transcript of a speech by Mr Sanjay Wadvani OBE, Her Majesty's Ambassador to Turkmenistan, 12 June 2014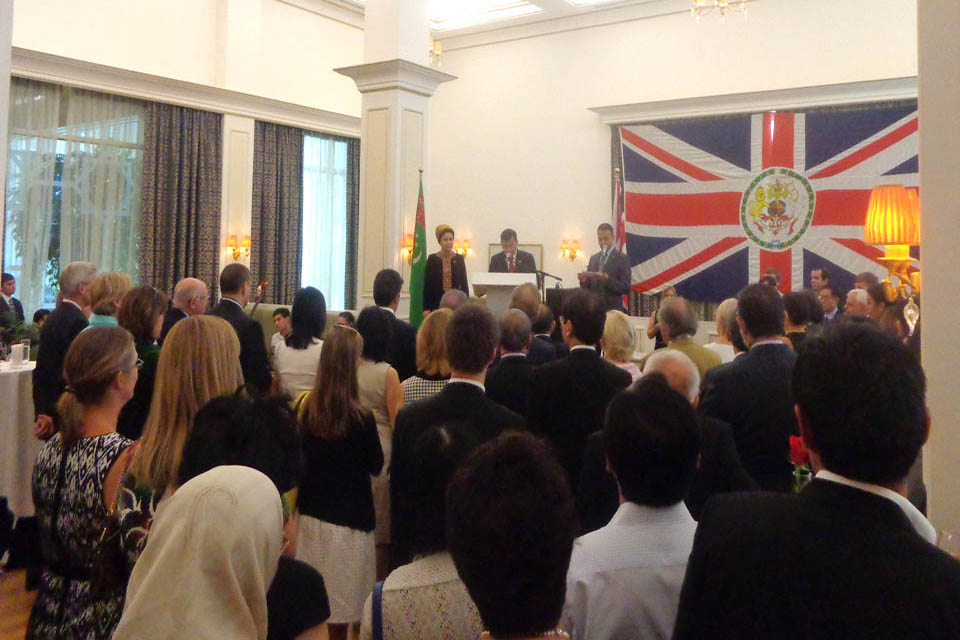 Ms Bayramova, Deputy Speaker of Mejlis, your excellencies, ladies and gentlemen, a very good evening to you and welcome to the Queen's Birthday Party 2014, which marks the official birthday of Her Majesty Queen Elizabeth II.
On this happy occasion I would like to send warm greetings, on behalf of the British Government, to His Excellency President Gurbanguly Berdimuhamedov and the people of Turkmenistan.
I arrived just over six months ago and am delighted to have been made so welcome by many of you in the room today. I have also been very pleased to see the growing range and depth of engagement between the United Kingdom and Turkmenistan.
Our trade relationship continues to develop well. UK exports to Turkmenistan increased by 37% in 2013, over 2012, and overall bilateral trade was up by 9%. There is of course much activity in the oil & gas industry, though I hope to see more in the coming year. And we are making a very special effort to develop more meaningful engagement between UK providers and Turkmenistan in the area of vocational and technical education. The future of this wonderful country lies in the ability of its young people to equip themselves with the right work skills to develop a 21st century economy. We think that UK providers, working successfully around the world, are well placed to help with that development.
And it is the area of sports – something very close to my own heart – where I think we are building perhaps the closest links, in the opportunity provided by the Asian Indoor & Martial Arts Games, which Ashgabat will host in 2017. A number of British companies and institutions are already involved in areas as diverse as planning, engineering and media. We have developed a good working relationship with the government of Turkmenistan in relation to the Games and I would particularly like to thank those involved in delivering those Games for their vision and engagement. I know you will deliver an event that will bring great honour and credit to your country.
I am also very pleased that we are able to engage with other areas of development in Turkmenistan, perhaps in fairly small ways, but again growing and strengthening. We recently hosted a small defence delegation led by our non-resident Defence Attaché, which discussed the provision of training to the Turkmen Ministry of Defence.
It is also a privilege for us to be able to work with the UN agencies - as well as other multi-lateral bodies such as the OSCE – to help deliver funding for programmes that assist the government of Turkmenistan in the development of the country.
In all our work, we depend on the collaboration and friendship of many different people and institutions. I have mentioned already the positive help we receive from various ministries and departments of the government of Turkmenistan – thank you again. To my colleagues in the diplomatic community – thank you for your help and advice – and for your humour.
To the resident British community here – you are few in number, but the impact you have is very important. The people-to-people contacts that you have each and every day helps build a greater understanding between our countries.
And to the British companies that work here and visit. You do some great work. And also help build the ties between our countries. A particular thank you to those companies that have helped fund this evening's reception: to Rapiscan; Toye, Kenning & Spencer; JCB; Shell; Buried Hill; De La Rue; CSM Strategic and to The Royal Mint. Very many thanks for your generosity and wishing you, and all present, a successful year ahead.
I would now like to invite Ms Bayramova, Deputy Speaker of Mejlis to address our guests, after which we will raise a toast to Her Majesty Queen Elizabeth II on Her birthday.
Published 18 June 2014