Speech
Queen's Birthday Party celebrations in Dar es Salaam
Speech from HE Sarah Cooke on the Queen's Birthday Party, 5th June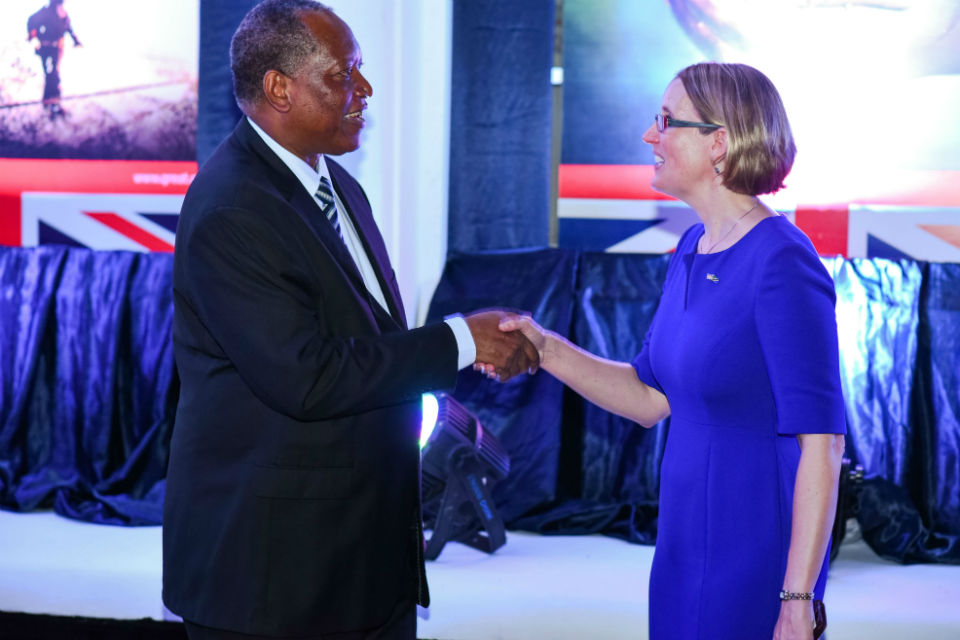 Honourable Professor Kabudi, Minister of Constitutional & Legal Affairs in the Government of the United Republic of Tanzania
Officials of the Government of the United Republic of Tanzania,
Distinguished members of the Diplomatic Corps
Ladies and Gentlemen, Mabibi na Mbwana.
Jioni njema na karibuni nyumbani kwa Balozi wa Uingereza, kusherehekea siku ya kuzaliwa kwa Malkia Elizabeth wa pili.
It gives me great pleasure to welcome you all to this celebration of the official Birthday of Her Majesty Queen Elizabeth II.
At the age of 92, I think you would agree that Her Majesty has had a very busy few weeks.
Two weeks ago, she attended the wedding of her grandson, Prince Harry, the Duke of Sussex;
She also became a great grandmother for the 6th time with the birth of Prince Louis to the Duke and Duchess of Cambridge;
And at the end of April, Her Majesty hosted the Commonwealth Heads of Government meeting.
As the Head of the Commonwealth, the Queen was centre stage as the United Kingdom welcomed leaders from 52 countries to London.
This was the largest and most ambitious gathering of world leaders ever held in the UK.
I am delighted that Her Excellency Vice President Samir Suluhu Hassan represented the United Republic of Tanzania so admirably.
This was a Commonwealth reinvigorated.
The 53 Commonwealth Countries pledged to work together to deliver a more prosperous, more secure and a more sustainable future for their citizens.
They also pledged to deliver a fairer future for their people by re-affirming their commitment to democracy, human rights and the rule of law, as set out in the Commonwealth Charter.
Their pledge to work "Towards a Common Future" was a powerful statement of intent.
And it is an aspiration that we, the British Community here in Tanzania, also share. British investors, development experts, teachers & volunteers are all here because we want to work "Towards a Common Future".
For example, I'm proud of the contribution that British companies are making to Tanzania's prosperity. They pay 5% of all tax revenues in Tanzania and have created nearly 300,000 jobs in sectors such as agriculture, tourism, energy and manufacturing.
I also know that British companies would like to do even more, but are finding business conditions quite tough right now. I know some of them welcomed the opportunity to meet with Her Excellency The Vice President during her visit to London and we look forward to working together with the Government to create those "win-win" opportunities for Tanzania and for business.
While she was in London, Her Excellency also helped promote the global fight for women's empowerment.
It's a subject we share a passion for.
As you may know, 2018 is the 100th Anniversary of women having the right to the vote in the UK.
So, as we mark that milestone back home, I want to do all I can to support the empowerment of women & girls here in Tanzania – building on the fantastic work that UKAid is doing to support girl's education.
In April, I hosted a Commonwealth Big Lunch in this garden.
We connected young Tanzanian schoolgirls with inspirational Tanzanian women for a spot of speed mentoring.
It was a chance to give young girls the confidence that they have a VOICE, they can CHOOSE who they want to be, and they can take CONTROL of their lives.
I hope we may have inspired the next generation of Women Leaders – perhaps a future Vice President or even a future President.
More poignantly, 2018 is also the 100th anniversary of the end of the First World War. After the Great War, we pledged to never forget the suffering and sacrifice of those who fought for their countries, for democracy and for our freedom.
So it was an honour for me to meet veterans from the Kings African Rifles at our Remembrance events in November. Men who fought alongside others from across the Commonwealth.
And it is in tribute to them, as well as to the fallen, that I have made it a personal goal to lay a wreath at every Commonwealth War memorial throughout Tanzania before the 100th Anniversary in November.
There are 17 sites across the country: from Dodoma to Dar es Salaam; from Zanzibar to Iringa; from Tanga to Morogoro.
And they include the isolated grave of Captain Frederick Henry Selous, which is found under a tamarind tree in a small corner of the Game Reserve - and World Heritage Site - which bears his name.
Mention of his name inevitably leads to thoughts of big game hunting and of elephants.
As you entered the garden this evening, some of you may have noticed a rather small, pretty low key picture of Her Excellency meeting with His Royal Highness The Duke of Cambridge, whilst she was in London.
As many of you will know, His Royal Highness is passionate about Africa and about tackling the illegal wildlife trade.
In their meeting, they discussed the devastation caused by poaching and the need for international cooperation to stop this terrible crime.
Which is why, in October this year, the UK will host an international conference focused on combatting the Illegal Wildlife Trade.
And here, in Tanzania we are doing our bit, including to support the authorities tackle smuggling through the airport and ports.
For example, with funding from UK Aid, the incredible Apopo Hero Rats who have been trained to sniff out land mines and diagnose TB are now being trained to sniff out Pangolins – the most illegally trafficked mammal in the world.
It is yet another reason to celebrate the strength of partnership between the United Kingdom and Tanzania, as we celebrate Her Majesty's birthday.
And, as you will see behind me, even Buckingham Palace has got its party frock on tonight!
In conclusion, I'd like to take a moment to thank our sponsors, who represent the Best of British.
Thank you to BAM, Deloitte, Ernst & Young, Intertek, Ophir Energy, Serengeti Breweries, Shell, Songas, Standard Chartered Bank, Unilever and Vodacom.
And for keeping us safe tonight, I'd like to thank Ultimate Security and the Tanzanian Police Force.
All of you have made this evening's celebration possible. Asenteni sana.
Published 7 June 2018