Oral statement to Parliament
Nicky Morgan speaks about young people and work
The Education Secretary addresses the House of Commons about preparing young people for the world of work in modern Britain.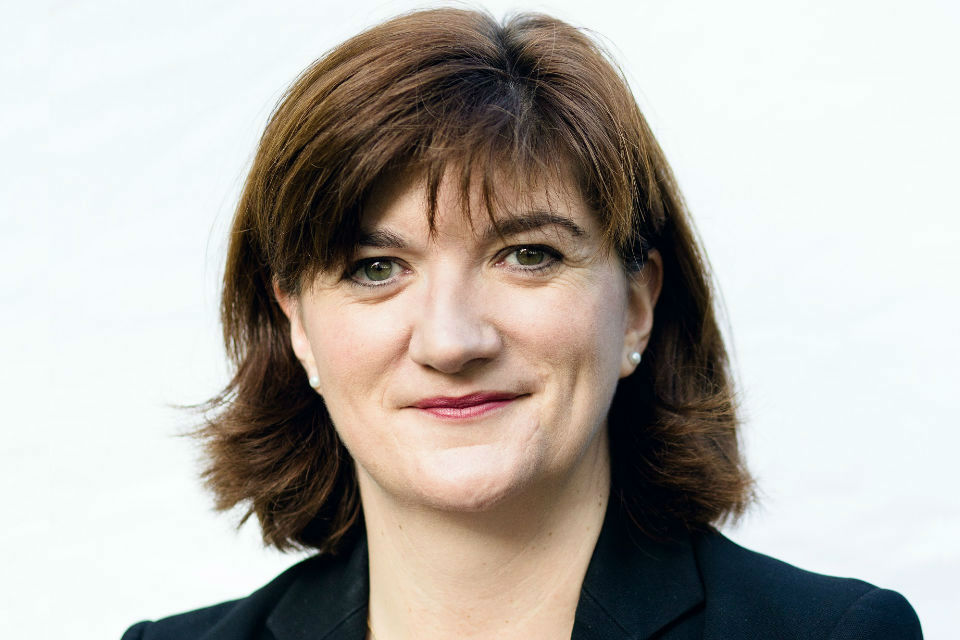 With permission, Mr Speaker, I would like to make a statement about the next phase of our plan for education - preparing young people for the world of work.
Ensuring that young people leave school or college prepared for life in modern Britain is a central tenet of this government's plan for education, and a vital part of our long-term economic plan for Britain. It is the students of today who will be the workforce of tomorrow and on whom the future success of our economy - and everything that flows from that - will depend.
That is why our plan is ensuring that every young person learns the knowledge, skills and values they need to be able to leave school or college ready to fulfil their potential and succeed in life.
This government has done a huge amount to raise standards in our schools:
we now have a million more pupils in good and outstanding schools - more than ever before
100,000 more 6-year-olds are now on track to become confident readers because of our focus on phonics
the number of pupils taking core academic GCSEs is up by 60% since 2009 to 2010 thanks to the EBacc
And, critically, we now have the most highly qualified teaching profession ever, with more graduates from top universities choosing teaching than ever before.
But Mr Speaker, I am clear that - while helping every child to master the basics is vital - it is only the start. Schools and colleges have a broader role to play in preparing young people for adult life.
That is why I recently allocated £5 million of funding to support new, innovative projects that build character, resilience and grit - because as much as I want the next generation to be able to solve a quadratic equation, I also want them to be able to make a compelling pitch for a job and to be able to bounce back if things don't work out.
And it is also why today I am setting out an ambitious new approach to the way we open young peoples' eyes to the world of work.
Mr Speaker, it is widely acknowledged that careers provision in schools has long been inadequate.
To date, we have encouraged schools and colleges to take the lead. We have placed a clear duty on them to provide students with access to impartial advice and guidance. But, though we published an Inspiration Vision Statement in September 2013 and strengthened the statutory guidance to support schools and colleges in making this vision a reality, it is clear that many schools and colleges need additional support if we are to ensure every young person - regardless of background or location - receives the life-changing advice and inspiration that they need to fulfil their potential and succeed in life.
This is a view supported by a number of respected contributors in this area - including Ofsted, the National Careers Council, the Sutton Trust, the Gatsby Foundation, the Education Select Committee of this House, as well as many employers, sector experts, and schools and colleges themselves.
There are some schools and colleges doing great things to ensure that their students access the necessary support, but too often provision is patchy. Already busy schools and teachers do not always have the time to give this the focus they should.
Meanwhile, many organisations - including employers - offer excellent programmes for young people. The challenge before us is how to ensure every young person in every part of the country is given access to them.
I have consistently heard calls from both employers and schools and colleges to help them navigate this complex landscape and to spread the good practice that is happening in some parts of the country to all.
Today I am answering those calls.
Mr Speaker, I am pleased to be able to tell the House that Christine Hodgson, Chair of Capgemini UK and someone with a strong track record of developing young talent, will chair a new careers and enterprise company for schools.
This will transform the provision of careers education and advice for young people and inspire them to take control of and shape their own futures.
The company will support much greater engagement between employers on one hand and schools and colleges on the other.
It will ensure that young people get the inspiration and guidance they need to leave school or college ready to succeed in working life. It will be employer-led but will work closely with the education and careers sectors.
And it will act as an umbrella organisation to help employers, schools and colleges and other organisations navigate their way through the existing landscape. It will provide a vehicle to help other organisations coordinate their activities where appropriate.
The company will not itself be a direct delivery organisation, or act in competition with the many existing providers in the market. Instead it will help schools, colleges, organisations and employers work together in partnership.
The company will focus on the offer to young people, initially those aged 12 to 18. It will work closely with the National Careers Service, which will continue to support adults and young people and help the company bring employers, schools and colleges together.
It will be for the new company's board to set its own strategy but we envisage that it will do a number of things.
It will use relationships with employers - private, public and third sector - to break down barriers between schools and colleges on the one hand and employers on the other, and increase the level of employer input into careers, inspiration and enterprise in all schools and colleges. It will do this partly through a network of advisors who will broker strong and extensive links at local level.
It will assist schools and colleges in choosing effective careers and enterprise organisations to partner with, including considering the use of quality marks. It will stimulate more and better activity in areas where the current provision is poorest.
And last but not least, it will develop an Enterprise Passport to incentivise young people to participate in a wide range of extra-curricular activities that boost their appeal to employers, as well as their enterprise skills.
The network of advisers and Enterprise Passport are ideas championed most effectively by my noble Friend Lord Young, to whom I should like to pay generous tribute for his invaluable work in this area. His report, 'Enterprise for All', has informed our thinking about the way forward. I am also grateful for the support of my Rt Hon Friend the Secretary of State for Business, Innovation and Skills and his officials in ensuring that our work reflects the needs of employers and business, and providing £1.4 million this year to ensure the company makes a strong start.
The government will support the new company with start-up funding in 2015 to 2016, the cost of which will be met from the £20 million announced by my Rt Hon Friend the Chancellor in last week's Autumn Statement.
£5 million of this will constitute an investment fund to support innovation and stimulate good practice across the country. In the longer term the company will sustain itself.
I am confident that the plan I have announced today will build on the excellent work that is already going on in some parts of the country - but will ensure it is replicated in every part of the country.
It will herald a step change in the quality of careers inspiration, advice and guidance provided to all young people - paying no regard to ability, interest or background.
And it will help to realise our ambition of ensuring every child leaves school or college prepared for life in modern Britain.
We know that the ultimate success of our long-term economic plan for this country rests on the shoulders of the next generation, and we are backing them every step of the way.
I commend this statement to the House.
Published 10 December 2014