Nicky Morgan announces children's social work reforms
The Education Secretary addresses the National Children and Adult Services conference.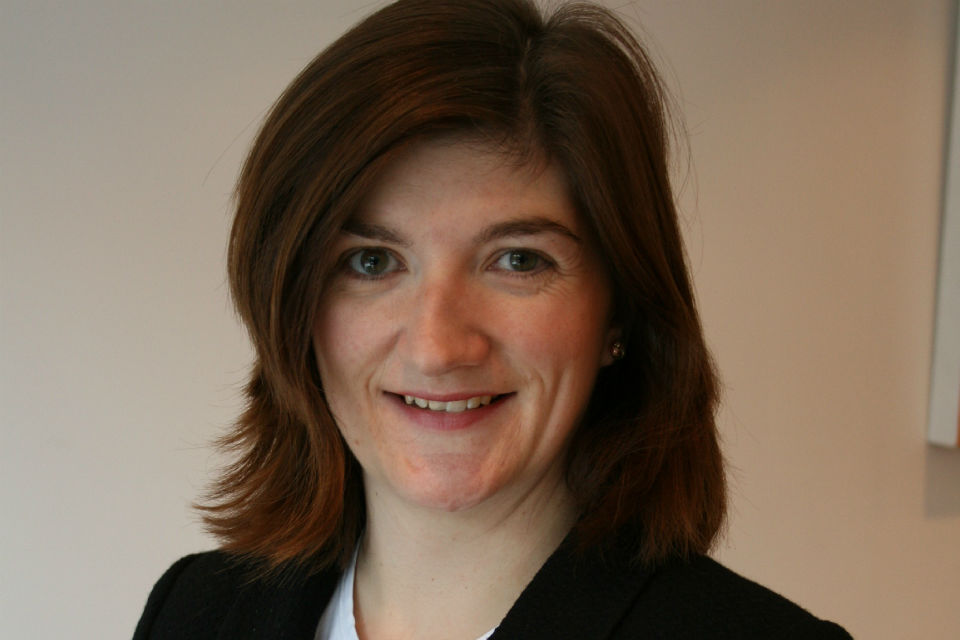 Thank you for that very kind introduction. It's good to be here in Manchester to make my first speech in this area since becoming Education Secretary in July.
That title, 'Education Secretary', suggests a specific focus. It conjures images of schools, and teachers and students.
So it's sometimes easy for people to forget that the Department for Education has such an important role to play in children's services and in social work more generally. But it's a role that I take very seriously.
I know in the past, governments have sought to address this by playing about with the title, the name of the department, even the structure of the government.
But as everyone here knows, the best way to transform the lives of the most vulnerable people in our society is to work together. My department has an important role to play, but so do others. I know there has been a steady stream of politicians making the trip up to Manchester this week. It's particularly good to be able to follow my colleagues Jeremy Hunt and Eric Pickles, and I know that my ministerial colleagues Edward Timpson and Norman Lamb are speaking tomorrow too.
I hope this gives you a sense of how seriously the government takes these issues, and how important it is that we get this right.
I do not underestimate how difficult your jobs are. I do not underestimate the wealth of skills and breadth of knowledge necessary to work in children's services, from the social work front line to the roles of director of children's services or lead member for children's services.
Nor do I underestimate how well you do it. Every day, up and down the country, our most vulnerable children and young people are supported by dedicated, expert practitioners: in social care, in schools, in the police, in health services. Support that will change children's lives for the better.
I see it in my own constituency, and I see the evidence across the country.
Only yesterday, new data showed record numbers of children being supported by social workers in England. And we also heard how the Troubled Families programme across England is now reaching more families than ever before - 117,000 families being supported through innovative new approaches.
That's welcome. But it is a fact that often such successes are private, while the failures are public.
And in recent years there have been far too many of those failures. Only today we have seen the publication of Ann Coffey's investigation into child sexual exploitation here in Greater Manchester. I know I need not list the other examples. They will be all too familiar to people in this room and beyond.
We must respond to these events with determination:
determination to hear and understand what has gone wrong
determination to avoid knee-jerk responses
and determination to take the right approach to make our children's social care system everything we know it can be
Because even one child failed by the system is a child too many. And in towns and communities like Rotherham and elsewhere, it has not just been one child, but many, many children.
So let us resolve today to make Rotherham the moment this changed. Let's make this the moment that we faced up to what needed to be done and enacted a sea change in the way social work is seen in this country.
It is hard to think of a more important job than social work. It's hard to conceive of a profession with a greater level of responsibility - one in which the rewards can be so great but the consequences of failure so severe.
People don't generally join the profession for financial gain - believe me, I understand that - but because they have a genuine desire to help some of the most vulnerable people in our society. We should respect that.
So I was disturbed to read the interview earlier this week with Annie Hudson of the College for Social Work where she described the life of a social worker. "There's an old adage that if you go to a party you don't tell people you're a social worker", she said. "You feel like people don't understand what you actually do, and they judge you through the lenses of the big stories of when something goes very ghastly wrong…they have a very skewed view."
We must change this view. I want social work to be celebrated. I want it to be an attractive profession that more and more bright graduates will consider pursuing.
One way of doing this is to focus on the front line.
The Jay report into the tragedy in Rotherham showed us that it was not a lack of focus on child sexual exploitation that did the damage, but a lack of effective focus. We saw a large, multi-agency partnership response focused on increasingly frenetic activity that just didn't deliver positive change for children or their families.
Too many people focused on process, not practice - reviews and audits and plans taking the place of children and young people and families.
As the Jay review shows, out of the 52 recommendations made in reviews of Rotherham, only 3 related directly to front-line social work practice.
The focus on the real issue - on children and young people - was lost.
Ever since the Munro review in 2011, we have sought to put the quality of front-line social work practice back at the heart of the child protection system.
But we need to do much more.
We need a consistently excellent children's social work profession that focuses on the front line, attracts the very highest calibre individuals, and is confident in its expertise and achievements.
A profession that provides clear career pathways, allowing the very best social workers to move up to senior leadership roles while retaining their focus on front-line practice.
Where the teaching profession is at the moment:
respected and highly proficient
free from the burden of overprescriptive guidance and paperwork
free to use their professional judgement to make sensible decisions about the children in their care, with responsibility and accountability for their work
that's where we want social workers to be.
This will require nothing less than a wholesale change of culture, both within and without.
Over the last 4 years, we've started to make progress.
Local authorities tell me that the quality of their new recruits is getting better. Step Up to Social Work has been a great success.
Frontline, a new route into social work for top graduates, has already seen unprecedented levels of interest. In its first year it received 25 applications for every place, propelling it into the top 100 career choices for graduates - the highest new entry in The Times Top 100 list. After a successful summer institute of initial learning, 103 participants began co-working cases in LAs under the tuition of consultant social workers in September 2014.
There have already been 1,000 applicants for the second round of Frontline, which has a third more places available than last year.
And we're anticipating this level of interest to continue, so here, today, I'm delighted to announce that the government is supporting another year of the Frontline pilot.
That means a third cohort of participants beginning work in 2016, trebling the number of recruits in 3 years.
But we need to go even further than that.
So today I can also announce a new set of professional standards for all levels of the children's social work profession to inspire and develop the next generation of leaders - ensuring that the brightest and the best lead rather than leave the profession.
I have asked Isabelle Trowler to develop new assessment and accreditation systems for 3 levels of professional practice for children's social workers in England.
First, a new approved child and family practitioner status as an essential requirement for any social worker holding cases of children in need, children at risk of harm and looked-after children. This will set a stretching new standard for all those employed in the most demanding front-line social work roles.
Second, an assessed and accredited supervisor status. It is imperative that front-line workers are managed and supervised by those with the knowledge and skills needed to shape that practice excellence.
Third, a new role of social work practice leader - a senior leadership position focused 100% on the quality of front-line practice in a local area, accountable for the quality of that practice, alive to brilliant practice, alert when things are going wrong. A role that will complement the corporate leadership role of the director of children's services, allowing a wider pool of leadership talent to be considered for those roles while the rigorous focus on social work practice sits with the new practice leader.
All 3 standards will be based on the new statement of the knowledge and skills needed for children's social work which Isabelle will publish next month.
And Isabelle has described her own experience of practice leadership in Hackney - how she was 100% dedicated to front-line practice. The lead member for children's services, the directors, and the chief executive all recognised how important it was to let the practitioners get on with practice.
All day, every day, Isabelle and her senior team were completely immersed in the detail of what was happening in the lives of children and families. They were able to help create an environment in which social workers could be as effective as possible.
That is just one story. But Isabelle is convinced that the authorities doing well are those with this unwavering focus on the front line. Cambridgeshire, Derbyshire, Essex, East Sussex, the tri-borough - all known for concentrating on what matters most: practice.
We will develop the assessment and accreditation systems for all 3 levels over the coming months, deciding next year about how to roll out the new standards.
And we will work with employers. Because this is an opportunity for the profession as a whole and for individuals within it.
It is an opportunity to ensure that social work - like other professions in this country - is held in high regard, known for its high standards and its focus on expert practice.
It is an opportunity to have a system which invests less in people watching poor front-line practice - through increasing layers of audit and governance - and invests more in people doing excellent front-line practice.
An opportunity for the children's social work profession to shape its own destiny.
Because in return for high professional standards and the responsibility of leading expert practice locally, must come freedoms to innovate.
Just as we want schools to provide the best possible environment for excellent teaching, we need social care systems with excellent social work practice at their heart.
Our Innovation Programme - about which Edward Timpson will say more tomorrow - is already providing new opportunities for local areas to put high-quality social work back at the heart of the system. We have been overwhelmed by the number of proposals which front-line practitioners and local leaders have developed.
In that same spirit of innovation, I want to see more local authorities and universities developing new teaching partnerships that bring more high-quality entrants to the social work profession.
I know Alan [Wood] spoke about this earlier. I welcome the ADCS's leadership in this area, and the government stands ready to provide support to new partnerships developing innovative new routes to enter the profession.
Of course, I don't want to imply that it will be easy.
The introduction of new higher standards will be challenging.
But it's the right thing to do. There is not a child or family in the country who does not have the right to expect a high-quality practitioner to deal with their case.
Nor can we tolerate poor practice at local area level. Where Ofsted finds services to be inadequate, we will continue to intervene sharply.
And I won't shy away from more radical intervention where they find evidence of systematic failure.
But I will always put excellent social work practice at the heart of our approach.
That is, of course, the guiding ethos of the new Doncaster Trust - England's first ever independent children's social care trust - which we established last month.
And it should be the ethos of every children's social care trust in the country.
As I say, I know this won't be easy. But I have every confidence that we will achieve it.
Why? Because when I look across children's services I see so much achievement and progress.
Take adoption, for example, where we have seen a more than 60% increase in numbers of children finding new loving homes. I'd like to take this opportunity to pay tribute to my predecessor Michael Gove, Edward Timpson and Sir Martin Narey for the remarkable improvements to the adoption system over recent years, just as I pay tribute to all those working in local authorities and the voluntary sector who have made it happen.
Be in no doubt: continuing these reforms to adoption is no less of a priority for me, or indeed for the Prime Minister. We have achieved much, but there is further to go, and I am delighted that Sir Martin continues to drive our work through the new national Adoption Leadership Board.
The momentum hasn't stopped - or even slowed down. Our work continues.
Which is why we're pushing ahead with one of my particular priorities: mental health.
Improving the life chances of the country's most vulnerable young people is, and has always been, a real priority of mine.
As a constituency MP, I've seen people whose lives have been shattered by poor mental health, who have been hit desperately hard, and who have needed sustained support from all sorts of professionals to get back on their feet. In 2012, I secured the first ever lengthy and general debate about mental health in the House of Commons.
I know there are problems with the availability of child and adolescent mental health services. I've seen parents whose children are struggling with their mental health and who have had to fight to get the right care.
This is why my department is working closely with the Department for Health, and why we've jointly developed a mental health taskforce to look at this vital area in detail. And one of my first decisions as Secretary of State was to appoint a DfE minister with specific responsibility for CAMHS and this taskforce: Sam Gyimah.
We've also developed mental health guidance for schools. As a government we are working to make sure support is better linked across health, schools and social services.
Our new behaviour guidance, announced earlier this year, is designed to help teachers spot the difference between bad behaviour and underlying mental health problems.
All so that children suffering from mental health problems are given equal priority with other vulnerable children.
You'll all have heard earlier this morning that the government is making more money available to expand the Better Care Fund - supporting vulnerable people at all ages to lead better and more independent lives.
You, as social workers, see the fallout when mental health services fail our young people. I hope that you will welcome this emphasis on getting mental health services right.
So today, I've spoken about the support that we will be providing to help you in your work.
And now is the time for all of you to effect real change. So often we find ourselves taking the easiest route - talking about mistakes we've made, vowing to do things differently…
But all this talking doesn't lead to real culture change.
And I think it's obvious that culture change is what's needed here:
if we're to ensure that everything we do is consistently and unapologetically in the best interests of children and young people
if we're to ensure that all concerns are taken seriously - and acted upon - by every tier of the profession
if we're to ensure that all of your hard work, all of your dedication and commitment, translates into real results for children
then we need to work together - across the sector, across government, across the political spectrum - for the sake of the most vulnerable people in our society. That's my top priority - and I know it's yours too. I look forward to working with all of you in the months ahead.
Thank you.
Published 30 October 2014