Speech
Modernisation of justice through technology and innovation
A speech on modernising the justice system by the Digital Director for HM Courts & Tribunals Service.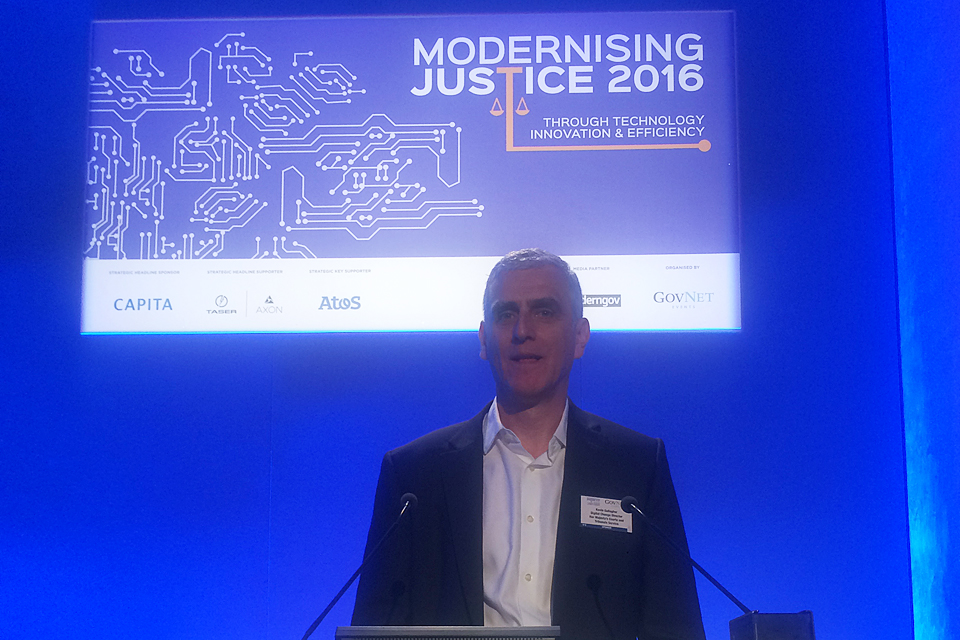 Introduction
First, let me say what a pleasure it is to be with you here today.
'Modernisation of justice through technology and innovation' is at the heart of our plans at the Ministry of Justice.
It is almost exactly a year since I joined HM Courts & Tribunals Service, so I'm pleased to have this opportunity to update you on what we've done, what we're doing and what we're going to do.
I'm aware the focus of our day today is criminal justice; however, I will be bringing you up to date on activity across civil, family and tribunals too.
The Justice Secretary has made it clear that our courts and tribunals need urgent reform. We have embarked on a series of comprehensive improvements, backed by investment in both court reform and the wider criminal justice system, to build a swifter, more certain justice system.
Our plans will bring modern technology and innovation to all our courts to better meet the needs of everyone who uses our services.
Why we are changing?
Last year, Sir Brian Leveson spoke at this event and highlighted some of the needs for change and gave his support for the plans of HMCTS.
There have been a number of other speeches, comments and reports since then, including from the Lord Chancellor and the Lord Chief Justice, as well as the interim report on Civil Courts Structure by Lord Justice Briggs. All of this builds to a once in a generation opportunity to transform the service into one which best meets the needs of all of its users, with technology as a key component of service provision.
HMCTS is responsible for giving people and businesses access to justice.
This fundamental right of access for all, and the knowledge that no-one is above the law, is something that we should be proud of; it is at the bedrock of our society.
We have confidence that criminal charges will be tried in court.
We have confidence that we can make a fair civil claim.
We have confidence that our voice will be heard at a tribunal.
And so on.
All of this needs to be preserved. And we can make it fairer, swifter and more accessible, better matching the digital expectation of users.
I think it's worth looking back a few years and acknowledging that our courts are more than slightly behind the curve in their use of digital when compared to other areas of society, both public and commercial.
Our lives and expectations have been transformed by the way we shop, consume media, do our work, educate ourselves and our children.
But the courts have continued to look and feel the same while change has been happening in so many other areas.
Going back 20 years, there were only five TV channels. The only way to record a programme was to use a clunky VHS recorder. Now the five channels have grown to 500. You can record your favourite programmes easily and if you miss them watch them at any time, virtually anywhere on any device. The only place you are likely to see a VHS recorder is in one of our courtrooms.
Britain has one of the highest rates of internet service usage in the world – over one quarter of all non-food goods are now purchased online, 85% of Britons are connected to the internet, and there is an expectation that services should be available online.
We need to make the best use of technology.
This means the right service needs to be in place, including the correct assisted digital support, to make sure justice is accessible to all.
As a justice system, we need to reach the point where it is expected that a police officer will give evidence by video, taking 10 minutes rather than half of their working day.
We need to stop using prison vans to transport prisoners to and from the courts for short plea hearings which could be done online. And we need to, as Sir Brian Leveson recommended in his review, limit what happens in the criminal court room to just trials and complex sentencing.
This need is not new. The difference now is that our plans are aligned to create a court service that is fit for today and – crucially – also fit for tomorrow.
We should all recognise that our reform plans are radical and will revolutionise how we work. This ambition has been matched by the investment committed by the government to the reforms.
How are we changing?
Let's talk about how we are changing.
There are clear opportunities to transform our services and bring technology firmly to the heart of our courts and tribunals. A key component of the changes will be to develop a system that takes procedures out of court that don't need to be there.
For instance:
Helping divorces to be agreed and progressed online; as well as allowing financial issues and child arrangements to be settled through online mediation rather than in the courtroom;
Taking non summary offences such as traffic or fare evasion out of the court room to be dealt with through automated processes; and
Supporting the work of tribunals by making it much easier to submit applications and evidence online and share with all parties.
This is what the public, businesses and the judiciary expect.
This means judges and courtrooms will be available for the appropriate cases, giving the level of scrutiny and consideration that can only be provided there.
As the director responsible for technology, I need to make sure we develop our capability to support this new way of working.
We need to, and have already, changed the way we handle continuous improvement and the development of the new products.
Gone are the days of single, large scale, beginning-to-end government IT projects handed to multinational IT consultancies. HMCTS is creating its own capability to develop, build and continually improve.
Of course we will continue to work with third parties to bring skills, expertise and technology, but we will retain control.
This will allow us to work in an agile manner, evolving and improving, delivering and supporting services based on user experience and business need, without being inhibited by expensive, inflexible contracts. All these changes will support our vision to build a more just, proportionate, and accessible court service, a service that inspires other jurisdictions around the world.
While this is partly about building the technical capability, it is much more than that.
It is changing HMCTS to be a service-based organisation with the ability to design, iterate and operate services which deliver a better justice system for all of our users.
Through our work with the Crown Prosecution Service on the Common Platform programme we have already started to bring services online. We have established our new way of working with operational service managers and technical product owners providing oversight, scrutiny and expertise from their position within the operational side of HMCTS.
We have seen the service manager approach tested in courts where new products are being piloted. As we would expect, we do encounter problems, but that's the point of the pilot and with an agile approach, we have the ability and opportunity to iterate and improve. This is an approach we will continue to adopt so that a big programme of work can be delivered in manageable, implementable chunks with direct and continual input from service users.
What and when is change happening?
As I mentioned, we have been working closely with the CPS and Police to establish better technology for the shared areas of the criminal justice system. And I'm pleased to say we are already making strides.
A year ago Sir Brian Leveson spoke on this stage about an upcoming pilot of the Digital Case System in Southwark and Leeds. This system was designed to make the relevant papers easily accessible to the professional users before the case with the ability to read and annotate as appropriate.
This system has now been rolled out to nearly all of our Crown Courts.
Building on the cornerstones of ensuring WiFi and screens are available in all courts, this has made paperless working possible.
To date, over six million pages of evidence have been stored on the Digital Case System. This equates to a pile of paper the height of the Shard.
It's also worth being aware that this evidence would previously have been printed at least three times.
Clearly, the main benefit has been to ensure that access to case information is dramatically improved.
In addition, as evidence is now available immediately, there has been an increase in early guilty pleas… which may lead to discounted sentences… and enables savings throughout the criminal justice system.
The recent improvements don't stop here.
The judiciary have been at the forefront of the move to digital working. Sir Brian highlighted potential issues with how the judiciary, used to handling and annotating paper throughout their careers, would deal with moving to digital systems.
This was an important point and one we have had to address in a number of areas for a crucial user group.
In the last year, we have set up and launched eJudiciary.
For the first time this has provided a single online solution for all magistrates and judges and facilitated instant access to key services and information relevant to their role and region. As this is cloud-based, this has enabled judges to be freed from their desks and able to work remotely for the first time. This new service is running well and, coupled with internet enabled devices for magistrates, delivers important and useful advice direct to the courtroom.
Taking another recent example, the new online plea functionality is now in operation for traffic offences. Although pleas in advance are not new in our processes, the ease of reply via the gov.uk website has already increased the number of pleas made and, therefore, reduced the number of non-pleas and court sessions held 'in absence'.
Linked with the Single Justice Procedure, this time saving measure can have potentially significant impact on court efficiencies. It also allows us to link up data with DVLA, pre-populating fields for the user and, in return, correcting data.
And for the general public, our largest group of users, things are starting to change.
When delivered, the new juror summonsing service will allow anyone summoned for jury service to respond directly into the system to share their availability or request to be excused. This type of functionality is standard in many walks of life but is a step change for justice.
The list goes on…
So the proverbial HMCTS super tanker has started to turn on its new course but what can our users expect from the future?
In addition to the digitalisation of the criminal courts I have already talked about, we must also continue with implementing similar reform in the civil courts, setting in place the foundations for digital working.
The majority of interaction the general public has with us is in our civil, family and tribunal jurisdictions where we're still mostly operating in the 'download the form' space.
The HMCTS Reform programme is tackling this. In our civil courts we need to learn from the ombudsman model, whereby huge numbers of relatively low value or low stakes cases are resolved simply, quickly and cheaply by avoiding hearings all together.
For a dispute between neighbours about the height of a leylandii tree, iPhone evidence and a video hearing may prove far more effective than the parties appearing in a court miles from the site in question. And, for our family courts, we need to make it as straightforward to claim uncontested probate as it is to submit a tax return or renew your annual car tax.
In order to develop services for users and for technology to effectively improve how the courts and tribunals service operates, we will not be recreating our current processes online. The opportunities for digital services cannot be hampered by decades-old processes. Instead, we are getting under the skin of how our courts and tribunal operate and putting user needs at the heart of it all.
There are four projects in our civil and family reforms where technology is a key enabler: probate, divorce, social security and child support tribunals, and online courts.
The probate service will see the introduction of online applications supporting a structured approach, removing ambiguity, handling payments, providing online case tracking and automated management where possible and appropriate.
We will also, dramatically improve the efficiency of uncontested divorces, removing unnecessary delays at what can be a difficult time.
Social security and child support appeals will be supported through the introduction of an online service for tribunal users to start and progress a case, and for judges to use digital case information to decide the case online or in a hearing. And through effective working with the Department of Work and Pensions, we will be able to eradicate the need to post bundles of paper passed between departments.
And the online court project has considerable potential for moving lower value civil claims out of the courtroom to be progressed more quickly, and at lower cost.
As you know, the digitalisation of the criminal courts has happened and we must now continue with the digitalisation of civil courts, setting in place the foundations for digital working.
Finally, we must make sure our plans deliver services that are just, proportionate and accessible.
We are continuing to drive transformation to modernise the courtroom, and our plan is one of the top priorities for the Ministry of Justice. Yet it is important that we recognise this isn't going to be straightforward. As we change the way we work it will impact on our staff, partners and users. I cannot stand here and say there will not be difficulties.
As our courts become increasingly dependent on technology the impact of any disruption to our core business will be increased. But we are prepared for this and are working hard to mitigate against these risks through testing and pilots which will be key to our success.
Doing this will, of course, reduce costs. But, far more critically, it will deliver better justice.
Let me assure you, we're committed to developing and improving our courts to do just that. It's not just about digitising and introducing technology to streamline processes, but also about rethinking processes for today's, and tomorrow's, society.
Thank you.
Published 20 July 2016