Modern Commonwealth: potential for British business and young people
Hugo Swire spoke at a Commonwealth Exchange event on the Commonwealth role in enhancing business, trade and opportunities for young people.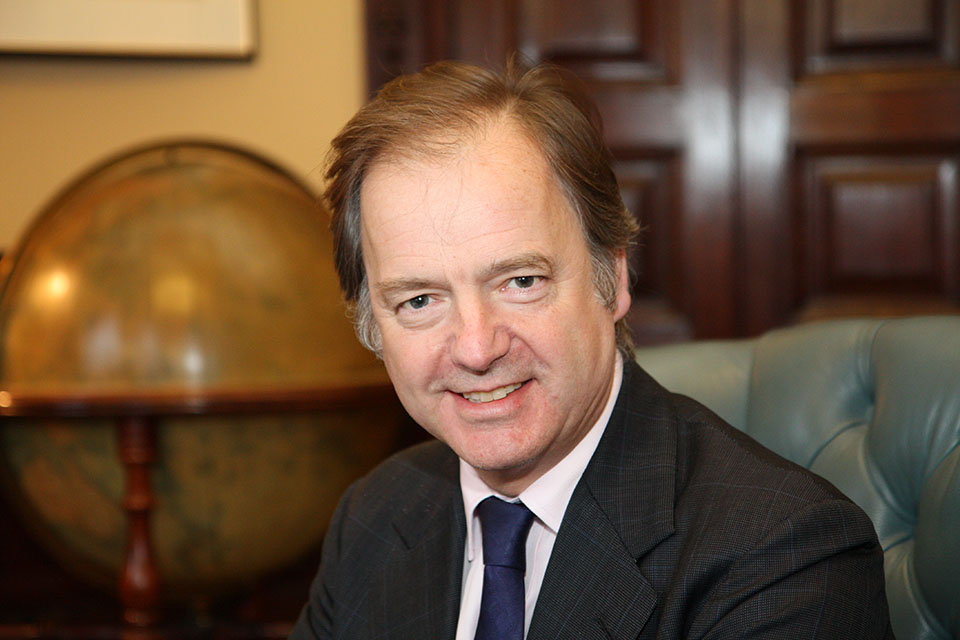 Mr Hewish, Excellencies, Ladies and Gentlemen, I am delighted to be here and I would like to thank the Commonwealth Exchange for organising tonight's event.
For me, trade, business and opportunities for young people go right to the heart of what the Commonwealth is about. And it forms an essential part of maintaining the organisation's relevance into the future.
I think all of us in this room share a passion and admiration for the Commonwealth. For its strengths, its values and its potential.
And all of you, sitting here tonight, represent an impressive, diverse range of interests. Parliamentarians, entrepreneurs, students. People with the skills and drive to make such an important organisation thrive in the 21st century.
So, you have a role to play in creating opportunities for the 2.4 billion young Commonwealth citizens around the world.
To give you some ideas about how the Commonwealth can help you in these roles, Carolyn Andrew, a Director of marketing agency Quirk - recently acquired by the world's largest and most successful marketing and communications services group WPP - will be speaking in a moment. She will be able to give us a flavour of the realities of being a business in the Commonwealth, and I encourage you to take the opportunity to speak to her later.
But first, let me - as the United Kingdom's Minister for the Commonwealth - make something of a sales pitch for the organisation. And frame our discussions tonight by highlighting its potential as a facilitator of business.
Since it took office, this government has been deeply committed to bringing the Commonwealth back to the heart of the UK's foreign policy. As the former Foreign Secretary William Hague said at the start of this Parliament, we are determined to put the "C" back into the FCO. It is an institution we value greatly, as a beacon for democratic values and prosperity.
It is a powerful brand that many around the world are proud to be associated with.
Now, it is true that in Britain we seem to talk a lot about our 'special relationship' with America, or our membership of the European Union. And I think some of our Commonwealth partners could be forgiven for seeing this as evidence that we've lost sight of our role within the Commonwealth. I can see their point.
But in fact, we see enormous advantages in being an active member of the Commonwealth family – a unique organisation that has:
one quarter of the world's sovereign states
20 per cent of the world's landmass
one in three of the world's population
one permanent member of the UN Security Council; two members of the G7; three members of the European Union; and five members of the G20.
And it is difficult to think of another organisation that brings together the representatives of 53 diverse, sovereign states from each and every continent and gives each one, large or small, an equal voice in global affairs.
Indeed, if it was not important, if it did not play an influential role on the international stage, countries would not be queuing up to join.
Of course, there is always more we can do to make it even better. We have a duty to ensure the Commonwealth continues to evolve, adapt and stay relevant in the 21st Century.
That is why I asked David Concar, a leading FCO diplomat, to become Britain's first ever Commonwealth Envoy. He will lead Whitehall's engagement with the Commonwealth as we look to the future and support ministerial engagement on the Commonwealth, which will, of course, continue undiminished.
Another opportunity will be next year's Commonwealth Heads of Government Meeting in Malta. I am looking forward to meeting with my Commonwealth partners to discuss the pertinent policy issues of our times and help craft objectives and goals to address the challenges we all face.
But the Heads of Government Meeting is not just an opportunity for government. Commonwealth citizens can and should be involved too. Malta presents an opportunity for everyone in this room.
As Commonwealth citizens, you have the right to make your views clear, to demand that the Commonwealth addresses your needs and acts in your best interests.
And it is not only in global affairs where your ideas and energy are in demand. You also have an important contribution to make in boosting Commonwealth business and trade.
Business is an area where I am a firm believer in the Commonwealth's great potential. In March, I hosted a conference on the Commonwealth that brought together parliamentarians, trade experts, civil society and officials from many member states. It was a very productive meeting and discussed many exciting ideas.
One area we looked at in detail was how we can increase prosperity. Intra-Commonwealth trade in goods is already worth around £300 billion - built upon our inherent advantages of a common language, shared legal principles and a commitment to inherent values and rights. Advantages that provide solid foundations for doing business and a platform for trade, investment, development and - in turn prosperity – creating what we call the 'Commonwealth effect', which some studies suggest is worth between 20 and 50 per cent in trade advantage.
Yet, despite these unique advantages, the Commonwealth combined only has 14 per cent of the world's Gross Domestic Product. So, there is clearly incredible scope and potential to unlock here.
And many voices agree, including Commonwealth Exchange and the Foreign Affairs Committee in Parliament, who have rightly called for more focus on Commonwealth trade. We can - and must - be more ambitious.
Member states can play a role by reducing barriers to trade. By investing in skills for local people. And by stamping out corruption and ensuring rules and regulations are clear and transparent.
But Commonwealth citizens can also play a vital part. By building contacts between members of trades and professions in different member states, by sharing expertise and best practice, and by lobbying member states on new and imaginative projects and opportunities.
The Commonwealth Games back in July provided us with a platform to do just that. Two separate business events - the Commonwealth Games Business Conference and the British Business House - highlighted the tremendous opportunities for Commonwealth states to improve their trade links and for Commonwealth businesses to work together to achieve common goals.
This is not just my view, or just the British government's position. When I visited Singapore last month, I met British businesses in the country, and talked about why they were there. The business leaders I spoke to were clear, not just about the opportunities for British business in Singapore, but for Singaporean business in the UK.
And only yesterday, in his address to the Houses of Parliament during his State Visit to the UK, President Tan spoke about how we can use the Commonwealth's common heritage of language, law and values to help us all realise its full potential.
I am pleased some of you here have already been getting involved – and I hope you will come along to other Commonwealth events and tell us more about what you're doing. For example, at the Commonwealth Business Forum in Malta next year. Or through Lord Marland's new Commonwealth Enterprise and Investment Council, which is organising an Infrastructure Summit in November.
And I am delighted to announce here that the Foreign and Commonwealth Office will provide funding to the Commonwealth Enterprise and Investment Council to help them take forward their important work to promote trade within the Commonwealth..
Now, there are some who say the Commonwealth should focus on prosperity and development issues - that human rights are a separate and secondary issue. I could not disagree more. It is an utterly false distinction. Good governance, values and economic growth and prosperity reinforce one another.
For Commonwealth business and nations to reach their full economic potential, businesses must operate in an environment where there is rule of law, freedom of speech and human rights.
Only through the rule of law can we create the security, stability and growth businesses need.
Only through freedom of speech can we encourage imagination and innovation.
Only through human rights can we give entrepreneurs the confidence to invest and make the leaps of faith that all business men and women must make.
And only when these three principles come together can we truly challenge corruption – the enemy of progress and prosperity.
Before I finish, let me mention one important statistic that I have left out until now. Sixty per cent of Commonwealth citizens are aged between 15 and 29.
I only fell out of that bracket myself just a few years ago…
This statistic represents over 1.2 billion young men and women who are - or should be - starting out in the workplace and their careers.
Many are already making their mark. One exceptional example is Evans Wadongo from Kenya. His example demonstrates the influence and potential of young Commonwealth citizens.
At 19 years old, he designed a solar-powered lantern from recycled materials. Thousands of these lanterns are now being used across Kenya. They are safer then kerosene lamps, more environmentally friendly, and cheaper too.
Evans won the Pan-Commonwealth Youth Award for his efforts. But just because we can't give a prize to every one of the Commonwealth's billion plus young people shouldn't stop the rest of you.
You, too, by leading industry or driving forward innovative ideas, are directly contributing to economic momentum, expanding business and new opportunities that generate jobs and investments in local communities, education and welfare.
So those are my views. In a moment, I will hand over to Carolyn but, after her remarks, there will be time to take some questions - and I really want to hear from you. I want to hear your ideas about how the Commonwealth can build trade and prosperity.
Together, we belong to a unique network - the Commonwealth family. It has global reach and great diversity. But it also has vast, untapped potential. And I hope tonight we take another step in releasing it.
Thank you.
Further information
Follow Foreign Office Minister Hugo Swire on twitter @HugoSwire
Follow the Foreign Office on twitter @foreignoffice
Follow the Foreign Office on facebook and Google+
Media enquiries
For journalists
Published 24 October 2014