Lord Price's speech to the Hungarian Business Leaders' Forum
Speech delivered by Lord Price CVO, Minister of State at the Department for International Trade, in Budapest, Hungary on 22 September 2016.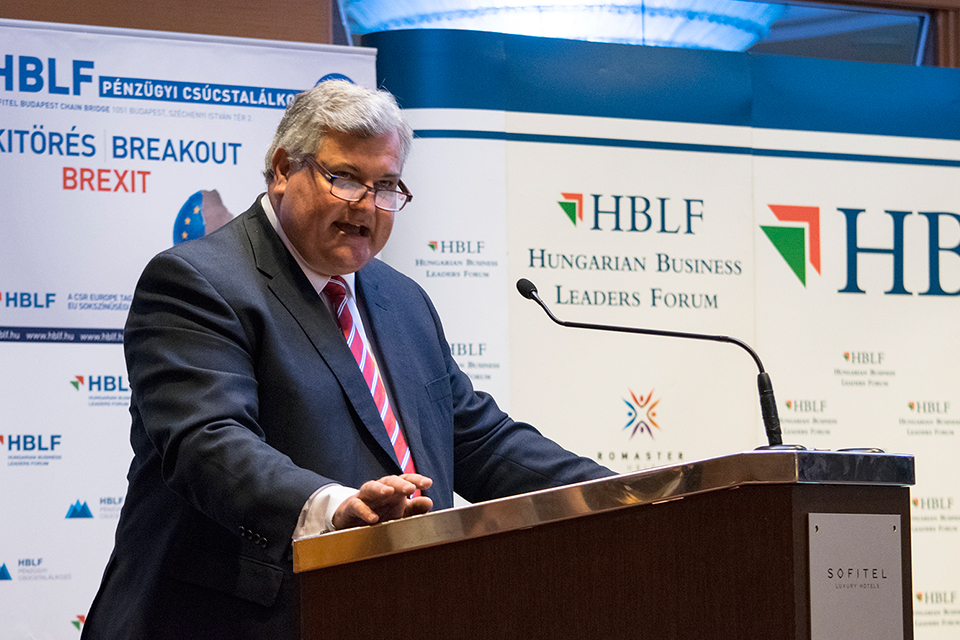 Good morning. It gives me great pleasure to address some of Hungary's leading business figures today at this important event.
I would also like to thank Minister Lázár, with whom I just had a very productive meeting.
Department for International Trade
Firstly let me turn to the last few months.
As you are all aware, the British people voted to leave the European Union – not Europe - in an historic referendum. After a subsequent change in government, we are now in a position to carry out their instruction.
Two new government departments have been established: the Department for Exiting the EU and the Department for International Trade.
And I would like to thank the Hungarian government for being so supportive while we take the time to put the structures in place for leaving the EU.
The new Department for International Trade will develop, coordinate and deliver new trade and investment policy for the UK, including negotiating Free Trade Agreements and market access deals with non-EU countries.
Some may say that a vote to leave the EU was akin to the UK turning its back to free trade and towards isolationism.
This is completely wrong.
My department's sole focus is to prepare the UK to become a beacon of open trade: ensuring everyone knows that the UK is open for business.
We are not leaving Europe; we are re-building independent links with the rest of the world to become a super-connected trading hub.
EU referendum
What we must all remember is that Britain remains one of the strongest advanced economies in the world – the fifth largest – and a fantastic place to do business. We currently lie sixth on the World Bank's ease of doing business index.
We have always had strong economic fundamentals. We have one of the most competitive corporation tax rates, a strong rule of law, a skilled workforce, 4 out of the top 10 universities in the world are based in the UK, and we're in the right time-zone for global trading. None of this will change.
And as we go into renegotiation with Europe, we must keep in mind our historic ties. Since Neolithic times, we have traded wine, wool, iron, and steel with Europe.
Companies like Airbus are fully integrated across Europe – with wings built in south Gloucestershire, tailplanes in Spain, final assembly in Toulouse, and paint and interior work taking place in Hamburg. The UK's trade with Europe is inextricably linked.
And even in car manufacturing we have seen around 4 decades of business integration across the continent.
Parts and finished goods criss-cross the Channel and we wouldn't want tariffs to increase costs to consumers or bureaucratic customs arrangements to slow business efficiency.
In short, it is in the EU's interests that the UK makes a success of Brexit.
After all, the UK runs a £60 billion annual trade deficit with the EU. We run a trade surplus with only 1 EU country and have deficits of £25 billion with Germany and £6 billion with France.
And I would like to thank the Hungarian government for their continued support and their commitment to help seek a positive future relationship between the UK and the EU.
Business is a force for good
Let me explain why this positive future relationship is so important.
I strongly believe that the health of our businesses and society is inextricably linked.
In the UK, business collects the majority of taxes for the government that is then re-invested back into society – into our schools, hospitals and national defence.
If government can get the conditions right, creating a competitive open economy with a strong rule of law, then business can continue to be a force for good.
UK-Hungary
This can be seen in our bilateral relationship. The UK is the eighth biggest market for Hungarian products and our trade deficit with Hungary stands at over £1 billion. We are also Hungary's fifth largest investor.
Tesco, Vodafone, Diageo and GSK have all invested in the Hungarian economy - creating jobs, boosting skills and building local industrial capacity. In fact Tesco Hungary employs 22,000 people – making it your largest private sector employer.
My department has already identified areas of future co-operation in nuclear energy, infrastructure and defence. And we will work with British business to ensure they are ready to embrace these opportunities.
Case for free trade
And as I look to the future, my role will be as much about negotiating free trade deals, as it will be about making the case for free trade.
I want to ensure that when we leave the EU, British and European businesses don't find themselves staring at a cliff face created by a gap in our trading relationship.
Such an event would cause an economic shock that the EU and UK don't need.
I want British, Hungarian and all other European businesses to have as much continuity as possible and pragmatically work to a new order.
EU businesses have a very important role to play in getting the right outcome for European citizens.
And what underpins this continuity is a world of free and fair trade.
Free trade has become hugely divisive and frankly misunderstood. But quite simply, the benefits are widespread and it has allowed us to enjoy the highest standard of living in history.
Research shows that firms that trade overseas are more profitable, resilient and productive. And that customers benefit from better prices and more choice.
Trading also allows us to exploit the extra knowledge and skills that are shared between nations in a way which can help developing countries trade their way to prosperity.
Though I think the best example of how it should and shouldn't be done is South and North Korea.
In 1945, both started from a very similar base. But in 2016 it's a very different story.
Seoul looked outwards: embracing free trade and global markets. And today it is a thriving democracy, with high standards of living for its citizens.
Meanwhile, Pyongyang turned ever further inwards. It's now one of the world's most restrictive and impoverished societies. And the statistics make for startling reading.
GDP in South Korea is $1,622 billion compared to $40 billion in North Korea; 81.5% of South Koreans have access to the internet – compared to less than 0.1% of North Koreans; and there is a 10 year life expectancy gap in favour of South Koreans.
It's an extreme example, but should give us all food for thought.
Conclusion
So I would like to end by leaving you with these 3 thoughts. The UK is open for business like never before.
We want to build on and strengthen our existing trade links with Hungary, the EU and the rest of the world.
And I want business to educate others as to why uninterrupted trade is so important.
Because quite simply:
Trade builds trust.
Trust fosters peace.
Peace brings prosperity.
And from prosperity, we all benefit.
Thank you.
Published 23 September 2016