Speech
Lord McNally's speech to the Restorative Justice Council's National Conference 2015
Lord McNally's speech at the event: enabling quality restorative justice in youth offending teams (Tuesday 20 January 2015).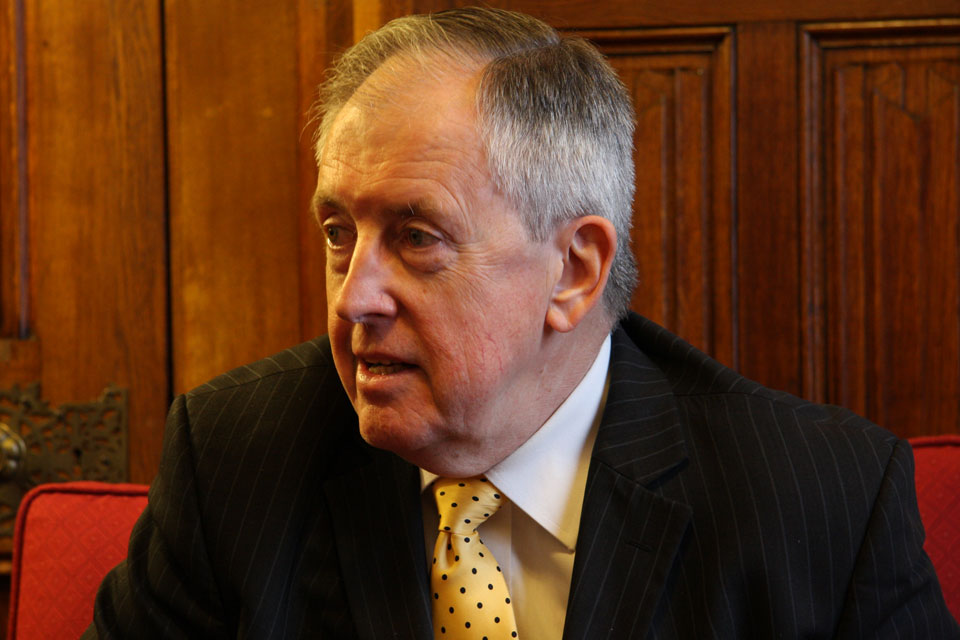 Last Christmas Eve, I received an e-mail from the YJB to let me know that on that date we had less than one thousand young people in custody. It marked a significant milestone in the development of our criminal justice system since the establishment of the Youth Justice Board (YJB) by the Crime and Disorder Act 1998.
In the fifteen years the YJB has been operational we have moved from a youth justice system which many thought was a shambles to a coherent model of multi-agency cooperation based on strong central leadership by the Youth Justice Board combined with genuinely local model, the youth offending team (YOT), which is holistic in approach and rooted in the communities they serve.
I am here today because during that same period restorative justice has moved from being an interesting add-on to our criminal justice system to being part of the mainstream in approaching the challenges which still face us. We still have some way to go in England and Wales. In Scotland and Northern Ireland it is more firmly established.
In March of last year I was able to visit New Zealand, where restorative justice (RJ) is a universally mandated process for juvenile crime.
Nor is it only since I came to the YJB have I become a fan of restorative justice. In 2012, speaking at the AGM of the All-Party Penal Affairs Group when I was Minister of State for Justice I said this:
I am an ardent supporter of the principles of restorative justice. It offers an opportunity not only to assist the rehabilitation of offenders; but to give victims a greater stake in the resolution of offences and in the criminal justice system as a whole. Victim –led restorative justice can allow us to make inroads into the re-offending cycle, with the triple benefit of victims avoiding the trauma of future crimes, the tax payer not having to foot the bill of more crimes, and a rehabilitated offender making a positive contribution to society
That was me in 2012. Whilst I in no-way resile from the emphasis on the victim in the process, I have become increasingly aware since working at the YJB that perpetrators of crime can be themselves victims too.
I also take pride that on my watch at MOJ (Ministry of Justice) provisions in the Crime and Courts Act 2013 included provisions in statute making clear that the courts can use their existing powers to defer sentence post-conviction to allow for RJ activity to take place. I pay tribute to the effective lobbying on that matter by the former Lord Chief Justice, Lord Woolf – himself a good friend and keen supporter of the Restorative Justice Council.
So the Restorative Justice Council can take pride that, largely because of its campaigning and advocacy restorative justice is playing an increasingly important role, not only within the criminal justice system; but in care homes, educational establishments, hospitals and other sectors where its approach to conflict resolution seems appropriate.
In many ways restorative justice is an old idea with a new name. To me, it represents a return of the wisdom of viewing conflict, and the consequences arising from it, as an opportunity for individuals to learn and grow from their actions. It empowers victims and communities. It recognizes the value – for all concerned – of the offender acknowledging their acts, showing remorse for the consequences of the damage they've caused; and expressing a desire to reintegrate into the society - the community - they have harmed. But in its present manifestation it is more professional and RJ, when it does take place, occurs with expert preparation and implementation.
A lot of that expertise is here today, representing the very different facets that restorative justice involves.
I am very pleased to say that the Youth Justice Board, working through the YOTs, is playing an increasingly important role in promoting restorative justice across England and Wales.
To ensure the quality delivery of RJ across the youth justice system, the YJB has been working to implement it via many channels. From Referral Orders to out-of-court disposals; other community orders, custody and resettlement; we have undertaken a range of work to promote it, and also provide better victim support.
Over the past two years we have granted a total of £632,000 to train, as RJ conference facilitators, two members of staff in every YOT. These staff have then trained all Referral Order Panel staff - in line with statutory guidance - to ensure young people subject to ROs, can be brought together with their victims to achieve constructive outcomes. I am pleased to say that, by the end of March this year, over 7000 staff and volunteers will have been trained in this way.
Going further, and using funds provided by the Ministry of Justice, through their Victims Surcharge pot, the YJB has also secured £2.15m to be granted to youth offending teams by the end of March 2015. The purpose of this grant is to increase opportunities for victims to participate in safe, and effective, RJ activities; and to further develop YOT practices, in line with the standards set by the Restorative Justice Council.
With this extra resource currently at our disposal, the YJB is encouraging those YOTS, with more advanced action plans, to consider using their grant funding to gain accreditations and work with partners in the community to do the same.
We now have 8 YOTs applying for the Restorative Justice Council's Restorative Service Quality Mark (RSQM); 38 YOTs with staff applying for their practitioner accreditation; and 24 YOTs providing training to partner agencies such as schools, children's homes, and the local police.
But whilst the YJB has been able to oil the wheels and set them in motion, it is the YOTs themselves who have done the hard graft to design and deliver many restorative justice initiatives, to ensure that it is effective and successful in their areas. Thanks to them, the YJB has many examples of effective practice to share, to help youth justice practitioners everywhere. I'll give but 2 examples here:
In Northamptonshire Youth Offending Service, the now accredited practitioners created a process to ensure that, when planning and delivering face to face restorative justice, all the issues presented by a case were considered and addressed appropriately, to make the session effective for all the participants. I understand the RJC assessors themselves praised this innovative effort; and asked for it to be disseminated to others as good practice.

In Essex, YOT workers created a 'Victim Awareness Workbook' containing a series of exercises that practitioners now use with young offenders, to help them develop empathy, increase their awareness of their victims, and understand the impact their offending has on others.
Those of you who have heard me speak before will know that, since becoming the Chairman of the YJB, I have set out my personal desire to see the current youth justice system going further in tackling the problem of youth offending by going upstream and downstream of the actual period of offending. It is a very simple reality that by the time a young offender stands before a Youth Magistrate we may be ten years too late in addressing some of the issues involved in the boy or girl committing an offence. That is why I am eager to learn the lessons from the troubled families initiative and other early interventions to see where action can be taken early and effectively. It should, by using focussed interventions, be able to cut crime off headstream. And I see restorative justice as having an invaluable part to play here as well.
There are benefits to be gained downstream too, by making sure that an offender has the necessary support to help avoid a return to re-offending. Just as we can see the danger signs upstream in various kinds of disfunctionality and deprivation, so we can see the need for the support, training and mentoring which will help the ex-offender to make a success of a crime free life. Here again I am convinced that there is a real overlap between Restorative Justice and other parts of the rehabilitation process.
Already RJ techniques are known to have a positive impact on reducing conflict, anti-social behaviour, and in helping to prevent young people at risk of turning to a life of crime. Restorative processes are increasingly being used in schools, and children's care homes, to address conflict, build empathy and understanding, and strengthen relationships between young people.
The value of adopting this approach to prevent harm has also been recognised through Ofsted inspections. Schools who participate have found that a restorative justice approach has led to improved behaviour, a better learning environment, and increased educational attainment.
I want to acknowledge those YOTs who are working to facilitate this in their communities. Kent Youth Offending Service (YOS), for example, has been working with schools to get young people, who are experiencing conflict, to come together so they can talk about how they feel and why; and try to resolve the situation. To increase the take up of this initiative, Kent YOS has developed educational materials to inform young people directly, about what they can expect when they take part in RJ; and also to promote, to parents or carers, how RJ approaches can work to the benefit of their child and their school. As I have already referenced, imaginative RJ action downstream, post-custody, can have a similar impact on the unacceptably high rate of re-offending. The YJB has been working in partnership with the Ministry of Justice on new resettlement initiatives, to improve 'through the gate' mentoring, positive assistance on employment and housing; and continuing treatment for the many other factors, such as mental health issues, substance abuse, and dysfunctional family set-ups, that can trigger children and young people into an offending pattern.
But we all know that the resettlement of young offenders doesn't begin upon their release from custody. Proper planning and focus is vital from the beginning to the end of a young person's time in the youth justice system. It is only with such a dedicated, and focused approach, and with the YJB and its YOTs continuing to work in partnership with the many agencies involved in the youth justice system, that we can – together – hope to reach these hardest-to-reach offenders.
Working with a young person whilst they are in custody to address issues relating to victims in the community, can also be an enabler for their effective resettlement. So it follows that, having custodial staff trained in restorative justice techniques, would create more opportunities for victim engagement prior to a young person's release.
The YJB has recently proposed taking a 'whole-unit' approach to restorative justice within the establishments on the youth secure estate. And we are actively considering how this could be built into new custody specifications, as part of our work with the Ministry of Justice, to transform youth custody.
By extending restorative justice training to the secure estate, we hope to further support the staff responsible for young offenders in custody, as they respond to the challenges of managing a difficult and sometimes violent cohort
There is always a danger of those of us, who work in the youth justice sector, being accused of putting the considerations and needs, the 'rights' if you will, of offenders over and above those of the victims of their crimes.
But we should all be very clear, it's only because of the participation of the victims of crime, that restorative justice has seen, and continues to see, success. And it is important to equally recognise the enormity of the journey that some victims of crime have to undertake, in order to be able to achieve personal satisfaction from the process. I am reminded of a quote from the American author, C.R. Strahan:
Forgiveness has nothing to do with absolving a criminal of his crime. It has everything to do with relieving oneself of the burden of being a victim, of letting go of the pain, and of transforming oneself from victim to survivor.
It is the sacrifice that victims, these survivors, have to make that truly touches and inspires so many of us; and spurs us forward to help to make restorative justice a success. And those who have suffered the very worst consequences of crime deserve nothing less than our greatest respect, and appreciation, for the work they do to help us achieve these successes.
I am mindful that many YOTs are represented here today, and some of you will be asked to participate in the forthcoming stock -take that the Ministry of Justice is due to carry out shortly.
I have said this before, and I will say it again to you now. See this stock-taking as an opportunity, not a threat, and use it to showcase the good work that you do, and how what you do benefits not only the young people you work with, but the communities you serve as well. Restorative justice is just one part of that work.
Some of you will already know that, in parallel with the stock-taking, I and my fellow board members will be visiting YOTs to complement the evidence being gathered through the MOJ stocktake; and to look at what works and what we can improve, by talking to key staff and managers at local level.
No matter what the outcome of the General Election is, we are all still going to be under the financial cosh. But that is surely where the holistic partnership philosophy, the YOT model, which the YJB has done so much to pioneer, comes into its own.
I want us all to demonstrate the examples of where we intervene early and imaginatively with young people on the cusp of criminality, and how that intervention can divert them from crime. Where we help those who do end up in custody, we deliver outcomes which continue to work through the gate, and into the community. I want it to be demonstrably clear that we, working with our partners across the youth justice system, have a positive impact on reoffending.
You and I know that, through this work, we can deliver savings for society. We can spare victims of the trauma crimes inflict on them. And we can save the tax-payer the cost of incarcerating repeat offenders. But be clear that any future policy will be based on evidence and proof of outcomes.
I, the Board, and the partners we all work with – including our colleagues here today - have every confidence in the YOT model. So let us leave no stone unturned as we provide the evidence, and the proof of outcomes, which underpins that confidence. Can I again thank the Restorative Justice Council (RJC) for this opportunity not only to re-affirm my commitment to restorative justice and the work of the RCJ; but also for allowing me to wash some of the YJB's clean linen in public.
ENDS.
Published 20 January 2015