Speech
Lord McNally's speech to the future of mental health conference 2015
Lord McNally's speech at the future of mental health conference in Salford.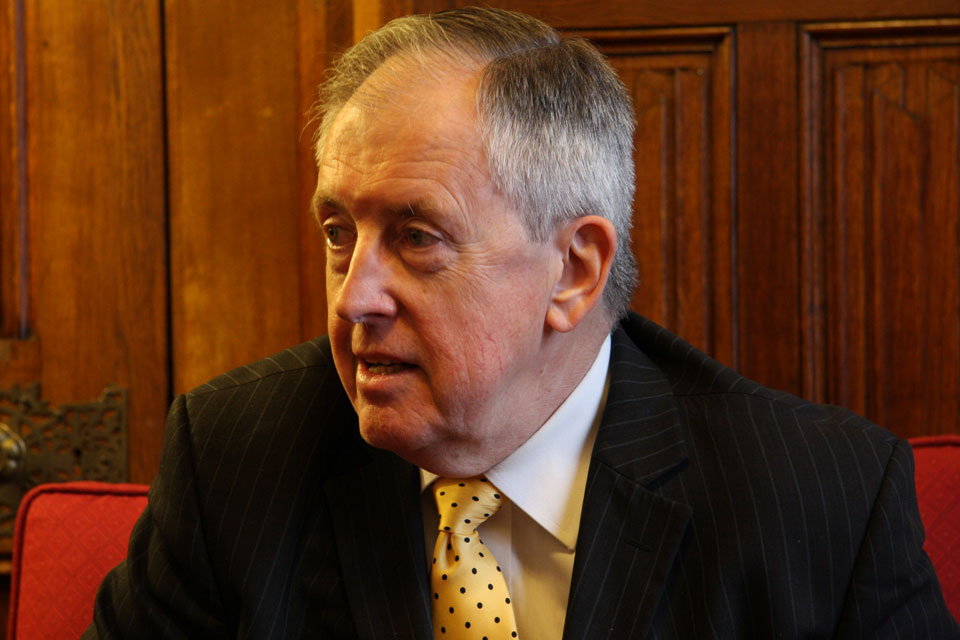 Introduction
This is a particularly fortuitous time to be discussing the future of mental health services. I cannot recall a time when the issue of mental health has been so high on the political parties. The Conservative, Labour and Liberal Democrat Parties have all pledged, should they find themselves in government after 7 May, to devote more resources and give higher priority to mental health needs in the years ahead. Such a cross-party consensus is to be welcomed.
It does, however, throw the onus on the mental health care professionals and the organisations and authorities in which they work to respond with coherent, joined-up suggestions about how to turn this political good-will in to practical and effective policies.
I am not going to pretend to you today that I am some expert in the field of mental health. I am, at best, a jobbing politician. However, I have spent the last five years of this Government, first as Minister of State at the Ministry of Justice, and then as Chairman of the Youth Justice Board. I have also spent the last fifty years in and around Whitehall and Westminster in a variety of roles, from Member of Parliament and working peer to special adviser and public affairs consultant.
This collective experience has taught me that it is the man or woman with a plan who has the best chance of finding their way through the Whitehall jungle hence the importance of conferences like this one.
The last five years have taught me different lessons. They include:
that we have far too many adult prisoners with unmet mental health needs
that this is particularly so among the 4,000 plus women that we now have in custody.
that mental health care for young offenders under the age of 18 (the group who are the direct responsibility of the Youth Justice Board) and those in that age group on the cusp of offending is under-resourced and poorly directed
That does not mean that good things are not happening in all of the above sectors. But we are only in the foothills of developing an approach to mental health in all parts of the criminal justice system which is both civilised and humane. And before anyone writes off such an approach as fluffy liberalism, let me also add that I believe that the provision of resources and effective treatment would be cost-effective in addressing some of the root causes of offending and make a significant contribution to rehabilitation.
As I have said, the most helpful contribution I can make here is by drawing on the experience and expertise of the YJB.
To give some idea of the nature of the task let me draw on a study produced jointly by the Welsh Government and the Welsh Youth Justice Board. In 2012 YJB Cymru undertook an analysis of young people displaying prolific offending behaviour. This investigation found that:
48% had witnessed family violence.
62% had difficulty coming to terms with past events or trauma.
79% had social services involvement.
81% were without qualifications.
95% had substance misuse issues
That kind of finding comes up time and again in research. It means that when a young boy or girl is before a youth magistrate we may be ten years too late in some of the interventions needed.
Last Autumn, my colleague, Lord Bradley, published his review – five years on from the original report he wrote on the matter of mental health. It was on the back of this that I asked him to speak at the Youth Justice Convention in November. His view was that although progress has been made since his first report, there is still much more to do and that we must all try harder to address the fact that too many young people end up in the criminal justice system, simply because they don't get the support they need early enough.
The Youth Justice Board, have been making the case for some time to have greater attention paid to the mental health needs of young offenders & those on the cusp of offending. And, whilst I am pleased to see the issue of mental health itself has garnered cross-party support, I remain disappointed that there is still no clear indication of how much of this support is to be directed towards children and young people. We hope to be able to make some practical suggestions to the Justice Secretary after 7 May, based on some front-line fact-finding by the YJB Board.
Some of you will be aware that, following the Ministry of Justice's announcement to have a stocktake of the effectiveness of youth offending teams last winter, members of the YJB Board undertook a series of visits to YOTs around England and Wales to complement this work. We concluded this intensive itinerary last month, and are in the process of assessing our findings.
One of them I'll share with you now. Many YOTs visited reported that access to local mental health services can be difficult, and so the needs of children and young people often have to go unmet. I've heard countless examples from the front line of young people desperate for help, but who can't get access to it because there's none available for them. Or, even worse, they're just not deemed 'ill enough'. This is deeply troubling.
Many of you here today will know the general statistics on the impact of mental health. I want to raise some that directly affect those young people who end up in the criminal justice system:
one in ten children between the ages of 5 and 16 years suffer from a diagnosable mental health issue; about one in three in every classroom
half of lifetime mental illness starts before the age of 14
the OCC says up to 32% of young people in custody have a generalised learning disability
Public Health England's report in January this year stated 11% of common mental disorders, and 17% of Post-Traumatic Stress Disorders, in England have been attributed to childhood sexual abuse
5% of English children, aged 5 to10, have a behavioural conduct disorder commonly associated with ADHD, anxiety or depression – this latter at a stage in their lives where they should have nothing at all to be worrying about
It is for these reasons I say that we are only in the foothills of addressing these issues. The really tough climb lies ahead.
Last month the Child and Adolescent Mental Health Services (CAHMS) published their review 'The Future in Mind'. This report clearly made the link – again – between mental health issues of vulnerable children, looked after children and those involved in gangs, with a propensity for these children to engage in criminal acts. It also confirmed – again – that when mental health issues arise in young people, so often it is found that those affected have been in care at some stage, or let down when they were children.
The pilots CAMHS undertook for mental healthcare provision for children and young people provided much evidence of the huge and positive impact that early interventions can have. It is regrettable that, despite this, these provisions were then merged with mental health care for adults as the vehicle for mainstream delivery of services. I hope that incoming ministers and government will reconsider this. The reason why we have a Youth Justice Board is that, in the 1990s it was seen that the needs of children (i.e. those under 18) are different from the adult world. It was that realisation which laid down the foundation to our successes in the field of Youth Justice over the last fifteen years. There is need for the same focus when addressing the problems of child mental health, particularly when mis-diagnosis or neglect can suck the child in to a criminal justice system which, as yet, does too little to rehabilitate and offers too many opportunities for long term criminalisation.
I am encouraged that the Departments for Health and Education acknowledge the issues and pledge to work to address the glaring gaps in the mental health service provisions for this age group. There is a need for all departments to work together now on mental health issues and the YJB, in its capacity as adviser to the Justice Secretary will be urging the MOJ to play its full part in such interdepartmental co-operation. I am sure that we will be pushing at an open door. All the academic research and inquiries point to the fact that poor mental health has serious impacts on young people's personal and social development, and affects all areas of their life including education, employment, relationships, behaviours and vulnerability to violence and crime. Supporting mental wellbeing in vulnerable young people is therefore a multi-agency interest and is fundamental to preventing offending and re-offending patterns of behaviour.
We need prevention and intervention that addresses risk factors, promotes resilience, and provides appropriate support for vulnerable young people. We already know that getting in early enough can protect children from antisocial behaviour and treat mental illness.
We know, because Youth Offending Teams up and down the country have proven it, that providing holistic, multi-agency coordinated, and appropriate services to children and families does work, and is key to success.
Public Health England confirmed in January this year that conduct disorder is the most common mental health issue affecting children, which manifests in severe behavioural problems. It is particularly harmful to children's life chances, if left unchecked, when such behaviour patterns emerge before the age of 12.
Any parent, or person who works with children, will know that disruptive behaviours in childhood often arises from a child's distress. And this distress is usually caused by symptoms in their family-life or the environment in which they live.
Young people living in disadvantaged neighbourhoods are ripe for concern as they have to face many fears every day.
Entering care can be traumatic. Most looked-after children have suffered terrible childhood experiences such as abuse, neglect or family dysfunction, all of which make them vulnerable to emotional and behavioural problems.
Research has shown that looked-after children have significantly higher rates of mental health disorders than their peers in the general population - almost half with a psychiatric disorder, most commonly conduct disorder. And up to a third of children and young people in contact with the criminal justice system are likely to have been looked-after.
I hope that this audience will need little convincing of the necessity for future mental health services to make explicit provision to address the needs of children and young people.
For my part, I make no bones about the fact that I want to see a portion of the funds pledged go directly towards addressing the mental health needs of children and young people in or on the cusp of the criminal justice system and I will be urging and supporting YOTS up and down the country in approaching their local authorities making the case for such focussed action. The YJB will be highlighting good practice where it exists and providing YOTS with supporting material and arguments.
I will also want to see the more support and training for those frontline staff and practitioners, who regularly work with young people, both in the community and in the secure estate. Those who work with the young people need high quality training to enable them to understand the complexities they are dealing with. They should be trained to recognise mental health needs, learning difficulties, speech, language and communication needs.
They should also be able to recognise when children, presented as offenders, are in fact victims themselves, of exploitation or abuse. I want to see these staff being given ongoing support and supervision to develop as practitioners. And they should personally be supported to be resilient and able to deal with the emotional demands of working with challenging young people. Perhaps most importantly, the calibre and quality of such staff also needs to be recognised and valued for their expertise.
We need to establish a comprehensive approach to provide support to children and their families from the very earliest stages of life, preventing risk factors, building strong emotional wellbeing, and responding promptly to early signs of poor mental health and crisis.
We start from the simple and now acknowledged fact that if we don't have a good mental health system for children and young people - if we don't have services that accurately identify who needs treatment, and then provides it - not only are we stunting the potential of our future generations, we are failing some of the most vulnerable people in society.
As I have already said, poor mental health has a profound impact on young people, and affects all public services, including criminal justice, health, education, social services and employment. The YJB has already demonstrated that by getting out of our silos, by employing an inter-disciplinary, holistic approach we can make a difference to outcomes. Are we all ready for the fight to turn good intentions into reality?
I was encouraged by a statement made by the new Children's Commissioner, Anne Longfield, following the Government announcement in March of a further £1.25 billion for mental health services for children & new mothers. She said:
So can we hang up our banners demanding better services for the one in 10 children suffering from a diagnosable mental health disorder, or the 72% of children in care who have behavioural or emotional problems? Will we no longer read almost daily news reports about children taking their own lives because the mental health system has failed them or being detained in police cells because they are the only place of safety?

It is of course too early to tell. The priority must be to ensure a planned and consistent approach to improvements that rise above party politics to achieve long-term change. This will take longer than a single five-year term of office. It will demand a sea change in attitude, approach and investment. Only then will this welcome investment mean something real to thousands of children and young people who are desperately waiting for the help they need.
I have quoted at length because I agree with every word she says, and I look forward to working closely with her to turn our hopes of a fresh approach into reality in the months and years ahead.
ENDS
Published 28 May 2015