Speech
Launch of the 2050 Global Calculator
Edward Davey speech at the launch of the 2050 Global Calculator.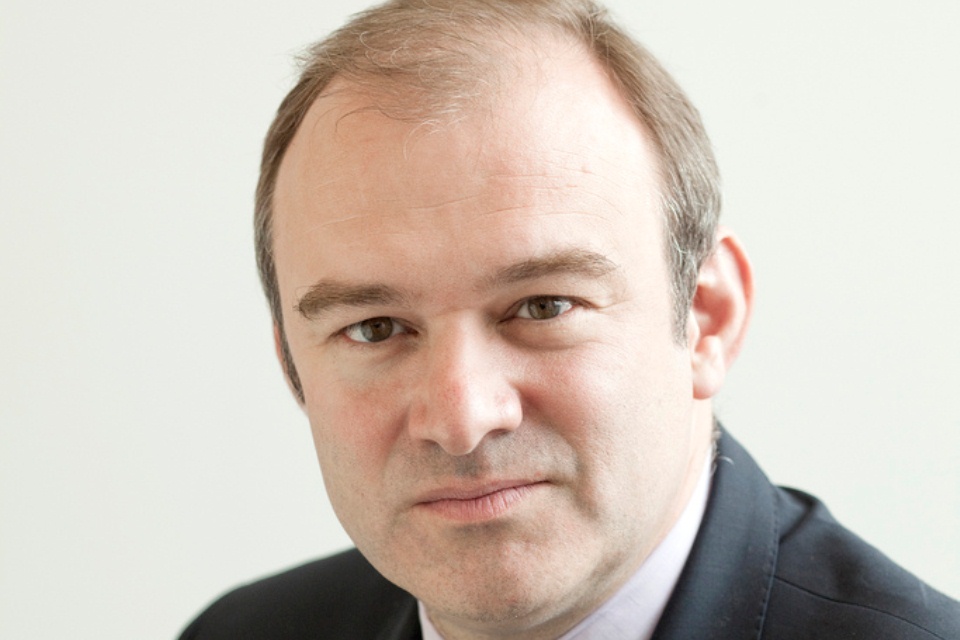 It's great to see so many of you here today.
I hope I'm not being presumptuous by saying that your presence here means that we all share a common understanding – and a common objective.
Everyone here understands we need to follow the science – man-made climate change is real, is already happening, and represents one of the most serious threats facing the UK, and the planet as a whole.
The more we see the effects of climate change already happening around us, the more we understand the future risks.
For the UK, the main direct risks from climate change are likely to come from extreme weather, such as flooding, disrupting services and damaging property and health.
But in other parts of the world the impacts could be more severe– desertification, coastal inundation, sparking mass migration of people – food shortages, water shortages, competition for land and resources that can spark conflict and state failure.
Potentially – a more brutal and dangerous world.
We in the UK should be concerned about this future.
Well, not only do we have a responsibility as part of the global family of nations –we also have direct self-interest.
We are an open trading nation and our prosperity is inextricably linked to world markets.
More extreme climate change impacts in other parts of the world will have a profound effect on our prosperity and our very way of life.
I believe our shared objective must be to limit climate change to the 2 degrees that the evidence says will avoid the most extreme impacts.
This year will be a watershed moment in meeting that objective.
In December governments from around the world will work in Paris to secure a new legally binding, global climate change agreement, with emissions reductions commitments from all countries.
It's not quite the world's last hope.
And it won't be the end of the story.
But failure to seize the opportunity that Paris gives us would mean costs would be greater and risks higher.
We can do both economic growth and tackle climate change and we need to demonstrate this to people.
This tool – the global 2050 calculator - will energise the debate.
So everything we can humanly do between now and then to make an ambitious agreement in Paris possible must be done.
Today we share a new, innovative tool - the Global Calculator – that we hope will help energise and improve the global climate debate.
It will do so by showing us what we need to do to meet the two important aims - to support economic development and tackle climate change at the same time.
To keep up the pressure for action, we need people to understand the problem and to embrace the solution.
We need to help people focus on the solutions that work, that add up, that keep the global temperature rise within 2 degrees C.
The UK's approach has been to set in law an ambitious target to reduce emissions by 80% by 2050.
In our 2011 strategy, "The Carbon Plan", we looked at the options using the "UK 2050 Calculator".
The UK Calculator is a simple and transparent online tool developed by my department to help people look at scenarios from a UK perspective.
It allows anyone to explore all the potential energy futures for the UK to 2050, and the impacts on energy security, costs, land use, air quality and emissions.
As well as its uses inside my Department, the UK Calculator has proved useful outside government.
It helps organisations such as Friends of the Earth and the National Grid have to better understand the choices and trade-offs facing the UK.
The tool has been so successful that even other countries have adopted the approach themselves, some with our support.
It has helped here, but I'm really proud that it's been developed by other countries too.
I believe it has been the best value for money we've spent on climate change and my colleagues in DECC have been really instrumental.
There are now around 20 governments who have developed or are developing their own country-level Calculator.
We will hear from my counterpart in China soon.
China has been using their calculator to support the development of their government's economic and energy strategy, and to train their officials on the energy challenges facing their country.
The country-level Calculator tools are very useful.
However, they cannot tell us what actions add up at a global level, and the risks we face if we do not take action to reduce global emissions.
This is why DECC, with joint funding from Climate KIC, has led a range of global partners to build a global version.
Today we launch this new, simple and open online tool - the "Global Calculator".
You will be able to explore the full range of scenarios for the world's energy, land and food systems to 2050.
You can then see the resulting global emissions and climate change impacts out to the end of the century.
The beauty of this is that it's your tool – you are in charge – you can explore what you care about.
And you can ask the difficulty questions.
Can we all eat as much meat as the average European? Do we all need a solar panel on our roof? Can we still travel by car?
As we saw in the presentation, is it possible for a world in 2050, with a population of 10 billion, to tackle climate change and have a good quality of life.
The answer is yes – it can be done.
We will hear shortly about how the Global Calculator works.
But for now, here's an example 2 degree pathway – you can see the emissions are falling over time.
Cumulative emissions by 2100 are below the orange 2 degree line.
The temperature change is around 2C.
And we have large improvements in global living standards.
No path to tackling climate change will be an easy path.
There is no quick fix or silver bullet – there never has been.
We have to be very ambitious on our deployment of low carbon technology and fuels, and the way we use our land, to achieve both our development and climate goals.
I think many of us feel that this has been a false dilemma. But studies such as the New Climate Economy, highlight the opportunities for low-carbon growth to drive investment, providing jobs as well as better health, business productivity and quality of life for all.
And after this morning you will be able to test the findings yourself, and create your own vision of the world to 2050.
This Global Calculator was a result of a massive, collaborative effort.
Built by experts from over 10 globally respected organisations, from the US, China, India and Europe.
One of these organisations was the Chinese Energy Research Institute.
They are also hosting a launch event right now in Beijing.
So let's hand over and hear from my counterpart, Professor Li Junfeng.
Thank you very much for listening, and good evening to our colleagues in Beijing!
Published 28 January 2015