Speech
Justine Greening: speech to Bond's Annual General Meeting
A call to action on the post-2015 development goals.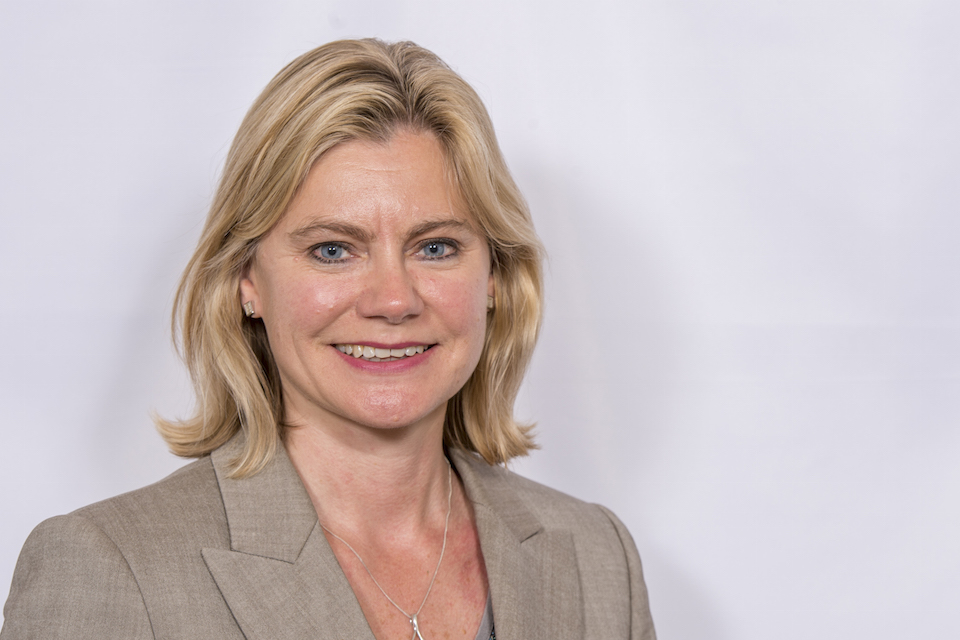 Introduction
I'm absolutely delighted to be able to join BOND's Annual General Meeting today.
It was this time two years ago that I made my first speech as International Development Secretary at BOND's AGM.
Looking back at that speech, and all the things we've done and all the work that the Department's done in that time, and it was again brought home to me just how impossible it is to have this role and not be changed by it on a very personal level. I'm sure that's the same for many of you here involved in development. You become part of something much bigger than you can ever expect in this kind of job.
The people you meet, the sounds, and the smells, the emotions you have – they all leave an imprint. All of the experiences start to mould you bit by bit.
And I've always been careful to channel those experiences into action on the ground.
I think one of the things that has moved me the most in this job is the children I've met. It was meeting some of the Syrian refugee children in Lebanon, children who'd really lost everything - their homes, their schools, their friends, sometimes their families. And then a discussion with Justin Forsyth of Save the Children and Kristalina Georgieva of the EU, which directly led to us doing the No Lost Generation Initiative to help these children go to school.
Lessons learnt
In two years, I've really learnt a huge amount in this job and I felt this speech was a chance to turn all of that reflection into a call to action, particularly on the post-2015 framework.
First of all, over the last two years it's been brought home to me the incredible impact Britain has in the developing world.
And doing this job has allowed me to see our country through other people's eyes, and I've seen for myself just how much Britain is still respected and admired across the world. It was amazing to be in Sierra Leone very recently with all the work we're doing there to tackle Ebola and see Union Jacks everywhere you went, on people's t-shirts, on mini-buses.
In the UN General Assembly and World Bank meetings too, Britain has a wonderful, fantastic standing on the international scene.
Our country has this unique role that blends our resources, our talents, our values and our spirit to give us a standing and an advocacy like no other. And of course we must always work hard to maintain that standing.
I've also been struck by the broad parallels often between the debates that developed countries including Britain have and the countries we are helping.
We all talk about infrastructure, jobs for young people, a good education, a good health system. Wherever you are in the world people are often grappling with the same sorts of challenges, different versions of these challenges but the parallels are much stronger than you maybe realise.
Finally, I've realised the systemic nature of change and development - nothing gets changed in isolation.
And in the last two years at DFID, we've really been building systematic, practical and ambitious approaches to delivering on the three core priorities that we've set ourselves: driving economic growth and jobs, leading in emergencies and empowering women and girls.
Today, I want to set out how far I think we've come on those priorities. And I also want to set out how I believe we need to take the same systematic approach as we debate, and then agree, the new generation of global development goals over the next few years.
Economic growth and jobs
What about our first priority of driving economic growth and jobs.
Economic development is absolutely and without question, the only way we can ultimately see poverty defeated.
We know wherever long-term per capita growth is higher than 3%, poverty falls significantly.
And I bring my own personal reflections to this issue. One of my toughest times growing up was when my Father was unemployed for a year. For me that was when I understood what it meant to families and why the dignity of work is so important.
And wherever you go in the world, you find men and women want the dignity of work. They don't want to survive on hand-outs, they want the chance to provide for their families and build themselves a future.
That's why I've been determined to build the most coherent, focused and ambitious approach to economic development that DFID has ever had.
We are improving the business climate and boosting investment in developing countries. By modernising ports in Kenya, upgrading roads from Uganda to Rwanda, increasing Nigeria's power supply.
And an important part of this approach is working on what the Prime Minister has called the Golden Thread. In other words, building those institutions, such as the rule of law and the presence of strong property rights, which enable open economies and open societies to be able to thrive.
I believe that as a country our Golden Thread is probably some of the best woven in the world. Here in Britain, the institutions and the frameworks are part of our heritage. And in many respects we take it for granted that people can have their day in court, that you can own your own freehold property, that you can vote for the Member of Parliament you want representing you. All of that is invaluable.
Now DFID is sharing our British expertise on our Golden Thread with developing countries. Whether by sending experts from the Institute of Chartered Accountants to help countries to strengthen business auditing, or working with HMRC to help countries improve tax collection and with Scotland Yard to improve law enforcement and tackle corruption.
And I've come to see that over time you have to do all of this and that successful, inclusive economic growth is inextricably linked to social and political progress. It doesn't happen overnight but I don't believe you will ever see economic growth in isolation.
Humanitarian – leading in emergencies
Our second core priority is leading in emergencies – we've had to do a lot of that over the last two years.
Before you do a job like this it's easy to talk about humanitarian work but harder to grasp the practicalities of it. You don't see the human side of humanitarian work until you meet the children in refugee camps, the safe burial workers helping to stop Ebola spreading in Sierra Leone today, the medics performing life-saving operations in the Philippines after Typhoon Haiyan hit.
And for those helping and those being helped, it is a literally vital business. When I was last in New York at the UN General Assembly, we held a small reception for some of the NGO humanitarian workers, really to say thank you as much for the work they do.
There were lots of Brits at the reception, and it's no surprise. We should be proud as a country of the way we are often first on the ground when disaster hits or conflict erupts. And it's so often our British NGOs that are there for DFID to channel our help through to people on the ground.
And we know the challenges on all of us today. Looking around the world right now, whoever you talk to, it's clear our humanitarian system is stretched nearly to breaking point.
At DFID we have taken a comprehensive look at our humanitarian work.
We are investing to significantly improve the quality and speed of humanitarian responses in countries that we know are most at risk of natural disaster or conflict related humanitarian emergencies.
But we need to do a lot more.
If you talk to the Red Cross, they'll tell you that 35 of the 40 crises they are working on today, in 2014, were the ones they were working on back in 2000. We have to realise that humanitarian emergencies that clear themselves up in 1 or 2 years, are the exception not the rule. Often, refugees can't go home, conflict doesn't just stop.
For those people affected by those more chronic humanitarian crises, we need to go beyond the immediate life-saving relief and focus on children in school, livelihoods work, health – all of it. I think our work on the No Lost Generation Initiative in Syria has made that very, very clear to me.
And I think all of us need to look at how we can have a more systematic approach in the future, in particular by focusing on the most vulnerable people in a crisis, often girls and women.
Women and Girls
And that work sits alongside the third core priority, having that focus on girls and women like we've never had before.
One of the most painful parts of this job is seeing so much wasted potential. There are so many girls all over the world who are absolutely full of ambition. I've met them in Zambia, in Lebanon, in Jordan, in Kenya, in Sierra Leone. They tell you that they want to be a doctor, a teacher, to own their own business. They've all got ideas for what they'd like for the future.
But I think we know that while for many of us when we grow up our worlds really expand…for millions of girls their world totally shrinks, their aspirations become impossible dreams.
I wanted to do much more to improve the prospects of these girls.
Since this Government launched our strategic Vision for Girls and Women we have helped changed millions of lives for the better, supporting more girls into school, helping more women access family planning, and empowering women economically.
I wanted DFID to do even more – more on what we were already doing, and then go on the offensive so to speak, add more areas where we were pushing for progress.
And for me child, early and forced marriage and female genital mutilation were issues that we had backed away from in the past, they were considered just too difficult to deal with.
Now for the first time DFID with a lot of help from many people in this room, is putting FGM and child marriage on the global agenda.
The Girl Summit hosted by the UK Government and UNICEF in the summer was an amazing moment. Our Charter for change was agreed by more than 480 signatories, including 41 governments and more are still signing.
And over 170 governments, organisations and individuals made commitments to take action to end FGM and child marriage.
I want to thank all the NGOs and all of the Civil Society Organisations who made this event such as success, particularly those of you who have campaigned on these things for many years, when no one else was.
The key thing now is to lock in that momentum and build on it.
And it's great that the Government of Ghana has already committed to hold a West Africa Girl Summit next year.
But we should never forget that when it comes to women's rights, I believe if we are not doing what it takes to collectively win that battle…then effectively we're losing it, because the voices that think things have already gone too far will always try to have their say. As we saw at CSW in 2012, they will push things back if they can.
A systematic approach
But I do think, bit by bit, we can get all the pieces in place to make sure girls and women do have a better future.
However one of the things I've seen quite often in the development world over the last two years, is that there will often be a conviction among sets of campaigners that they have got hold of the key element, something they think is the crux of the problem.
You can hear debate, for example on girls and women, where someone will stand up and say the way to really help women is economic empowerment and making sure women can get a job. And someone else will stand up and say, no the key thing is making sure girls can go to school because that's essential to them then being able to get a job. And another person will say in that case it's family planning that we should prioritise because too many girls don't get education because they leave school to have a baby. But then, someone else says, what you really need to do is stop child marriage in the first place and that comes down to social norms and changing the attitudes of men and boys. But, says someone else, attitudes of men and boys towards women would be different if they were viewed as having value beyond their bride price and were able to get a job…and of course everyone's right, we need to do all these things but what this really shows is that they all need to be done in a coherent, integrated way.
It's as if you are looking at a leaky bucket that needs all the holes plugging simultaneously if you're really going to have an impact.
And that brings me on to the negotiations for the post-2015 agenda where I think we need to remember this point of having a systemic, systematic approach.
An inspiring agenda for change
The global sustainable development goals being agreed in September to replace the MDGs are the most important decisions we can be making right now.
Alongside the Climate Change Conference in Paris in December next year as well, the decisions we reach are genuinely about changing the world for the better.
For the development goals, the UN's High Level Panel for the post-2015 agenda co-chaired by our own Prime Minister spelt it out: We should be the generation to end extreme poverty.
But at the moment I don't think we are where we need to be in agreeing a set of systematic goals that can actually achieve that, that will put this planet on a more prosperous, more sustainable path.
As you know, the UN's Open Working Group, working under real pressure, produced 17 goals and 169 targets.
And I think this really poses a challenge to all of us. It would be very easy to just accept what is a very long and complex list of development ingredients, but which has everyone's important thing on it.
But the truth is, what we have here at the moment is too much of a shopping list and not necessarily enough of a strategy for eradicating extreme poverty. And I'm concerned it is a shopping list that people will pick and choose from.
17 goals and 169, often unclear targets…nearly a target for every two days of the year, would be tough for even for the UK, for any country, to put into action.
The bottom line is if we try to focus on absolutely everything we risk ending up achieving nothing.
I had a meeting with Jan Eliasson, the UN Deputy Secretary-General, last week and he said one of the really unexpected results of agreeing the MDGs was that some countries like Rwanda just took them and said right this is our development strategy – this is what we will work on, and they have.
I think that should really be the test for the new set of goals, could a country like Rwanda take them again, could an organisation like DFID take them, and say this is our strategy, this is what we'll work on.
So I want to encourage BOND and all of you to really show leadership on this and agree a set of systemic goals that give us a 15-year strategy for ending poverty for good.
I can promise you that this UK Government led by the Prime Minister the government that delivered on 0.7% for the first time for our country, at the hardest time for our country, will be doing everything possible to deliver a clear, inspiring set of goals that can really tackle the causes of poverty, not just the symptoms.
And a set of goals that have a green thread of sustainability running through them too. Because we know we will not eradicate poverty in the long-run if we don't tackle threats to the environment as well.
But it's also imperative that the UK's Civil Society, with your proud, amazing tradition of campaigning for and achieving global change, raises your collective voice at this vital moment. Use the UK's standing in the world, our commitment to 0.7 to make your voice heard.
The time to do this is now. The poorest people on the planet are in our hands here and we can't let them down.
Conclusion
I said I've learnt lots of things in this job and I want to come back to a final one.
Because if I've learnt one thing these last two years, it's that when you have a group of people who are absolutely determined to do what it takes, willing to go above and beyond, the results will be incredible.
I saw that very recently in Sierra Leone where British medics, soldiers and humanitarian workers are working side-by-side with Sierra Leoneans to tackle Ebola, and they know they are going to get this done, we are going to get rid of this deadly disease.
People are everything in development. You invest in people to make development happen. And then there are the amazing men and women who are out there on the ground, often in some of the toughest places in the world, doing life-changing, life-saving work.
I don't think they always get enough recognition. And I'm very glad we held BOND's first International Development Awards this year – it's been long overdue and I hope it can go from strength to strength
I can't pay sufficient tribute to all of these amazing men and women, the brilliant, and brilliantly diverse, organisations here in Britain, many of you here in this room right now, who do such incredible work overseas, it's your passion and commitment that's a big part of what makes Britain great.
And I'll finish by simply saying it's really been a privilege these last two years to work with you on building a better world for us all.
Thank you.
Published 11 November 2014