Speech
Justine Greening: Global Law Summit
How DFID is promoting the rule of law, property rights, access to justice and good governance in the countries we work in.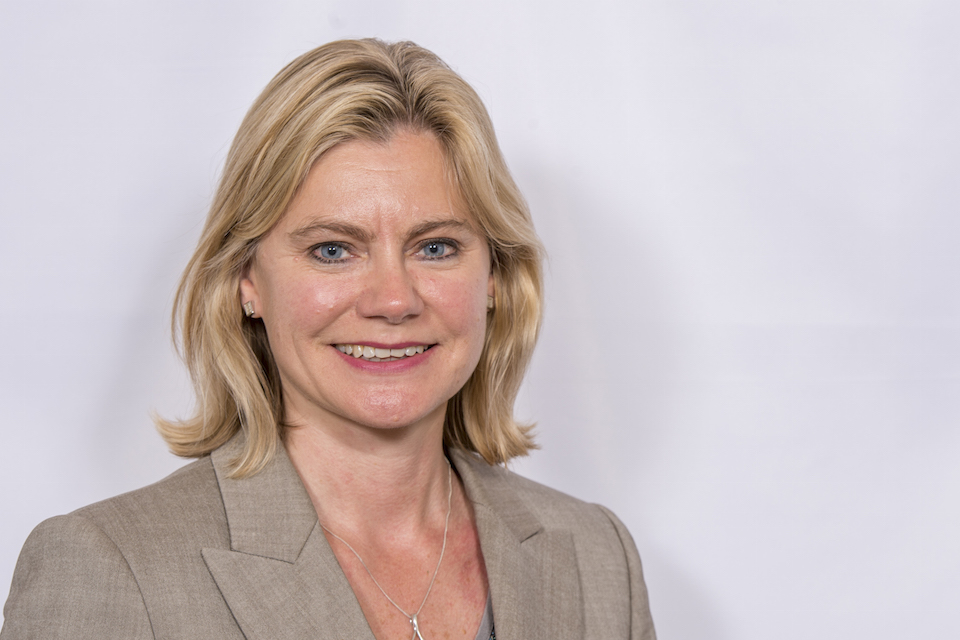 Introduction
Thank you for that introduction. It's fantastic to be here with you all today.
I was very keen to be part of what I think is a special event.
I know a Global Law Summit wouldn't always have been the most obvious platform for a Secretary of State for International Development. Many people when they think of the work that my department does will think of us providing humanitarian support, vaccines, water and sanitation programmes, or perhaps the work we have led in Sierra Leone; helping that country successfully respond to Ebola.
This kind of aid is, of course, incredibly important and life-saving - and it remains a huge priority.
But at the same time – we know that for the very poorest people in the world it isn't just about food, shelter, and staying healthy - they want more than that. They want justice, they want a voice, they want jobs, they want to own their own land and grow their own businesses.
Core to doing all of that is a reliable, enforceable legal system with rights for people and for businesses that create those jobs.
And so, an increasingly vital part of my department's work is promoting the rule of law, property rights, access to justice and good governance in the countries we work in.
Our Prime Minister David Cameron calls this work the Golden Thread of Development - ensuring that societies and economies work fairly and consistently for everyone, not just a privileged few.
The British experience
In Britain we understand this instinctively. I had a chance to see the Magna Carta when it came to Parliament on display earlier this month, the words that were so carefully inscribed were tiny but they were to have a monumental effect for the good of not only Britain, but the world.
Since the Magna Carta was signed 800 years ago, so much of Britain's political, economic and social development has been embedded in law.
The abolition of slavery, the introduction of universal education, votes for women - the story of Britain's development is written in our law.
And so if our law and the institutions that make it and enforce it have been pivotal for Britain, they are equally important for the development of other countries too.
But getting these things in place can be hugely challenging, and there isn't necessarily a blueprint for bringing about the institutional change in other countries.
For lots of countries, the elite's response to a weak leader isn't always to force him to sign a set of rules as happened here in England.
And it's worth reflecting that the Magna Carta, the Great Charter of the Liberties of England, was a critical moment in our history but the change it was to herald was not instant, more of a steady shift of direction.
A bending of the arc in favour of individual rights and freedoms, a common law, jurisprudence to intellectually underpin that law's development - in many ways the very earliest examples of the concepts of independence and transparency being seen as important.
It took time for these legal seeds of change to take root across the whole country but because they were strong seeds that reflected the grain of human nature, in the end they did take root and grow.
Reform will be no more straightforward in the countries we're working in today. Law is a codification of power. Sometimes we're asking people who have power to give it up – and allow the system, the rules, to manage things, and if you've not had that before, if the power systems have always favoured you - then placing your trust in rules rather than relationships is a real leap of faith and ultimately of leadership.
But, as no one understands better than this audience, ultimately the rule of law is the foundation stone of a country's social, political and economic development.
That's why it matters to DFID, the next set of development goals this panel session will shortly be discussing and that's why I'm here today. Because I believe the experts that are here in this room, and more broadly across the legal profession, are of invaluable service in that debate and in many of the countries DFID works with.
I want to take this opportunity to call on you to work with us to promote the rule of law and justice around the world.
DFID's rule of law programmes
Much of our work is already wide ranging, covering the rule of law for society, for politics, for economies.
Britain is helping poor and vulnerable groups, particularly women and girls, to access justice.
For example we are helping millions of women in Bangladesh resolve their grievances on issues such as dowry and maintenance. We're also testing community policing models to help women and girls at risk of violence in Nigeria.
Today I'm announcing a £500,000 fund that DFID is setting up to work with organisations with very different ideas to help find new and better ways to support vulnerable girls and women access their rights - through legal advocacy, education and strategic litigation.
DFID also has a growing number of programmes to improve the legal, regulatory and institutional environment in which businesses operate in developing countries.
We have programmes focused on making the business environment simpler and more transparent in places like Somalia.
And in Rwanda, DFID has supported around 3 million people, a large proportion of them women, to gain formal rights to their land.
And we also focus on supporting countries to tackle corruption, whether by enabling citizens to report on the quality of their public services or by supporting countries to build effective and fair tax regimes.
We're working here in the UK with the Crown Prosecution Service and the Metropolitan Police on the recovery of stolen assets for developing countries.
DFID-funded Anti-Corruption Units do world-leading work helping countries get back what is rightfully theirs and bringing the perpetrators to justice.
So far over 150 cases of overseas bribery have been investigated by these units and over £120 million has restrained, recovered and returned through their work.
I am announcing today that my department will invest a further £21million of new 5 year funding for this programme.
This will enable these units to continue, and scale up their work recovering and returning stolen assets and pursuing UK companies and nationals who use bribery and corruption in developing countries.
Exporting the best of British
This is all really critical work but I particularly want to do more to harness the skills and expertise of the legal system right here in the UK.
Here in Britain we have an unrivalled array of expertise, professionalism and talented legal practitioners within the country's judicial and legal systems, and I know some of you are already providing your services 'pro-bono' in the countries DFID works in.
Since taking on this job I've been very clear that we can do so much more together - and in the last 2 years I've set about building a much closer partnership between DFID and the UK legal sector.
Because I want your expertise to really shape the best possible approach for DFID's work on the rule of law.
And as a result of our initial discussions with the profession, we have already developed 2 new programmes.
The first of these, a commercial legal programme called LASER, aims to improve investment climates in developing countries by working to solve issues from commercial court reform to competition law implementation – helping to unlock the path of entrepreneurship.
This demand-led programme began last June and already it's helped match up a UK law firm and potential investors to provide expertise and advice to the Sierra Leonean government.
We are set to deploy district judges from the UK to provide peer to peer support to the Tanzanian judiciary on small claims procedures.
It's also clear to me this issue of 'judgecraft', one that the profession talks to me about, the quality of the legal system is as important as the system being there in the first place.
We have also worked with the legal profession to develop and implement a second programme, Rule of Law Expertise UK, known as ROLE UK.
This will provide an initial £2.7 million of funding for work in DFID core countries where we have programmes, to enable those countries to access legal skills and expertise we have here to improve their policies, organisations and practices of legal and judicial systems.
We are currently working with our country offices to begin deployments as soon as possible.
DFID is also investing £7 million in the African Legal Support Facility, which provides high quality commercial and pro-bono international legal advice to African governments and law firms.
All of this work I've outlined has very much come out of DFID's ever closer relationship with the legal sector. And to lock in this progress, today I am announcing the establishment of a new Rule of Law and Development Advisory Forum that will provide a structured route for the profession to provide its expertise and advice on DFID programmes, policies and strategies in this area.
This forum will meet several times a year, starting in July, and will bring together senior level representatives from the UK legal and judicial community. Topics likely to be on the agenda include commercial legal strategy and DFID's approach to the legal empowerment of women.
Conclusion
I know you lawyers love your Latin so I'd say it's a case of carpe diem.
It's the right thing to do to from a development perspective to focus on the rule of law - but it's also the smart thing.
The next post 2015 development framework gives us an unparalleled opportunity to get the rule of law in our development goals for the next 15 years, so let us work together to seize that opportunity.
Thank you.
Published 26 February 2015