Speech
Iain Duncan Smith: It pays to save
Putting the future of Britain's pensions on a sustainable footing.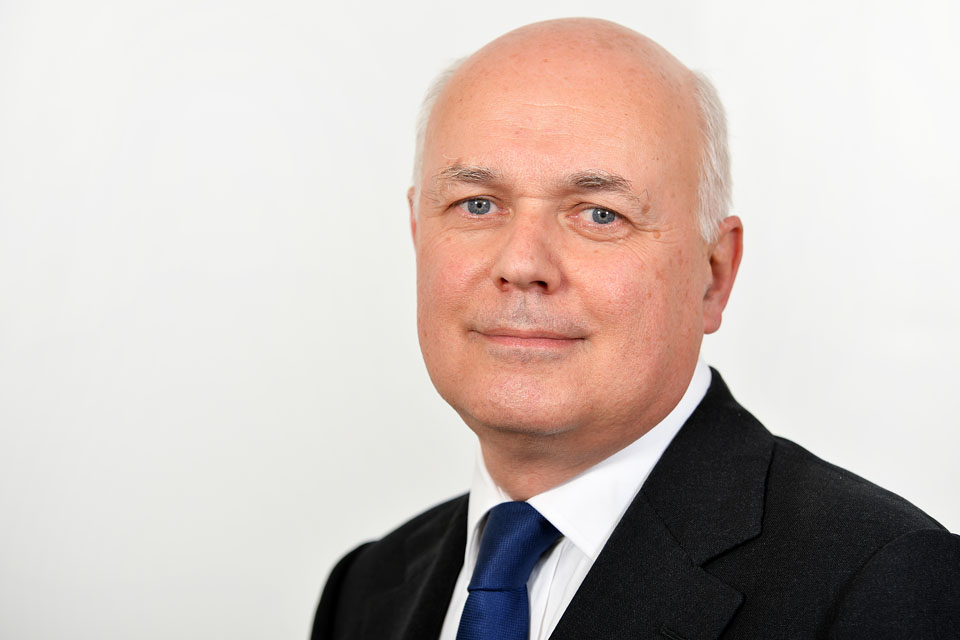 It is a pleasure to be here today – seeing first-hand Britain at work.
Up and down the country, businesses like B&Q are doing an incredible job of growing our economy, creating work and taking on employees…
… in doing so, giving more people than ever the sense of security and self-worth that comes with a wage.
With employment and job vacancies now at a record high, and workless households at a record low, this progress is something often – and rightly – applauded.
Yet as the Work and Pensions Secretary, often less talked about is the vital part businesses have to play in the second part of my job title…
… when it comes to security for people in older life, even as individuals move towards pension age, and beyond.
That is why it is such a pleasure to be here today… at a retailer renowned for its respect for older people – both customers and employees alike.
Older workers
When 20 years ago, B&Q experimented with staffing a store entirely with individuals over 50, initial concerns about the physical and computerised aspects of the job could not have been proved more wrong.
As it turns out, evaluation showed that in practically every respect… from customer service to staff turnover, absence, and sales… the staff actually outperformed other stores.
Yet even as recently as 5 years ago the same misconceptions and prejudices lay behind the default retirement age…
… a law that forced able and hard-working people out of their jobs at 65, regardless of if they still wanted to work.
One of the first things the government did on coming into office was to scrap this rule.
Retirement age should be when someone chooses to retire.
What's more, employers cannot afford to see their workforce decline.
Over the next decade, the number of over 50s is set to increase by 5 times – more than the rest of the workforce is shrinking.
So far from throwing people on the scrapheap, we need people to help fill the demand for jobs and keep our economy growing.
And for individuals too, by retiring at 65 instead of 55, an average earner could receive over £200,000 in extra income and increase their pension pot by 60%.
Thus we must keep pace with Britain's changing demographic – doing more to help people stay in work longer…
… be it through the right to request flexible working… health support like Fit for Work…
… or through championing new support to help people retrain and change career in later life – such as the trials we have just announced, to promote how Jobcentre Plus can best support older people.
Today, the very best businesses pride themselves on a diverse workforce – drawing on the skills of older and younger people alike…
… but never doubting the experience and wisdom that veterans of the workplace can bring.
Securing people's futures
This is just one of the changes this government has made to secure people's futures…
… whilst putting the future of Britain's pensions on a sustainable footing too.
In the past, this stability was too often left at risk, especially by a pensions system that undermined people making the right choices for themselves and their families.
For too many people, the pensions means test meant confusion about whether doing the right thing and saving for retirement would be worth it. People just couldn't know if their sacrifice and determination to save would benefit them or not.
What kind of message does that send out?
It tells people that it's not worth saving.
At the same time, the benefits system told people it wasn't worth working either…
… penalising people who took that positive step.
Britain embraced a culture of 'live now, pay later'
… accumulating personal debt around record highs of £1.5 trillion…
… whilst looking to future generations to pick up the bill.
As part of our long term economic plan, it has been this government's mission to put that right…
… through far-reaching reform of Britain's welfare system that has a set of simple values at its heart.
In all the changes we have made to the benefit and pension systems alike, this has been our aim:
first, it pays to work, and then it pays to save…
… restoring fairness, renewing personal responsibility and rewarding the right choices…
… so that people are no longer trapped, but set on a journey onwards and upwards.
State Pension
In working life, all of us here know that it is having a job which brings that hard-earned independence.
But once people retire, it is a decent pension that ensures we keep our dignity in old age, having the opportunity to live life to the full.
As the Prime Minister said earlier this week, we believe that if you've worked hard during your life, saved, paid your taxes, done the right thing, you deserve dignity when you retire.
As part of this he rightly confirmed that we will continue to give pensioners the support they deserve by protecting pensioner benefits. Similarly, protecting pensions has been a key priority for this government…
Through the triple lock – guaranteeing an increase every year of the highest of prices, average earnings or 2.5% – over this Parliament, we have ensured the greatest rise in the state pension as a proportion of earnings for the last 40 years.
From April, the full pension will be a full £950 higher as a result – a proud record…
… and one which, I believe, even in tough economic times, no one can begrudge.
For investing in pensions is not just about improving incomes alone, it is about fundamental principles:
rewarding those who have worked hard and paid into the system

protecting those who no longer have the opportunity to improve their own circumstances through work
When we invest in pensions, it is not only the older generation who benefit but families and communities as well…
… making pensions something every grandchild in Britain should care about.
Future generations
For the next generation, however, few have tended to give pensions much thought…
… and where people have, unfortunately, very often the feeling is not one of compassion but confusion.
6 in 10 people feel that sometimes pensions seem so complicated that they cannot really understand the best thing to do…
… and 4 in 10 concede they try to avoid thinking about what will happen when they stop working.
Small wonder, then, that across Britain, 12 million people are not saving enough for the retirement they would like.
If we are to secure people's future, we need to cut through the complexity and make clear the incentive to save.
For in the world of pensions, full of confusion, nevertheless there is one very simple and easy-to-understand message: the sooner you start saving for a pension, the better.
So be it through social media – where we have used YouTube to start a conversation with younger people…
… or even in schools, where financial literacy is on the national curriculum for the first time, teaching children as young as 11 how to manage their money and what a pension is…
… now, we are saying that it is never too early to start getting that important message across.
New State Pension
Yet it's not just about talking the talk.
Rather, for young and old alike, a secure future requires meaningful changes to make pensions simpler and saving worthwhile.
Long-overdue and long-overlooked by governments of the past, now, that is precisely what we are delivering, as part of our long term economic plan.
The first radical step we are taking is to replace the old State Pension system – a complicated array of add-ons and top-ups – with a new, far simpler State Pension from April 2016…
… so that people will understand what they will get from the state and can make informed decisions about saving for their retirement.
Designed for people who have made a real economic and social contribution to this country, the new State Pension is about delivering better pension provision…
… especially for women – better recognising the invaluable work of carers and parents during their lifetime.
But what's more, the full level of the new State Pension is set above the means test.
This is crucial, and we should not underestimate the difference it will make to encourage saving.
Now, people can have confidence that the money they put away for retirement will add up, on top of what they receive from the state…
…rather a complicated means-tested system which has too often left individuals no better off than someone who hadn't saved at all.
In doing so, the new State Pension restores fairness and renews the incentive to save – ensuring that those who contribute have a basic income on which to build…
… saving for their retirement, safe in the knowledge that it pays to do so.
Workplace pensions
Having restored the incentive to save, our next step has been to make it the norm…
… changing mind-sets so that contributing to a pension becomes a routine part of working life.
That is what we call 'automatic enrolment' is all about – the most significant private pensions reforms in living memory, giving 10 million people the opportunity to save into a workplace pension.
Unless you opt out – which only 10% of people are doing, far fewer than we expected – then you will automatically save into a private pension, with government and your boss required by law to pay in as well.
In other words, when it comes to saving for the future, we're all in.
Since launching less than 3 years ago, the progress we've seen has been remarkable…
… finally reversing the decade-long decline in pension saving…
… and reaching the landmark of 5 million people enrolled and now saving for their retirement.
Together with new measures to protect the money you pay in – banning hidden costs and capping charges… setting minimum quality standards… and increasing transparency – we are putting pensions back on the market as one of the very best ways to invest your money.
Flexibility
When we start to see pensions in this way – as an investment, like any other – in fact, it changes the whole dynamic around what pension saving means.
It shouldn't be that how you use your money is dictated by government or by the industry.
We wouldn't accept that of other savings we put away – so surely, we shouldn't accept it of pension savings either.
Yet it remains one of the most radical changes that this government has made: lifting a set of age-old rules and returning to people the freedom to decide how to use their pension savings.
From this April, everyone who has paid into a typical workplace pension will be able to access their pension savings as they wish from when they turn 55…
… meaning from now on, over 300,000 individuals a year will be trusted to use their own money as they see fit… not as government tells them.
When it comes to making these important decisions, we are committed to ensuring everyone has support …
… but above all, we are trusting people to make those choices themselves – regaining control over their own futures.
Conclusion
All of these changes, taken together with our reforms to benefits, mark a complete change in the culture of Britain's welfare state…
So that at long last, through Universal Credit, it pays to work… and now, it pays to save.
This is a record that I am proud of:
making sure that through our welfare changes we will have helped people feel that bit more secure about their lives and their grandparent's lives…
… feel more hopeful about their children's futures.
Offering greater freedom… that comes with greater responsibility… but also greater reward.
Now, and for generations to come.
Published 26 February 2015