Speech
Harriett Baldwin on maximising the benefits of capital markets
Speech given by the Economic Secretary to the Treasury at TheCityUK listing regime launch.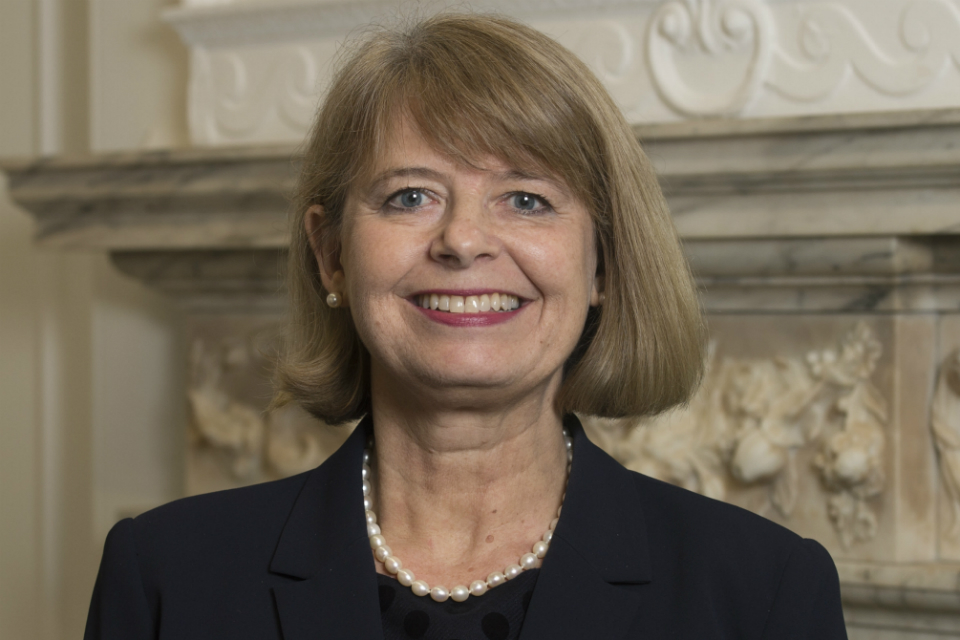 Good morning – it's great to be back speaking to TheCityUK.
It was only a fortnight ago that I attended your annual conference – where I spoke about my vision for the future of the UK's financial services sector.
I said that the government will be doing all we can to help you go from strength to strength.
Financial services has a unique role to play in this country's continuing success.
Not only is it a high-performing sector in itself, and one of the major sources of comparative advantage in the UK: it also provides finance and expertise to millions of other companies and individuals across the UK.
In other words, it is an enabler of growth.
It helps individuals invest, and companies expand.
A strong, stable financial services sector helps us become economically more secure – and I need hardly stress how important that is.
Enabling access to finance, particularly for growing companies, is one of our primary objectives.
Our businesses – what politicians sometimes call the "real economy" – should be able to reap the benefits of deep, and liquid, capital markets.
And as an equally strong point of principle, access to markets should happen across borders.
We are a great trading nation, exporting goods, services, and expertise all over the world.
Our financial services sector is ambitious about accessing – and opening up to – new markets.
That is why the UK government has been so supportive of the concept of a Capital Markets Union in the EU.
A well-regulated, well-integrated Capital Markets Union will improve and diversify companies' access to funding – supporting growth and creating jobs across all 28 Member States.
This is exactly the sort of pragmatic policy which the EU should be aiming for: one which supports economic growth and financial security.
The UK also has much to gain from a CMU - both because of the wider macroeconomic benefits, and because of this city's position as Europe's premier financial centre.
So it is absolutely right that we play a leading role in providing ideas to the European Commission and our European partners, about how the Commission can deliver the best CMU possible.
We believe there is significant scope for the EU to help complement bank finance with broader options for market-based financing.
That will benefit firms of all sizes in every Member State – Small and Medium firms in particular.
According to the European Commission, firms employing under 250 people account for 85% of job creation in Europe.
They rely on banks for 80% of their funding.
They were particularly badly affected by reduced bank finance after the financial crisis.
A Capital Markets Union could be game-changing for them.
In March this year, the Chancellor announced that we were inviting TheCityUK to lead an independent industry review of the EU listing regime.
This would suggest improvements to the European Commission, as part of the initiative to create a Capital Markets Union.
TheCityUK's review of the European listing regime, published today, makes some excellent proposals for action – from all stakeholders, the Commission, national governments across Europe, regulators, stock exchanges and banks.
In particular, there are promising ideas to increase the awareness of capital markets options for small and medium-sized firms, and to encourage growth companies to make the jump to listing.
So I'd like to thank TheCityUK and King & Wood Mallesons for their first-rate work – which I shall be examining in detail over the coming weeks: this is the closest we get to beach reading, as Treasury Ministers!
I am excited about the possibilities a capital markets union offers: it is a great opportunity to support wider competitiveness and productivity, both at a domestic and at a European level.
Competitiveness and productivity have also been at the heart of two documents published last week: our Summer Budget, and our Productivity Plan.
We are proud of our position as the number one global financial hub – and we want to keep it that way.
Financial services is a major source of UK's competitive advantage.
So it's critical that we secure its stability and help it thrive. Our City of London has been world-leading for centuries. We will make sure that continues.
Strong regulation is key to achieving this vision.
One of the lessons of the past decade is that without financial stability, we cannot have a successful financial services industry.
High competitiveness and high standards of conduct, are two sides of the same coin.
Because it is high standards of conduct which help you gain the customer's trust; and that strengthens, not weakens, your position.
I believe that we are all not just ready, but anxious to move on from the turbulent past decade.
Since the crisis of 2008, we have made enormous progress in restoring security to our financial services – by restoring the Bank of England's role in the heart of supervision, by ring-fencing retail banking, and by making sure our firms are much better capitalised.
It is now time to move on to a new level – getting financial services back to their rightful place as one of the aces in this country's pack, and giving us the best, the most competitive financial services in the world.
That's a bold vision, but we believe it is very achievable – and our strategy to achieve it is built on 7 elements.
The first element is to set out a sustainable, fair, competitive, long-term plan for how the sector is taxed.
There is a balance to be struck here. We maintain that the contribution banks make to the Exchequer should reflect their unique risks.
There is also a clear need to maintain UK competitiveness, and help banks' ability to support the broader economy.
So in the Summer Budget, we announced a structure where banks will have a 26% corporation tax rate – the lowest rate among G7 nations – and a 0.10% levy on their UK balance sheet liabilities, less than half the current rate.
After 2020 - 21 we will make sure that the levy no longer applies to worldwide balance sheets.
In addition to that, we are cutting the rates of corporation tax to 19% in 2017 and then again to 18% in 2020, this will save businesses £6.6 billion.
A particular boost to services such as asset management and insurance. And the most competitive rates in the G20.
These changes will leave all our banks, including challenger banks and building societies, with a rate of corporation tax lower than in every other G7 country.
Importantly, we will provide double tax relief against the UK bank levy for contributions to the Single Resolution Fund.
This reflects our general policy of avoiding double imposition, and ensures that the interaction of levies in different countries leads to a fair and sustainable outcome.
Second, we are promoting even greater competition and choice in retail banking.
That is vital to ensuring that the sector continues to deliver for the customer, and to keep their services at the cutting edge.
It's particularly important that we keep encouraging new banks to enter the market – so as a further step, the PRA and FCA have agreed to establish a joint New Bank Unit to help new, prospective banks to enter the market and to support them through the early days of full authorisation.
Third, we are backing innovation all the way – as seen by our creation of innovative finance ISAs, allowing peer-to-peer and crowdfunded investing to be held inside the wrapper.
FinTech is a key part of innovation. It's one of the best ways to improve productivity and make life easier for the customer. And it's one of our sector's biggest areas of competitive advantage.
We really can lead the world here. To see how we're doing against our international competitors and make any necessary adjustments, we're launching an international FinTech benchmarking exercise this autumn – and we've also appointed a Special Envoy for FinTech, Eileen Burbidge, to champion FinTech across the UK and abroad.
Fourth, we're turbocharging our exports and our inward investment – particularly to the world's fastest-growing economies.
We're relaunching our Financial Services Trade and Investment Board, with a new mandate with industry competitiveness at its heart.
Fifth, we're making competitiveness part of the Financial Policy Committee's remit for 2015, as well as the new remits that we will be issuing to the PRA and the FCA.
Sixth, we're investing in talent in the financial services industry.
I believe this is a great opportunity for the sector to show real leadership.
You have already played a major role in supporting apprenticeships, and I hope that the apprenticeships levy will allow you to get back more than you put in, by training up more young people for a career in your industry.
One real boost for the industry will be expanding female representation in senior positions.
We have come a long way since I joined the sector – but there is much more we can do.
So I'm delighted that Jayne-Anne Gadhia, the CEO of Virgin Money, has agreed to lead a review into how women are represented in senior managerial roles.
The seventh and final element in our strategy is to secure real and meaningful reform within the European Union.
I said at the start that supporting economic growth and financial security should be core functions of the EU.
People all across the 28 Member States want the security of employment, and they want economic growth.
That is exactly what we are calling for: a European Union focussed on where it can add the most value.
Supporting competitiveness. Making regulation smarter. Opening up capital markets. Securing trade deals with the rest of the world.
Helping business and enterprise to flourish.
Of course, this is in our national interest.
But it is in the European interest too.
Nobody benefits if you slam the brakes on European competitiveness.
It would be a tragedy for all 28 Member States, so we will make no apologies about standing up and arguing hard for what we believe in.
At the most basic level, if you improve competitiveness and productivity, it increases profits, and delivers a better standard of living.
That makes it good for you, and good for HM Treasury!
Greater competitiveness and greater productivity can deliver a golden age for UK financial services:
Well regulated, trusted, innovative,
Helping customers achieve their ambitions,
Creating high-quality jobs all over the UK,
Remaining the partner of choice for emerging markets,
Keeping our rightful place as the global financial centre of excellence.
And I look forward to working with you all as we make this country as competitive and productive as possible.
Thank you.
Published 16 July 2015