Speech
Green social change: building an Energy Saving Society
Edward Davey speech to the London School of Economics.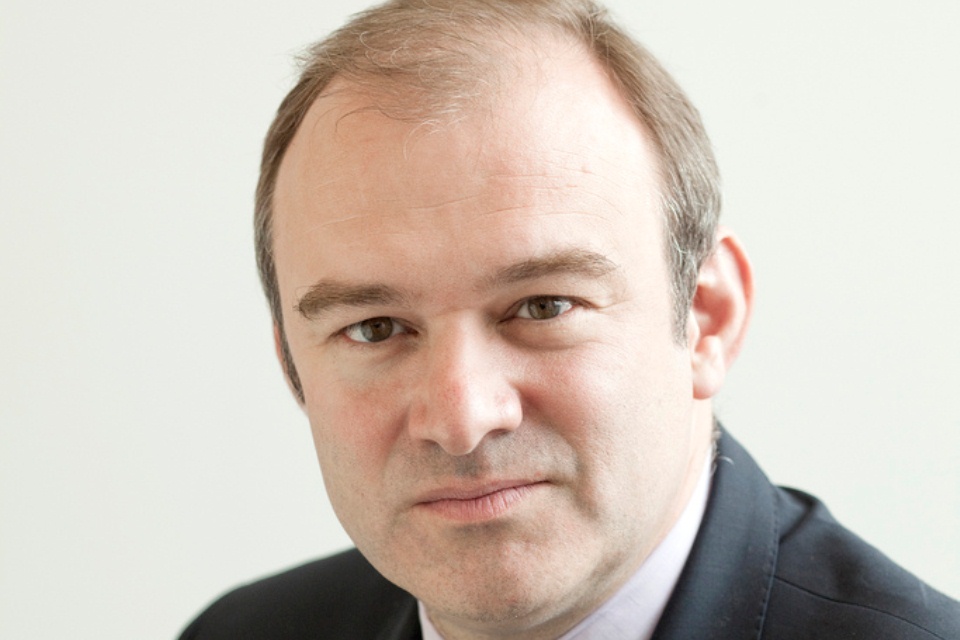 It's great to be here supporting the LSE's Energy Society.
The LSE was founded on a belief in collective action and social change.
And that's exactly what we need in the decades ahead if we are to meet the energy challenge before us.
Maintaining energy security while we decarbonise, at a cost our people can afford.
The work of the LSE's Grantham Research Institute, chaired by Lord Stern, has been absolutely invaluable in helping to set out the scale of what we face with a changing climate – and the imperative to act.
On the basis of any normal risk assessment – weighing probability against impact, the cost of acting against the costs of inaction, bringing the science together with the economics – taking a gamble on climate change would be incredibly unwise.
Yet for those of us ready and committed to act on the science and the economics, the challenges are still great.
To move from what some have labelled "carbon capitalism" through to a low carbon future will be tough politically and tough socially.
Making this huge transition in the way we live, in the way our world operates, won't be easy as the old order clings on and is forced to adapt.
And the urgency with which we need to act, doesn't make it any easier.
Yet what needs to happen for the transition has been clear for some time.
Science, technology and engineering will of course be critical – from the innovations, to the development through to the deployment and operation.
To generate abundant low carbon electricity.
To unlock affordable low carbon transport.
All so obviously possible and beneficial.
The alchemy of solar power and the promises of energy storage.
I'm confident we can rely on the scientists and the technicians not to let us down.
Indeed, they can help unlock the crucial international climate change diplomacy which has proven so tough.
For that diplomacy - both political and commercial - will be essential for the transition.
For the self-evident reason that we can't solve global warming alone.
Yet that diplomatic challenge is daunting, with our world so complex - developed and developing - North/South - democratic/authoritarian.
Escaping climate chaos has to be done together, despite all the imperfections and frustrations of finding multi-national solutions.
Yet even a combination of good technology and lucky international politics won't be sufficient, if people don't think differently about energy, if we don't change how we use energy.
And it's this I want to focus on today. The bottom up climate challenge, if you like.
Not a solution just handed over by scientists or imposed by Governments, vital though their role is.
But a way forward that involves changing the very culture of energy.
Exploring how people can make a difference – exploring how we maximise the potential of individuals to make a difference.
And that takes us, quite simply, to using less energy - energy efficiency.
Green social change
One of my very first engagements as Secretary of State was to launch DECC's Energy Efficiency Deployment Office.
I said then, I wanted EEDO to have a key role in changing the "way we think about energy…… to make energy efficiency real and relevant to people's everyday lives".
Because if we are to meet the energy challenge, we will need a great movement of social and behavioural change.
This is, in many ways, one of the toughest challenges we face.
How do we alter our own society – indeed the societies of the developed and emerging economies – so people change their behaviour - willingly.
Now we do have many tools to help change behaviour.
Information – from smart meters to remote controls.
Regulation – for less wasteful electrical appliances to more fuel efficient cars.
Markets – for new green finance and innovation.
And I want today to convince you that we're using all these tools and more – whilst also setting you the challenge of working out how to effect behaviour change across a society over time.
How do we meet our ambition to build one of the least wasteful, most energy efficient, most climate friendly societies in the developed world?
More simply, how do we build an Energy Saving Society?
An Energy Saving Society
Frankly, even if it wasn't for climate change, we should be doing all this anyway.
Because, an Energy Saving Society is one whose energy efficient businesses are better placed to compete in the global market.
Energy efficiency makes sound commercial sense.
Using less energy costs less - providing room for higher productivity, higher growth, more jobs, more exports.
And we should be doing this anyway, because an Energy Saving Society is a fairer society.
The link between bad health and living in a cold home is undeniable.
The link between social mobility and fuel poverty is increasingly clear.
And no-one should have to choose between heating and eating.
So energy efficiency is a tool for social justice – where the poorest and most vulnerable stand to benefit the most.
That is why taxpayer funded schemes like the Winter Fuel Payment and Cold Weather Payments are so important – as well as social schemes like Affordable Warmth and the Warm Homes Discount paid through energy bills.
And in our forthcoming new Fuel Poverty Strategy – the first for over 13 years - energy efficiency will play a starring role.
But the case for energy efficiency is even stronger.
For it brings not just a stronger economy and a fairer society – it also brings a more secure economy and society.
An Energy Saving Society is a safer one – with increased energy security and reduced import bills.
You don't need the current live example of the Crimea to prove that point.
Of course, the need to maintain and improve our energy security will mean building more power stations, not just demand side measures.
Indeed, the transition from a fossil fuel economy to a low carbon one will mean building different power stations than in the past.
We have to innovate around energy supply because we will still need huge amounts of energy – however successful we are in cutting wasted energy.
New nuclear power, new offshore and onshore wind farms, new cleaner gas-fired power stations and more.
But building new supply is expensive and if we focus too much on it, we miss the massive demand side opportunity.
For by tapping the potential of energy efficiency, we estimate we can save ourselves in the UK the need to consume 196 TWh by 2020, the equivalent output of 22 new power stations.
So the long and short of it is that energy efficiency is central to meeting the energy challenge and central to the Governments energy policy.
That's why, two years ago, we published our Energy Efficiency Strategy, the first of its kind.
It fleshed out why we think people and firms don't exploit the energy efficiency opportunity more.
And how we might change those behaviours.
Part of the answer will require central commands – in the form of laws, regulations and standards.
But part of the answer will require the softer, bottom up approach I referred to before, of information, incentives and insights.
But first let me start with regulations.
Regulations
For I think we continually fail to recognise that regulations are often the cheapest, most effective way of achieving a society's goals.
How regulations can help people make better choices.
This statement on regulations ought to surprise you – Coalition Minister praising the role of regulation?
Well, for me, regulation isn't an ideological issue, it's simply a pragmatic one.
It is right that the Coalition Government has stressed deregulation in many areas of our lives.
When I was a Business Minister before, I led successful efforts at the EU level to drive a more deregulatory culture in Brussels.
Yet economists showed decades ago that smart regulations can drive economic growth, stimulate innovation and achieve our ends in the most efficient way.
And energy efficiency is one of the classic areas where regulation should play a larger role in the future.
Take Products Policy for instance – the regulations around the electricity-powered appliances that dominate modern life.
Goods like washing machines, fridges and televisions form an integral part of our lives – and our energy use and costs.
Recent development in terms of the efficiency of these appliances has been impressive.
Ecodesign standards and energy labelling are driving products to become more energy efficient.
And new cars must be more fuel efficient and less carbon emitting.
New homes will soon have to be zero carbon homes – at last.
But the question is – have we done enough? Are we missing cheap, easy wins?
Can we persuade industry, Parliament, the EU and our global competitors that we should do more?
I am utterly convinced that we need to do far more.
It's why I fought a quiet behind-the-scenes battle to win ministerial responsibility for energy products and their efficiency.
Labour had left these with DEFRA, the Department for the Environment, Food and Rural Affairs.
As of last week, they've been transferred to my department, the Department of Energy and Climate Change.
And DECC's Energy Efficiency Deployment Office is now taking work forward on this.
Partly it will be a domestic challenge – speeding up the take-up of energy efficient products.
I was pleased, for example, to be able to launch, with John Lewis, an innovative retail trial to see whether giving people lifetime electricity running costs on white goods results in higher sales for energy efficient models.
So consumers considering energy efficiency not just from the A to G ratings – or even the A+, A++, or A+++.
But having the price information – the purchase price and the lifetime operating price.
This full trial is running now and will complete in June.
I hope it will show that our new approach to labelling will drive greater take-up of the most energy efficient appliances.
And we need to do more of this – from driving the take-up of LED lighting to ending the energy waste of the stand-by status.
But this regulatory challenge has an even greater international challenge.
President Obama's former Energy Secretary – Professor Steven Chu – argued that if the world adopted super energy efficiency standards for all consumer appliances, it would save the energy that 600 medium power stations can generate.
So regulations have a role.
Information - smart meters
And with these regulations we need to give people more information – and easier to use information – about their energy usage.
That's where our policy of smart meters will be critical.
The Smart Meters programme aims to replace 53 million meters - with smart gas and electricity meters - by 2020.
Most households and small businesses will have smart meters installed by their energy company between autumn 2015 and 2020, although some energy companies are starting to install them now.
This important change will put people in control of their energy use, bringing an end to estimated billing and help people understand what energy they are using.
Consumers will only be billed for the energy they actually use, helping them to better manage their budget.
Through an in-home display people will be able to track their energy usage in near real time.
They will be able to see what in their homes is making up their energy costs and experiment with lifestyle changes to bring bills down.
The behaviour changes that smart meters have the potential to unlock could be profound – in industry as well as in the home.
Putting people in control - competition
And smart meters will help drive choice and competition too.
Making it faster to switch suppliers, and offering tariffs that better suits individual needs.
24-hour switching is my ambition, and I think smart meters will help us achieve that.
But I believe we can cut switching times in half by the end of this year, way ahead of the smart meter roll out.
And by making it easier for people to understand energy, to engage with the market, to choose, we can not only help people save money, but help them cut their energy usage.
So we need to experiment with multiple ways to make it easier for people to get information they need to choose.
That's why yesterday I announced we are consulting on embedding Quick Response Codes [QR Codes] into energy bills.
These could contain the consumption details required for people to quickly scan and upload to switching sites - to see quickly where the best deals are for them.
Of course for information to be useful and for competition to be meaningful, our energy market needs to be dynamic.
And I'm delighted that we've seen so many new firms entering the UK market in the last three years.
And one of the reasons I am so supportive of new entrants in the supply market, is because they are challenging the old business models.
Especially the model where the people who sold you energy were also responsible for helping you save energy.
That has never made sense to me.
For energy generators and suppliers to help their customers save energy, has required a complex system of regulations and incentives to deal with the inherent contradictions – and it's not been efficient or compelling.
Frankly – we have had to drag the big energy companies kicking and screaming along the path of energy efficiency.
That is why I have asked OFGEM and the competition authorities in their current competition assessment to look specifically at different business models that would encourage saving energy rather than simply consuming it.
For this government has been focused on facilitating driving new business models already.
The Energy Act 2013, to create the world's first ever low carbon electricity market.
Our pilots for Electricity Demand Reduction start later this year.
And of course the Green Deal.
The Green Deal is different from anything that has gone before; a world first.
And working alongside the Energy Company Obligation - which helps the poorest and most vulnerable in society - the Green Deal is designed to enable at least 1 million homes become more energy efficient by the end of the next financial year.
But you will have read, if you take interest in these things, that the Green Deal isn't working and even that it won't work.
Such comment normally fails to understand what we are trying to do with the Green Deal and what the Green Deal actually is.
The Green Deal is not just a finance package.
First and foremost, the Green Deal is a way of helping people understand how they can save energy, how they can change their behaviour and how they can reduce their bills.
It is about the availability of good information on home improvements and access to trusted companies to do the recommended work.
Like any new model there have been teething problems, and last week at the Ecobuild conference I set out to the green building and energy efficiency industry how we are improving the way the Green Deal works.
So we are updating the Green Deal to provide simplicity for consumers, stability for businesses and incentives packages that make sense for both.
For the Green Deal is unlike any normal government programme.
It's about creating a new market – it will have to develop and evolve like any emerging market, over the next two decades.
New business models will be challenging to develop – because they are designed to be disruptive to the old order.
Conclusion
To conclude.
Energy efficiency will be central to the transition to a low carbon world.
Governments will need to lead – with regulations and with incentives.
But a critical challenge is changing the behaviour of investors, firms, individuals and communities.
Information. Technology. Competition. New ways of doing business.
Addressing climate change, meeting the energy challenge, working out how we power the country and protect the planet in a sustainable way is, in my view, the defining task of my generation.
And future generations. Because this transition is going to take many decades.
We are going to need a sustained intergenerational and international effort.
That means we are going to need the best efforts of the students here today - the best scientists, the best economists, the best engineers, and yes, the best politicians – to drive this change through.
The LSE has a reputation for cultivating some of the best and brightest the country has to offer.
So my last word is for you.
Please grasp this opportunity.
I'm delighted you are a member of this society.
Because your generation will soon be at the front-line of the energy and climate change challenge.
Published 11 March 2014