Foreign Secretary William Hague's speech on UK/UAE Partnership
Speech by Foreign Secretary William Hague at the UK/UAE Partnership Celebration in Abu Dhabi on Thursday 25 November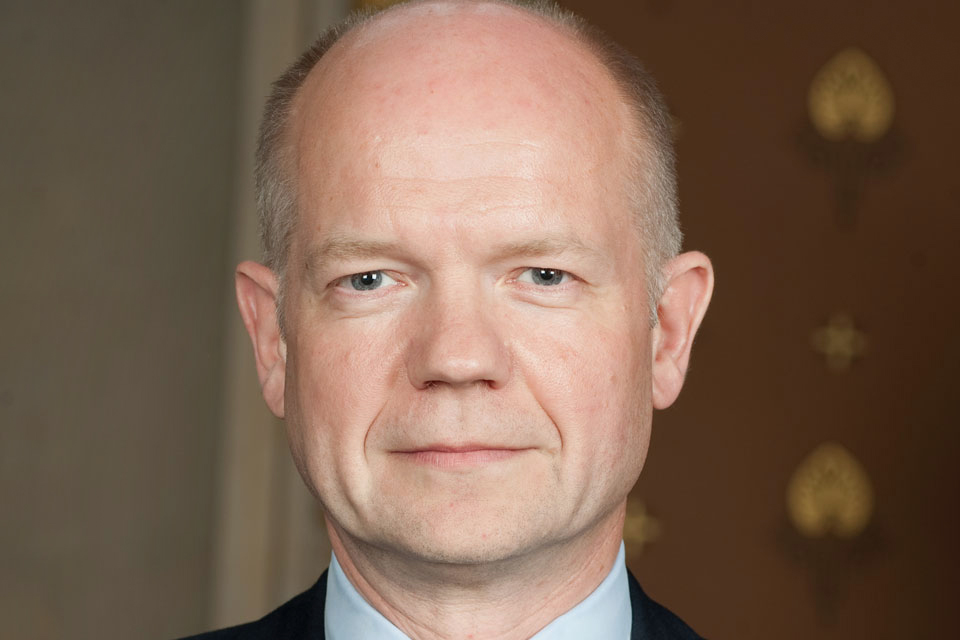 Your Majesty, Your Royal Highnesses, Your Highnesses, Your Excellencies, and Distinguished Guests;
His Highness Sheikh Abdallah and I have signed in your presence today a Declaration reaffirming the 1971 Treaty of Friendship between the United Kingdom and the United Arab Emirates. Almost forty years after the signature of our original Treaty, we stand together to recommit ourselves to the relationship between our two countries.
Britain and the United Arab Emirates share a friendship that is rooted history and reinforced by common interests, mutual respect, and daily contact between our peoples. A million British citizens visit the UAE ever year, and over 100,000 enjoy the benefits of living and working in your country. Tens of thousands of Emiratis have completed their studies in the United Kingdom or are doing so at this very moment, and many others are regular and valued visitors to our shores. Our militaries fight side by side in Afghanistan and our law enforcement officials work closely together, contributing to our mutual security. And we enjoy flourishing economic and commercial ties which we greatly value in the United Kingdom and which contribute to the prosperity of both our countries.
I commend to Your Majesty and to Your Royal Highnesses all that has already been achieved between our two great nations and to realise the vision of the UAE's founding fathers.
Today's Declaration celebrates the enormous untapped potential in our future relations. I particularly welcome the early progress made by the taskforce between our two governments which was established in June, and the memoranda we have signed today on nuclear, consular and visa issues. I also congratulate DP World on its investment in the London Gateway project and welcome this morning's unveiling of the design for the Sheikh Zayed National Museum, an exciting collaboration between the Abu Dhabi government, Foster + Partners Architects and the British Museum.
The British government is committed to a relationship with the United Arab Emirates that is based on friendship, trust and equal partnership. I am confident that this Declaration will usher in a future in our relations that is yet more glowing and successful, to the benefit of our all citizens.
Search the news archive
Published 25 November 2010