Foreign Secretary welcomes the establishment of a British-Irish Chamber of Commerce
Speaking in Dublin, Foreign Secretary William Hague welcomed the establishment of a British-Irish Chamber of Commerce.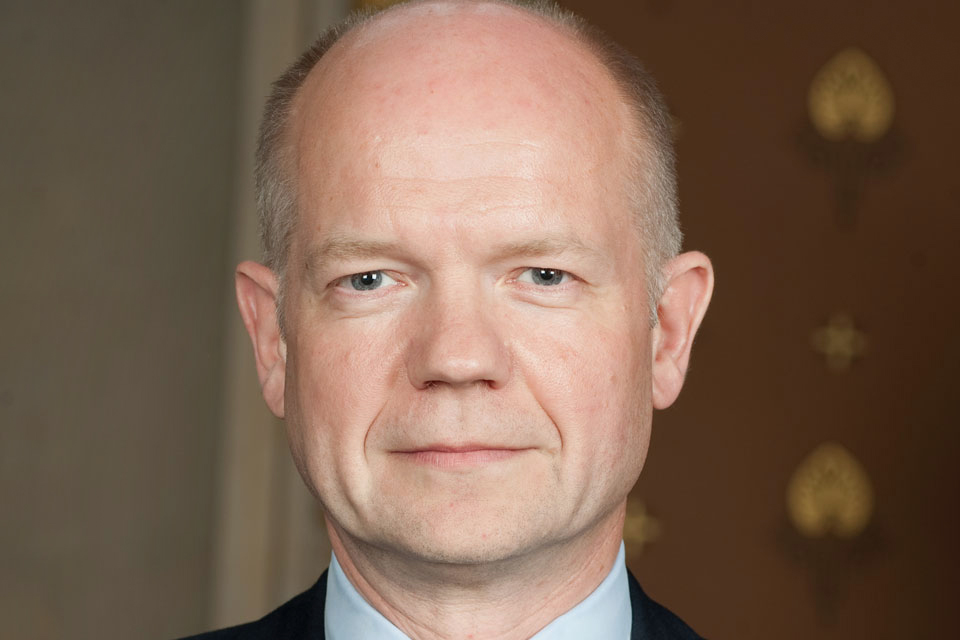 Good evening Ladies and Gentlemen. It is a pleasure to be here at the launch of the British-Irish Chamber of Commerce. When I was invited to this event I thought at first that my private secretary was mistaken and it might instead be a an important anniversary for the British Irish Chamber of Commerce as surely, it can't possibly be the beginning of the Chamber, given the fact that Ireland is the UK's 5th largest export market and the UK Ireland's largest trading partner, such organisation must already be in existence, well it doesn't and you are putting that right. So I commend all those here today who have worked so hard to establish this long overdue forum.
It could not come at a more appropriate time, now more than ever both economies will be looking to trade and to the large number of jobs provided by the export industry, government spending will not be the vehicle of growth in any European economy for the next number of years, it will be a private sector lead recovery. The British Irish Chamber of Commerce, along with government organisations such as Enterprise Ireland, the Irish International Development Authority and UK Trade & Investment provide an ideal platform to encourage and support that potential.
I am heartened to see that, despite the downturn, in the last year trade between our countries has actually grown. Bilateral trade in goods between the UK and Ireland reached nearly £30 billion in 2010 - a considerable figure and one that continues to grow. We cannot underestimate the importance of Trade. Ireland remains one of our most significant international partners, while the UK is Ireland's largest trading partner. As such we cannot underestimate the importance of trade to our respective economies and to the financial health of individual firms across both countries. As I was asked by a member of the press this morning, if there is so much trade already, exporting more to Ireland than to all of the BRIC countries combined - then how can it possibly be improved upon - well it can be improved upon and it can be improved by those here in this room and many thousands more in Ireland and the UK.
Ireland has been for many years, and will remain an ideal first market for exporters from the UK and likewise the UK an ideal first market for exporters from Ireland. The positive experience of British firms in Ireland encourages more companies to follow in their footsteps.
Last week, we launched the new UK Trade & Investment Strategy and the Foreign and Commonwealth Office Business Charter. Together these will help in delivering commercial diplomacy and setting out a clear vision for how the British government will deliver growth and prosperity for businesses in the UK.
The UK, like Ireland, wants to spread the message that we are very much open for business. A recent World Bank report helps to make this point, entitled 'Doing Business 2011'. It found that the UK is the best place to do business in the EU and the G8. Ireland is the fourth best in Europe and 9th in the world. I hope we can maintain and improve on these excellent foundations as we strive for a long term, sustainable private sector led recovery.
International trade is pivotal to our Government's plans for this recovery. We want to work with Ireland to encourage an environment conducive to long term, sustainable growth for Europe and in which business can feel confident in investing. The Prime Minister recently set out his priorities to this end, which include delivering the full potential of the Single Market, connecting European and global markets, unleashing enterprise and building a creative and innovative European economy.
Now is a time of opportunity, a time to seize new ideas, a time for innovation and entrepreneurship and above all a time to work together, you are adding greatly to this by forming the British Irish Chamber of Commerce. I look forward to the valuable contribution this organisation will make to this wider endeavour and to the prosperity of our countries.
Search the news archive
Published 17 May 2011