Foreign Secretary launches Foreign Office Business Charter
Foreign Secretary William Hague launched the Foreign Office's Business Charter, setting out seven commitments to assisting British business.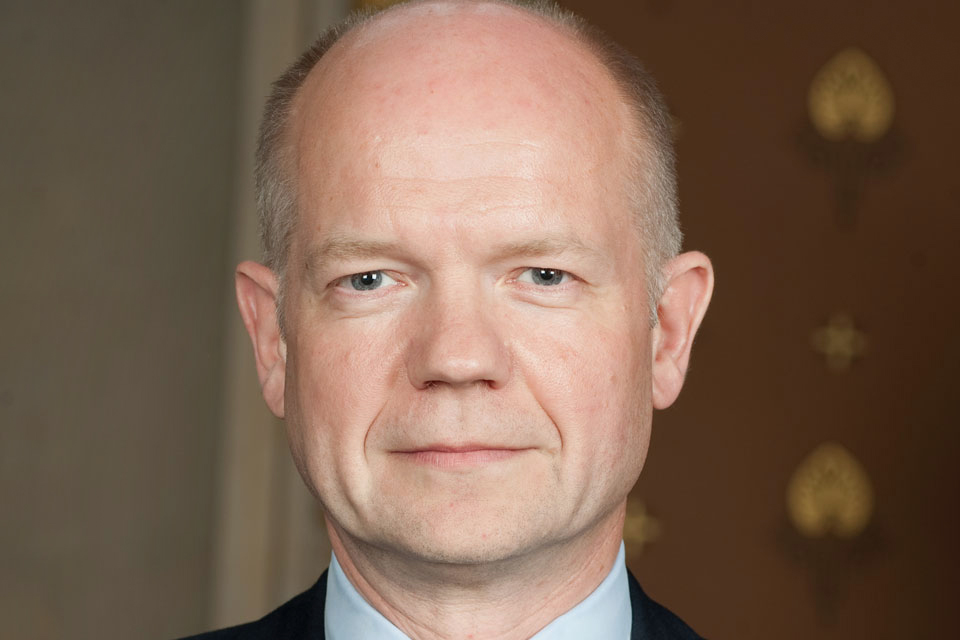 CHECK AGAINST DELIVERY
"Good evening Ladies and Gentlemen. It is a pleasure to be here tonight with my ministerial colleagues to launch the UKTI strategy and Foreign Office's business charter which set out how this coalition government will work across departments and with business to support UK economic prosperity. Lord Green is playing an invaluable role in driving the Foreign Office's new commercial diplomacy and I would like to congratulate him and the rest of the ministerial team involved on the great progress being made.
The need for a commercial emphasis in foreign policy is as strong as ever. Economic might and influence continues to shift away from the powerhouses of the coldwar era, as new players in South America, Asia and elsewhere come to the fore. We must connect Britain up to these increasingly important markets, and build strong links in commerce and in diplomacy. Economic stability is the foundation for secure and prosperous societies and diplomatic alliances and political influence are often built on strong commercial relations.
Given the difficult financial and economic landscape we face the Foreign Office must support British commerce more than ever before. This work is not an appendage to traditional diplomatic work but an integral part of it. Not only will the expansion of trade with countries around the world provide the cornerstone of our economic recovery and a more prosperous future for the people of Britain but it will ensure that our influence in the world is not diminished, promoting both our security and our ability to project our values; and we realise the pursuit of our foreign policy can be fortified by British business' extensive global networks.
That is why amidst intense activity on the Arab Spring and other pressing international issues we continue to work on ramping up our support to British business. I am determined that commercial diplomacy will be central to all Foreign Office activities and that we will remain the backbone of the Government's support for UK business internationally, helping to create enduring and sustainable prosperity, not only for the UK, but for our international partners. As part of this work I am determined that we should take full advantage of our own ready-made networks, such as the Commonwealth where trade amongst members already amounts to $3 trillion a year and has the potential to grow significantly.
Therefore in addition to the new UK Trade and Investment strategy which Lord Green has spoken about, I also want to draw your attention to the FCO Charter, the first of its kind, that sets out in simple terms our pledge to business; to engage with British companies and consider their views in policy making; to use the resources of embassies and foreign office expertise to help business identify and pursue opportunities and to lobby foreign governments and international institutions on behalf of British business interests.
This document was the product of close cooperation across government, particularly between the Foreign Office, the Department of Business and Skills and UK Trade and Investment. Members of the business community, many of whom are here tonight, also made valuable suggestions for which we are extremely grateful.
The charter sets out the seven commitments that the FCO makes to UK business. It will form the basis of our activity and I urge you to use it to hold us to account. These promises have not been made lightly, if we are not supporting British business, then we are not doing enough to support Britain's prosperity.
This work builds on the progress we have already made on our prosperity agenda in the last year. The Foreign Office has realigned its resources, enabling us to meet the needs of British business more effectively, and to deliver commercial diplomacy on the world stage.
We have done this by creating a new Prosperity Directorate which is directly accountable for commercial and economic issues and by establishing a new economics unit to ensure economic thinking is central to all policy decisions and a new Emerging Powers unit to elevate our relationships with the vital trade engines and rising political players of the future.
Our Ambassadors and High Commissioners continue to work to challenging targets for overseas trade, and inward investment into the UK. Our Embassies and High Commissions overseas actively champion, as they have always done, the UK as an excellent place to invest and do business and colleagues across government worked closely to develop the recent Trade and Investment White Paper, which will deliver sustainable growth for the UK.
But our ambitions do not stop there and our work is continuing. We are stepping up our engagement with business, we are increasing the number of officers working on commercial and economic issues throughout the network and we are making commercial awareness training an essential part of every employee's development. And tomorrow I will set out in Parliament our plans to strengthen Britain's global diplomatic network, including the opening of some new Embassies and the building up of our diplomatic presence in the emerging economies. We will arrest and in some places reverse the steady shrinking of Britain's diplomatic footprint overseas under the last government.
The success of British business could not be more fundamental to a prosperous, secure Britain, one that does not shrink from its role in the world, which maintains its influence and upholds its values. It is in our national interest to support British business in any way we can. We look forward to continuing the close working relationships we have established and building the foundations for a more prosperous Britain in the years ahead.
Search the news archive
Published 10 May 2011