Speech
Speech by Alison Blake at Foreign Investors' Chamber of Commerce & Industry
British High Commissioner to Bangladesh Alison Blake delivered a speech at the FICCI in Dhaka on 31 October 2016.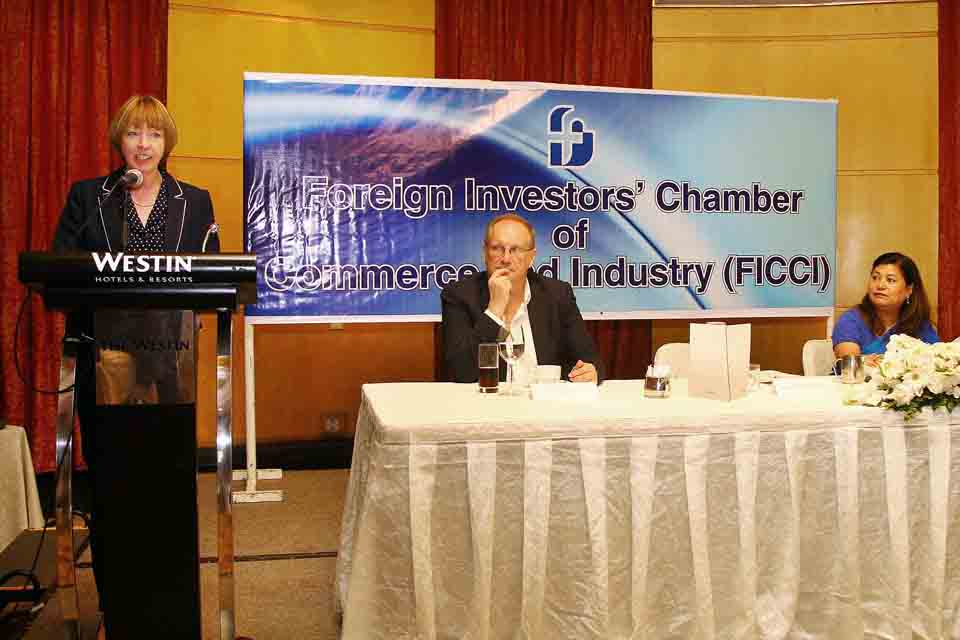 Foreign Investors' Chamber of Commerce & Industry (FICCI) President, Rupali Chowdhury; Vice-President, Kevin Lyon; Executive Director, Jamil Osman, FICCI members, distinguished guests, the business community leaders, fellow diplomats, members of the press corps, thank you for coming here to hear me speak today.
During my time in Bangladesh I have come to know many of you and to understand the crucial role played by the FICCI and its members, and to value your advocacy on the part of the foreign investors that form such an important part of the business community in Bangladesh. And I am struck by both the challenges and opportunities facing the business community, international and domestic, here in Bangladesh.
International businesses are resilient. Our businessleaders and entrepreneurs are second to none in pursuing opportunities and everyone here today appreciates that Bangladesh's vision of where it wants to be, where it should be, in 2041 is ambitious; and that Bangladesh's development, its inclusive and sustainable development, can only be achieved through economic growth, diversifying its economy and boosting international trade and investment.
And we all know that creating the conditions for that, is challenging. To invest in a market businesses need confidence that it will be stable and that they and their investments will be secure.
The whole world was shocked by the events of 1 July which demonstrated beyond any reasonable doubt that the global extremist terror networks had extended their influence, their reach, into Bangladesh too.
The will of the Bangladesh government and people to fight this scourge in partnership with the UK and other international friends of Bangladesh is strong and that I want to take this opportunity to thank the Government of Bangladesh, its police and local authorities for the action they have taken to ensure the safety of the international community, resident and visitors, diplomats, buyers and cricketers too. Together, we will address this threat and so that all Bangladesh's citizens, residents and visitors can go about their lives peacefully, in safety and security. Things have improved, and confidence is coming back, but it is far too early for any of us to relax our guard.
If there are any clear lessons we can point to this early, it is that in today's global and interconnected world, it is all too easy for our young people to lose hope, lose their way; and that the need for young people to believe in a better future, a future with jobs, prosperity and a positive outlet for their longing to make a difference, has never been as important.
And our business communities have a crucial role to play here, in providing not just employment, but quality employment, in safe workplaces, with access to training and skills development, opportunities for workplace engagement and encouraging women, who form more than 50% of the population but are underrepresented in the workforce and particularly in skilled jobs and at senior levels.
Bangladesh's strategic position between South and South East Asia, its consistent 6%+ GDP growth, its strong RMG sector and entrepreneurial drive, provide a great platform for future economic growth.
But when I talk to businessmen, they raise the same issues: energy, infrastructure limitations, red-tape and business climate problems: taxation, customs, licensing, contract enforcement, corruption, G2G deals and limited tendering. It is great – obviously – that Bangladesh has moved up 2 places in the World Bank Group's 2017 Doing Business report published last week. But it is still ranked 176 out of 190, only Afghanistan is lower in the South Asia region, and it has even gone down the rankings for starting a business, getting credit, protecting minority investors, and crucially (I will come back to this point) on paying taxes.
More than ever, those of us who want to encourage other international businesses to consider investing in Bangladesh must keep on making one point - to the government, to lawmakers, to opinion formers - that the best possible advertisement, the most important single thing that will encourage international businesses to come here, is seeing other international businesses succeed and flourish.
Turning now to the UK's trade relationship with Bangladesh, I am proud that the UK is the second largest investor in Bangladesh, contributing 13% of total FDI into Bangladesh last year, and some $322m so far this year, with the highest contributions in the banking, textile and food sectors. More than 200 UK companies in Bangladesh provide employment, transfer knowledge, run significant CSR initiatives and are some of the highest contributors in tax revenue. [The 500,000 Bangladeshis living in the UK send a significant proportion of total remittances to the country ($812million in 2015)].
Unfortunately for me, since I was sent here with a firm remit to increase British exports, the balance of trade is firmly in Bangladesh's favour: we are the third largest market for Bangladeshi exports – we take about 10% of the total figure- overwhelmingly RMG products. But UK exports span chemicals to consultancy, and we are involved in some of the largest infrastructure projects in the country, including Payra Port and Padma Bridge.
But there is scope for more British companies, especially SMEs, to bring their expertise and collaborate with Bangladeshi partners, for the benefit of both our countries. And very much with this aim of boosting our trade relationship, my Prime Minister appointed Ms Rushanara Ali, MP as her Envoy for Bangladesh and we are eagerly planning for her to visit.
Now, many of you have been patiently listening for me to use the word "Brexit".
Everyone in this room knows that in June the British people voted to leave the European Union and our Prime Minister has been clear that that is what we are going to do. Article 50 – to start the process of leaving the EU – will be invoked no later than the end of March 2017.
Our vision for Britain outside the EU is of a fully independent and sovereign county, deciding for ourselves how we control immigration, free to pass our own laws and able to shape our own international trade and investment opportunities, with the single market and beyond. We want to conduct the process to give businesses and workers the maximum possible certainty as we move forward.
There are many questions I cannot answer today. But what I can say is
First, that our message for the world is that Britain remains open for business. There are challenges as well as opportunities but because of the decisions the Government has taken our economy is fundamentally strong and there are many reasons to think our economic future outside the EU will be bright.
We will be able to shape our own international trade and investment opportunities, and to drive for even greater openness with our international partners, including those in the Commonwealth. And our goal is to put Britain at the forefront of global trade and investment.
Britain will remain the same outward looking, globally minded, flexible and big thinking country it has always been – a beacon for open trade, and committed to making the UK a great place to own and grow a business. That includes supporting those businesses that trade with the EU, as well as continuing to encourage record FDI into the country.
Second. We remain committed to ensuring developing countries can reduce poverty through trading opportunities. We have been for many years the largest bilateral grant donor to Bangladesh and we are determined to continue this partnership to deliver development and growth that benefits all, including the poorest. We will remain focused, through DFID and the British Council on achieving the Sustainable Development Goals and supporting Bangladesh's aspirations to become a middle income country by 2021, improving the rights and prospects of women and girls, helping more children receive a better quality education, and helping to develop technical skills for more young women and men seeking employment.
Third, until we leave the EU, we remain a member of the EU with all the rights and obligations that our membership entails, including our commitments to the existing trade framework, so for Bangladesh the Everything But Arms initiative. [also Economic Partnership Agreements and the Generalised Scheme of Preferences]. We will continue to take a leading role in the EU-Bangladesh Business Climate Dialogue, especially on taxation issues, because international businesses are the largest revenue-generating source for the Government yet far too many face untransparent and unfair tax demands.
Beyond this, we recognise the need for a smooth transition that will minimize disruption and uncertainty for our bilateral trade relationships, businesses and workers. I and my team have a role in that, to listen to what our partners and friends in Bangladesh have to say, the concerns and questions you have, so that we understand what Bangladesh would like to see in its future trade relationship with the UK.
As Bangladesh's friend we care deeply about Bangladesh's future and value the UK's relationship with Bangladesh. We believe that a strong and prosperous, stable and democratic Bangladesh is not just in the interests of the people of Bangladesh and the region but overwhelmingly in our own interest too.
International trade is not a zero sum game, and as the British High Commissioner I am committed to building prosperity for both our countries, supporting Bangladesh's economic development and strengthening all our bilateral ties, including our commercial and trade ties.
In doing this, I look forward to further building on the already strong relationship with the FICCI and its members and the international business community in Bangladesh.
Thank you.
Published 31 October 2016