Deputy Prime Minister's speech to the British Chambers of Commerce annual conference
A speech given by Deputy Prime Minister Nick Clegg to the British Chambers of Commerce annual conference on 15 March 2012.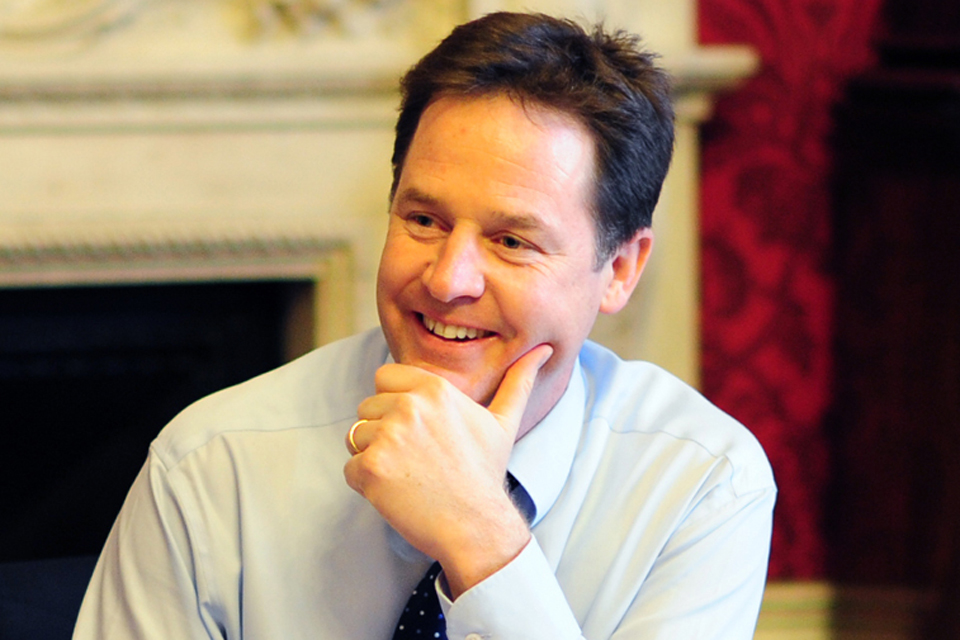 Check against delivery
The theme of this year's conference is, of course, growth.
Throughout the day there'll be lots of discussion about how we unlock it. Access to credit, better regulation, skills, infrastructure, tax. That's the right list.
But all of these things underpin one essential ingredient for our recovery:
confidence. Banks need to have the faith to lend. Consumers must be confident enough to spend. Businesses must be willing to innovate and invest.
And growth is as psychological as it is economic. It was Keynes - a liberal - who coined the phrase 'animal spirits' to describe the cycles of elation or despair that can drive the economy.
Towards the end of last year the UK saw business confidence drop, but this week several business surveys suggested it is beginning to bounce back.
                           
Of course, we mustn't be complacent. We also heard yesterday that unemployment is up. Fitch, the Credit Ratings Agency, reminded us of the importance of sticking to our deficit reduction plan. And we know that confidence can fall as quickly as it rises.
But we should be encouraged and we must do everything we can to try and lock in this shift in mood. Building momentum, encouraging and nourishing the country's sense of hope and self-belief.
Today I want to talk about how the Government is seeking to do that.
First, by giving businesses the certainty to look to their futures, and second, by getting more young people and ordinary working men and women striving for prosperity too, unleashing, more widely, a kind of spirit of growth.
Before that, let's spend a moment on the problem.
Our problem is not a lack of entrepreneurial zeal - far from it. If we have learnt one thing from recent years, it's that the great British traditions of invention, creativity and design are alive and kicking. 
 
Last year we saw the UK's business population grow. Female-self employment is now at a record high. The UK is ranked second in the G7 for the proportion of people involved in setting up new firms. So we are hardly short of ideas.
But we need to turn more of those ideas into jobs and profits. We need more sole traders taking on their first employees. More small firms looking to expand. More medium sized companies helping sell British goods abroad.
It's not enough to settle for survival.
We need to go for growth.
 
I don't stand here and say that lightly. I know that the last five years have been extremely traumatic for many of our businesses. Great recklessness at one end of the economy - in the banks - has led to risk aversion at the other.
Continuing uncertainty in our European backyard stokes uncertainty at home too. But I do want talented and dynamic British businesses to be ambitious for their futures, and the Coalition Government is doing everything in our power to help.
Clearly, the first step is easing the immediate financial pressures business face.
One way is by cutting your tax bills, which is why we have lowered corporation tax. 
But the big issue here is finance. Despite lending levels increasing last year, for SMEs this remains a major concern. So we're pulling a range of levers to try and get you the money you need.
Whether by providing it ourselves, for example through schemes like the Regional Growth Fund or Enterprise Capital Fund, which are also designed to leverage private investment.
Whether by working with the banks to get them lending: Project Merlin has increased lending to SMEs - up by 13%. We've also pushed the banks to introduce processes for loan refusals to be challenged, which has seen two out of five overturned at appeal.
We're also absorbing a significant amount of risk ourselves, underwriting loans for thousands of small companies, as well as providing millions in guarantees for those looking to export.
The Chancellor has now confirmed that credit easing will be up and running by next week's Budget, keeping credit flowing, and we'll shortly hear the recommendations from Tim Breedon's review, the Legal & General CEO who has been looking at ways to boost non-bank sources of finance, for example peer-to-peer lending as well as corporate bonds.
 
However, while finance is necessary, alone it isn't sufficient.
For businesses to find their flight path, they need certainty from Government, in order to think five, ten, 15 years ahead.
Bluntly, we don't have pots of cash to throw at weekly Plc-pleasing initiatives.
We are steering the country through the most difficult set of economic circumstances in living memory. And the very nature of coalition means policies aren't cooked up quickly on a sofa somewhere at the centre.
We are bound by the Coalition Agreement, a strategy for five years, and many of our reforms will live well beyond.
On the deficit, you know we are going to stick to our plan. A plan which has kept the markets at bay and interest rates low.
 
On the banks, you know we're going to ringfence retail operations from high-risk investment arms, so the City can never drag us all to the edge of a precipice again.
 
And, while expanding your enterprises will always be - by definition - a risky business, our aim is to provide as much predictability as possible in an uncertain world.
 
Local businesses say that, to expand, they need a clear sense of how their community will develop. So we've set out our priorities for major projects in road, energy, broadband, rail and housebuilding.
We're dramatically reforming planning rules to get more development through.
And we're giving councils new borrowing and spending powers so that, rather than hedge their bets on Whitehall handouts, they can deliver local infrastructure themselves.
 
Manufacturers want to know we're sincere about getting Britain making things again, so we're investing in industry in ways that will last, for example, through new advanced manufacturing centres being built around the country.
Low carbon companies want to know our commitment to green industry is more than warm words, so we've committed to the most ambitious, legally-binding carbon budget on the planet.
We're setting up the world's first Green Investment Bank. Through the Green Deal we're going to transform energy use in homes across the nation.
On red tape, small firms want to know if we're serious about cutting it so, not only are we scrapping a load of onerous rules through the red tape challenge;
not only have we taken controversial decisions to reduce the regulatory burden including returning the qualifying period for unfair dismissal from one year to two; we've also created a permanent cap on new regulations - a one-in-one-out-rule.
And, on boosting exports, business wants to know government is doing our bit, so Ministers are leading trade mission after trade mission - 183 to be precise - from Brazil, to Mexico, to India and China, securing big investments; breaking open new markets.
Big changes. Tangible changes. Not here-today-gone-tomorrow policy making. We are lifting our sights to the horizon - to help you to do the same. 
 
But even if we have a vision for the future, and even if you have a vision for the future, there's still a piece of the jigsaw missing.
We need prosperity to become a truly national mission. The spirit of growth you all understand needs to spread across our society too.
Of course, there isn't one button you can press to achieve that, but there are two important drivers that I want to single out today.
First, we need to get more young people working and contributing to our economy.
Second: we need to give more ordinary working men and women a direct stake in growth. And, for me, that's where employee ownership comes in.
First, tackling youth unemployment which, as yesterday's figures showed, still stands above the one million mark.
Many of you will remember your first taste of business, how quickly you were hooked.
So just imagine how it feels to be left behind when you're meant to be starting out. Endless rejection letters. No wages. Nowhere to go. No faith in yourself. No confidence in your country. Not much hope for the years ahead.
I know that businesses worry about getting the right young people, with the right skills.
I know you don't always have the time or money to get trainees up to scratch.
That's why, despite unprecedented pressure on the public purse, the Coalition is protecting schools funding. We're raising standards; getting the best graduates into our classrooms, and we're investing billions in new apprenticeships.
But government cannot do this alone and, if we are going to get today's young people hooked on enterprise, the nation's employers have to meet us halfway.
Someone once gave you a lucky break. Right now, there are young men and women up and down the country who need you to do the same.
So I'm launching a £1bn Youth Contract to get every young person earning or learning again, massively expanding work experience and training places and giving employers a £2275 wage subsidy to take young people on.
That programme goes live in two weeks and I know you know about it, because on Monday the BCC called on the Chancellor to double the investment to £2bn.
Trust me - I'd love to see this programme expanded. But before we even get to that stage, we have to make this a success.
So show the Treasury it works. Sign up your organisations. Put your money where your mouth is. Encourage others to do the same. And, just to make it as easy as possible, I've had all the information put into your conference packs.
Second, employee ownership.
One of the best ways to make growth personal is to give employees a share in their firm, a real incentive to go the extra mile, more of a 'John Lewis Economy'.
Of course, employee ownership isn't right for every business, nor is it a panacea, but the evidence is compelling.
We know that firms where employees are engaged and own a stake do at least as well as other companies in the good times, and have performed even better in recent bad times, expanding and recruiting at a much faster rate and achieving better productivity.
We know that these firms are less likely to fail and that their benefits can be even more pronounced in SMEs, as well as in high-tech, knowledge based industries, both of which matter massively for our recovery.
 
We know they are proud of their ability to retain the best staff. To minimise turnover. To cut sick days. To secure loyalty.
So, why do they make up just 2% of our business landscape? Why do we have a near monoculture private sector, dominated by PLCs, where we are reluctant to try anything else?
As yesterday's excellent report from Will Hutton's Ownership Commission showed, corporate plurality is good for competition, economic resilience and consumer choice.
Successful economies are diverse economies. In Germany the proportion of non-plc firms is three times that of the UK.
The Mittelstand aren't PLCs - the majority are actually private, family-run firms. I think it's high time we encouraged more British firms to keep it in the wider family - selling shares to their staff, especially at the point of succession. A significant proportion of SME failures happen around the time a business changes hands.
Perhaps a parent hands down the family business, but their children have neither the experience nor inclination to make it work.
Perhaps they sell to bigger firms only interested in stripping assets or short-term gains.
Perhaps the new owners have the best intentions, but don't understand the client base, or have no relationship with suppliers and the company falls apart.
That is a tragedy for the men and women who build up these businesses, a legacy lost, and a huge loss to our economy too.
I believe if we moved more companies into employees' hands at the point of succession we'd see more survive, rather than fall.
To do that, we need to increase awareness. Much of the time, employee ownership isn't even considered. That's why Norman Lamb is driving an awareness campaign among lawyers, accountants, business advisors and business schools. Too many of the experts still feel uncomfortable on this ground.
But this is also about our deeper reflexes. We have a corporate culture that actively encourages owners to sell up, to have one eye on the door.
One of my constituents told me that his business, where every employee owns shares, was recently refused a loan. This is a successful, multi-award winning company, looking to invest in a dozen new products this year, as well as open offices in India and Brazil. Why was their loan application rejected? They were told it was because they don't have an exit strategy because the business has golden shares to keep it employee owned, and so can never be sold.
You hear similar stories time and time again, so I've asked Graeme Nuttall to look at these issues in his review of employee ownership, which will report back in July.
Where are there barriers to - and prejudices against - employee owned firms? How do we encourage greater take up?
And we're not just talking about a few members of staff owning a few shares.
We're talking about a big chunk of the company belonging to a significant number of staff.
Alongside that work, the Treasury will be looking across the tax system to make sure our tax rules are not a barrier to employee ownership.
We have inherited a system where £650m is spent on tax breaks for this every year.
That is no small amount. But are those incentives working? How do the rules impact on decision-making at succession? Are we incentivising genuine employee ownership, so not just putting tax breaks on directors' profits, but providing benefits that are felt across the shop floor?
And, when profits are distributed, are we really encouraging employees to look at taking shares, rather than automatically opt for cash bonuses?
Of course, we need to make sure any reforms aren't open to abuse, and the Chancellor will report back in this year's Autumn Statement.
So, to finish as I began.
Our economic challenge is as much about confidence as anything else. If we are going to recover, we have to believe we can recover.
Yes, we have a long way to go. Yes, in a global economy, there are many factors out of our control.
But this country is home to some of the most talented business people anywhere in the world, young people full of energy and enthusiasm, just waiting to be given a chance. Hardworking men and women who want to see the firms they work for thrive.
Those are great strengths. That is our competitive edge. And this Government is determined - I am determined - that we make the most of it.
To take this nation on to better times.
Thank you.
Published 15 March 2012