Speech
Deputy Prime Minister's speech at The Queen Elizabeth Prize for Engineering launch
Deputy Prime Minister Nick Clegg delivered a speech at the launch of The Queen Elizabeth Prize for Engineering.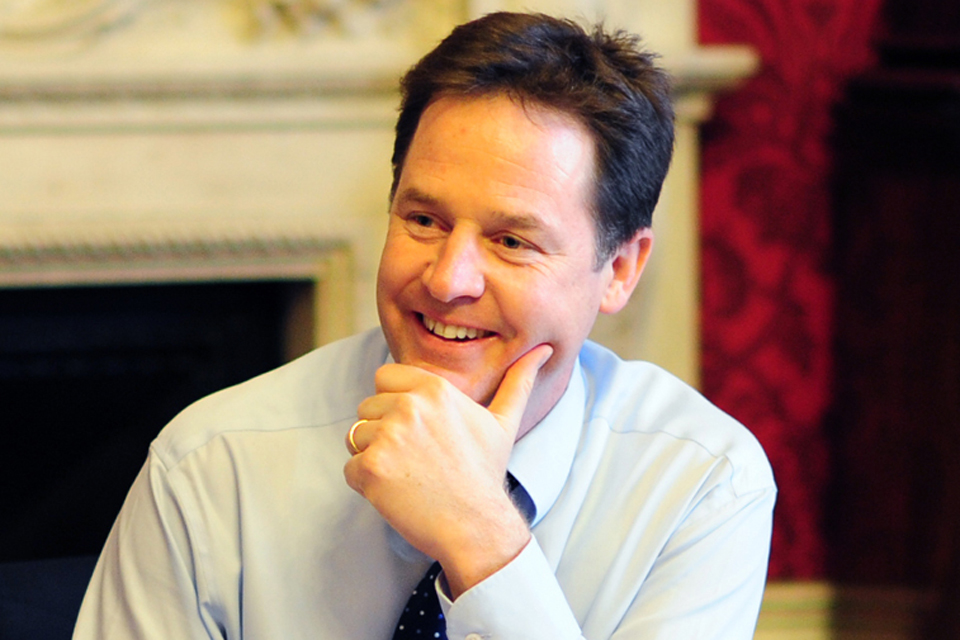 Thank you, David [Cameron].  Normally, there's a couple of despatch boxes between the Prime Minister and the Leader of the Opposition, but I come between them.  I will try and be a little less wooden.  Sorry, I thought that was a rather good pun.  I would like to obviously join with David [Cameron] and Ed [Miliband] in really thanking, I think on behalf of us all, Her Majesty for lending her support and her name to this prize.  It really does give it a lift which otherwise would be impossible, and also both John [Lord Browne of Madingley] and David [Cameron] had mentioned the companies.  I would like to list them, because I think they really have done a great thing by supporting this prize: BAE Systems, BG Group, BP, GlaxoSmithKline, Jaguar Land Rover, National Grid, Shell, Siemens, Sony, Tata Consultancy Services, and Tata Steel.  You really have done a wonderful thing by giving birth to this prize and providing so much support to it. 
My feeling is that what is so significant about this prize is it challenges us to change our self-perception as a country.  For too long, there has been this kind of hidden assumption that we are an island of accountants and lawyers, that the Germans and the Koreans and others - that they excel in engineering, but we don't.  I think we have to stop talking ourselves down.  We are a great engineering nation, and we are a nation of great engineers, and we should celebrate that.  We are still one of the world's biggest manufacturers.  We still are only second to the United States in having the greatest number of top-class universities.  We may be funding only 3% of research, but account for 11% of citations. 
How many people know that it is British scientists - would you believe this, this is true - in Bristol University who are now taking the principles of self-healing in nature and applying them to aircraft, so that damaged aircraft can start to repair themselves; that it is British researchers who are developing ideas for a new hybrid airship, which will be able to land anywhere and in any weather, including on water; that it is British researchers who are developing degradable plastics, which we will be able to compost with our garden waste; that 90% of the world's mobile handsets use technology from British-based ARM?  These are things we should be really, really proud of.  These are things that we should promote and celebrate.  They revolutionise everyday life for millions of people around the world. 
So, I don't think we should accept the stereotype that we are not good at this stuff.  We are brilliant at engineering.  This is especially important at a time when we are trying to rebalance our economy away from an over-reliance on one sector, financial services, in one place, the City of London, to a more sustainable economy where different sectors and different parts of the country are supported.  I feel that, obviously, very strongly as a MP from Sheffield, a city with this fantastic heritage and history and tradition of engineering.  So, I hope in future that little boys and girls in Sheffield and across the country, when they dream of wanting to be finalists on the X Factor, or receive an Oscar, or play in the FA Cup final, that there will be just as many little boys and girls who will be dreaming of winning the Queen Elizabeth Prize for Engineering.  With that, I would like to lend my thanks and support and hand over to Ed Miliband, the Leader of the Opposition.
Published 17 November 2011