Written statement to Parliament
Conflict resources for financial Years 2013/4 and 2014/15
The Foreign Secretary William Hague has updated parliament on conflict prevention, stabilisation and peacekeeping activities over the next two years.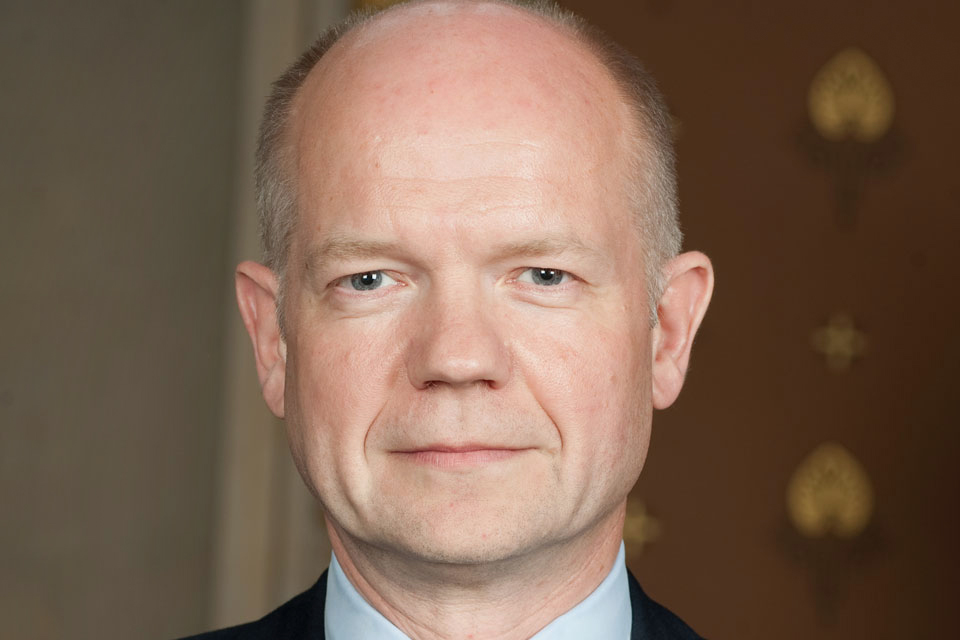 The Foreign Secretary William Hague said:
I, together with my Right Honourable Friends the Secretary of State for International Development and the Secretary of State for Defence, wish to update the House about our plans for funding conflict prevention, stabilisation and peacekeeping activities through the Conflict Resources Settlement over the next two Financial Years. Our Written Ministerial Statement of 19 November 2012 (Official Report, Col. 19WS), provided details of planned allocations, covering both the Conflict Pool and the Peacekeeping Budget, for the 2010 Spending Round Period. This Statement updates the House on adjustments made to these planned allocations.
We have now reviewed Conflict Pool allocations for FY 2013/14 and FY 14/15. We intend that this funding continue to be spent within the strategic context set out by the Building Stability Overseas Strategy (BSOS). Delivering this Strategy is an important priority for the Government. Enhancing genuine stability by supporting the development of societies with strong and legitimate institutions which can manage tensions peacefully is central to our national interests.
The size of the Settlement increased to £664m in FY 13/14, with the Peacekeeping Budget continuing to have first call on available resources. Taking into account the significant savings we secured at the UN in FY12/13, in particular in the tri-annual negotiations on the scale of contributions, £435m has been set aside for Peacekeeping Budget requirements. Based on this we have allocated £229m to the Conflict Pool in FY 13/14. This represents an increase of £20m over the £209m allocated in FY 12/13.
For FY 14/15 we currently have less certainty about Peacekeeping demands. We have provisionally estimated a Peacekeeping top-up of £85m from the Conflict Pool, giving a projected available allocation of £224m for Conflict Pool programmes. Once the position is clearer, and further negotiations on UK contributions to UN peacekeeping have taken place, we will update these figures and would expect to be able to allocate some additional funding to the Conflict Pool for the FY 14/15. The table below shows the details.
Table 1: SR10 Total Conflict Resources (£ million)
| | | | | |
| --- | --- | --- | --- | --- |
| Year | FY11/12 | FY12/13 | FY13/14 | FY14/15 |
| Total allocation | 630 | 644 | 664 | 683 |
| Peacekeeping Agreed claim on the Treasury Reserve | 374 | 374 | 374 | 374 |
| Peacekeeping Top up from Pool | 76 | 61 | 61 | 85 |
| Conflict Pool | 180 | 209 | 229 | 224 |
The table below shows confirmed Conflict Pool allocations for individual programmes for FY 13/14 and indicative allocations for FY 14/15.
Table 2: Conflict Pool Allocations
| | | |
| --- | --- | --- |
| Programme | FY 13/14 (£m) | FY 14/15 (£m) |
| Afghanistan | 45 | 25 |
| Middle East and North Africa | 39 | 35 |
| Africa | 51.5 | 45 |
| Wider Europe | 36 | 36 |
| South Asia | 20 | 23 |
| Strengthening Alliances and Partnerships | 10 | 13.5 |
| Stabilisation Unit | 10.8 | 10.6 |
| Early Action Facility | 20 | 20 |
| Unallocated | - | 15.9 |
| TOTAL | 232.3* | 224 |
*includes £3.3m over allocation.
The Middle East and North Africa Programme will be increased substantially (from £23.7m in FY 12/13) to provide a major uplift for work on the crisis in Syria and its regional consequences, as well as further funding for Libya and Egypt. We will continue our commitments in Lebanon, the Occupied Palestinian Territories and Iraq.
There will also be an increased allocation for the Africa Programme, mostly geared towards building momentum on security, stabilisation and the political process in Somalia. There will also be increased resource for Mali and Nigeria.
Funding for Afghanistan remains significant but is being reduced in FY13/14 as Conflict Pool-funded activity in Helmand decreases ahead of transition in 2014.
An increase in the South Asia programme will largely focus on Pakistan, including relations between Afghanistan and Pakistan. The programme will continue other regional commitments including in Nepal and Sri Lanka.
The Wider Europe programme will continue to cover the costs of UK personnel in the UN Peacekeeping Mission in Cyprus and our commitments to EU peacekeeping and security sector reform missions in the Western Balkans.
The thematic Strengthening Alliances and Partnerships Programme are receiving an increased allocation to support UN work on peacekeeping and protection issues, and for new activity on the UK-led Preventing Sexual Violence Initiative.
The Conflict Pool will continue to provide funding for the tri-departmental Stabilisation Unit. The allocation includes a small increase to cover the costs of the Unit's physical relocation to the Foreign and Commonwealth Office later in 2013.
£20m of Conflict Pool funding will again be ring-fenced for an Early Action Facility (EAF) to respond to unforeseen demands in year without disrupting planned programming. In FY 12/13 the EAF was used for work in Syria, Libya, Somalia and Mali/the Sahel.
Allocations for FY 14/15 remain partly indicative at this stage. They are in line with those previously agreed by the National Security Council and reported to Parliament in November 2012, with increases in line with the FY 13/14 trends indicated above. In order to retain flexibility to meet priority new demands, we have retained £15.9m as unallocated funding at this stage. As indicated above, the overall Conflict Pool total is based on cautious assumptions of Peacekeeping budget demands and is expected to increase.
Further information
Follow the Foreign Office on twitter @foreignoffice
Follow the Foreign Office on facebook and Google+
Subscribe to the announcements feed or email alerts to get our latest news and announcements.
Published 13 June 2013