Commonwealth: A force for good across the world
Foreign Office Minister Lord Howell gave a speech to the Royal Over-Seas League on 10 November.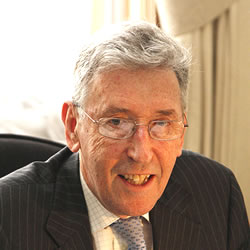 It is a great honour to be invited here to the Royal Over-Seas League, a highly esteemed and historic Commonwealth organisation, which tirelessly promotes social and cultural links worldwide. It is fitting, therefore, to talk to this distinguished audience about its esteemed 'mother' organisation - the Commonwealth.
Given the shared interests in civil society, culture and our shared roots, the links between our organisations run deep:
Your President, the honourable Lord Luce, not only a former Minister of State in the Foreign and Commonwealth Office, but also former Head of the Commonwealth Foundation - the Commonwealth's civil society interface - for several years. Your worldwide Chairman, Sir Anthony Figgis, a former Marshall of the Diplomatic Corps. Your Vice Presidents include His Excellency the Commonwealth Secretary General Kamalesh Sharma, and a number of High Commissioners past and present. As strong supporters of the Commonwealth, I know I am amongst friends.
I would like to take this opportunity today to talk to you about this Government's commitment to and vision for the Commonwealth, and primarily to outline what we achieved two weeks ago at the Commonwealth Heads of Government Meeting in Perth.
The UK was represented strongly. I joined the Prime Minister, the Foreign Secretary and Lord Green in the UK delegation for a week of Ministerial, business and civil society meetings which celebrated the unique organisation that is the Commonwealth.
It is not without good reason that so many Ministers travelled half way around the world. We wanted to make more out of the Commonwealth and its networks to advance our foreign policy and trade objectives. I believe that the Perth summit was good for the Commonwealth, and good for the UK, for the following reasons:
Firstly, the good ship of the Commonwealth has shown that it is sailing on, stronger and surer than ever, of its values and commitment to human rights;
Secondly, the Perth summit illustrated, more than ever, that this unique organisation/ huge network is about much more than just government to government contact;
And finally the Commonwealth extended and strengthened the reach of Britain's soft power influence, bringing inestimable value in the interconnected world of the 21st century.
Human Rights
At the last Commonwealth summit two years ago in Trinidad and Tobago, Commonwealth leaders recognised the need for the organisation to look to the future, work to maintain its relevance and credibility, and play to its strengths.
Its strength - not evident in some other international bodies - is the commitment to strong democratic values shared by all member states - some call it the Commonwealth's 'badge and brand of democracy'. The Commonwealth is renowned for its work to support democracy, peace, stability and human rights throughout its membership.
But it is also fair to say that in recent years it has sometimes shied away from challenges and not always spoken out as clearly and decisively as it could have done, failing, for example, to take action on human rights situations in Zimbabwe and Fiji before they became extreme.
In Port of Spain in 2009 Leaders called for an Eminent Persons Group of Commonwealth citizens to be formed, to take a critical look at the Commonwealth, and make recommendations on how it can become more effective. They also called for a review of the Commonwealth Ministerial Action Group - the body that monitors breaches of the organisation's values.
The UK therefore came to Perth with high hopes that the Commonwealth would agree to strengthen its role as a standard bearer for human rights and democracy. And we saw some of the most significant reforms in recent Commonwealth history:
The heads of Commonwealth governments agreed to a significant proportion of the Eminent Persons Group's recommendations. They, notably, agreed to a 'Charter of the Commonwealth' which will set out in one place, and in a straightforward way, the core values to which Commonwealth members are committed. It will help focus the Commonwealth on the areas where it can make the most difference and reinforce the Commonwealth's already powerful global brand.
Leaders also agreed steps to reform the Commonwealth Ministerial Action Group. These measures will broaden the group's mandate to consider, not just undemocratic overthrows of governments, but also serious or persistent violations of Commonwealth values. The group will become more responsive and flexible, by working proactively with member states to address concerns before they become extreme.
In the Commonwealth year of 'Women as Agents of Change' leaders demonstrated their support for real and tangible action on equality and development issues. They agreed that the Commonwealth should address the issue of early and forced marriage, which affects ten million girls worldwide every year including in every region of the Commonwealth. It harms the education, health, economic and social prospects of millions of girls.
Reemphasising values within the Commonwealth family is not about one group of countries lecturing another but about learning from each other and spurring each other on to greater things and higher standards.
The UK wants to see the Commonwealth do more to uphold its values, promote the rights of all citizens and protect them from persecution.
And, as attention will soon turn to the next summit in 2013, the Commonwealth family must continue to encourage Sri Lanka, as incoming host, to demonstrate its full commitment to Commonwealth values by tackling head on the findings of the Lessons Learned and Reconciliation Commission.
More than governments
The Perth summit illustrated clearly that the Commonwealth is about much more than just government to government contacts. It was not just heads of government that met in Perth, but a plethora of non-governmental organisations, civil society, young people, businesses and local Commonwealth citizens. This is what makes the Commonwealth so unique, and so valuable to its members and the UK.
Trade and business
Lord Green, Minister of State for Trade and Investment, and I attended and spoke at the Commonwealth Business Forum a few days before heads met. This was the biggest business forum in Commonwealth history, attracting 1200 delegates from across the Commonwealth and beyond. The fact that delegations came from China and Korea, for example, shows a recognition and endorsement of the strength of trade opportunities within the Commonwealth.
Intra-Commonwealth trade is booming. Trade worth over $3 trillion happens every year in the Commonwealth. Its combined GDP has almost doubled in the last twenty years, while the middle class has expanded by nearly a billion people - representing a huge and growing consumer market.
As former Commonwealth Secretary General Sonny Ramphal said 'language learning and law' are the three key elements of the Commonwealth. And I believe that it why the Commonwealth is such a good place to do business.
A Royal Commonwealth Society's study talked of a 'Commonwealth factor' when it comes to intra-Commonwealth trade. Their research found that when two trading partners were Commonwealth members the value of trade was likely to be a third to a half more than when one or both trade partners was non-Commonwealth.
This can be explained, in Sonny Ramphal's terms, by the shared history, shared values, shared legal systems and shared language of Commonwealth countries.
Entrenched democracy and transparent government equates to greater investment confidence, and a business environment ripe for commerce to flourish. This leads to more jobs and greater prosperity. Democracy and good governance is the cornerstone for prosperity, and that is what will help lift the Commonwealth's poorest citizens out of poverty in a sustainable way.
In turn, economic liberalisation is, inevitably followed by more open societies and greater political pluralism. In South East Asia for example, contrast Indonesia and Malaysia with Burma. Freedom and prosperity are creating new opportunities for ordinary people. Let's hope they come to Burma as well.
The facts testify to this. Five of the top ten countries in the world in which to do business are Commonwealth countries, and 17 of the top 20 countries in which to do business in sub-Saharan Africa are Commonwealth. No wonder the Commonwealth brand is increasingly sought after.
Civil society
In Perth, the Foreign Secretary and I were honoured to speak at the Commonwealth Peoples Forum - a gathering of the Commonwealth's numerous, diverse, and active, civil society organisations.
These organisations play a unique and vital role fostering links between Commonwealth countries and developing, embedding and protecting the Commonwealth's core democratic values. They help the organisation to maintain and strengthen its identity, and as I have alluded to just now, increase the prosperity and prospects of the Commonwealth's member states and citizens.
Secretary General Sharma has rightly called Commonwealth civil society 'the jewel in the Commonwealth crown'. And the Royal Over-Seas League has earned its place in that crown.
In Perth, civil society organisations did not just meet in parallel to the meetings of governments, they engaged directly with them. The Foreign Secretary took part in a civil society dialogue session, where organisations from all corners of the Commonwealth, representing a full range of interests, spoke directly to Foreign Ministers about their concerns and aspirations.
These included organisations interested in land rights, culture, gender equality, health, humanitarian relief, disability, education and trade unions to name but a few.
The UK has long been clear that we must work in close partnership with civil society. This is why we had favoured publication of the Eminent Persons Group report, to allow civil society to express its views before Ministers considered it. Consultation and support of civil society will play a central role in helping us achieve the Commonwealth Charter of values.
And it is essential that our young people are viewed as key partners in the success of our network. Forging links between young people, to learn from one another's cultures will help prevent conflict, foster new young leaders passionate about Commonwealth values, and help strengthen the resilience of the network in the future.
Soft power network
As the UK and the world reverberate from the impact of the global economic crisis and the problems of the EU, and settle into the new world order, the Commonwealth as a soft power network becomes for us a key element - a cornerstone - of our foreign policy. As an established power, we need to respond quickly to maximise opportunities for British citizens, the Commonwealth's networks help us do this.
The Commonwealth contains some of the fastest growing and technologically advanced economies in the world - Nigeria, Malaysia, India, South Africa, Singapore - the great markets of today and tomorrow that will shape the global economy of the future.
In the new world order countries need to form partnerships based on shared interests and values in order to deal with global issues that affect us all. The Commonwealth is the ideal platform from which to navigate and engage with the new world order and gain access to new markets and wider networks. It gives us a unique opportunity to extend our reach, influence on our priorities and adapt appropriately to changing global challenges. The internet and the world-wide web make all this possible as never before.
I am delighted that in Perth we were able to announce, under the chairmanship of Sir John Major, the establishment of the Queen Elizabeth Diamond Jubilee Trust. This will be a fitting tribute to Her Majesty the Queen's extraordinary service as Head of the Commonwealth over the last sixty years. And it will be a gift to the people of the Commonwealth, supporting charitable projects and organisations, focussing on areas such as tackling curable diseases, promotion of education and culture and other Commonwealth priorities.
I hope that this trust, and the reform outcomes we achieved in Perth, will renew and reinforce the Commonwealth's reputation as a force for good across the world, and a huge benefit to our own future as we struggle to find our place and role in a dangerous world
Search the news archive
Published 10 November 2011