Speech
Co-operation Ireland gala ball
Speech by Secretary of State for Northern Ireland, Rt Hon Owen Paterson MP.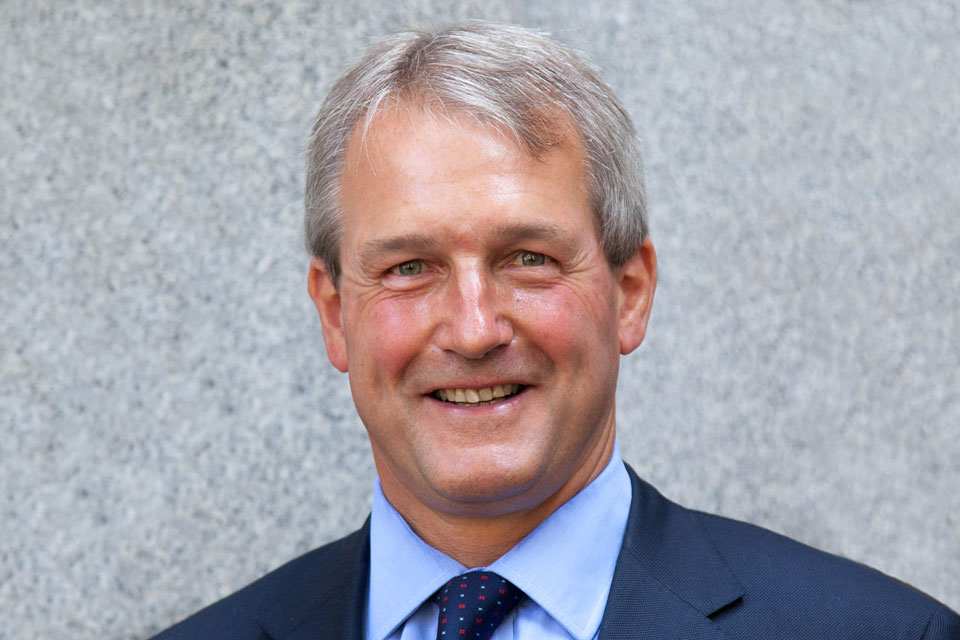 It is a great pleasure for me to be here at your Gala Ball this evening celebrating the work of Co-Operation Ireland.
I would like to pay tribute to your Chairman, Christopher Moran, Chief Executive, Peter Sheridan, your Board and all your members of staff. They work tirelessly to improve relations within Northern Ireland and throughout the island of Ireland. And they deserve our profound appreciation for all that they do.
I'd also like to extend the warmest welcome to His Excellency Bobby McDonagh, the Irish Ambassador to the United Kingdom.
Ambassador, your presence here this evening serves to underline not only the extraordinarily close co-operation between our two countries but also the warmth of the relationship. We remain committed to working in close partnership with the Irish Government. The bonds that unite us have never been stronger. That was of course demonstrated so clearly in May with the historic and hugely successful visit of Her Majesty The Queen to the Republic. It was a triumph both for Her Majesty and President McAleese.
And let me here pay another tribute to the remarkable fourteen-year Presidency of Mary McAleese and her outstanding contribution to peace in Northern Ireland and UK-Irish relations as a whole. In doing so I send my warmest congratulations to Michael D Higgins on his great success last week and extend to him every best wish for his Presidency.
The visit in May did of course set the seal on a remarkable transformation that has taken place over the past two decades within Northern Ireland between the two parts of Ireland and within these islands.
Nobody should be under any illusions about how far we have come in Northern Ireland. As the elections earlier this year demonstrated, politics is now more stable than at any time since the 1960s.
For our part the UK Government strongly supports the institutions and wants to help make a success of devolution. And I know that our colleagues in the Irish Government share exactly the same sentiments.
But for devolution to work, survival and stability are not enough. The institutions need to deliver or in the longer term they risk losing public confidence. That's not intended to be a criticism of the current Executive, or the British Secretary of State lecturing local politicians. It's simply pointing out reality. So we have to start looking beyond the politics of the peace process. And difficult issues need to be tackled.
None of these is more important than building a genuinely shared future in Northern Ireland. I know that it's central to the work that you do in Co-Operation Ireland.
For all the tremendous progress that's been made…
…over 90 per cent of public housing remains segregated…
…over 90 per cent of children are still educated separately…
…the number of peace walls has actually gone up significantly.
According to one study, the cost of division and duplicated services is around £1.5 billion.
So there's a huge challenge. But the prizes, both socially and economically, are also huge.
Most of the policy areas relating to shared future are devolved. A start has been made with the Executive's Cohesion, Sharing and Integration strategy. But there's clearly more to be done.
The UK Government will continue to support the Executive in its efforts to move this forward. As the Prime Minister said in his speech to the Northern Ireland Assembly in June, Northern Ireland needs a shared future not a shared out future. The other area on which we really must focus is reviving the Northern Ireland economy.
For reasons we all understand it is too heavily dependent on public spending. Some of the key economic policy areas are devolved to Stormont while others are the preserve of Westminster. We need to work together to rebalance the economy by creating the conditions for the private sector to grow and create jobs. We shouldn't underestimate the scale of the task, which is why I've said that it could take up to 25 years.
And I hardly need to remind this audience of the exceptionally tough economic times we are living through and the fact that the UK is currently borrowing in excess of £230,000 a minute.
Northern Ireland has some great things going for it as a place to invest…
…a well-educated workforce…
…two great universities…
…better broadband coverage than other parts of the UK…
…good air transport links to the rest of the UK, Europe and America…
…and lower business operating costs, to name but a few.
We've also got some world-class companies; we just need more of them.
So we are helping business by cutting taxes and regulations - right across the UK. The Chancellor will give more details of our credit easing plans in the Autumn Statement at the end of this month. And we've provided the Executive with money to set up enterprise zones if that's what they want.
But we are looking at more radical measures - like the possibility of devolving the power to set Corporation Tax to the Executive so that Northern Ireland can compete more effectively in attracting foreign investment.
At the Conservative Party Conference I announced a Joint Ministerial Working Group to take this to the next phase; the first meeting will take place shortly.
Just think what a combination of progress towards a shared future and greater economic prosperity could do in some of those really difficult areas where Co-Operation Ireland runs such pioneering projects.
Who can doubt the impact it would have in those hard to reach parts of Northern Ireland where paramilitaries still regrettably recruit, often among disaffected young people?
Of course we need a robust security policy to deal with the continuing terrorist threat. And let me put on record my appreciation for the unprecedented collaboration on these matters between our two governments, reflected in the day-to-day work of the PSNI and the Garda.
But security can only do so much. That's why I see building a shared future and reviving the economy - alongside the work done by Co-Operation Ireland - as absolutely crucial to making Northern Ireland the 21st century success story that all of us here want to see.
So in conclusion I would like to thank all at Co-Operation Ireland for their continuing work in such difficult areas. I'd like to thank everyone here this evening for their continued and extremely generous support - more important than ever given the severe pressures on national finances in both London and Dublin. And I'd like to reiterate my strongly held belief that by working together in a true spirit of co-operation we can help to cement the peace and move Northern Ireland forward.
Published 3 November 2011