Speech
Chief Secretary to the Treasury's speech to the Greater Manchester Chamber of Commerce
Danny Alexander reaffirms the government's commitment to 'stick to the path we are on' while focussing spending on high value infrastructure projects.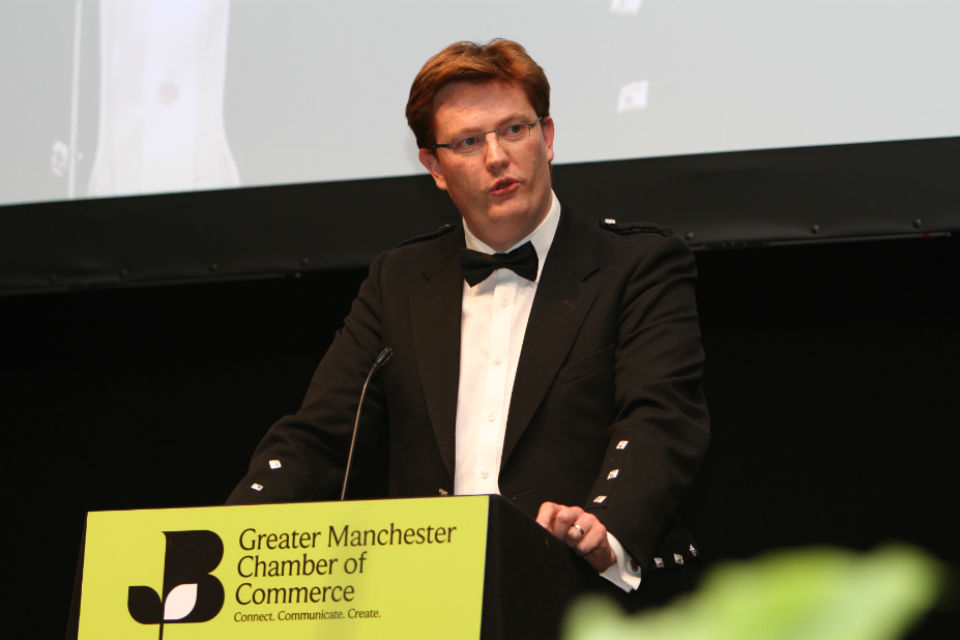 It is my aim to build a stronger economy in a fairer society, where everyone can get on in life.
That's what I came into politics to achieve.
It's the idea I took into the coalition negotiations; and it's the idea which – as a coalition government – we are working hard to deliver.
Today – three years to the month since the coalition was formed, [almost] three years to the day since I was appointed Chief Secretary – is a good chance to reflect on the progress we've made, and to look at what more we have to do to achieve those objectives over the next two years.
As one of the architects of the coalition, let me reassure you that this government is totally focussed on fixing the economy, and will remain so every day until the election in 2015.
Whatever you read, there is absolutely no prospect of the coalition breaking up early, or losing that focus.
Back in 2010, when we first came to office, we didn't just face an unprecedented and unsustainable deficit in the government's finances.
We faced a highly unbalanced economy, skewed by years of political obsession with the City of London.
We faced a deficit in competitiveness, from too much time regulating and constraining business, and not enough time enabling the private sector and promoting British exports – especially in new markets.
And of course, we faced an uncertain political outlook, especially in the Eurozone.
We had to act swiftly to put in place a balanced and rational response:
A response that was unflinching – but not unthinking – on the nation's finances, taking tough action on the deficit and so helping keep interest rates low.

A response that reformed planning, regulation, infrastructure and taxation to make all parts of Britain more competitive.

And a response that enabled an active monetary policy to support the economy.
We've made good progress.
We've seen the deficit reduced by a third.
We've seen an increase of over 1 million jobs – and counting – in the private sector.
Interest rates are at near-record lows.
And more recently there are some signs of momentum starting to return to our economy:
The UK economy grew by 0.3% in the first quarter of this year, more than was forecast by the OBR at budget.
Last year we became a net exporter of cars for the first time since 1975.
And British exports of goods to emerging economies have increased since the coalition came to power.
Despite this, some say that now is the time to change course; that we should even borrow more; that there is somehow an easy or quick fix to the deep problems we have to resolve.
But the truth is that we are on a long road, and we are making progress.
Nothing could be worse for this country right now than starting again from scratch.
We won't do it.
We will stick to the path we are on.
And we will continue to show flexibility wherever it is needed, and to shift resources wherever we can to support economic growth.
We've allowed the automatic stabilisers to operate in full, picking up slack when it is needed.
We've shifted revenues from lower value spending to capital investment – with an extra £ 10bn announced over the last two Autumn Statements, and another £3bn a year from 2015/16 announced in the recent Budget.
But we know that more must be done, and further savings must be found;and we are taking responsible steps to manage that process.
You may have read that in next month's spending round we are going to find a further £11.5bn of savings for the year 2015/16. And these savings will be essential as we continue our steady progress as a country towards living within our means again.
We will deliver these savings entirely from reductions in Whitehall budgets.
Some may complain that this is a lot of money. But put into perspective, in that same year we are forecast to spend £57bn servicing the interest on our debt.
And that – quite frankly – is neither desirable nor sustainable.
So these savings are vital for our long term future.
But less money doesn't have to mean worse services. If we make sure that our money is spent efficiently and fairly, then we can make sure we achieve the best possible value for the public.
When we first came to office – for example – we were warned that cuts to police spending would reduce police effectiveness.
Instead, we've seen crime drop to its lowest level in 30 years.
We were warned that cuts in the public sector would lead to nearly half a million job losses in the private sector.
Instead, we've seen over a million jobs created in the private sector.
And we were told that cuts to HMRC would reduce tax revenues.
When instead, we've seen tax revenues rise nearly 5 per cent compared to this time last year.
I know that savings in local government have been tough for many.
But here in Greater Manchester you have shown that by pooling resources across the public sector, joining up delivery through community budgets you can deliver better public services with less money.
Better results for the most troubled families – who attract the attention of many public sector bodies, without really being helped by any of them.
We will be taking these lessons from Greater Manchester and the other 'community budget' pilot areas and applying them across the whole of the country in the Spending Round.
Becoming a nation that pays its way again is the right place to start, but I know that if we want to achieve sustainable growth then we need to create the conditions in which businesses like yours can thrive.
On tax, on education, on skills, on regulation, on access to finance, on infrastructure and on Europe we need to ignore the siren voices and focus on ensuring a stable, supportive environment for business to grow and create jobs.
It's no exaggeration to say that we inherited a tax landscape which offered the worst of all worlds – high, uncompetitive tax rates, which were poorly enforced.
So we've worked hard over the last three years to rebalance that tax regime;
To make our tax system an asset for the country and to ensure that it supports – rather than hinders – growth and investment.
The measures we've taken during that time – cutting Corporation Tax, supporting R&D through tax credits, encouraging scientific innovation through the Patent Box, capital allowances to bring forward investment in plant and machinery – have been specifically designed to ensure that Britain is the best place in the world to invest and grow a business.
I am proud of the action we have taken to cut taxes on working people.
Lifting the tax free income tax allowance to £10,000 next April means 25 million working people will be paying £700 less income tax a year.
And the £2,000 employer NICs allowance – which will be open to all businesses and charities from next April – will mean that every business is able to employ four full-time workers on the National Minimum Wage, without paying any employer NICs.
So we're working hard to deliver a tax system that will boost employment, and help families and businesses across the country.
But nothing makes people angrier than the fact there are still some businesses that seem to think they should be able to get away without paying their fair share of tax.
That anger is justified.
When everyone else in this country is making a contribution to dealing with the deficit, our message to the small minority of companies that seek to dodge paying their fair share is clear.
Aggressive tax avoidance and evasion are wrong at the best of times, but in times like this they are totally unacceptable.
And the government, on behalf of the British people, will not tolerate it.
Tackling this problem has been a big priority for me since I joined the Treasury. And we have made a lot of progress.
Closing loopholes, clamping down on offshore havens, investing more in HMRC to raise an extra £9bn a year by 2015.
We have put tougher global rules to counter tax avoidance at the top of the agenda for our G8 presidency this year.
But there is much more to do.
For example, we have discovered that some offshore payroll agents have been deliberately not paying the national insurance for staff employed in the UK.
Such behaviour is completely counter to the spirit of the law.
It's not fair on the Exchequer;
It's not fair on the taxpayer.
And it's not fair on you, the vast majority of businesses who play by the rules.
So I can tell you that today we are consulting on the details of how we crack down on these 'offshore intermediaries', who are currently costing the taxpayer up to £100m a year and rising.
The rule is simple: if you employ people in the UK, you need to pay tax and national insurance in the UK. And we will make sure you do.
A more competitive tax system is helping growth, but we need to invest in our nation's infrastructure too.
Investment in infrastructure creates jobs in planning and design and construction in the short term.
Good quality roads, railways, broadband and energy networks are absolutely essential for British businesses to compete in a global economy.
If we want a successful economy in the 21st century, then we need an infrastructure fit for the 21st century.
In this Parliament in fact, despite the tough economic times, we are working closely with the private sector, and investing a greater share of our nation's wealth in infrastructure than over the previous 13 years.
We are supporting the largest investment in railways since Victorian times, including improvements in this city.

We are overseeing major upgrades in our vital road networks, with work underway between junctions 25 and 30 on the M62.

We're rolling out superfast broadband and 4G mobile across the whole country.

We're putting in place the certainty investors need to support the transformation of our energy infrastructure to a low carbon future, with draft 'strike prices' set out on renewables before the summer recess.

And we're ensuring better co-ordination through the National Infrastructure Plan, with heads banged together in Whitehall to make things happen via the Cabinet Committee on infrastructure which I Chair.
But we need to do more.
So whereas for most individual Departments our Spending Round next month will only set budgets for the financial year 2015/16, for key areas of capital expenditure – like infrastructure – we intend to make commitments right through to the end of the decade.
We will be taking a zero-based approach throughout – asking Departments to justify the economic value of every single line of their Capital budgets.
When we took such an approach in 2010, it resulted in the most economically important areas being prioritised.
So investment in transport, for example, was not just protected from cuts – its budget was actually increased in every year, which has enabled us to commit to crucial projects like High Speed 2.
In fact, I'd like to use this opportunity to thank the Chamber of Commerce for its support on HS2.
We know that this project has caused some political controversy.
But I can reassure you, that delivering HS2 is another of those tough decisions that we will stick to.
It will connect eight of our biggest cities once it opens, re-shaping the UK's economic geography in the process, and support 100 000 jobs across the nation.
For too long we seemed to only look towards one city for economic growth.
Between 1997 and 2010, the north-south economic gap widened.
In terms of value added per head, the North West fell from being 11% behind the National Average to 15%, and the North East from 21% to 23%.
This is not to suggest that this trend started in 1997.
Neither is it to suggest that the north – and in particular this city – has not excelled in many areas.
Whenever I've been here in Greater Manchester, I've been struck that this area understands the importance of collaboration and the importance of public private partnerships.
But – despite the vision and the drive that this city has shown – more could and should have been done to rebalance the UK economy.
And there is more that this government can and will do.
We've established Local Enterprise Partnerships, to bring together business and locally-elected leaders to set a strategy for a local area.
We have set up twenty four Enterprise Zones, areas that will benefit from simplified planning rules, super-fast broadband and tax breaks for businesses.
Your local Enterprise Zone – Manchester City Airport Zone – will bring crucial investment and jobs to the region.
Through the new Regional Growth Fund – or RGF – we are supporting other projects and programmes that unlock private sector investment to create economic growth and jobs.
The RGF has so far allocated £2.4 billion to 370 projects and programmes that have pledged to deliver 500,000 jobs and £13 billion of private investment.
It is helping turn the old Manchester Royal Eye Hospital into a site for biomedical businesses.
And today, I'm very pleased to announce that the Fund will provide a £2 million boost for research into the development of Gallium Nitride at NXP in Stockport.
For those of you who don't know what Gallium Nitride is – and I must confess to having been in that camp until yesterday – it is a breakthrough raw material which can replace silicon in electronic devices – such as car systems, mobile phones and communications infrastructure.
And this Regional Growth Funding will support a private sector investment of over £7.5 million, safeguarding nearly 500 existing jobs, creating 100 new positions in Stockport and firmly establishing the UK – and this region – as a global research hub for NXP.
So this money is having a real impact in and around this city.
In the autumn, Lord Heseltine proposed that we go even further to put local enterprise partnerships in charge of more local economic levers.
As such – alongside the Budget – we announced that we would be creating a Single Local Growth Fund – building on the success of the Regional Growth Fund and bringing together areas such as housing, transport and skills.
Every part of the country will benefit from the 'growth deals' that Lord Heseltine's plan will enable – but those areas with the best plans will get more.
Details will be set out in the Spending Round next month, and I know Manchester will fully exploit the possibilities it will offer this area.
A competitive tax system, quality infrastructure, more economic levers in local hands – all of these will help to deliver the sustainable economic growth our country needs.
But all of this good work will be undermined if we allow those who want to cut Britain off from our major export market to succeed.
I don't need to tell all of you how important EU membership is for British business.
The EU is the largest single market in the world, with 500 million people and a combined GDP of £11 trillion.
Half of our trade is with Europe. In fact, EU countries trade twice as much with each other than they would without the single market – activity which is worth £3,300 per British household.
Over 3.5 million British jobs are linked to that trade.
Access to European markets is crucial to foreign investors – and the UK houses more headquarters of non-EU firms than Germany, France, Switzerland and the Netherlands put together.
The European Union isn't perfect – far from it.
It needs reform – not just for Britain, but for every country in Europe.
We need to complete the single market, open up energy markets, make e-commerce borderless within Europe.
And the irony is, Britain has never been in a better position to lead these changes.
The Eurozone crisis has forced many of the countries who used to be the biggest blocks on economic reform to see its advantages.
So, arguing for Britain to leave the EU at this time is not just irresponsible, but damaging to jobs and Britain too.
We shouldn't be debating leaving the EU, we should be leading it.
That's what – as a coalition government – we will continue to do.
And it's a reminder of why our government and our politics needs to continue to be anchored in the centre ground during these difficult economic times.
To take the tough decisions needed to steer this country out of the economic crisis, not to allow us to be pulled to either extreme.
The country is emerging from tough economic times.
The road to recovery is long, and at times will be difficult.
And we know that it is your work, your effort, and the growth you provide that is essential to the task of creating a stronger economy here.
But if we continue to pull together; to take the right decisions, even when they aren't easy; then I believe we will only see our economy continue to grow.
Thank you for listening.
Photo by Eden Photography.
Published 30 May 2013