Speech
Chief Secretary to Scottish businesses, 'we are all better off as part of the UK'
Chief Secretary to the Treasury, Danny Alexander speaks at the Scottish Council for Development and Industry.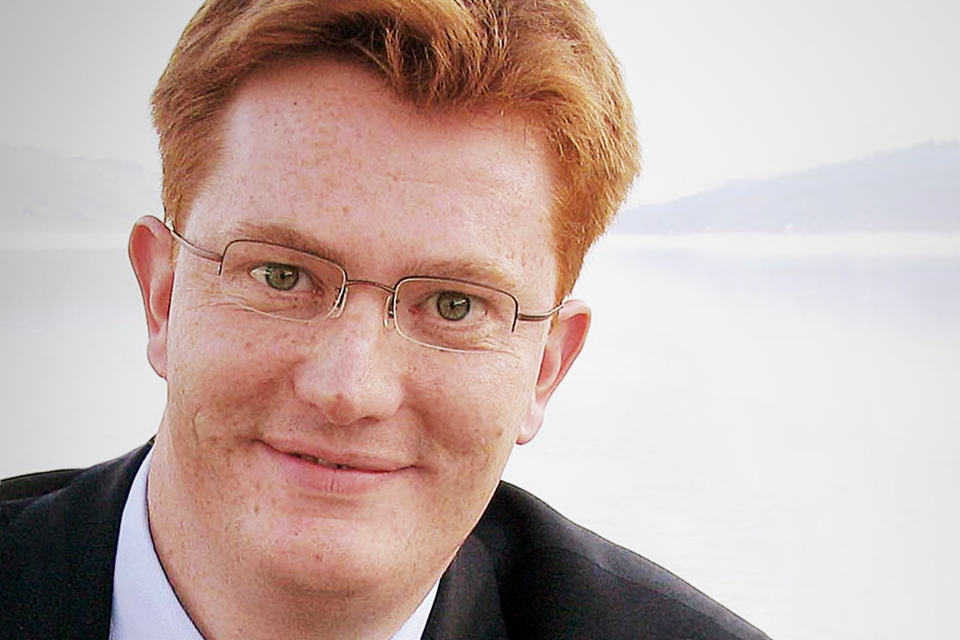 I want to start by saying thank you. Thank for the energy, the drive, the commitment of your businesses that is helping to produce strong economic growth across the UK.
This week's GDP figures show that our economic recovery is gathering pace.
In the first quarter of this year – all three main sectors of our economy grew at above 3% in the year
Which is the first time this has happened in nearly ten years.
Here in Scotland, the economy has grown for six straight quarters.
There is a lot more to do, but Britain is on its way back.
I know that government doesn't create jobs and wealth and growth - you do.
What we can do is create the right environment for you to succeed. That is what we came together a coalition to do, that is what our economic plan is all about, and I think now people can see that we made the right decisions for the right reasons to get our country back on track.
We have spent the last four years doing everything that we can to ensure we are best place for businesses to invest, grow, and create jobs.
We've taken tough decisions on public expenditure. The deficit has been cut by half; confidence in the UK's financial credibility has been restored.
And because we've restored that confidence, we've also created the space to make our tax system more competitive.
Next year corporation tax will be down to 20%, the most competitive rate in the G20.
And crucially we have delivered my commitment to reduce the tax burden on lower earners.
Over 2 million Scots will have gained from our personal allowance increases, as we get to the 10,000 personal allowance this year, 10,500 next year. Cutting income tax by £700 per year for typical basic rate taxpayers.
We've frozen fuel duty - something I know really matters to businesses and consumers in Scotland - so that every litre of fuel is nearly 20p cheaper in 2015 than if we'd stuck with our predecessors plan.
While investing heavily in the exact areas…
Like skills and infrastructure…
That are essential to building more sustainable, balanced growth over the long term.
The strengths of the United Kingdom underpin that success.
Our shared currency…
Supported by a full monetary, fiscal and political union with substantial devolution.
Is the platform on which our economic recovery is built.
Our fully integrated, borderless single UK market border helps:
all the individuals that move…
and all the businesses that employ them…
and all the industries that trade throughout the UK…
It is enormously efficient for our economy.
In fact, the increased trade that comes from the lack of border between Scotland and the rest of the UK increases our GDP in Scotland by £2,000 for every household, every single year.
Being part of something larger isn't just a help in normal times, it helps when things go wrong too.
It was the broad shoulders – and the mixed, diverse economy – of the UK that made it possible to help two huge Scottish banks during the financial crisis.
As part of something larger our taxes are lower too.
Our deficit in Scotland is currently £500 smaller per head as part of the UK than it would be alone.
…and in two years time independent experts expect that benefit of the UK to grow to £1,000 for every Scottish person.
That's £1,000 more money for every Scottish person as part of the UK.
We're using the global clout of the UK to help Scottish businesses.
We've used that influence in the EU to ensure that the interests of UK companies are at the core of the EU-US trade deal negotiations.
A deal that could add £10 billion to the UK economy every year.
And the influence of the UK played a leading role in the Solvency II negotiations.
Where we succeeded in protecting the ability of UK insurers, many located here in Scotland, to compete overseas, while also ensuring that our regime supports the crucial role insurers play in long-term infrastructure investment.
And it's because we're part of something larger that when we as government borrow…
Or when your businesses borrow…
We all benefit from low and stable interest rates.
As Moody's said yesterday, Scotland has a significantly better credit rating and lower interest rates as part of the UK.
We are all better off as part of a UK…
With a shared currency…
Where our economy is growing…
Where jobs are being created…
And where the deficit is falling.
We have worked hard over the last 4 years to support some of Scotland's most successful industries to thrive and grow.
Look at the Scottish financial sector – a brilliant success story that directly employs 100,000 people – and many more indirectly.
90% of its customers are based across the rest of the UK.
And we have these jobs in Scotland because we're a platform to that bigger market, with an internationally respected regulatory framework.
The industry also knows it has a UK government fighting for its interests - and not just in EU negotiations.
We've made the UK one of the most competitive places for asset management, a sector in which Scottish firms lead the world.
And we're in the midst of a global campaign to market the UK and offer support for asset managers and funds wishing to set up here in the UK.
Look at our energy sector…
In the last four years alone – £14 billion of new investment announced in renewables. Just last week, the UK government awarded an investment contract to the Beatrice Offshore Wind farm in the Outer Moray Firth.
And we've made long-term commitments to support our hugely important oil and gas sector.
This coalition is the first government to put in place decommissioning tax relief, which in turn has unlocked a huge wave of investment.
We've backed Sir Ian Wood's recommendations for a new body to oversee north sea oil activity.
Investment incentivised by our field allowances – last year alone – supported over 50,000 jobs in Scotland…
And the same number across the rest of the UK.
The Scottish government's forecasts for oil revenue may be hopelessly over-optimistic, but we are doing all we can to help support the industry to get every last drop of oil and gas out of the North Sea.
Look at another key industry – defence…
Which employs over 12,000 people in Scotland.
Her Majesty's Naval Base in Clyde is the biggest employment site in the country…
With nearly 7,000 military and civilian jobs.
And the rest of Scotland too, benefits greatly from the jobs and the contracts and the demand for services…
Enabled by a larger UK government…
And created by many of the prime contractors of the UK MoD – like Babcock and BAE and QinetiQ – at their sites in Scotland.
And of course, as a Highland MP I am particularly proud of the support we are providing the hugely successful Scotch Whisky industry. Help in opening new markets, help in protecting the industry from fake rivals around the world, and help in the UK too with duty frozen in this year's budget.
The United Kingdom government is working hard to build a more sustainable, balanced economy. That requires sustained effort and investment in innovation and infrastructure and skills.
To help support innovation…
we're offering generous R+D tax reliefs, which I know have been welcomed by Scottish life science businesses
we've introduced a Patent Box which taxes UK profits derived from Patents at a reduced 10% rate of corporation tax
Our film relief bought James Bond to Scotland…
And our video games relief is expected to provide around £35 million a year in support to a sector that is thriving in Dundee.
Infrastructure too, is an absolute priority for the UK government.
Most spending on transport infrastructure spending is devolved.
But I can tell you that the UK is presiding over record investment in railways and road.
We should also be strengthening our infrastructure across the border. So I'd also like the Scottish government – as soon as possible – to agree to match fund our proposed study of improving the A1 between Edinburgh and Newcastle.
Other parts of our UK national infrastructure plan directly benefit Scotland. When we complete the Y network of HS2, for example, we will boost the Scottish economy by around £3 billion.
And I am making sure that broadband spending in Scotland reflects the need to support our more isolated communities and businesses.
On skills, my priority has been to massively increase the number of apprenticeships. These matters are devolved, but I know that Scottish businesses are as enthusiastic about apprenticeships as a way to build the skilled workforce you need.
It is devolution of powers in areas like skills – within a strong and secure United Kingdom – which gives Scottish people and Scottish businesses the best of both worlds.
In September, we will all go to the polls to cast the most important vote of our lives.
It's not like a general election, where you can change your mind again in five years.
This is one-off and irreversible.
We owe it to the people of Scotland to conduct a debate that is informed by evidence, that is clear about benefits and risks; and does not duck the difficult questions.
This week the Scottish Chambers of Commerce called on both sides of the debate to provide direct answers.
That's why I've given a direct answer on one of the most fundamental questions in this debate.
We confirmed that –in the event of independence – there will not be a currency union.
And I was glad to see it reported that the First Minister is finally admitting that an independent Scotland will need an alternative plan.
If that suggests a more realistic approach to the risks of independence that would be welcome.
I made a speech earlier this week about North Sea revenues.
A speech that started the process of debunking the nationalists' myths around Scotland's finances. I will be doing more in the coming weeks to ensure we all have facts about the financial benefits of the UK.
This will culminate when I will publish in a few weeks time the most detailed ever fiscal analysis on the benefits of the UK and the costs of separation.
And it will contain analysis that shows we are indisputably better off together.
Because the UK delivers so much for Scotland.
Within the UK we Scots help to shape and lead one of the world's largest economies, backed by one of the world's most trusted currencies.
I am working in government to make sure it delivers even more.
A tax system that help businesses to invest and to grow.
Industrial policy that helps our key sectors to thrive.
More money in the pockets of working people.
More people in work than ever before.
The nation's finances back on track.
An economic plan that is delivering for Scotland, within the UK.
Because it is only with the right plan, within the UK, that we can build the stronger economy and the fairer society that we all want to see for Scotland.
Thank you for listening.
Published 2 May 2014