Speech
Chancellor: our long term economic plan for London
Chancellor talks through the six-point long term economic plan for London.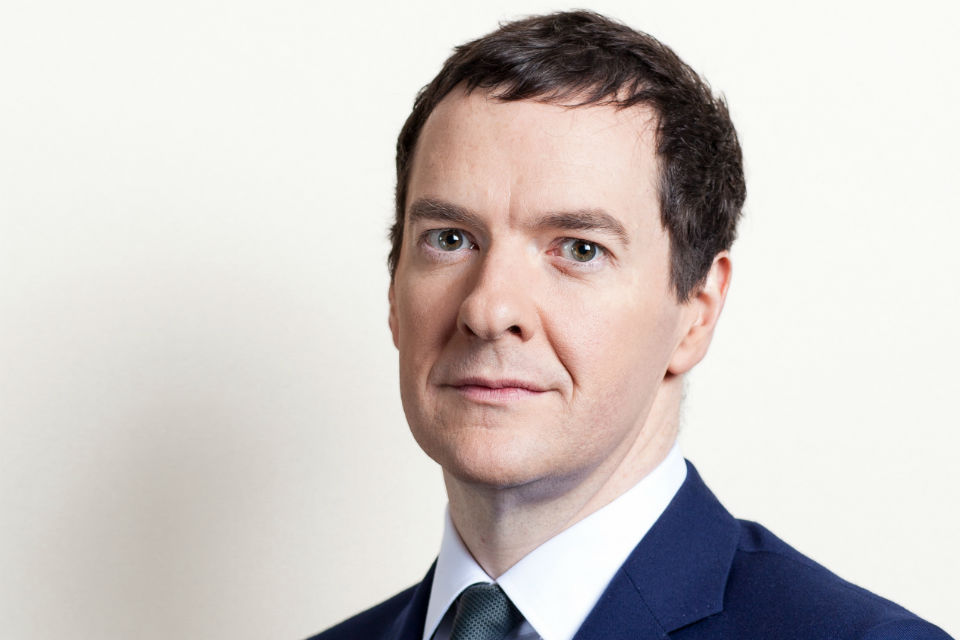 Welcome to the magnificent Turbine Hall, and thank you for joining Boris and me here.
20 years ago this was the derelict interior of a disused power station.
Today it is the most visited modern art gallery in the world.
It shows that there is nothing our great capital city cannot achieve if it applies determination and vision and optimism to our future.
Determination, vision and optimism is the economic ambition I have set for our country.
Determination, vision and optimism is what Boris Johnson has brought to the job of Mayor.
And it is the same spirit that underpins the long term economic plan for London that we launch together today.
There's a very particular reason why I wanted us to launch this long term plan here at the Tate Modern.
Next to this hall a wonderful new extension is being built.
Nick Serota and his team understand that a great museum like this cannot stand still.
It's an extension that required £50 million from the taxpayer.
And when I became Chancellor five years ago, one of the very first things the Treasury advised me to cut was that funding.
At a time when our country had run out of money, our deficit was out of control, here was an easy saving I was told.
There were other projects I was advised to cut: the Crick Institute for Biomedical Research at St Pancras; Crossrail now being built under our city.
I chose not to cancel any of them.
For I never thought we would rescue our national economy with short-term, easy decisions to deprive our country of the infrastructure, science and yes the cultural improvements vital to our country's long term success.
Instead we took the tough decisions to deliver a better future.
Today, five years on, we meet at the end of a week when we have heard that Britain has the lowest rate of inflation and the highest rate of employment in our country's modern history.
Earnings are rising much faster than prices.
The number of people in work has reached a record high. Youth unemployment is down 20 per cent over the last year alone.
And our economy was the fastest growing major economy in the world last year.
Now we have a golden opportunity to secure all we have achieved together, and give our nation the most prosperous major economy on Earth in the coming generation.
But only if we pursue our long term economic plan.
This capital city lies at the heart of that bright future for our whole country.
Over the last couple of months, in Manchester and Plymouth, Leeds and Derby, I have made the argument that it is within our power to raise the economic potential of all parts of the country – and address the gap that has emerged over decades between north and south, London and the rest.
But we do that by building a Northern Powerhouse, connecting up the south-west, making the Midlands an engine of growth.
In other words by pulling up the rest of the country, and not by pulling London down.
For it is to the benefit of the whole of the UK that we have the great global capital of our age on these islands.
This long term plan sets out the next steps for London – from the jobs we will create, to the housing the transport we will build, to the businesses and the creativity we will back.
London is the greatest capital city on earth, and with this plan London will stay that way, and stay ahead.
Let me set out the six points of the plan, and the government's role in delivering it, before handing over to the Mayor.
First, we want London to outpace the growth of New York.
If London's productivity was to grow at even the same pace as that predicted for New York, the size of the capital's economy would be £6.4 billion larger in real terms by 2030. That's equivalent to an increase of £600 per person.
To achieve this we have to attract more investment to London, raise the skills of Londoners, and improve transport and digital connectivity in our capital.
Digital infrastructure is essential, so I'm delighted that Virgin have announced a £3 billion plan to extend their network to four million homes and businesses nationwide.
Today I can confirm that nearly one million of these could be within the M25 – that's great news for London, and I expect local authorities to create the best conditions for construction to happen quickly.
Attracting investment and improving connectivity are vital for helping businesses large and small to create more jobs here in London.
That's the second part of our plan.
In the last five years we've seen half a million more jobs here.
Now I want to see more than half a million more jobs in the next five years.
It's a big goal, but we can achieve it if we follow through the rest of the plan.
That brings me to point three.
We're not going to find the people to do these jobs unless we also provide more homes in this city.
This month London has surpassed the peak population reached over 70 years ago.
For many years in between it declined in size as people left the city to look for better housing.
It's a reminder that there's nothing inevitable about London growing – and that if we want to see the current growth continue, we have to solve London's acute housing problem.
We both say it's the number one challenge facing the city…
So I support the Mayor's existing plans to build 100,000 new quality homes.
We announce today the designation of nine new housing zones from Greenwich and Barking, to Harrow and Hounslow.
This is on top of the big plan we have to redevelop Brent Cross and support the Croydon Growth Zone.
We're launching a national £84 million Social Mobility Fund to help eligible council tenants buy their own home in the private sector.
We're regenerating run-down estates, helping rough sleepers….
And I can tell you this morning we're going to create – the government and the Greater London Assembly (GLA) – a new London Land Commission that will identify all the public sector and brownfield land in London, helping us to develop all the suitable sites available.
That will help London meet its target to deliver over four hundred thousand new homes by 2025 – providing a lasting solution to the housing problem of the capital. As well as housing we need to be thinking long term about London's transport needs. That's the fourth part of our plan.
We are today committing to provide London with £10 billion for new transport improvements.
In the early hours of this morning, Boris and I visited one of the brilliant maintenance crews that work through the night to keep our aging tube lines working.
We live in a 24 hour city, and Boris is going to set out how our plan will deliver a 24 hour tube operation to support it.
I am also asking the Mayor to think big about the capital's long term needs.
This government backed Crossrail and in a couple of years times this extraordinary engineering feat will become indispensable for the two hundred million passengers expected to use it each year.
I've asked Boris to think about what the next big investments should be.
Crossrail 2, from north to south.
Extending the Bakerloo line into south-east London.
Redeveloping Old Oak Common in the west.
I want these plans and others worked up, properly costed and prioritised, so we can make a decision to go ahead in the government's Spending Round this summer.
Of course, we can only contemplate investment of this size in our future because we've taken difficult decisions on government spending today – it shows the advantage of a long term plan.
The fifth part of that plan is to back unashamedly London's strengths in science and finance and technology and the arts.
That's what we're doing with the Crick Institute and here at the Tate Modern.
That why we're promoting FinTech and the City as a global centre of new markets like the Chinese Renminbi.
Let's look for new opportunities to advance scientific research here in London.
Let's get Thomas Heatherwick's Garden Bridge built.
And let's look at giving London a world-beating modern concert hall.
I've spoken to Sir Simon Rattle about this, so has Boris.
It's an idea whose time is coming.
And I'm delighted that Sir Nicholas Hytner has agreed to work with the scheme's promoters to take the plan forward with a detailed feasibility study, which we fund today.
A world-class city needs world class science and culture and technology – and our plan for London provides it.
The sixth and final part of the plan is give Londoners greater control of their city's future.
I think the creation of a Mayor of London has given this city a powerful voice – and I think the Mayor of London standing next to me has used his voice to seal London's reputation as one of the most dynamic cities in the world.
Let's build on that success and give London's elected leader more power.
I want to see power over skills devolved to London – as I've just done to Greater Manchester.
I want to give the Mayor more levers to drive economic development, with new powers over planning.
And I think we should look at giving the Mayor more of a say over future commuter train franchises…
So we have one coherent transport system that serves well not just those who live in London, but those who come in every day to work here too.
So this is our long term economic plan for London.
To grow our city and outpace New York.
To create over half a million new jobs.
Build over 400,000 new homes.
Provide £10 billion on new transport.
Back business and science and culture here.
Give a voice to people here.
And make London the greatest capital city on earth for the next generation of Londoners.
Published 20 February 2015