"Britain's relationship with Pakistan is here to stay"
Foreign Secretary William Hague gave a speech about UK-Pakistan relations at the 60th Anniversary of the Pakistan Society.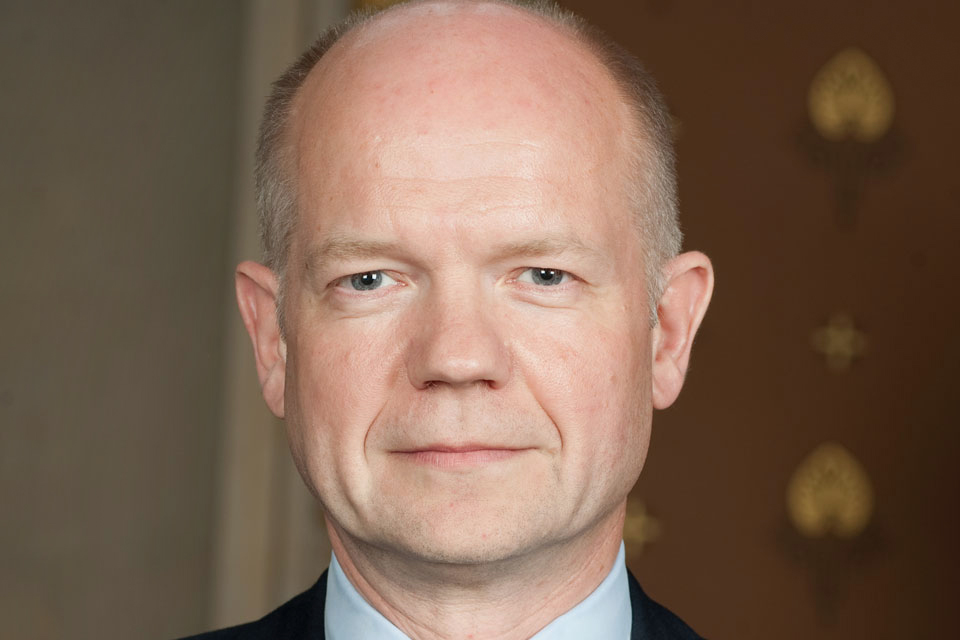 Thank you very much for that kind introduction and it is a pleasure to be with you tonight as you mark your 60th anniversary.
Lincoln's Inn is a particularly special place to host this event. Many of you may know that Mohammed Ali Jinnah, father of Pakistan's independence, whose mausoleum in Karachi I visited on one of my officials visits to Pakistan, joined Lincoln's Inn when he came to London as a young man. He was once asked by a biographer how he found his time here, and how difficult it was to study for the Bar in England at the time. He replied that it was no more difficult than attending twenty-two dinners and that he had been able to go through the curriculum with distinction. I am glad to say he did not have the particular trial faced by my own hero, William Pitt the Younger, who was at Lincoln's Inn in 1780 when a crowd of 60,000 laid siege to the Palace of Westminster, and the eager young lawyers here took up muskets and prepared to defend the Inn against anyone who was to attack it.
In our first year and half in office, our government has put renewed emphasis on nurturing our bilateral relationships with other countries around the world; on breathing new life into old alliances; and on building new networks of partnerships with the rising powers of the 21st Century.
We know just how important it is to deepen our understanding of other countries and cultures and to broaden our relationships across the board; not just in diplomacy but in culture, health, education, and trade; and not just between governments but between citizens, communities and faiths. This is vitally important to further agreement on international issues and to make the most of the economic opportunity to the benefit of all our citizens.
What you do as the Pakistan society is invaluable, helping the bonds between Britain and Pakistan to flourish. It was Dr Johnson who said that "a wise man…keeps his relations in constant repair". This is as true for nations as it is for individuals, and I thank you for all that you do to keep this particular relationship in good repair. I particularly congratulate tonight's recipient of the Pakistan Society Award, Professor Ian Talbott, for his contribution. He joins a distinguished line of ambassadors for UK-Pakistan relations who help to nurture the links between our countries, to deepen our mutual understanding, and to shape British government policy towards Pakistan.
And my message to you all this evening is that Britain's relationship with Pakistan is here to stay. What happens in Pakistan matters to Britain, and we will stand by Pakistan as it addresses the challenges it faces and build a durable relationship that we know will stand the test of time.
We can be confident of doing so because ours is not a new relationship founded on a narrow set of interests.
We enjoy a tremendous latticework of connections of history and shared experiences, embodied in one million people with close ties to Pakistan living in Britain today and the thousands of our citizens who travel back and forth each year to work, study and support projects or for simple enjoyment.
In many respects our ties are family ties; between our citizens who have relatives in each country and as members of the wider family of the Commonwealth, that undervalued but extraordinary network of 54 Commonwealth nations, freely associated, sharing a belief in democracy and human rights and indeed, it was at the 1951 Commonwealth Prime Minister's conference that the Pakistan Society came into being.
At sixty-four years, Pakistan is a young country. The vision upon which Pakistan was founded is still vivid and fresh in many people's minds. All of us who visit Pakistan are conscious of the enormous potential for the country to grow and develop, but also of the many challenges it faces.
Nearly half the population of the country are under the age of 25, and over the next 20 years the population will grow by more than half again.
Decisions taken now will determine whether all these young people are able to use their full potential to transform Pakistan, or whether they are held back.
And that is why the relationships between Britain and Pakistan, and between Pakistan and its other friends and neighbours, are so important and must be handled with care.
Pakistan is vulnerable to instability in its neighbourhood, but it also has the potential to contribute significantly to its own security. We have common interests in regional stability, whether it concerns relations with Afghanistan, Iran, China or India, and we must turn those common interests into practical action. I was delighted to meet Pakistan's new Foreign Minister at the UN General Assembly last week, for an extremely productive discussion. Openness is essential between friends and allies, especially when the common goal of peace and security for all is so key.
We know that our security is closely linked. We never forget that in the ten years since 9/11 more than 30,000 Pakistani civilians have been killed by the terrorism which is a grave danger to us all. Pakistan is on the frontline of terrorism and making bigger sacrifices in fighting it than any other country. The death of Osama Bin Laden and the disruption of Al Qaeda make us all safer, and combined with the peaceful revolutions in Egypt and Tunisia these things have struck a significant blow against the ideology of terrorism. We are committed to working to help Pakistan combat extremism. We have a six monthly dialogue on national security, our experts meet regularly through the Joint Working Group on counter-terrorism, and we have a comprehensive programme of counter-terrorism assistance in place for Pakistan in place. This includes support to military and policing units, and supporting the development of strong institutions and the machinery of Government.
Pakistan's democratic development is critical to a stable and prosperous future. It is not possible to have strong economic growth and political stability without democracy and the rule of law. The Arab Spring reminds us of how hard others strive around the world to achieve democracy, and how we must protect and renew our own democratic institutions with constant care. Transparent, free and fair elections bring stability because all those who take part accept that the result is the will of the people. A strong rule of law gives ordinary people confidence that their judicial system will act quickly, thoroughly and impartially to bring perpetrators of crime to justice, and it gives business people, particularly from overseas, the confidence to invest. They know their investments will be protected and that rules will be applied fairly to them.
The people of Pakistan will vote in important elections in the next two years. The Electoral Commission is working hard to ensure an accurate electoral register. Those who have the right to vote need to be empowered to participate. It is a task that politicians face around the world, to involve those who have not engaged in electoral processes and civic affairs. And in particular, women, who are well represented in the Parliament of Pakistan, need to feel safe to become involved in politics.
We want to see Pakistan develop and sustain a democratic future, not through us interfering in the sovereign decisions of Pakistan and its parliament and government, but by helping to strengthen the institutions that provide the framework for those decisions to be made in a plural, legitimate and accountable way, and to share our experience and our expertise where we can.
We are founder members of the Friends of Democratic Pakistan, we provide support to the Election Commission of Pakistan and we were delighted recently to welcome a delegation of Pakistani parliamentarians to visit the Welsh Assembly, the Scottish Parliament and the Northern Ireland Assembly to learn about how devolution works in the UK as Pakistan starts implementing the 18th Amendment to the Constitution; work in which Senator Rabbani to whose work I pay particular tribute. Whenever I can, on my own official visits overseas, I try to visit the Parliaments and legislatures of other countries, so I know how useful such exchanges can be.
We are also doing our part to help address poverty in Pakistan. 60 million people in 40,000 villages live without electricity and more than 17 million children are not in school. British development aid over the next four years will help over 4 million of those children access schools; it will recruit and train 90,000 new teachers and provide six million sets of text books. I am proud that over 80 per cent of Higher Education officials in Pakistan have been trained by the British Council, and that the Council cooperates with half of all the universities of Pakistan.
And last, we want to increase trade flows between our countries, which already stand at over £1bn, to £2.5 billion by 2015. And one of the ways we will do this is by continuing to be the greatest advocate for Pakistan's market access to the EU, something that can dramatically increase Pakistan's exports and could be worth up to €1billion per year. Britain is the strongest advocate of Free Trade of any member of the European Union, and we will continue to be the staunch advocate of trade liberalisation in the months ahead. We also welcome the meeting of the Commerce Ministers of India and Pakistan yesterday, highlighting the great potential of future trade between both countries.
This is the way that we try to strengthen our relationship. I wish that you could see the Prime Minister passionately make the case to other heads of government in the EU for long-term support to Pakistan. In all these areas an enduring friendship between Britain and Pakistan is strongly in all our interests. That will be the goal of our government, and I thank you all for all that you have done as a Society to strengthen and enrich that relationship at many levels over the last sixty years, and all that you will surely do in the years ahead.
Search the news archive
Published 27 September 2011