Britain and the quest for influence in a re-shaped EU
Foreign Office Minister Lord Howell talked about Britain's role in the EU, and the EU's role in the world when he spoke at the Future of Economic Governance in the EU conference on 8 March.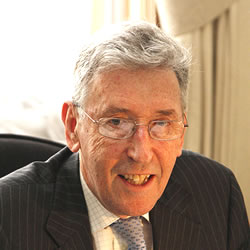 As an introduction to today's discussions, I'd like to set the Eurozone crisis and Britain's role in the EU in a broader context that I think is necessary to see what is happening and where we are going.
My thesis this morning will be that resolving the Eurozone crisis is a necessary but insufficient step to securing EU Member States' economic future. The real issue at stake is how the EU can maintain its influence and its relevance in a changing world. Our quest is to drive forward the necessary changes within the EU in order to retain both its influence and by extension our influence in a world that is almost running away from us and moving at such a speed that even the most astute commentators are finding it hard to keep up with what is happening.
Europe is central to how we orientate ourselves in a changing world
Europe faces two big economic challenges: resolving the Eurozone crisis and responding to the relative shift of economic power both eastwards with the rise of Asia and southwards. We and the whole of the rest of Europe need to address both these trends if we are to compete in the global economy and maintain the level of prosperity to which we have become accustomed. We talk boldly about growth and prosperity but it will indeed be a struggle to maintain our current level of prosperity in the new conditions that we must face.
The Europe of which we are a part is recovering from the biggest financial crisis for generations. The actions this Government has taken to reduce our deficit and rebuild our economy have helped restore stability and there are now encouraging signs for the UK: businesses surveys for January show all sectors growing; inflation fell significantly in January, which is much needed good news for family budgets; consumer confidence rose according to Nationwide; and retail sales saw a strong start to the year, significantly exceeding market expectations.
So it can be said that the UK has taken decisive action to put our own house in order. The immediate challenge for Europe, of which we are a central part, is to sort out the problems of the Eurozone and to restore growth. Europe is our neighbourhood and still our largest market. It is in Britain's interest to see our neighbours' problems sorted out.
So we support the Eurozone's efforts to implement the package of measures agreed last October. Europe's banks must be properly capitalised. We need a firewall big enough to deal with the full extent of the crisis. We need to restore stability to Greece, which remains an acute challenge, as this morning's papers demonstrate. I welcome progress on an additional 130bn euro package and work is ongoing as we speak. Eurozone leaders have stood behind their currency and are trying to place Greek debt on a sustainable footing.
And given the subject matter of today's conference, I should make clear the Government welcomes the improvements in economic governance in the Eurozone - both in last year's 'six pack' of governance measures and in the new proposals - the so-called 2 pack. They will play an important role in improving fiscal stability in the euro area, which will help our economy too.
But, ladies and gentlemen, we face a more fundamental challenge: economic power is shifting from West to East and from North to South and diffusing away from both states and governments into the immense power of the world wide web and the entire social network is increasingly playing its part. New landscapes are emerging as are new types of competition. The IMF forecast China to grow in 2012 by 9%, India by 7.5% and Africa by 5.8%; the EU is forecast to contract by 0.3%. Chinese growth provides a big opportunity as a market for our goods. The problem is that western growth has stalled. Unemployment is rising - more than 24 million people are out of work across Europe, an additional one and a half million unemployed compared to a year ago. Other countries are making what we make - but they're making it more cheaply, better and with more advanced technologies. Other countries are creating ideas for things which we don't make - but of course we could. Just this week, we learnt that Brazil has taken the UK's place as the 6th largest economy in the world, owing in large part to its vast size. We have even more reason to increase our competitiveness or risk being left behind.That is what that simple statistic reminds us.
Addressing both these challenges is central to our government's agenda.
The Hannay Question
Before I go further on this subject, just let me now deal with one particular issue that comes up again and again in the House of Lords, given the importance that we place on Europe for the future, I want to head off claims of isolationism up front. Let me be totally clear: this government wholeheartedly believes that our national interest is best served by being a willing and active member of the EU and of course by all kinds of other international community structures in this thoroughly interdependent world, including I may say the Commonwealth, which I have responsibility. But Europe cannot isolate itself from the changes happening in the world. Nor can the UK isolate itself. Our response to a changing world puts Europe front and centre. So there is no isolation argument here, we are in fact more involved than ever and anyone who doubts that should try sitting behind my desk in the Foreign Office.
Britain has not signed the Fiscal Compact, but we intend to continue playing a strong forward role in the European Union. We are driving a like-minded group on growth which spans euro ins and outs. Ahead of the March European Council, the Prime Minister set out an action plan for jobs and growth in a letter to Mr Barroso and Mr van Rompuy to which 11 other EU leaders signed up. This letter effectively became the agenda for the Council and our ideas gained broad support from Heads of State and Government from across Europe from Lisbon to Warsaw. Our proposals on free trade, deregulation and completion of the single market were included in the final communique from the summit, agreed by all 27 Member States.
We are comfortable with an EU operating on different levels along alternative pathways. In this age of the World Wide Web and self-assembled networks, the EU should offer the flexibility and resilience of a network rather than the rigidity and vulnerability of a bloc. Flexibility is needed in certain laws and regulations, particularly in the context of a fixed exchange rate and the euro itself. Indeed that is a point that Nigel Wicks makes in his brilliant contribution to the online publication that accompanies this conference. Too much harmonisation stifles innovation, so while we are in the EU, but neither in the Euro nor Schengen. We opt out of many justice and home affairs provisions. We reject the concept of inner and outer cores, or fast and slow lanes. Like most people in Britain, we do not want to say yes to everything in the EU, but nor do we want to say no to everything in the EU.
When it is in our national interest, we participate fully in the EU. We are amongst the group of Member States pushing ahead with a EU patent which promises to deliver savings to business and encourage innovation. We have one of the best records for implementing EU legislation. We champion the single market and are open to foreign ownership of major companies operating in the UK. I expect many of you heated your home this morning with energy provided by a EU company or used public transport or a mobile phone operated by EU providers. The UK accounted for around 12% of total contributions to the EU budget last year.
On a wide range of issues which go to the heart of Europe's place and role in the world - the single market, improving Europe's competitiveness and taking tough action on Syria and Iran - we play a leading role and there is no distinction between Eurozone and non-Eurozone members at all.
Our vision for Europe: how a changing Europe can help the UK maintain competitiveness in a changing world
Let me just say a word about what George Bush called this 'vision thing', there can be little doubt that Britain's membership of the EU has allowed us to reap economic benefits. UK trade with EU Member States is worth £200 billion per year to our economy. Our membership of the Single Market provides British business with access to 500 million consumers without customs and trade barriers. Many things that we take for granted are owed to European co-operation: the ease and low cost of travel in Europe; the fact that we can retire to Spain and draw our pension there; that we can work anywhere we want in Europe and can use our mobile phones at lower cost when we get there.
But with the rise of emerging markets now is the time to ask: what kind of Europe do we actually want? For the UK, the answer is clear. Our vision is a Europe that is strong, reformed and outward-looking. Europe can play an important role in guaranteeing the UK's future prosperity and security through trade, energy security and extending our reach through its external policy.
Let me turn first to trade. Alone, the UK's GDP is obviously dwarfed by the likes of the United States and China. Our strength in trade bargaining is bound to lie in acting together. Together, the EU has the highest GDP in the world. With its combined weight, the EU can press ahead with new and ambitious trade deals.
The UK has already benefited from EU Free Trade Agreements. The South Korea Free Trade Agreement alone is expected to save European exporters £1.35 billion annually in tariff reductions. It is expected to benefit the UK economy by about £500 million per annum. And over the coming months we hope to conclude EU Free Trade Agreements with India, Canada and Singapore, all three of which are active and leading Commonwealth countries. Completing all the bilateral trade deals now on the table could add 75 billion pounds to Europe's GDP.
There are also opportunities to deepen economic integration between the EU and US, including through a Free Trade Agreement, which if realised would have a bigger impact than all of the other agreements put together. Our ambition does not stop here. We are working towards an EU-Japan Economic Partnership Agreement that will help to strengthen our relationship with a key partner in Asia, and will reinforce our own powerful and intimate bilateral relationship with that remarkable country which accounts for 9% of the world's GDP.
Secondly, we have a goal to create well-functioning and integrated EU electricity and gas markets. We want to harness the benefits of Europe as a network. Increased competition should put downward pressure on prices, which is much needed. Greater market integration will encourage innovation and green growth. And increased trade and diversification should also reduce our vulnerability to supply and price shocks. A single market in energy - which we want to achieve by 2014 - could add 0.8% to EU GDP, but will need vast investment in new interconnectors, transmitting electricity and gas across the European continent.
But Europe is about more than trade. It always has been. In the last 12 months, EU sanctions have been used to bring collective EU pressure to bear against regimes involved in human rights violations or which posed a security threat. These include Libya (under Qadhafi) Iran, Syria, Zimbabwe, Burma and Belarus. The EU has helped defuse tension between Kosovo and Serbia and bring stability to Bosnia and Herzegovina, and of course we have to continue working on that very hard. And in response to the Arab Spring, an epochal historical event in our neighbourhood and which demanded a response from us that recognised its importance, the EU reformed the European Neighbourhood Policy providing significant incentives for those countries seeking meaningful reform, underpinned by clear conditions and of course is backed by our own Arab Partnership Programme.
So the potential is there for the EU to help us all maintain our standing in the world. And we are determined to help the EU fulfil this potential.
How will we help Europe adapt to a changing world to deliver this vision?
We are pressing the EU to take action now to lay the foundations for our long term prosperity. This is why our Prime Minister among twelve heads of government sought and obtained concrete commitments to action at the recent European Council.
The Single Market is Europe's greatest economic achievement. But it is not yet complete. Since it was created, our economies have shifted towards services; technology has changed enormously, meaning that more business is done online. Over 40% of Europeans buy goods online but fewer than 1 in 10 of us have bought something online from a trader in another EU country. We must help Europe complete the Single Market - in services, online, and yes, in financial services as well. Completion could translate into an additional 7% of UK GDP and 14% at the EU level.
We need to push the Commission to reduce the cost of doing business. We can't compete globally if it costs 3 times as much to open a business in the EU as it does in Brazil. That is wrong; but we are making progress. Two weeks ago, we achieved agreement in Brussels exempting small businesses from certain EU accounting rules. These measures will significantly simplify the preparation of annual accounts for more than 5 million of Europe's smallest companies and will result in potential savings of up to €3.5 billion Euros annually for micro-businesses, including around 1.2 million small businesses in the UK. And we are working with other Member States to push the Commission to carry out a growth test for all new proposals and only take forward those that have a positive impact on growth, on enterprise and on innovation investments.
Our future prosperity depends on matching the most nimble economies in harnessing key innovation processes. For every Euro invested in venture capital in the EU, five Euros are invested in the US. We need to act decisively to improve investment opportunities for innovative start ups, fast growing companies, and small businesses. To do this we need to create an EU wide venture capital regime.
Conclusion:
Ladies and Gentlemen, standing outside the Euro does not lessen our commitment to the European process and nor to the efforts of those trying to sort out the short term crisis which is having such a chilling effect on our economy and indeed the global economy, nor as a means of securing our place in the world.
The question of influence is vitally important. But the issue is less the UK's position in Europe, but Europe's position in the world. People want to be a member of a club that is successful and offers prospects. Whilst the Eurozone is seeking to remedy the flaws in its economic governance model, we need to set our sights higher on creating a solid economic framework for the future. That is the thinking behind the Prime Minister's growth initiative. We need the EU to reform now so we can compete in the future. Otherwise we will leave a diminished place in the world for the next generation and confront the new landscape and the new distribution of power that I have described.
I am often asked how we can increase our influence in Brussels. My answer is this. If you share our agenda for reform, speak out. Don't rely on the Government to make all the running on what you care about in the EU. If one has business operations in other Member States and direct links to the European Commission, they should be using them to argue for the Europe you want to see in the future. The world is changing. We need to change. Europe needs to change. And we need to do so together.
Published 9 March 2012