Speech
Brandon Lewis speech to APCC & NPCC Joint Summit on emergency services collaboration
The Minister for Policing and Fire addressed a room of police leaders on the benefits of emergency services collaboration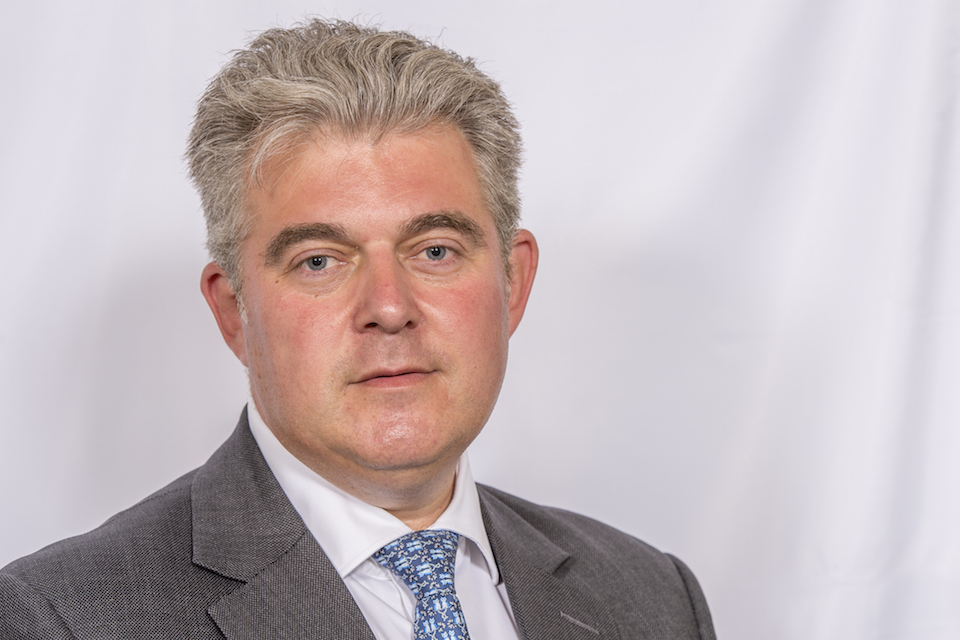 David, thank you and thank you for inviting me to speak at this year's APCC/NPCC conference. I am pleased to see so many leaders from across the police and fire service here today. Many of you I know already and I hope to get to know you all personally over the next few years.
And I want to start by saying thank you. As policing and fire minister I've had the pleasure of travelling across the UK, speaking to many of you about your work, hearing about your plans and seeing how you run your forces. I've seen your commitment, your energy and your leadership. You're an impressive bunch. But today I want to encourage you to be even more ambitious.
My party made a manifesto commitment to enable the police and fire services to work more closely together and to drive police and fire reform. And I think we can safely say that not only do we have a Home Secretary who is deeply committed to that, but a Prime Minister who remains relatively influential in this area too.
So I want to share my reflections on the current state of emergency services collaboration and that journey of travel. And I want to encourage collaboration between emergency services which goes further and faster than ever before. Whether you're a fire fighter in Essex, an ambulance driver in Manchester or an HR manager in the Metropolitan Police, collaboration between emergency services can benefit you.
Benefits of Collaboration
Yesterday the Home Secretary made the case for greater collaboration between the emergency services at this very conference. She explained that better joint working can strengthen our emergency services, deliver significant savings to the taxpayer and - most importantly – enable them to us to better protect the public we serve.
And she's right. Police and fire services can benefit from greater, better and stronger integration.
Just look at the evidence compiled by the Emergency Services Collaboration Working Group, chaired by PCC David Lloyd. They have a wealth of examples which demonstrate just how beneficial working together can be:
In Essex burglaries are down across the county by nearly 30% because of innovative joint preventative working between the police and fire services. It uses predictive analytics to deploy fire safety officers and crews into hotspot areas of known criminality.

Another example in London, the Ambulance Service has established a 24/7 service which triages calls from the police to identify whether an ambulance is really needed and so it goes to where it really needs to be, saving police time on the scene and directing clinical resources to real emergencies.

And, in Durham, Police Innovation Fund support is enabling the training of Community Safety Responders where individuals undertake three roles: PCSOs, retained fire-fighters and emergency medical responders. This multi-skilling means they can respond more efficiently to local demands. The issue of retention of retained fire-fighters can be a real challenge, as they want to be out in the community helping people and keeping busy and when they realise that they are not going to be out in a fire engine every day attending incidents, it is hard to keep that interest. So this feeds into that challenge here of keeping that interest and ensuring they are being productive for the community.
I am encouraged by David's announcement today that the Working Group has published an updated National Overview, showcasing even more best practice in joint working right across the country. This should provide you with the evidence to invest in further local collaborative projects and transformational ways of working.
I am grateful to David for his work chairing this group. Over the past two years he has shown real commitment to driving forward blue light collaboration and delivering improved services to the public, and I know he will do the same in his new capacity as APCC lead for Criminal Justice System Reform. Thank you to David for what you have been doing. I look forward to working with PCC Philip Seccombe, the Working Group's new Chair.
More needs to be done
More needs to be done however and we need to highlight the best practice that is going on and to stand up to encourage others. But at the same time we also need to highlight the poor practice and we need those to stand up and explain it.
As policing and fire minister, I've seen first-hand many excellent examples of collaboration. I have genuinely been impressed by the ingenuity and dedication shown by the services to devise innovative solutions to difficult problems.
But while collaboration between the emergency services is showing an encouraging direction of travel, it is not consistent across the country and we need to be doing more to ensure collaboration can go further and faster and to not get trapped into saying 'we don't do that around here'.
I want to see greater progress in embedding smarter working across the blue light services. There are encouraging examples of this which can be learned from. Hampshire's H3 project has successfully integrated police, fire and county council back office functions. Now, this level of integration has benefitted not only staff through greater career opportunities and improved communication but is making savings of around £4milllion every year.
Further, in areas such as Kent and Merseyside the emergency services are already sharing command and control centres in order to improve the service they deliver to the public and to make efficiency savings that can be reinvested into frontline services. This is also improving resilience and means that the services can respond more effectively to multi-agency critical incidents. Kent and Merseyside are encouraging set of examples and more emergency services should be looking at sharing control centres and we should all be looking at what more we could do.
How technology can enable greater collaboration between the emergency services.
Embracing new technology must also be a central part of the next phase of emergency services' innovation.
The Emergency Services Network (ESN) is a good example of how technology can enable the emergency services to do their jobs more effectively and collaboratively. It will be a more capable, more flexible, and more affordable communications network than the existing Airwave radio system that is currently used by the three emergency services and it will provide broadband data services which the emergency services increasingly rely on and that will only develop further.
But we also want to see the emergency services themselves piloting and scaling technologies that can transform service delivery both for the service and for the communities we serve. We need to start looking at progress and developing new ways of working and the opportunities not only for our service but also from the point of view of the victim
For example, the emergency services across Surrey and Sussex are developing a Multi-Agency Information Transfer system, which will enable an electronic connection between existing command and control systems, reducing the current four-minutes it takes to transfer information by phone to the fire service to just a few seconds. Such innovative approaches to contact management could offer substantial benefits if scaled across the emergency services.
Police force collaboration
And whilst I have focused thus far on collaboration between the emergency services, it is clear that police forces should consider more force to force collaboration. Our public expect the police to reform to meet the challenges of modern crime. Forces owe it to the communities they serve to deliver as local leaders you are best placed to determine the sort of collaboration that is in the interests of your local communities.
That is why I was disappointed to read HMIC's efficiency report which detailed that some forces have reduced the pace and ambition of their reform plans over the last year. I am clear and so should you be that now is not the time to put the brakes on. Demand is changing and public expectation is growing and rightly so. Our communities are looking to you to deliver policing that can respond to the challenges of the 21st century. And as a Government we have a duty to do our bit and make collaboration easier.
Enabling collaboration to go further and faster
And as a government we are doing our bit to help make collaboration easier. As the Home Secretary told you yesterday, the Policing and Crime Bill, currently before Parliament, includes a raft of measures to enable further collaboration between blue light services.
A new statutory duty to collaborate will require each emergency service to enter into collaboration agreements where it would be in the interests of their efficiency or effectiveness. Now, this duty is high-level and non-prescriptive and that is in order to recognise that local leaders – people such as yourselves - are best placed to determine the sort of collaboration that is in the interests of their communities. But, it also sets a clear expectation that emergency services can no longer allow collaborative opportunities to pass them by.
I expect to see the emergency services implementing arrangements to keep opportunities for collaboration under review and to draw on evidence and best practice. Once the Bill gains Royal Assent, it is over to you and the other emergency services to take this area of reform forward. Where you identify local or national barriers to further collaboration, I want to work with you to unblock them, and where you have ideas on how local schemes have the potential to be scaled up to the regional or national level, I am really keen to hear them.
Now rightly, the Bill provides that ambulance services should consider their wider NHS functions when deciding how and whether to collaborate. While recognising this, I, and my colleagues at the Department of Health, do expect enthusiastic involvement from the ambulance sector. Ambulance services are facing unprecedented levels of demand, and this needs to be fully involved and making the most out of the opportunities that collaboration provides to improve the service they deliver to patients, deliver better value for money and ultimately to save lives.
PCC governance of fire
In addition to the new duty to collaborate, we will also enable police and crime commissioners to take on responsibility for the governance of their local fire and rescue services, where a local case has been made that it is in the interests of economy, efficiency and effectiveness or public safety.
Those of you who take on responsibility for fire, and of course the combined authority mayors with responsibility for both policing and fire, will also be able to take the additional step of putting in place a single chief officer for both services to drive greater workforce flexibility and to remove barriers to effective collaboration and reduce bureaucracy.
And let me repeat what I have said to many of you before and I make no apologies for saying it again: the provisions in the Policing and Crime Bill are enabling. They effectively provide a menu of choices and are not intended to mandate any particular course of action.
But I want to stress that it is for you - police and crime commissioners - as elected leaders with a clear democratic mandate, to bring forward proposals for taking on governance of fire and rescue. The primacy of the business case rests with you.
And let me go further, to be very clear about the direction of travel. I know that there will be vested interests in some quarters about maintaining the status quo. But ultimately you are accountable to the public who will expect you to grasp the opportunities available to you and to drive forward reform in their best interests. So, just remember that we – you – are here to serve them. I do not want the status quo. And I expect you to act with this in mind. If there is a PCC who has a clear case and a fire service saying that they do not want to do this because they want to keep in place what they already have, this will not be enough.
So it has been good to hear that a number of you are already working hard on developing local business cases and I would encourage you to continue to engage with my officials so we can best support you with that process.
Police transformation fund
Beyond the statutory provisions of the Policing and Crime Bill, the Police Transformation Fund presents a real opportunity for the transformation of local services.
As the Home Secretary reiterated yesterday, the Home Office no longer believes it runs policing – and it doesn't. It is for PCCs and chief constables – working together in the interests of our communities and policing as a whole – to lead and implement the next stage of police reform. Because reform must continue. We cannot stop. There is more to do and it is not good enough to say the job is done when we all know it isn't.
I have been impressed by the speed at which policing has taken on this challenge through the vehicle of the Police Reform and Transformation Board – taking ownership of – and driving – the Police Transformation Fund already provided funding of £23m in August, including £5.3m for the national expansion of Police Now and £8.5m to Devon and Cornwall to tackle Modern Slavery.
I would like to re-iterate my support for the Policing Vision 2025 and the strong framework that sets out for future bids to the transformation fund. Everyone in this room must make sure they are taking and are fully exploiting the opportunities presented by the fund. I welcome the decision by the PRTB to ask the Emergency Services Collaboration Working Group to assist the evaluation of future funding bids to ensure that collaboration is at the heart of transformation.
Conclusion
For me, it's now clear that collaboration can no longer and must no longer be regarded as simply 'nice to have' and something to think about in the future. It's an essential plank of the next stage of reform and must now become the norm across the country. We, as the Government, are fully committed to playing our part but it is now over to you to make this a reality locally. I will celebrate your success loudly and there is much to celebrate but I will constantly encourage you to go further and do more to capitalise on the opportunities available to you. It is right that everyone in this room, myself and Government included, strives to deliver the best service to the public we possibly can. I welcome this challenge and I hope you do too. Thank you.
Published 18 November 2016