Speech
Ambassador Malone's speech on the Queen's Birthday Party
British Ambassador to Laos Philip Malone held a speech at the Queen's Birthday Party on 10 June 2014 at the British Ambassador's Residence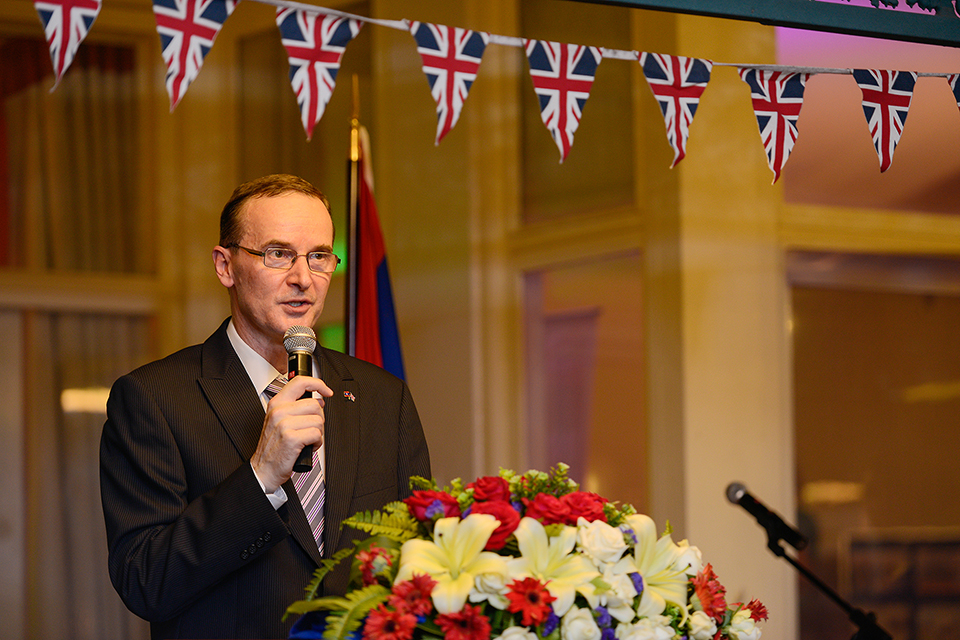 His Excellency, Mr Somdy Douangdy, Minister for Planning and Investment, Her Excellency Madame Sounthone Xayachack, Deputy Minister for Foreign Affairs, honourable representatives from the Ministries and the National Assembly, my Ambassadorial colleagues and others from the Diplomatic community, members of the British community, UK alumni, ladies and gentlemen, dear friends.
First of all, I would like to express my condolences to the government and people of Lao PDR following the tragic plane crash on 17 May which took the lives of their Excellencies Lt General Douangchay Phichit, Deputy Prime Minister and Minister for National Defence and Mme Phichit, Dr Thongbanh Sengaphone, Minister for Public Security, Mr Soukanh Mahalath, Mayor of Vientiane and Mr Cheuang Sombounkhanh, Head of the Propaganda and Training Board of the Lao People's Revolutionary Party Central Committee, along with officials of the Lao PDR government.
It is an honour for my wife, Sarah, and I, as well as the whole team at the British Embassy, to welcome you to Her Majesty The Queen's Birthday Party here at the British Ambassador's Residence in Vientiane. It has been 30 years since we last hosted a Queen's Birthday Party at this Residence. I am proud and privileged to have the honour of hosting tonight's event and to be able to bring this house back into service as the British Ambassador's Residence in Vientiane following many years as the Residence of the Australian Ambassador. I am grateful to Ambassador John Williams and all his predecessors for having taken such good care of our house in the meantime!
Indeed, the British Residence is very much a symbol of the British diplomatic presence here in Laos, having been built by the British government in the 1950s following the establishment of diplomatic relations. As many of you will recall, I arrived here just over 18 months ago to re-open the British Embassy. Since then, our bilateral relations have strengthened in many areas and I am grateful to everyone here today for your work with us to develop our co-operation.
I am especially pleased to welcome His Excellency Ambassador Sayakane Sisouvong who is here this evening and will in the next few days take up his post as the first resident Lao Ambassador in London since 1985. I would also like to welcome back to Laos Dr Khouanta Phalivong who was cross-accredited to London from Paris as non-resident Ambassador until earlier this year and has assumed his duties as Director-General for Europe and the Americas at the Foreign Ministry. As I have discussed with both on recent occasions, the re-opening of the Lao Embassy in London will enable a further strengthening of our relationship in the coming months and years. I look forward to continue working together with them on this. The UK/Lao relationship is in good shape and has, I believe, become deeper and wider over the last year or so. Our political dialogue has developed and we have agreed to hold regular consultations in a structured format between our respective Foreign Ministries. This will become increasingly important over the next year or so as the ASEAN Economic Community takes shape and Laos assumes the Chair of ASEAN in 2016 against a backdrop of increasing trade and security challenges in South East Asia.
Along with our EU and other international partners, we would like to work together with Laos to help make these significant events as successful as possible. We will also continue our dialogue in key areas of UK interest such as good governance, human rights, climate change and sustainable economic development. I am pleased to note that UK/Lao bilateral trade continues to grow. We are working closely with British companies based in Laos and in the region as well as the European Chamber of Commerce to increase the British business profile in Laos. We have a Special Trade Envoy, Lord David Puttnam, whom several of you have met on his visits to Laos. He will visit us again, for his third visit in 12 months, later this year. One of the UK's business success stories in Laos has been the Land Rover range of vehicles and I am very grateful to Lao Land Rover for providing the outstanding display of cars this evening at the front of the Residence. They have also included one of the latest Jaguar models which they will be launching in Laos very soon. So do take a look if you haven't already!
Other areas of co-operation are growing. In the education sector, we are seeing the development of a number of collaborations between UK Universities and the National University of Laos. Our Chevening scholarship scheme has been enhanced by a partnership with Warwick University and the UK government will increase funding for Chevening scholarships next year. We are also working with the Ministry of Education and a number of UK education providers to further develop English language education in Laos. We were very pleased to host a visit to London earlier this year by Her Excellency Mme Sengdeuane Lachanthaboun, Deputy Minister of Education, to attend the Global Education Forum. We are also developing collaboration with Lao partners in areas linked to organised and cross-border criminal activity such as child protection, anti-money laundering and Illegal Wildlife Trafficking. On the latter issue, the UK government hosted a highly successful conference in London earlier this year and I am grateful to His Excellency Dr Phouangparisack Pravongviengkham, Deputy Minister of Agriculture and Forestry for his attendance at and contribution to that event. I look forward to continued co-operation with the Lao government in these key areas of cross-border security.
The UK is also committed to help Laos achieve the Millennium Development Goals and is providing direct funding in a number of areas such as UXO clearance, child nutrition as well as through major contributions to the Global Fund to Fight AIDS, TB and Malaria and the Global Alliance for Vaccines and Immunisation both of which play significant roles in the prevention of serious disease in Laos. The UK is also providing significant funding to the forestry sector, through the International Climate Fund and other channels, to promote sustainable forestry and Climate change adaptation.
It is also encouraging to note that people-people exchanges are flourishing with significant increases in the number of UK visitors to Laos and, since we established the visa application service at the Embassy here in Vientiane, the number of Lao people visiting the UK: a 59% increase in the last year. The trend is certainly up and I am sure this will only increase in the coming years.
So a positive picture overall. There is of course always plenty more to be done but I think we can be collectively proud of our achievements over the last year.
Before I finish, I am pleased to say we have once again been able to secure a video message from the British Foreign Secretary, William Hague, which he has recorded for all of the Queen's Birthday Party receptions at the British Embassies throughout the ASEAN region. With your permission, Excellencies, I would like to run the message now.
On that note, thank you for your attention and for attending this evening's reception. And special thanks to our partners this evening: the Mercure Hotel, Carlsberg and Beerlao, Bruntys Cider, the Lao English Premier League Fan Club Association, Mines Advisory Group, Basic Needs and the education institutions exhibiting at our Education Corner; as well as my Embassy colleagues for laying on such a fine display of British creativity and excellence.
I would now like to invite Their Excellencies Mr Somdy Douangdy and Madame Sounthone Xayachack onto the verandah for the traditional toast.
Published 12 June 2014