Promotional material
DIT South West: helping companies export and grow overseas
Updated 19 May 2016
© Crown copyright 2016
This publication is licensed under the terms of the Open Government Licence v3.0 except where otherwise stated. To view this licence, visit nationalarchives.gov.uk/doc/open-government-licence/version/3 or write to the Information Policy Team, The National Archives, Kew, London TW9 4DU, or email: psi@nationalarchives.gsi.gov.uk.
Where we have identified any third party copyright information you will need to obtain permission from the copyright holders concerned.
This publication is available at https://www.gov.uk/government/publications/ukti-teams-in-the-english-regions/ukti-south-west-helping-companies-export-and-grow-overseas
1.

What we do

The Department for International Trade (DIT) South West International Trade Team supports small to medium businesses (SMEs) in the South West of England to develop their international sales.

We help first time or experienced exporters enter new markets.

Our International Trade Advisers (ITAs) provide support to businesses through services tailored to their needs.

Our flexible programme of specialist support is available to businesses located in the South West of England.
2.

Who we work with

We work closely with all the different chambers of commerce in the South West, as well as other local organisations and the Institute of Directors (IoD).

We also work with banks and professional services companies specialising in law and accountancy.
3.

Message from Jason Carter, Deputy DIT Regional Director for the South West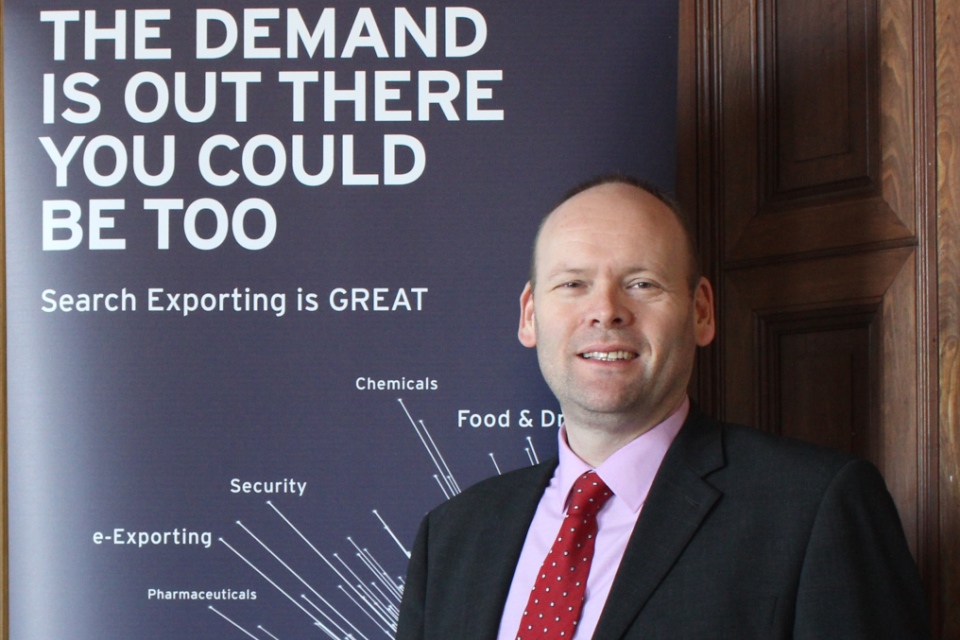 Exporting is crucial to the growth of our regional economy. Most companies can and should export, and those who do find they are more resilient to recessions.
We have an abundance of innovation and ambition in the South West. British products and services have a strong appeal around the world, and the heritage and expertise of companies here make a great contribution to the UK brand. We can even help businesses sell tea to China!
Our role at DIT is to ensure businesses continue to export and make the most of any opportunities available. Contact us now to see how we can help you take your first step to export or support your expansion into further overseas markets. The demand is out there, you could be too.
4.

Contact DIT South West

Contact us if you want to talk about growing your business overseas.
Companies in the South West - export enquiries
DIT South West
Leigh Court
Abbots Leigh

Bristol
BS8 3RA
Contact your local DIT office for enquiries about exporting and find out how DIT can help.
Check to find your nearest DIT Office.
5.

Our services

You can get help to:
identify new export opportunities
overcome barriers to market entry or expansion
develop an appropriate marketing strategy
understand your competition overseas
join market visits
6.

Register for export events

We organise events which help companies develop their export capabilities or enter new markets.
7.

Meet an International Trade Adviser (ITA)

We have over 40 ITAs based across the South West region. They have proven business skills and can give in depth sector and market advice.

ITAs can help with:
export training
business planning
getting contacts in overseas markets
market research
market visits
market promotion and publicity
export documentation
e-commerce
We have sector specialists in:
business services
consumer
creative
defence and security
digital technologies
engineering and manufacturing
fashion
infrastructure
technology
Register your interest in meeting an International Trade Adviser for free.
South West: Your route to export success
8.

Success for companies we've helped

RouteShoot's exports make up 60% of sales after help from DIT

DIT helps Teagle quadruple visitors to its website

Phonic Books increases exports by 25% following market research

DIT readies Tungum for export success in Brazil
9.

Get updates from DIT South West

Follow us on Twitter.

Email us to sign up to our e-newsletter for monthly updates on sectors, international trade news, events and opportunities.