Policy paper
Snitterfield: reducing the risk of flooding
Updated 17 August 2017
© Crown copyright 2017
This publication is licensed under the terms of the Open Government Licence v3.0 except where otherwise stated. To view this licence, visit nationalarchives.gov.uk/doc/open-government-licence/version/3 or write to the Information Policy Team, The National Archives, Kew, London TW9 4DU, or email: psi@nationalarchives.gsi.gov.uk.
Where we have identified any third party copyright information you will need to obtain permission from the copyright holders concerned.
This publication is available at https://www.gov.uk/government/publications/snitterfield-reducing-the-risk-of-flooding/snitterfield-reducing-the-risk-of-flooding
The Environment Agency and Warwickshire County Council, along with Stratford-upon-Avon District Council and Snitterfield Parish Council worked in partnership to deliver a long term solution to the health and safety issues associated with the culvert which carries the Bell Brook through Snitterfield. The project significantly reduced the health and safety risk posed by the existing culvert as well as reducing the risk of river flooding along The Green.
Background
The Bell Brook was culverted for 410 metres and passed directly underneath residential properties in Snitterfield. The culvert is owned by 30 riparian owners, including Warwickshire County Council, commercial developers and home owners. It was in a poor condition, with defects including undermined side walls, displaced bricks and a distorted soffit.
In January 2015 part of the culvert collapsed, causing a large hole in a resident's garden, increasing concern for both flood risk and the safety of the local community.
The Environment Agency carried out emergency works to remove debris and temporarily stabilise the structure, also monitoring the culvert with regular site visits and CCTV surveys.
The Environment Agency managed to secure funding for emergency works to deliver longer term improvements. The complexity of the site meant that the only viable solution was to bypass the culvert and make the existing culvert safe. The cost of the scheme was £2.7million.
The solution
A new culvert was constructed from Sherbourne House, along the field at the rear of properties on The Green. The culvert crosses the open land downstream of Brooklands where it joins the Bearley Brook. Between the Bearley Brook and Horseshoe Cottage, downstream of Smiths Lane the culvert was replaced on its existing line. Warwickshire County Council Highways department fully funded the cost of the Smiths Lane crossing.
The existing culvert along The Green was also stabilised and additional gullies installed to improve the drainage of surface water run-off from the road.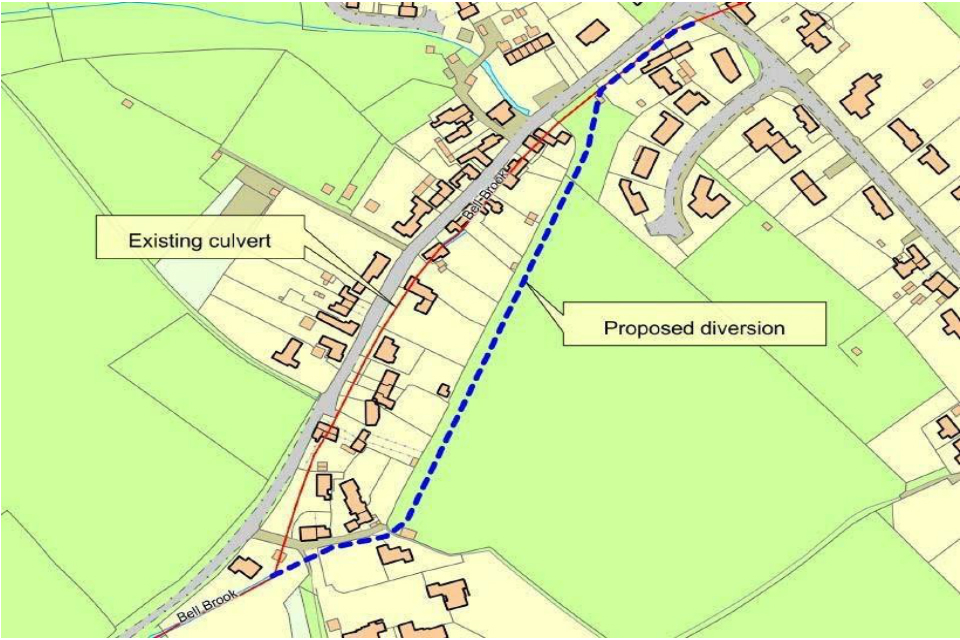 Construction update: July 2017
The construction work has now been completed. On Friday 21 July, MP Nadhim Zahawi, members of the Environment Agency, Warwickshire County Council, Stratford-upon-Avon District Council, Snitterfield Parish Council and North Midlands Construction formally opened the scheme.
Contacts
If you have any questions in relation to these works please email Enquiries_WestMids@environment-agency.gov.uk.