Policy paper
River Thames Scheme: reducing flood risk from Datchet to Teddington
Updated 12 April 2019
© Crown copyright 2019
This publication is licensed under the terms of the Open Government Licence v3.0 except where otherwise stated. To view this licence, visit nationalarchives.gov.uk/doc/open-government-licence/version/3 or write to the Information Policy Team, The National Archives, Kew, London TW9 4DU, or email: psi@nationalarchives.gsi.gov.uk.
Where we have identified any third party copyright information you will need to obtain permission from the copyright holders concerned.
This publication is available at https://www.gov.uk/government/publications/river-thames-scheme-reducing-flood-risk-from-datchet-to-teddington/river-thames-scheme-reducing-flood-risk-from-datchet-to-teddington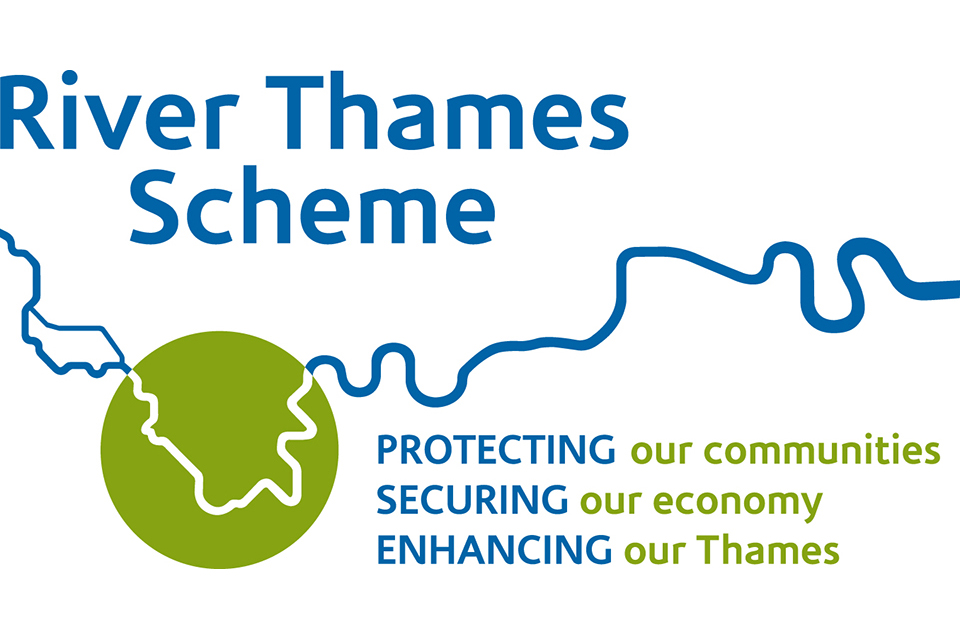 The River Thames Scheme
The River Thames Scheme will reduce flood risk to people living and working near the Thames. It will enhance the resilience of nationally important infrastructure, contribute to a vibrant local economy and create many recreational opportunities.
Between 2020 and 2025 the Environment Agency will build a new flood channel alongside the River Thames to reduce flood risk to properties in communities in Datchet, Wraysbury, Egham, Staines, Chertsey, Shepperton, Weybridge, Sunbury, Moseley, Thames Ditton, Kingston and Teddington.
The channel will be built in 3 sections and includes widening of the Desborough Cut and increasing the capacity of weirs at Sunbury, Moseley and Teddington by installing additional weir gates.
15,000 homes and 2,400 business will be better protected from flooding. Road, rail, power and water networks will be more resilient. 106 hectares of new public open space and 23km of new pathways will be created, as well as improving biodiversity for wildlife through the creation of 250 hectares of new habitat.
Construction of the new channel gives the opportunity to create habitats for wildlife and recreation activities including walking, cycling, boating and angling.
As development work continues, the Environment Agency are working with communities between Datchet and Teddington to increase their resilience to flooding. This includes working with emergency services, local councils and other organisations to co-ordinate their response during major floods.
Latest news
Read the latest news stories about the River Thames Scheme.
Outline design complete The River Thames Scheme now has the final outline design, together with proposals for landscape enhancement, recreation opportunities and habitat creation.
2018/19 Ecological surveys As part of the Environment Agency's work to manage the environmental impact, further ecological and environmental surveys are being carried out this year.
2018/19 Archaeology surveys Ground investigations will establish the significance of any archaeological remains along the route of the proposed flood channel.
History of flood risk
The River Thames between Datchet and Teddington has the largest area of undefended, developed floodplain in England. Over 15,000 homes and businesses within the area are at risk from flooding.
There have been serious floods in this area over the past 100 years. Large floods occurred in 1947, 1968 and 2003.
In January and February 2014 there was prolonged and widespread flooding with approximately 1,000 homes and many businesses affected. The River Thames is slow to rise and fall and it takes weeks for flood water in this area to dissipate, prolonging the devastation.
The estimated economic impact of a major flood is currently around £1 billion but damage could be twice as great by 2055 because of the impact of climate change.
Flood Channel Design
The River Thames Scheme now has a final outline design. This includes proposals for landscape enhancement, recreation opportunities and habitat creation.
During development, over 50 different options were considered to manage flood risk between Datchet and Teddington. Data collection, surveys and engagement with stakeholders and communities have enabled the project team to design the most effective channel.
Read more about the River Thames Scheme final outline design
Creating new public open spaces
The aspiration for the River Thames Scheme is to be more than just a flood scheme, providing a legacy of landscape enhancement, habitat creation and recreational use.
There is a landscape vision for the scheme that connects the new flood channel with existing heritage sites and key landscape features. The scheme design includes the proposal to create 4 new country parks along the route of the new channels.
These new country parks feature raised landforms, to allow views across the landscape. The parks could include a range of visitor facilities: visitor information points, bird watching areas, footpaths, car parks and fishing platforms. The proposals include a new wetlands centre at Abbey Meads, with habitats for a range of wintering birds.
The areas around the flood channel include new footpaths and cycle paths designed to improve connections with existing paths. Foot bridges will built across the flood channel to join footpaths and the flood channel itself will provide opportunities for fishing, boating and canoeing on some sections.
View the landscape drawings for the scheme.
Funding
£354 million, more than half the funding required for the construction of the scheme, has now been identified. This includes government investment of more than £290 million and partnership funding of more than £60 million. Partners are continuing to work together on negotiations with government, business and industry to secure the remaining funding.
Partners
The River Thames Scheme is being delivered in partnership by:
Environment Agency
Elmbridge Borough Council
Royal Borough of Kingston upon Thames
London Borough of Richmond upon Thames
Runnymede Borough Council
Spelthorne Borough Council
Surrey County Council
Royal Borough of Windsor and Maidenhead
Department for Environment Food and Rural Affairs (Defra)
Thames Water
Thames Regional Flood and Coastal Committee (RFCC)
Next steps
The project team are working with partners in preparation for the planning application. The planning application will include the opportunity for communities to discuss the proposals and details of how to get involved will be published later this year.
Reports
Detailed reports on the schemes plans and progress. River Thames Scheme: strategy appraisal report
Consultations
View the consultations regarding the River Thames Scheme.
Find out more
To receive e-newsletters from the River Thames Scheme please sign up here. Any questions about the scheme can be emailed to rts@environment-agency.gov.uk.