Policy paper
River Thames Scheme: reducing flood risk from Datchet to Teddington
Updated 22 December 2017
© Crown copyright 2017
This publication is licensed under the terms of the Open Government Licence v3.0 except where otherwise stated. To view this licence, visit nationalarchives.gov.uk/doc/open-government-licence/version/3 or write to the Information Policy Team, The National Archives, Kew, London TW9 4DU, or email: psi@nationalarchives.gsi.gov.uk.
Where we have identified any third party copyright information you will need to obtain permission from the copyright holders concerned.
This publication is available at https://www.gov.uk/government/publications/river-thames-scheme-reducing-flood-risk-from-datchet-to-teddington/river-thames-scheme-reducing-flood-risk-from-datchet-to-teddington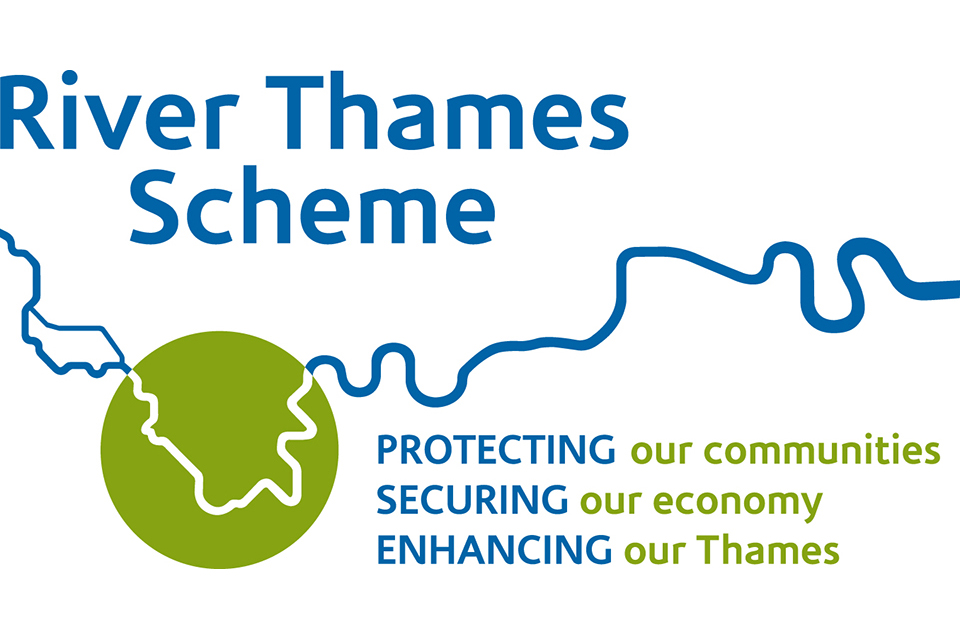 Background to the River Thames Scheme
The River Thames Scheme will meet the recommendations set out in the Lower Thames Flood Risk Management strategy finalised in 2009, after consultation with other public bodies, businesses and residents. The scheme is a proposed programme of projects and investment to reduce flood risk in communities near Heathrow, including: Datchet, Wraysbury, Egham, Staines, Chertsey, Shepperton, Weybridge, Sunbury, Molesey, Thames Ditton, Kingston and Teddington.
The River Thames between Datchet and Teddington has the largest area of developed floodplain in England without flood defences. Over 15,000 homes and businesses within the area are at risk from flooding.
The scheme consists of:
large-scale engineering work to construct a new flood channel between 30 to 60 metres wide and 14 kilometres long, built in 3 sections: Datchet to Hythe End flood channel; Egham Hythe to Chertsey flood channel; Laleham to Shepperton flood channel.
improvements to 3 of the existing weirs on the River Thames
improved flood incident response plans
creation of over 40 hectares of biodiversity action plan habitat
working with communities to raise flood awareness and support them in flood preparedness, response and recovery
providing community resilience measures to homes and communities to make them more resistant to flooding
Why the scheme is needed
The scheme seeks to maximise the benefits for people and the environment by working with a variety of organisations and communities.
The shared vision is: protecting our communities; securing our economy; enhancing our Thames.
The River Thames between Datchet and Teddington has the largest area of developed floodplain in England without flood defences. Over 15,000 homes and businesses within the area are at risk from flooding (35,000 after predicted climate change).
Major flooding in this area would cause severe disruption to the local and regional road network. It would suspend several major drinking water abstractions supplying the South East and threaten up to 20 local electricity sub-stations.
The Environment Agency has calculated that damages from a major flood could exceed £850 million (£2billion by 2055 taking into account climate change).
Many of the communities in this area have already been affected by flooding with major floods in 1947, 1968, 2003 and most recently in 2014 when approximately 1,000 homes were flooded internally.
Benefits of the scheme
In total approximately 15,000 homes and businesses, significant local infrastructure (roads, sewerage network, power supplies) will be better protected from flooding. The scheme will also provide economic, social and environmental benefits.
All communities between Datchet and Teddington will benefit from the River Thames Scheme. This includes the communities downstream of the flood channel, as the weir modifications will reduce water levels between Walton Bridge and Teddington too. The amount of benefit will vary along this 40 kilometre length of the river, and these benefits will be optimised during the design of the scheme.
Communities remaining at high risk of flooding after the flood channel and weir improvements are complete will also be offered community resilience measures, such as permanent and temporary defences and individual property level measures, to increase their resilience to flooding.
The cost
The scheme, once in place, will save local communities, businesses and critical infrastructure £2.3 billion in damages – a return on investment of £5 for every £1 invested in the scheme. This figure is likely to increase as further work is done to assess the positive benefits for transport and key infrastructure.
Costs of the scheme were previously based on the 2009 Lower Thames Flood Risk Management Strategy. The Environment Agency and its partners have taken the 2009 costs and updated them using construction inflation and to reflect changes in landfill tax.
The scheme is now estimated to cost £476 million for the design and construction phase. The costs will be updated as the scheme progresses. The project team will continually monitor costs closely to ensure the best value for public money.
The scheme is eligible for funding from central Government of £212 million, including Grant in Aid funding of £152 million and an additional investment of £60 million. Partnership funding of over £36 million has also been secured. The River Thames Scheme partners are exploring all opportunities to secure the additional funding required. The leader of Surrey County Council has set up a funding group, which will target beneficiaries and seek contributions
Timescales
| | |
| --- | --- |
| Approval of outline business case for government funding | 2018 |
| Submission of planning application | 2018 |
| Approval of full business case by HM Treasury | 2019/20 |
| Contract award (commence construction) | 2020/21 |
| Readiness for service | 2024/25 |
| Contract completion (complete landscaping works) | 2028/29 |
Partners
Working in partnership is important to the success of the River Thames Scheme. Partners include:
Environment Agency
Elmbridge Borough Council
Royal Borough of Kingston upon Thames
London Borough of Richmond upon Thames
Runnymede Borough Council
Spelthorne Borough Council
Surrey County Council
Royal Borough of Windsor and Maidenhead
Department for Environment Food and Rural Affairs (Defra)
Thames Water
Thames Regional Flood and Coastal Committee (RFCC)
Ecological surveys
The programme of ecological surveys began in April 2012. The aim of the surveys is to collect baseline data required for ecological features, water quality and groundwater.
This information informs the engineering scheme design, the mitigation needed to develop an environmentally acceptable scheme and to enable assessment under the Conservation of Habitats and Species Regulations 2010 and the Countryside and Rights of Way Act 2000.
The findings will be used in the outline designs of the flood channel and in supporting the Environmental Impact Assessments.
Community resilience measures
The project team are working with communities that will remain at high risk of flooding (after the channel and weir improvements have been made), to explore options to improve community resilience. These may include community-based permanent and temporary defences and individual property-level measures, like property-level products.
The options will then be shared with the communities, who will be fully involved in the decision over which options are taken forward.
Property-level products have already been installed in some properties. However, the team will not be installing property-level products to any more homes until they have explored other options that may give greater benefits.
Major flood response protocol
A 'major flood response protocol' for the River Thames from Maidenhead to Teddington was launched in March 2015. This is to enable the emergency services, local councils and other organisations to co-ordinate their response during major floods.
The Environment Agency has worked closely with the Thames Valley and Surrey local resilience forums and with local council emergency planners to produce this plan and has used lessons learned from previous flooding.
Contact details
For further information or to get involved in community discussions, email rts@environment-agency.gov.uk.