Guidance
Plug-in car grant eligibility guidance
Updated 24 May 2018
© Crown copyright 2018
This publication is licensed under the terms of the Open Government Licence v3.0 except where otherwise stated. To view this licence, visit nationalarchives.gov.uk/doc/open-government-licence/version/3 or write to the Information Policy Team, The National Archives, Kew, London TW9 4DU, or email: psi@nationalarchives.gsi.gov.uk.
Where we have identified any third party copyright information you will need to obtain permission from the copyright holders concerned.
This publication is available at https://www.gov.uk/government/publications/plug-in-car-grant/plug-in-car-grant-eligibility-guidance
1.

Car eligibility

For a car to qualify for the plug-in car grant scheme, manufacturers need to demonstrate that their completed vehicle (chassis and bodywork) has type approval or individual vehicle approval and meets the grant criteria. These criteria have been set to ensure that vehicles meet an agreed level of performance and safety.
2.

Multi-stage builds

To qualify for the plug-in car grant any multi-stage built M1 vehicle will need to have been approved as a completed vehicle (eg comprising both chassis and bodywork). An approval for a vehicle that has not been completed will not be accepted. This is to make sure that vehicles driven off the forecourt when bought by the public meet the plug-in car grant criteria.

Manufacturers will need to consult the Vehicle Certification Agency to obtain completed vehicle approval.
3.

Eligibility criteria for the plug-in car grant
3.1

Vehicle type

Only new cars are eligible (vehicle category 'M1′). This includes pre-registration conversions (normal, internal combustion engine cars that were converted to battery or hybrid versions by specialist convertors before the car's first registration). Motorbikes and quadricycles are not covered.
3.2

Carbon dioxide exhaust emissions

Vehicles must emit less than 75 grams of carbon dioxide (CO₂) per kilometre driven.
3.3

Range

Electric vehicles must be able to travel a minimum of 70 miles between charges. Plug-in hybrid electric vehicles must have a minimum electric range of 10 miles.
3.4

Minimum top speed

Vehicles must be able to reach a speed of 60 miles per hour or more.
3.5

Warranty

Vehicles must have a:
3-year or 60,000-miles vehicle warranty (guarantee)
3-year battery and electric drive train warranty, with the option of extending the battery warranty for an extra 2 years
Note: 'drive train' means the parts that send power from the engine to the wheels. These include the clutch, transmission (gear box), drive shafts, U-joints and differential.
3.6

Battery performance

Vehicles must have:
either a minimum 5-year warranty on the battery and electric drive train as standard
or extra evidence of battery performance to show reasonable performance after 3 years of use
3.7

Electrical safety

Vehicles must comply with certain regulations (UN-ECE Reg 100.00) that show that they are electrically safe.
3.8

Crash safety

To make sure cars will be safe in a crash, they must either have:
European Commission Whole Vehicle Type-Approval (EC WVTA, not small series)
or evidence that the car has appropriate levels of safety as judged by international standards
4.

Apply to register your vehicle under the scheme

Vehicle manufacturers who want to apply for their vehicle model to be eligible for subsidy under the scheme will need to make a formal application. To do this, you will require an application pack and associated guidance. You can request this from olev.enquiries@olev.gsi.gov.uk.
5.

Eligibility of Vehicles
5.1

Categories of vehicle

Ultra low emissions vehicles are categorised on the basis of their CO2 emissions and their zero emission range. The categories are:
Category 1 - CO2 emissions of less than 50g/km and a zero emission range of at least 70 miles
Category 2 - CO2 emissions of less than 50g/km and a zero emission range between 10 and 69 miles
Category 3 - CO2 emissions of 50 to 75g/km and a zero emission range of at least 20 miles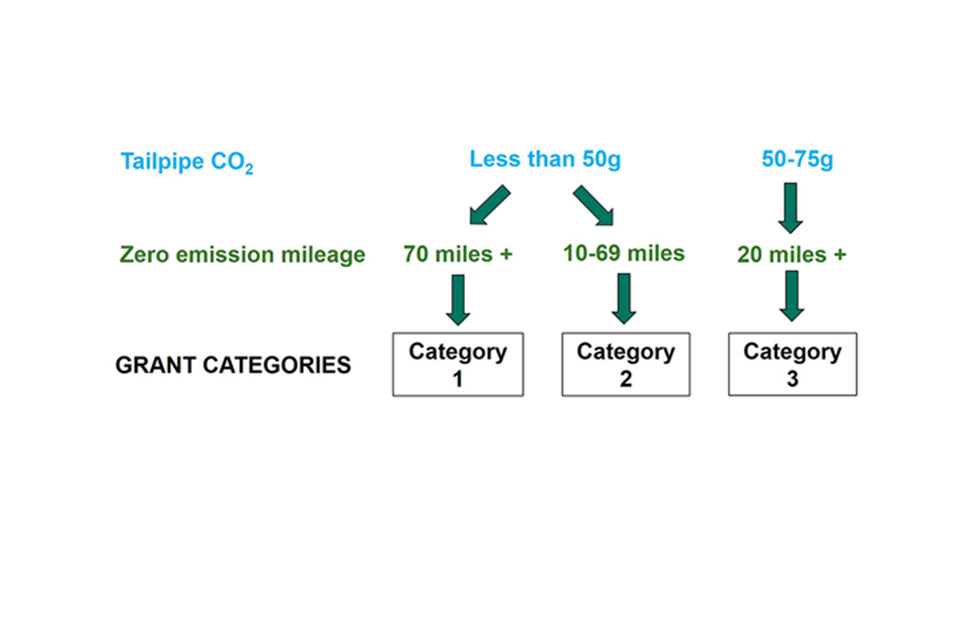 Manufacturers must confirm that a car meets a number of additional requirements before the car is judged to be eligible for the scheme.
5.2

Eligibility of 'premium cars'

Not all ultra low emission vehicles are eligible for the plug in car grant.

Category 2 and 3 ultra low emission vehicles are only eligible if:
the recommended retail price is less than £60,000, and
the full purchase price (including number plates, vehicle excise duty and VAT, excluding any optional extras, delivery charges and first registration fee) is also below £60,000
Category 1 vehicles are eligible for the grant regardless of their price.
6.

Future review of grant levels

The plug-in car grant will be maintained at the current levels until at least October 2018, when a review of grant levels will be carried out. We will try to provide as much notice as possible before any changes to grant levels are made.
7.

Claiming the plug-in car grant

The plug-in car grant is deducted from the price of the vehicle at the point of sale by the dealership. No paperwork is required from the customer, except a survey, to benefit from the grant.