Parole Board Annual Report and Accounts 2017/18
The Parole Board has laid before Parliament its Annual Report and Accounts for 2017/18
Details
The Parole Board laid before Parliament its Annual Report and Accounts for 2017/18 on Thursday 19 July 2018.
Caroline Corby, Interim Chair, said: "It has been a challenging year for the Parole Board, where the need for making our processes and decision-making clearer for victims, the public, and prisoners has been brought sharply into focus.
"We have already taken steps to increase transparency in our decision making by providing summaries of parole decisions to victims and the public. This is only the start and we will continue to make further improvements in 2018/19."
Martin Jones, CEO, said: "It has been another strong performance year for the Parole Board. This includes meeting our long-term objective to eliminate the backlog of cases that had arisen following the Osborn, Booth and Reilly supreme court judgment in 2013. This is down to the exceptional efforts of our membership and staff to safely manage and process a record amount of hearings:
8,137 oral hearings were held – a record number;
Good progress has been made on safely progressing IPP prisoners;
An extensive digitalisation programme for members and staff helped to improve efficiency, resulting in considerable cost savings;
50 new Parole Board members were inducted and trained
"These achievements aren't enough in isolation. Our role is to protect the public and it is only right that our work should be open to scrutiny. Fundamental questions have been asked about the parole system and therefore it is vital that the Parole Board now works with the MoJ to find the right answers to these questions, whilst ensuring fairness and safeguarding our independence.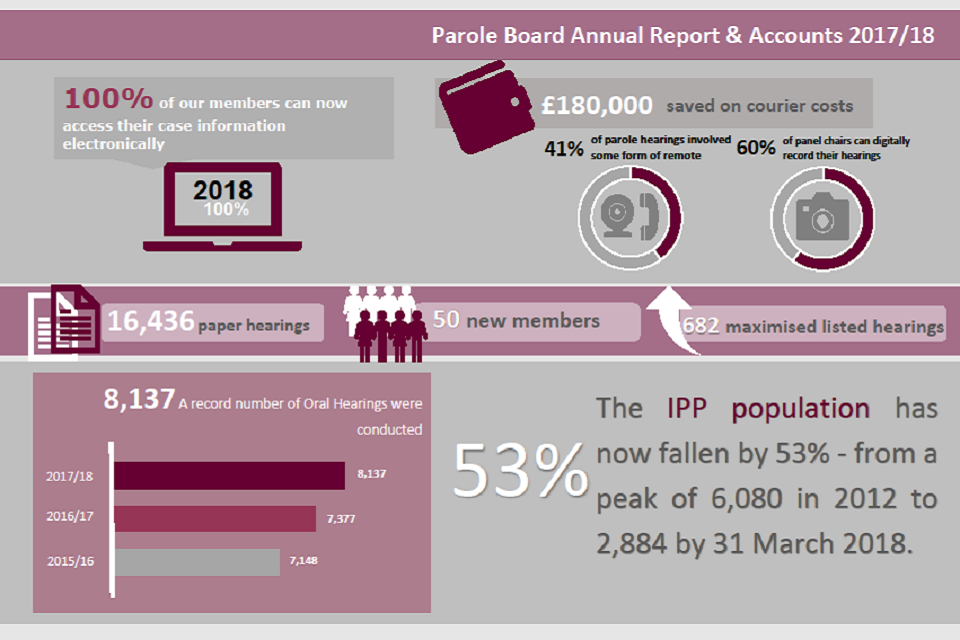 Published 20 July 2018