Policy paper
Oxford flood scheme
Updated 21 December 2018
© Crown copyright 2018
This publication is licensed under the terms of the Open Government Licence v3.0 except where otherwise stated. To view this licence, visit nationalarchives.gov.uk/doc/open-government-licence/version/3 or write to the Information Policy Team, The National Archives, Kew, London TW9 4DU, or email: psi@nationalarchives.gsi.gov.uk.
Where we have identified any third party copyright information you will need to obtain permission from the copyright holders concerned.
This publication is available at https://www.gov.uk/government/publications/oxford-flood-scheme/oxford-flood-scheme
The Environment Agency is working with partners on a major new scheme to reduce flood risk to homes and businesses in Oxford, as well as to services and major transport routes into the city. The Oxford Flood Alleviation Scheme is one of the biggest flood schemes in the country, second only to the River Thames Scheme planned for further down the River Thames. The project team has completed the tender process to choose a contractor to construct the scheme. The scheme cost is now £150m and the team is pleased that the additional funding has been secured.
The scheme partners are Oxfordshire County Council, Oxford City Council, Vale of White Horse District Council, Thames Water, Thames Regional Flood and Coastal Committee, Oxford Flood Alliance, Oxfordshire Local Enterprise Partnership and University of Oxford.
Oxford has the second fastest-growing economy of all UK cities and the scheme will keep Oxford open for business and allow this successful economy to continue to thrive. The scheme will also deliver a long-term green legacy, bringing environmental benefits to the area beyond reduced flood risk.
Planning application
The planning application for the Oxford Flood Alleviation Scheme was submitted in 2018 and is being considered by Oxfordshire County Council. The County Council planners asked for some additional information as part of a further information request.
The consultation period for this additional information will run from 20 December 2018 until 22 January 2019. It is hoped that a final planning decision will be reached in early 2019.
The planning application documents are available to view on the Oxfordshire County Council planning portal.
The project team has been negotiating with landowners to obtain permission to use their land. Landowners impacted by permanent or temporary work, and people who have an interest in land impacted by permanent or temporary work have been contacted directly by the project land agents.
Compulsory Purchase Order
Compulsory Purchase Order (CPO) letters have been sent out to landowners and anyone else who may have an interest in land that is impacted by the scheme on a permanent or temporary basis. Adverts about the CPO have been run in local newspapers. CPO notices have also been put up around the planned Oxford Flood Alleviation Scheme area, where a landowner cannot be contacted, or where more people may have an interest in the land.
Read more about the Compulsory Purchase Order for the Oxford flood scheme.
Why Oxford needs a flood scheme
Oxford has had a number of significant floods in past decades that have caused internal property damage and closed the railway and major roads, bringing the city to a standstill. The Environment Agency maintains rivers and streams and operates weirs and locks in and around Oxford. This work reduces flood risk in Oxford from smaller, more regular floods, but more significant flooding cannot be reduced by watercourse maintenance alone.
Flooding is also expected to become more frequent and more severe with the effects of climate change. The Oxford Flood Alleviation Scheme is designed to manage flood risk to Oxford over the next 100 years.
How the scheme will work
The scheme will enhance the existing floodplain west of Oxford, most of which is farmland and flood meadow. Material will be removed to lower the natural floodplain in this area so it can carry more floodwater. This will create a narrow, deeper channel, which will always carry water, and a wider shallower area to the side of this, which will be planted with vegetation and will only carry water during a flood. This 'two-stage channel' design imitates the natural floodplain whilst making more space for water to flow during flooding.
The second stage wider part of the channel has been designed to be grazed by cattle to create floodplain grazing marsh. This is a new habitat type for the scheme area which will increase habitat diversity.
The scheme area will be approximately 5km long, running from just north of Botley Road, down to south of the A423 near Kennington, where it joins the River Thames. It will divert water across the floodplain and away from properties. The same amount of water that enters the scheme in the north will return to the Thames at Kennington, so flood risk to properties downstream will not increase as a result.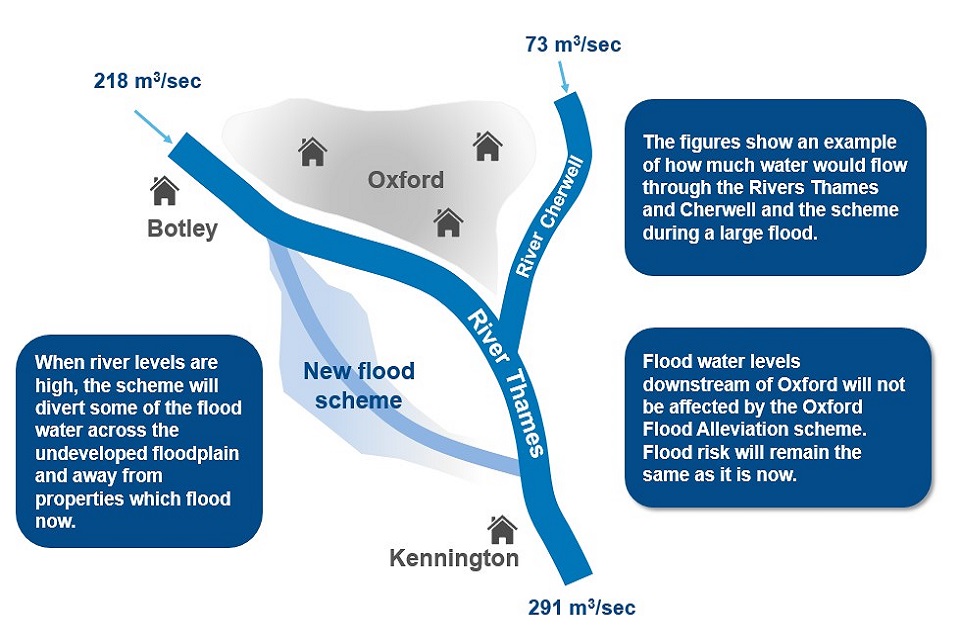 The project team has produced modelling, which has been independently verified and shows that flood risk to downstream properties will not increase as a result of the scheme. In addition, the Vale of White Horse District Council also commissioned a completely independent review of the downstream impact. This was published in December 2017 and confirmed that the scheme will not increase flood risk to downstream properties.
The scheme makes use of the natural channel design and existing streams as much as possible, keeping hard engineering to a minimum. However in some areas additional structures are needed. There will be 3 permanent defences built to protect houses which would otherwise still flood. These will be a combination of embankments and flood walls. There will also be a number of new bridges and culverts to carry water under major roads.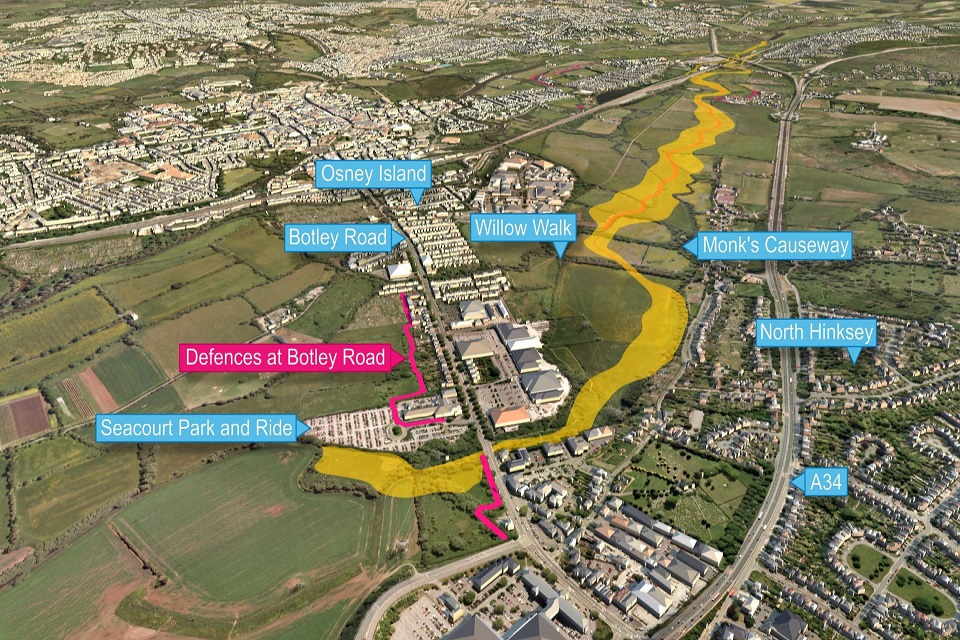 How the Oxford Flood Alleviation Scheme will benefit Oxford
Oxford is home to around 5,300 businesses, provides 133,000 jobs and has approximately 7 million visitors every year. Everyone who lives, works in or visits the city will benefit from the reduced flood risk to the railway and the Botley and Abingdon roads. The scheme will reduce flood risk to all homes and businesses in Oxford currently at risk of flooding from the River Thames. There will also be fewer flood related electricity, telephone and internet disruptions to homes and businesses. Over 80 properties will be less likely to experience sewer flooding.
The scheme is designed to reduce the impacts from a major flood, the size of which Oxford has not experienced since 1947. If the scheme had been in place in 2007 and 2013/14, as well as reduced property flooding, Abingdon Road, Botley Road and the railway would all have remained open, keeping the city open for business.
As well as reducing flood risk in Oxford, the Oxford Flood Alleviation Scheme will create at least 22 hectares of new priority habitat, including for freshwater species. This will create a wildlife corridor that links existing wildlife sites and improves overall biodiversity. The scheme will also improve existing public footpaths and bridges to help to create opportunities for everyone to enjoy the environment and improve their health and wellbeing.
How this partnership scheme is being funded
This ambitious project is made possible through central government funding and local contributions. A record £66.5 million has been raised by partners. These include:
Oxfordshire County Council
Oxfordshire Local Enterprise Partnership
Thames Regional Flood and Coastal Committee
Oxford City Council
Thames Water
When the scheme will be completed
The Environment Agency submitted the planning application for the scheme in March 2018. If all approvals are granted construction will start in 2019 and is expected to take 3 to 4 years.
Find out more
To sign up to newsletters from the Oxford scheme please email: oxfordscheme@environment-agency.gov.uk.
To keep up to date with the project you can like the Oxford scheme's Facebook page and follow them on Twitter.
Oxfordshire County Council Flood Toolkit - this site provides valuable advice on how to prepare for a flood and what you should do during a flood. You can also download our previous newsletters from here.
The Oxford Flood Alliance is a community group campaigning to reduce, and protect people from, flooding in the Oxford area. The site provides a community perspective on the damages of flooding and the benefits of the Oxford Flood Alleviation Scheme.