Guidance
Employment Related Securities Bulletin 21 (September 2015)
Updated 22 June 2018
© Crown copyright 2018
This publication is licensed under the terms of the Open Government Licence v3.0 except where otherwise stated. To view this licence, visit nationalarchives.gov.uk/doc/open-government-licence/version/3 or write to the Information Policy Team, The National Archives, Kew, London TW9 4DU, or email: psi@nationalarchives.gsi.gov.uk.
Where we have identified any third party copyright information you will need to obtain permission from the copyright holders concerned.
This publication is available at https://www.gov.uk/government/publications/employment-related-securities-bulletin/employment-related-securities-bulletin-no-21-september-2015
Taxation of Restricted Stock Units (RSUs) and other securities options
Many employment-related securities options have 'money's worth' when awarded and they will be taxable under Chapter 5 of Part 7 ITEPA 2003. Where employment-related securities options, including many examples of RSUs, do not have 'money's worth' at the time of the award, HM Revenue and Customs (HMRC) view, as set out in ERSM110015, is that the receipt of the shares is likely to give rise to earnings charges as money's worth at that time, in priority to a Chapter 5 charge.
The aim of the legislation introduced by Schedule 9 to the Finance Act 2014 was to largely eliminate the differences in income tax treatment between an earnings and a Chapter 5 charge. However, we are aware that the application of National Insurance contributions rules can vary depending on whether shares from a securities option are treated as earnings or Chapter 5 income. While HMRC continues to be happy for companies to apply a Chapter 5 analysis to RSUs and other securities options if they think that is supportable, we have been told by a number of specialist advisers that there is continuing uncertainty in this area which is not resolved by HMRC's current policy or handling of individual cases.
As a result, HMRC are considering whether a further amendment to the rules to clarify the tax treatment would be appropriate.
HMRC would like to hold a meeting with interested stakeholders in the next few weeks to discuss this and establish the best way forward. Please let us know as soon as possible before close on Wednesday 30 September 2015 by email: shareschemes@hmrc.gsi.gov.uk if you wish to participate in the meeting.
Employment-related Securities (ERS) online service update
Submission of outstanding returns
HMRC is concerned by the number of cases in which a company has registered a share scheme for the tax year 2014 to 2015 but has not submitted an annual return.
This could be due to an oversight in filing an annual return, but we think there are likely to be instances where the company made an error in registering a scheme - for example, by duplicating registrations. Where this is the case the system will still require an annual return to be submitted on the ERS online service. If you have not done so already, companies with share schemes should check that they have submitted an annual return for each scheme they have registered - including schemes they might have set up in error.
Companies can easily check whether a return has been submitted. Log into the HMRC online service and access the ERS online service. In this section select 'View Schemes and Arrangements' which will display a table of registered schemes. Select the scheme to be checked and on the following page it will show whether the return for 2014 to 2015 has been submitted.
To close a scheme registered in error for 2014 to 2015, once again log into the HMRC online service and access the ERS online service and select 'View Schemes and Arrangements' to display the table of registered schemes. Select the scheme to be closed and on the next screen select 'Enter date of final event'. We would recommend in these cases that you enter 6 April 2014.
There is no need for customers to call HMRC to check whether their return has been submitted.
Re-submission of 2014 to 2015 annual returns
Due to a technical problem with our IT, data from some of our customers' returns has not been correctly captured. HMRC will be sending out letters to the companies affected asking them to re-file their share scheme returns for the tax year 2014 to 2015.
If your return is affected you will receive a letter addressed to the company secretary. It identifies the scheme name and the unique scheme reference number of the scheme for which the return needs to be re-filed. You will receive a separate letter for each share scheme return that needs to be submitted. Don't take any action until you receive a letter from HMRC asking you to re-file a return for your particular scheme.
Please resubmit your return as soon as possible, and before 1 January 2016.
If you do not receive a letter from HMRC your return is not affected and you do not need to take any action.
How to re-submit your return
As before, please access the PAYE online service via the Government Gateway. Select the Employment-related securities (ERS) link, select 'View Schemes and Arrangements'. The next screen will show details of your registered schemes. Select the scheme, as identified in the letter, which requires a return to be filed.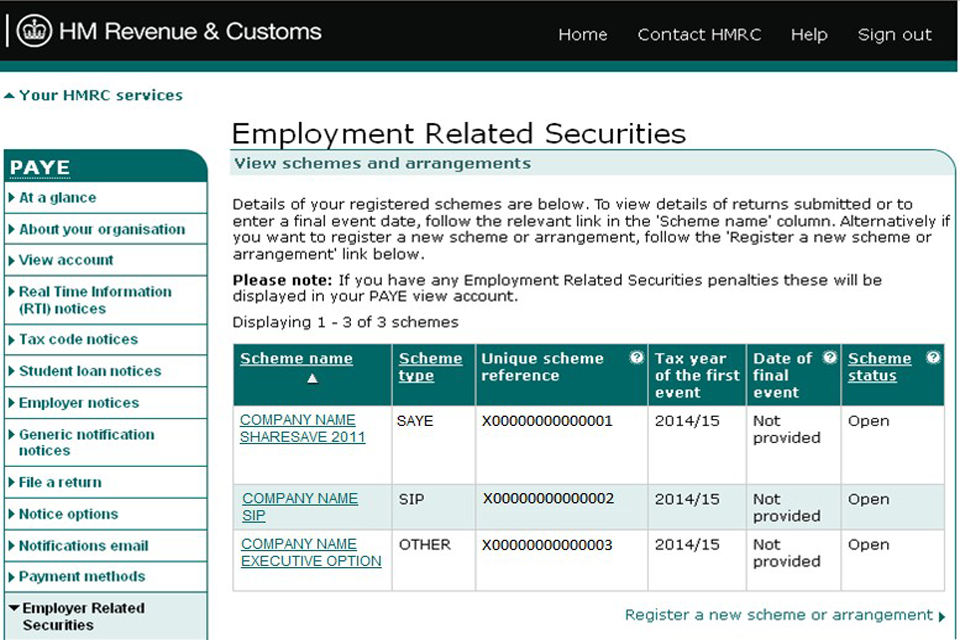 On the following page it will show that the return for 2014 to 2015 has been submitted. However, you will need to resubmit the return by clicking on 'Submit annual return' on the row for tax year 2014 to 2015.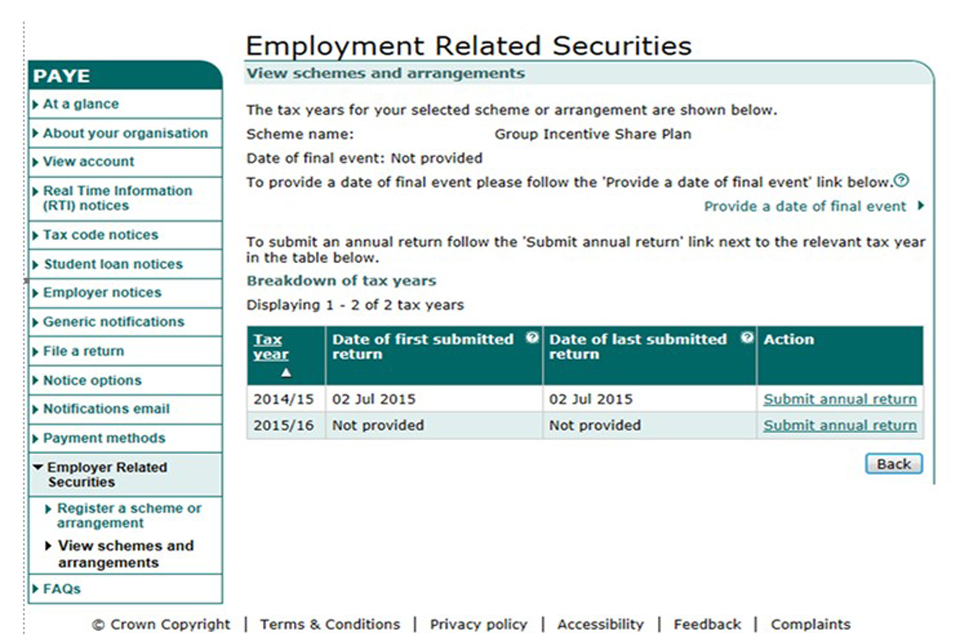 After submitting the return, if you have other returns that need re-submitting you will need to repeat this for each scheme. I'm very sorry for the inconvenience this will cause. You don't need to contact us about the letter.
Enquiries about the content of this bulletin should be addressed to:
Hasmukh Dodia
Employee Shares and Securities Unit
HMRC
Room G53
100 Parliament Street
London
SW1A 2BQ