Guidance
Countdown bulletin 30 - November 2017
Updated 10 November 2017
© Crown copyright 2017
This publication is licensed under the terms of the Open Government Licence v3.0 except where otherwise stated. To view this licence, visit nationalarchives.gov.uk/doc/open-government-licence/version/3 or write to the Information Policy Team, The National Archives, Kew, London TW9 4DU, or email: psi@nationalarchives.gsi.gov.uk.
Where we have identified any third party copyright information you will need to obtain permission from the copyright holders concerned.
This publication is available at https://www.gov.uk/government/publications/countdown-bulletin-30-november-2017/countdown-bulletin-30-november-2017
Scheme Reconciliation Service timeline
As there's now only one year left to raise any queries using the Scheme Reconciliation Service (SRS), it's a good time to set out the process and timings up to the end of March 2019.
Communication to individual scheme members
In previous countdown bulletins we have said that HM Revenue and Customs (HMRC) would start to issue statements to individuals after December 2018 following the reconciliation process. HMRC and the Department for Work and Pensions (DWP) were considering whether this communication should include a Guaranteed Minimum Pension (GMP) calculation. It has now been agreed with the DWP that we won't send any communications to individuals as previously planned. This change is being made because there have been developments in the provision of pension scheme information since we first started the changes to end contracting-out. The State Pension Forecast service 'Check your State Pension' is now available to everyone on GOV.UK or via the Personal Tax Account.
The Pensions Dashboard is planned to be available from 2019, and we would encourage all pension schemes to participate in the Dashboard to make as much information as possible available to scheme members. The Pension Tracing Service also continues to be available for individuals to trace lost or missing pensions (please don't refer individual members to HMRC).
SRS queries
SRS was made available for a finite period of time to support pension scheme administrators to reconcile their records against those held by HMRC. The deadline for submitting SRS membership queries is 31 October 2018. We'll ensure we respond to all queries we receive by that date. We still expect most queries to have been answered by December 2018. Resource will be made available to work any remaining queries in early 2019.
Here is a timeline showing important dates and events during the period from now to March 2019.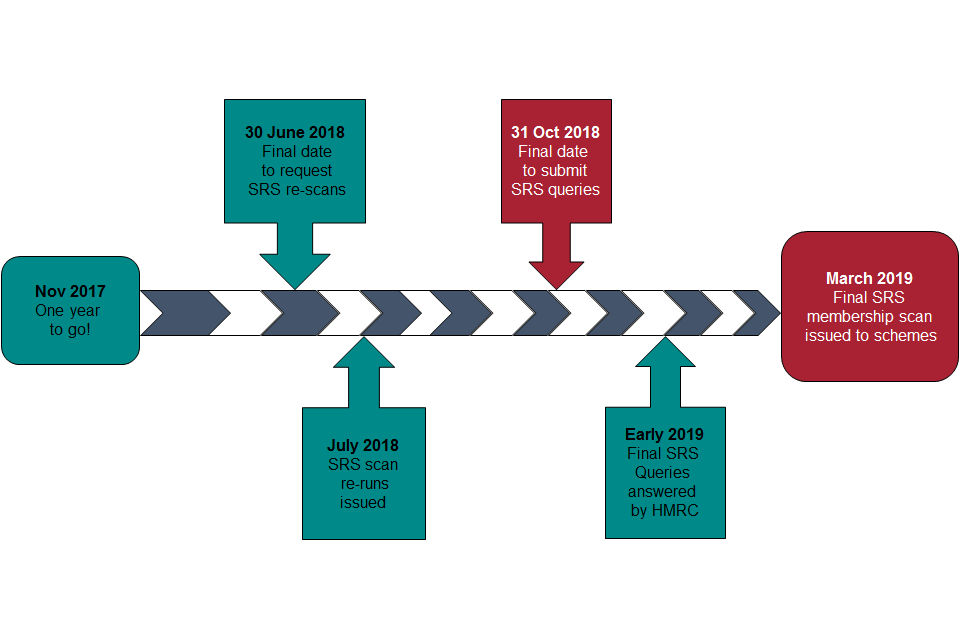 SRS re-scans
These can be requested up to 29 June 2018. The output will be issued by the end of July. Please don't submit any requests after 29 June 2018.
GMP amounts
You can still obtain GMP amounts at any time, before or after 31 October 2018. But after that date the only new queries HMRC will deal with are GMP checker queries.
SRS membership scan
A final scan will be produced and issued to schemes in March 2019. This will show scheme membership records held by HMRC at that time. No further membership queries should be submitted following the issue of this data.
Scheme responsibilities
With the end of SRS activities in March 2019 you should continue to maintain scheme records as HMRC won't hold the latest information (for example if a member has transferred after April 2016 then HMRC records don't reflect this).
You should encourage your scheme members to use the Check your State Pension service and also the Pensions Dashboard, which is expected to be available in 2019, to check their pension entitlements.
Please don't refer individuals to HMRC to search for a missing or lost pension – they should be advised to use the Pension Tracing Service on GOV.UK.
GMP checker
This service will continue to be available after the end of SRS activities to enable the GMP amount to be obtained from HMRC.
Useful links
Please read HMRC: pension schemes reconciliation services for more information.
Earlier editions of the National Insurance Services to Pension industry: countdown bulletins are also available.
Contact details
For general queries about contracted-out pensions please contact the helpline on Telephone: 0300 200 3507.
Please continue to deal with your usual contracted-out pensions contact for your day to day enquiries.
General queries about the Scheme Reconciliation Service should be made to the Customer Relationship Team at email: CRM.schemereconciliationservice@hmrc.gsi.gov.uk.