Notice
CDE themed competition: affordable space-based capability
Further information on this Centre for Defence Enterprise (CDE) competition for £1 million research funding.
Documents
Details
Feedback will be sent on 2 March 2015. Please note that feedback is sent by post by our Commercial department, so you can expect to receive your letter within 1 week of the send date. If feedback hasn't arrived within 2 weeks of the send date, please contact us at cde@dstl.gov.uk
Total funding available for this competition is £1 million.
Competition closes on Tuesday 6 January 2015 at 5pm.
Summary
This CDE themed competition seeks proof-of-concept research proposals for novel technologies that could lead to a step change in UK military space-based capability or substantially reduce the cost of the systems.
This competition will fund exploratory studies and demonstrations to develop concepts and technologies required for delivering a UK space-based military capability. A smaller number of successful projects will be taken forward for further development.
Areas of particular interest include:
technologies providing wide-area surveillance combined with ways of detecting small objects of interest
technologies providing very frequent or persistent coverage to observe short-lived events
methods for detecting concealed objects
technologies to provide secure communications using hand-held terminals from hard-to-reach locations
secure use of existing commercial space infrastructures
We're also interested in reducing build and operating costs. Cost reduction should be achieved without reducing reliability or assurance of systems. We'd particularly welcome proposals that investigate the use of:
novel platform technologies, including on-orbit propulsion and power systems, but excluding launch
novel payload technologies, including deployable structures
View the presentation slides that were briefed at the event. You can also watch the webinar recording. This webinar recording link is available until 24 December 2014 and you'll need to enter your name, email address and company details.
Technical team email: CdeSpaceEvent@dstl.gov.uk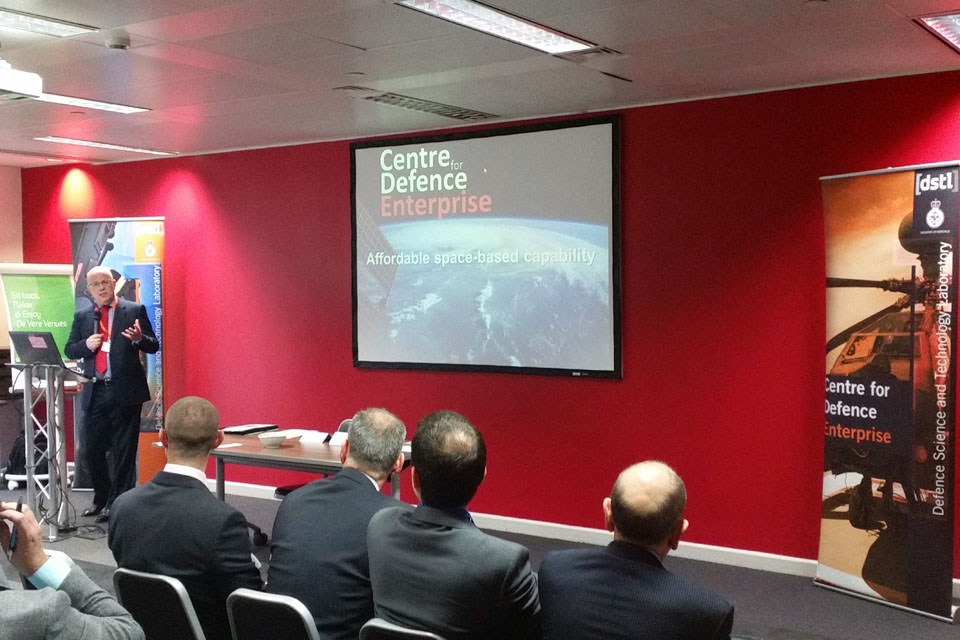 Centre for Defence Enterprise
Building R103
Fermi Avenue

Harwell Oxford
Oxfordshire
OX11 0QX
Email cde@dstl.gov.uk
Telephone +44 (0)30 67704236
Alternative number +44 (0)30 67704237
Please email for the quickest response.
Published 14 July 2014
Last updated 24 November 2014
+ show all updates
Webinar recording link added (available until 8 December 2014).
Link to briefing slides added.
Competition document is now available.
First published.