Air Chief Marshal Sir Richard Knighton KCB FREng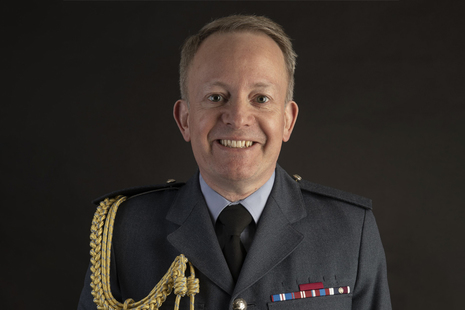 Biography
Brought up in Derbyshire and educated at the local Secondary School, Air Chief Marshal Sir Richard Knighton joined the Royal Air Force in 1988 as a University Cadet and studied Engineering at Clare College Cambridge. He spent his early career in frontline roles working on Nimrod Maritime Patrol Aircraft, Tornado and in several roles within the Harrier force. He has served as the Station Commander at Royal Air Force Wittering where he was also the RAF's Logistics Force Commander.
He has held a range staff appointments in the Ministry of Defence, Air Command and in equipment acquisition and support. He has been closely involved in strategic and capability planning for the Royal Air Force and Defence. He has been the Assistant Chief of Air Staff, where he was responsible for the strategic coherence and coordination of the Royal Air Force and planning for the RAF100 centenary programme. The most senior role he has held in the Ministry of Defence was as the Deputy Chief of Defence Staff for Military Capability. He was previously Deputy Commander Capability and People at Air Command, where he was responsible for the strategic planning and delivery of all aspects of Royal Air Force capability including people, equipment, infrastructure and training.
He has completed the Advanced Command and Staff Course, the Royal College of Defence Studies and the UK Pinnacle Course. He is also a Fellow of the Royal Academy of Engineers. He is a Vice Patron of the Royal Air Force Charitable Trust, an ambassador for the Royal Air Forces Association and President of the Royal Air Force Winter Sports Federation, Hockey Association and Powerlifting Association. He was appointed to the Military Division of the Most Honourable Order of the Bath as a Commander (CB) in 2017 and as Knight Commander (KCB) in 2023.
Chief of the Air Staff
The Chief of the Air Staff (CAS) is the 4-star commander and professional head of the Royal Air Force (RAF). He is accountable to the Secretary of State (SoS) for its fighting effectiveness, efficiency and morale. Reporting through the Chief of the Defence Staff (CDS), CAS is responsible for the development, generation, integration and sustainment of the RAF in accordance with Defence policy and priorities to meet CDS's strategic objectives.
As a Service Chief of Staff, he has the right of direct access to the Secretary of State and the Prime Minister. CAS chairs the Air Force Board Standing Committee, and is a member of the Defence Council, the Air Force Board, the Armed Forces Committee, the Chiefs' of Staff Committee and the Senior Appointments Committee.
Responsibilities
As the RAF progressively adopts responsibility for Air Capability planning and management from MOD Head Office, CAS will be responsible for commissioning RAF equipment, materiel and other support requirements. Current responsibilities for CAS include:
managing the AIR Top-Level Budget to deliver the RAF's Command Plan, in accordance with defence priorities and standing military tasks within the delegated funding
ensuring the long-term health of the service, focusing on professional standards, ethos, welfare, career management and morale
ensuring that the whole force, including civil servants and contractors, plays its part in delivering the required operational effects as components of a single team
advising on the development and maintenance of the optimum coherent set of requirements that UK defence requires
providing CDS, MOD and the government with advice and recommendations on the operational employment of the RAF and contributing military experience and knowledge to assist in the development of defence policy
Previous roles in government
Deputy Commander Capability and People

Deputy Chief of the Defence Staff (Financial and Military Capability)